Should You Quit Your Job? [MarketHer Ep. 39]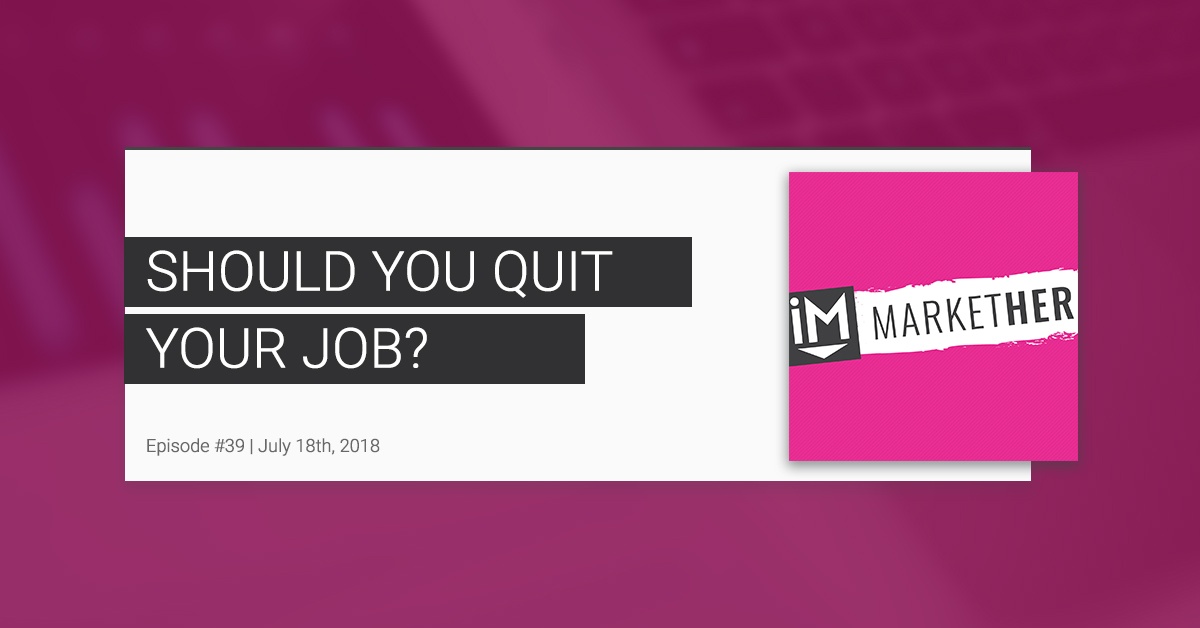 All of us MarketHers love going back and listening to our own episodes from Season One. Is that odd?
What we have found is that we end up giving ourselves advice we really needed to hear again, or we pick up on things that we want to discuss again, OR like in this topic, we realize that we want to offer some clarity on topics we've covered.
This week, we revisit the ol', "If you hate your job and your company's culture sucks...then quit!"

There isn't a job, career, or position in the marketplace that is perfect, offering the right blend of everything you need to feel complete.
However, we tend to find ourselves expecting perfection from our employer, then 'peacing-out' when we don't get it.
In this episode, we focus less on being a job-hopper, which was our main topic and more on what it means to really dedicate yourself to a company, how to know when it's time to consider leaving, and how to dig into problems to help find solutions.
This is easily going to become one of our Top 5 episodes for the candor, personal stories, what we think is pretty solid advice for anyone considering leaving their job.
If you have some tips, email us at markether@impactbnd.com. We will share it on our Facebook page!!
Listen to the Episode on iTunes
Stay Connected, Get Engaged!
First, subscribe to MarketHer on iTunes.
Second, have a question or an idea for a future episode of the podcast? Let us know by commenting below, subscribe to our playlist on YouTube, connect with us directly on our channels below or send us an email.
Angela: LinkedIn, Twitter, Instagram
Britt: LinkedIn, Twitter, Instagram, Facebook
Brie: LinkedIn, Twitter, Instagram
[NEW] MarketHer Official: Facebook, Instagram, Twitter (also Snapchat IMPACTMarketHer)
Or, you can leave us a comment below! Until next week...
We Listened, You Heard, Now, Go MarketHER!

Free Assessment:
How does your sales & marketing measure up?
Take this free, 5-minute assessment and learn what you can start doing today to boost traffic, leads, and sales.