How to promote a virtual event (our 8 best tips and strategies)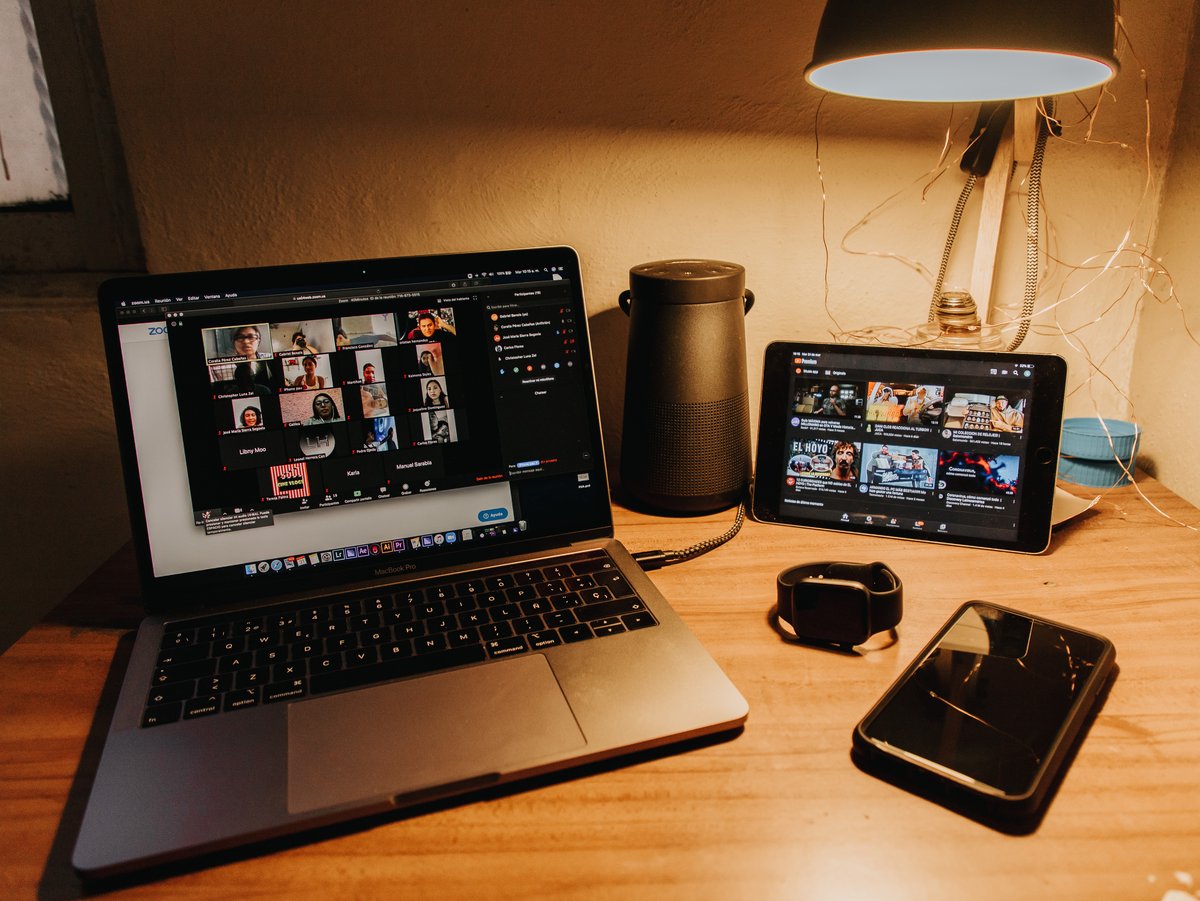 How to promote a virtual event
Brand your virtual event memorably
Create a multi-faceted marketing plan (website, social media, email marketing, partnerships, paid media, and so on)
Build a dedicated website or landing page for your event
Send a save the date email for your event
Create and launch a social media plan
Announce your agenda or event programming
Find your event ambassadors and leverage your speakers to promote your event
Keep promoting even on the day of your event
Is it just me or does March 2020 seem like it was a lifetime ago?
At the beginning of March, we were in the homestretch of marketing our in-person event, Digital Sales & Marketing World (DSMW), which was supposed to take place on April 5-7 in Hartford, CT.

As news of coronavirus (COVID-19) started to spread, we did what most events were doing.
We made sure to address attendee concerns on our website with resources from the CDC on safe travel and clearly defined all of the extra health and sanitary precautions we would be taking during the event.
We also kept a close watch on what guidelines Connecticut was putting into place (at the time it was few) and hoped that our event could still go on.
As we all know now, that wasn't the case.
By March 11, COVID-19 was reported in New York, Massachusetts, Rhode Island, and finally Connecticut.
After a painstaking few days, we came to the decision that it would be in the best interest of our attendees for us not to host the event as planned.
A few days later, Connecticut Governor Ned Lamont restricted all events larger than 50 people.
After deciding to postpone the event until November 30th, we decided that we still wanted to bring our community together on April 6th, and our new virtual event Digital Sales & Marketing Day (DSMD) was born!
Fortunately, I was able to shift the marketing strategy that we already had in place to now promote our virtual event.
If you're wondering how different it is to market a virtual event versus a live event, it's honestly not very, but, there are things you need to keep in mind, especially given today's climate.
🔎 Related:
Will your event work online?

Not every in-person event will translate well into a virtual format.
For example, if you were running a trade show or an event reliant on hands-on demonstrations, you may want to think through how well your goals can be achieved in a virtual environment.

For us, we knew we'd still be able to offer relevant and timely content to our audience virtually.
That's one of the first questions you need to answer before you start planning, let alone marketing, a virtual event. Will this offer value to your audience?
Second, will hosting a virtual event help your business achieve its goals, whether it's sales, awareness, or lead generation?
Once you understand what value your offer and what your own goals are, you'll be better equipped to start marketing your virtual event.
8 steps to marketing a virtual event
1. Brand your virtual event
We only had a few weeks to develop Digital Sales & Marketing Day, so in our case, we pivoted our existing DSMW branding to the virtual event.
This wasn't just because of a short timeframe; we didn't want the virtual event to feel disjointed from the in-person event since we were marketing to the same audience.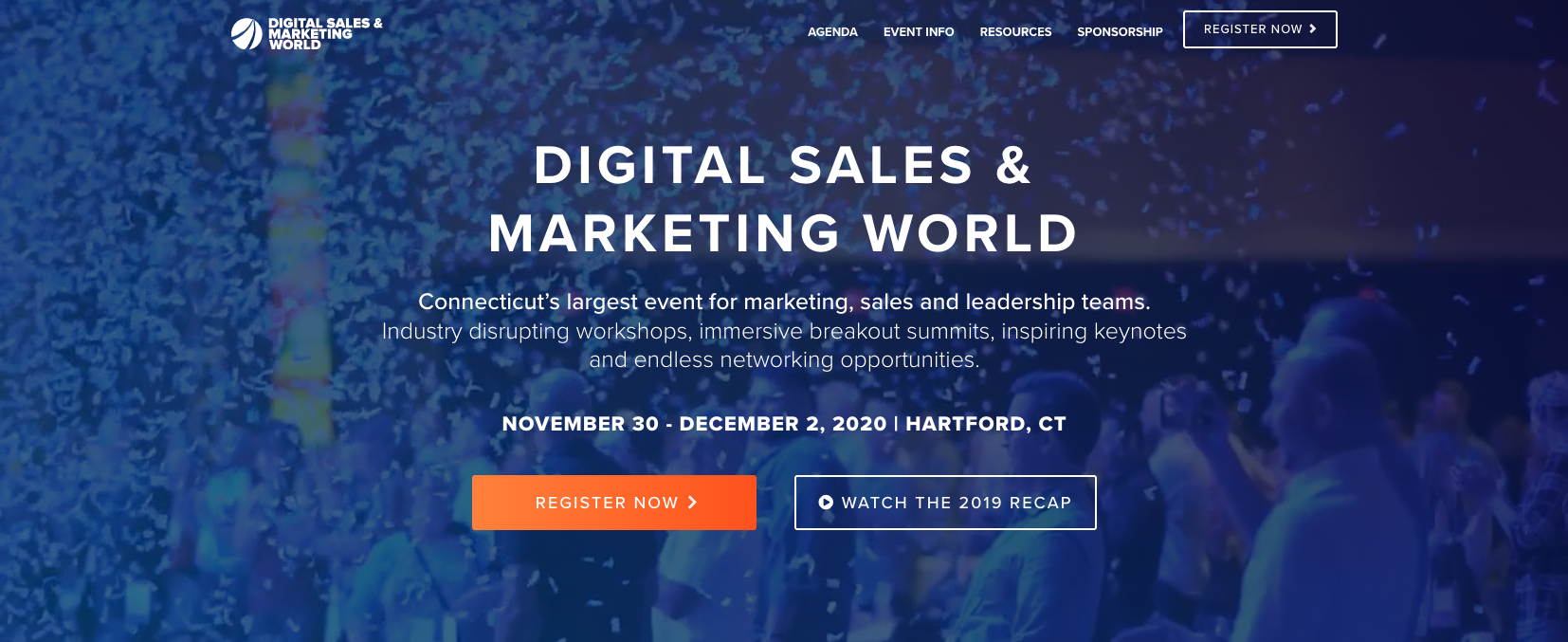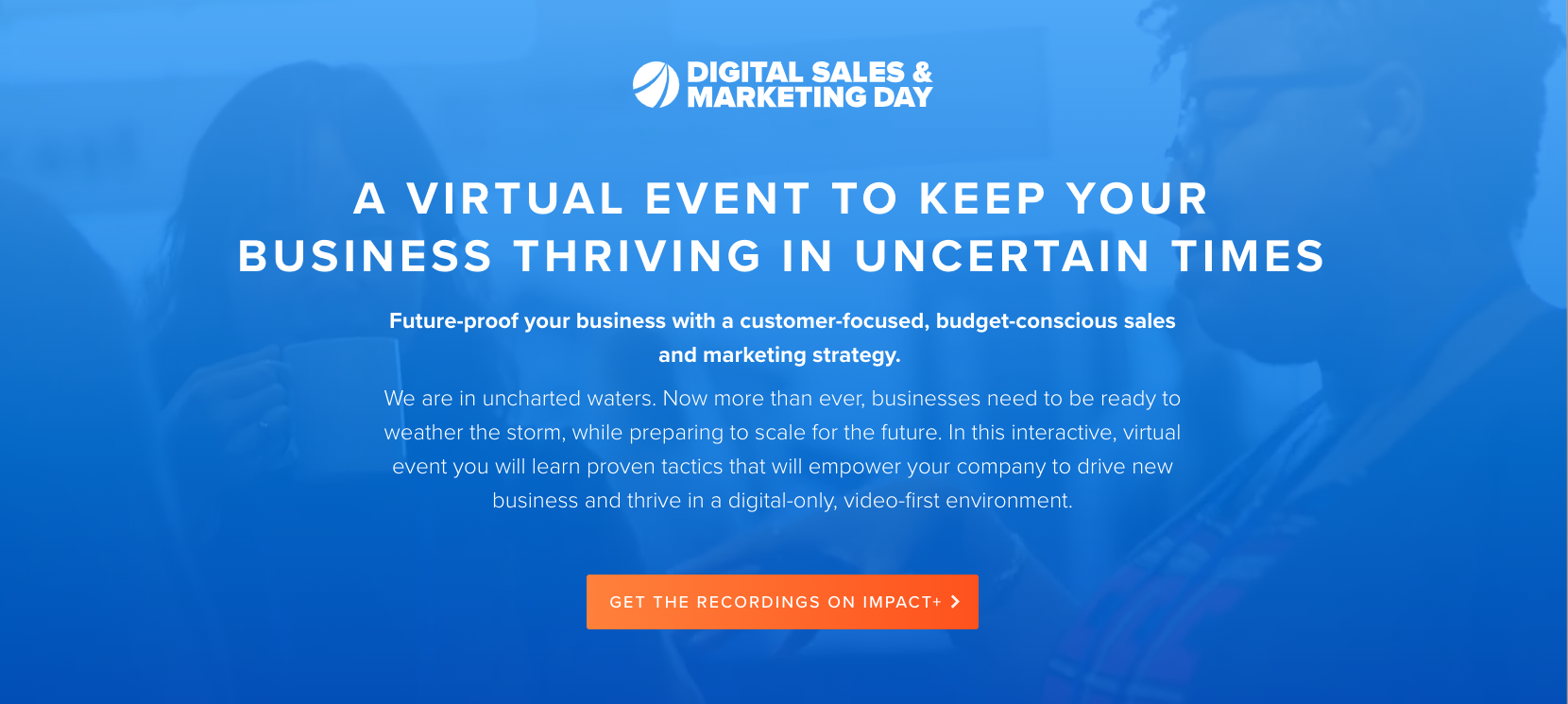 If you're pivoting an existing event that you've had to cancel or postpone due to coronavirus or think your event fits under your brand umbrella, I would recommend you do the same.
Use similar logo elements (similar to how we did it with Digital Sales & Marketing Day), complementary colors, and fonts to keep that brand continuity.
If your virtual event is something new and you want to brand it on its own, consider the colors, fonts, and themes that fit with your audience, industry, and emotions you want to evoke.
For example, red is often associated with restaurants, as it is said to evoke hunger.
Your branding is likely the first thing a potential attendee will see of your event, so these choices are critical to catching their attention!
As part of this process, you'll also want to consider your brand's messaging strategy and the overall experience you want your attendees to have.
The tone, energy and culture of the event should shine through all of your branding efforts, from website copy and your email marketing to social media posts.
2. Create your marketing strategy/plan
At this point, you should know what your goals are, what your audience is looking for and how you fulfill it, and your brand style.
Now it's time to start getting your marketing plan in place.
First things first, do you have a budget?
That might seem like a silly question, but as businesses are facing budget cuts due to COVID-19, you may not have much.
🔎 Related: View all of our coronavirus coverage and expert insights
Fortunately, you'd be surprised what you can accomplish without a large budget behind your virtual event.
Think through what channels you have at your disposal and how you can leverage each to hit your target audience. Let's look at some of the most common:
Your website
Think about the high traffic areas of your website. How can you position your virtual event to get the most eyeballs from your existing audience?
If you have a blog, you should be including CTAs for the event where appropriate.
If you have real estate on your homepage, without being obstructive, use it! We took advantage of our hello bar to promote our virtual event and it was one of our best sources of ticket sales.
Here's how we've leveraged our "Event Marketing" learning center page to promote our conference in November. See that "hello bar" up top? We also leveraged that space to promote our virtual event site-wide.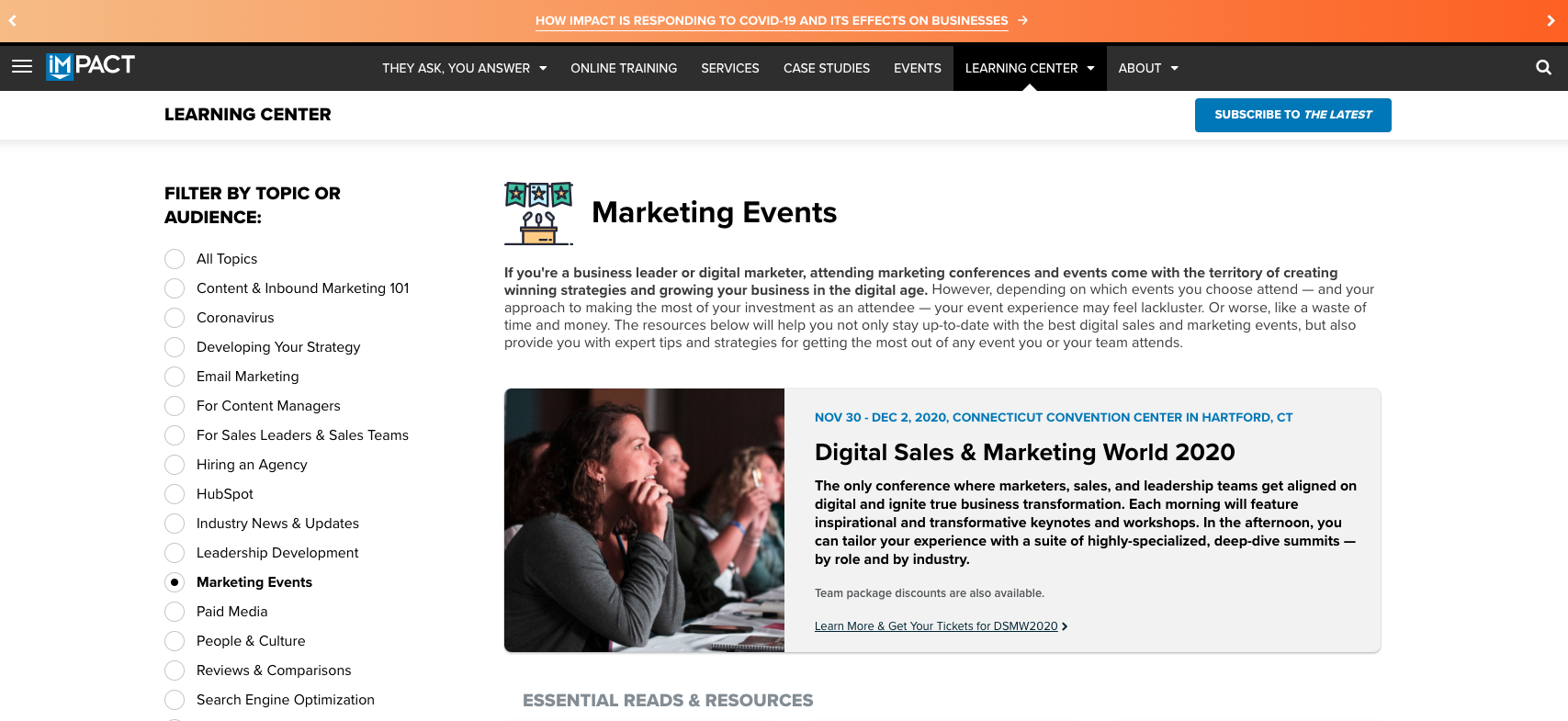 Social media
Which social platforms are your audience most active on? That's where you should be posting about your event! Make sure you create a hashtag, for Digital Sales & Marketing Day we used #DSMD20.

Make it visible on your website and all of your attendee communications (ticket confirmations, emails, etc.) so they know to use it when talking about your event on social media.
🔎 Related:
Side note, if your company isn't active on the social platforms where your audience is, what are you waiting for?
Social media is one of the simplest and cost effective ways to communicate with your audience. Keeping up a consistent schedule of social posts and interacting with your audience is a great way to build relationships and trust with your potential buyers.
Email
Just like your website, your existing email audience is going to be one of your best sources of attendees. Make sure the event is promoted in your regular newsletters and create separate offers or discounts to your most active lists to entice them to buy a ticket.
Partnerships
What other organizations do you have relationships with that share a similar audience to yours?
Tapping into partners is a great way to promote without a budget.
Try reaching out and offer cross-promotional opportunities, special discounts, or even speaking opportunities to get your event in front of relevant audiences.
Paid media
If you have a budget, it's worth putting something into paid media. Not only will you be able to target a wider audience outside of your current database, you'll also be able to retarget your website visitors.
In my experience, it's rare to get a ticket purchase for a B2B event on the first visit (people usually need to go get approval from their manager). Retargeting can help keep your event top of mind and get to a sale quicker.
Again, focus on the platforms where your customers already live (i.e. Facebook, Google, LinkedIn) and leverage retargeting and look-alike audiences to hit the right people.
🔎 Related:
Make sure that you have all the proper tracking set up. Tracking a user all the way through an ad click to their registration confirmation is key to knowing what campaigns are succeeding and which aren't.
Now that you know what channels you've got your disposal, start by tracking backward from the date of your events to mark any tentpoles you have like price increases, speaker announcements, etc. (Ideally, you'll have a few months or longer.)
With this in hand, you know your key dates for promotion and can create campaigns and content to lead up to each. With events, things will always change, but having your plan laid out will help you pivot when needed and still stay on track.
3. Build a dedicated website or landing page
How will people find information about your event and more importantly, register? You need a landing page or a dedicated website.
Again, for our virtual event, we created a landing page for our virtual event under the domain of our larger in-person event.
If your virtual event is under your existing brand then a landing page under your main domain is ideal. If your event is separate, you may want to create a dedicated website and your process will be more complex.
🔎 Related: 42 world-class landing page examples to inspire you
In either case, however, your web presence should be styled based on your branding and include the following:
Key information: Include the event name, dates, location (even if virtual), and call-to-action, above the fold.
Agenda: The event agenda should be in both the top navigation and below the fold so that it is easily accessible. This will be one of the core factors an attendee will need to make the decision to register.
Pricing: Pricing should be clearly visible and all pricing tiers should be shown.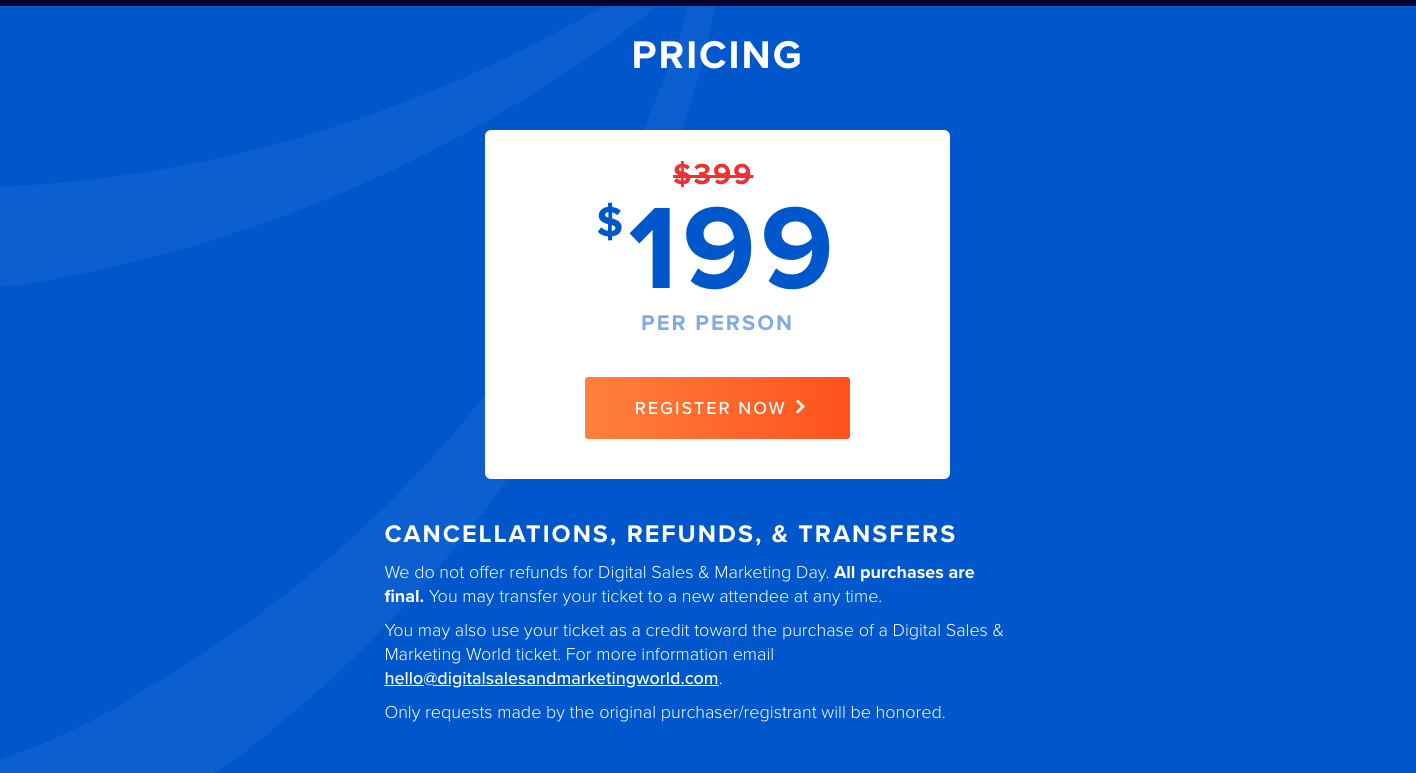 What to expect: Tell your audience what to expect with your event. What is the format? What platform is it on? What will they get out of it? People want to know what they're getting into.
Resources: Include any relevant resources that might be helpful. For example, if there are any articles, books, or information that might help attendees prepare for your event, make them accessible.
This will be particularly helpful for site visitors who need more information to get corporate approval on coming to your virtual event, as well as help users make a decision faster by getting ahead of any potential questions they have.
4. Send a save the date email
Once your website or landing page is done, now you can send a save-the-date email. Remember, even if your full agenda isn't up yet, it's OK to start promoting the event.
Here's a look at what we did for Digital Sales & Marketing Day: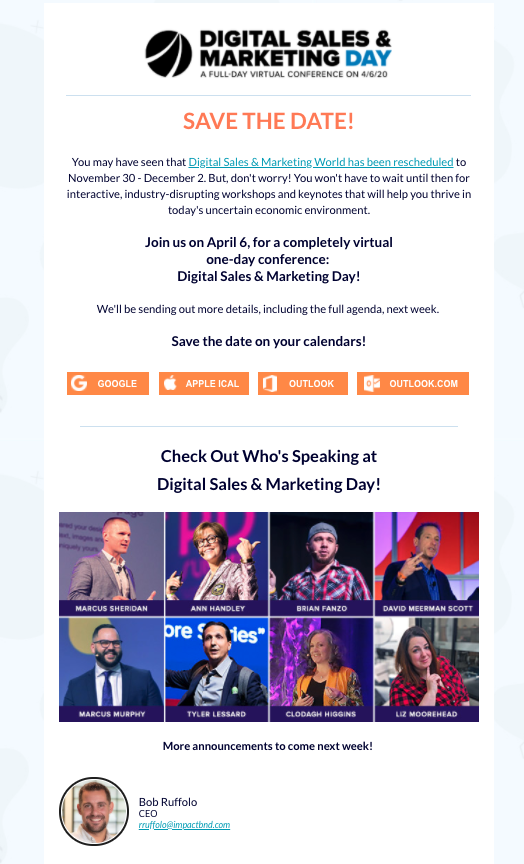 Send your audience a simple email with your event's name, description showcasing your value and content and a call-to-action leading them to your event site.
We used a service called Eventable to include "add to calendar" buttons that sync with Outlook, Google, and Apple Calendars.
You should schedule subsequent email blasts based on your tentpole announcements and make sure your regularly including information like your event's social accounts and your hashtag!
5. Get social!
Based on your marketing timeline and plan, start sharing your event on social media, starting with a date/time/location announcement.
Your schedule of announcements should be consistent and frequent.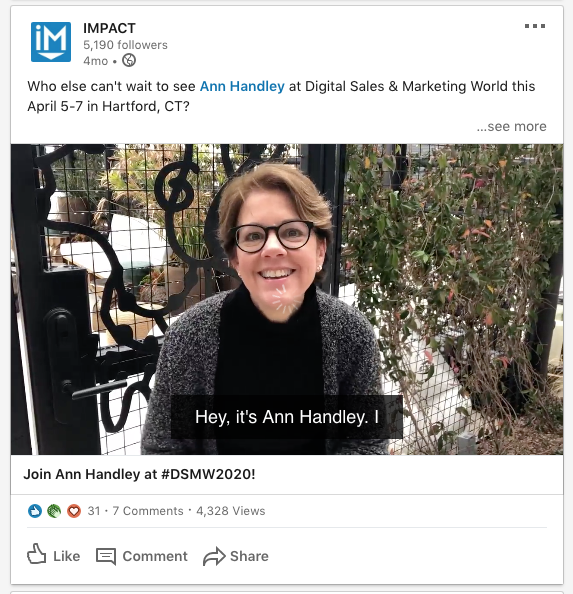 Use your tentpoles as a starting point and fill in the gaps with past content (if you have it), conversation prompts with your audience, and any flash sales or special discounts you'd like to include.
Try to mix graphics, photos, and video if you have it available. You can also kill two birds with one stone by leveraging these posts as part of your paid media strategy.
6. Announce your programming
Your programming, or your event's agenda, is the meat of your event. Getting the agenda set early (even if it's done in phases) will help you start getting registrations in sooner.

Think about it, if an attendee doesn't know what they are going to see at an event, why would they spend their time or money on it?

I find it helps if you break your programming announcements out over time.
Save your most notable speakers for your tentpole announcements. For example, if you have an A-list speaker, announce them about a week before your pricing goes up. Now you have a notable name and a ticking clock as an incentive to get a ticket.
Plan to share these announcements through email, social, ads, and through your website.
7. Find your ambassadors and leverage your speakers
Make no mistake: You want your speakers shouting it from the rooftops that they will be speaking at your virtual event.
They likely have busy schedules and their own work to do as well, however, so, you'll need to make it easy for them.
Prepare graphics for them to use on social with copy like "I'm speaking at (INSERT YOUR EVENT)" along with the date, time, and website to register.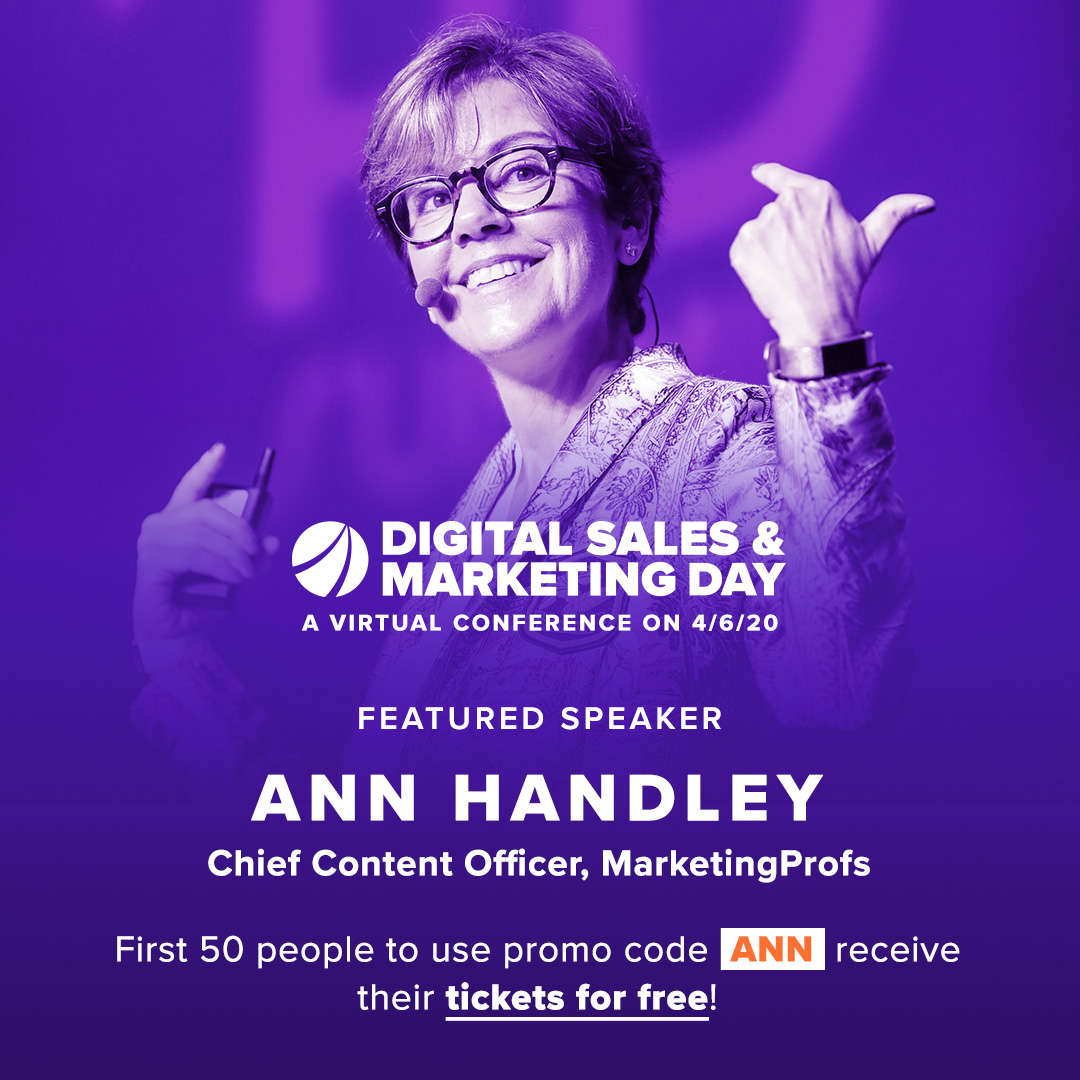 You can also include a special promo code for their followers to sweeten the deal.
Send these graphics, along with a suggested copy to your speakers or their team to make it as easy as possible for them to start sharing.
You can take this idea a step further and reach out to other well-known micro-influencers in your market and offer them free tickets or promotional opportunities if they are willing to promote your event.
Give them a similar promotional kit to make it simple for them to share as well.
If you're working on a limited budget, these tactics are especially important to lean into!
8. Don't forget day-of!
Congratulations, the day of your virtual event is here!
But, even if you've hit your ticket goals and your event is about to begin, your marketing isn't done.
On the day of your event, you should still be promoting the event. What better way to prime an audience for your next event than by creating a little FOMO?
Someone on your team should be dedicated to posting to your organization's social media channels throughout the day. This should include notable quotes from speakers, screenshots of sessions, and retweeting or sharing posts from attendees using your hashtag.
On Digital Sales & Marketing Day, we had over a hundred new registrations come in. So keep up the promotion right to the end.
Keep the conversation going!
Just because your event has ended, doesn't mean the conversations around it should. Part of your marketing should include a post-event plan.
Have a follow-up email ready for all attendees at the end of your event with any promotions you announced during the day, ways to follow up with your team, or access to on-demand recordings if you have them.
You can even consider including a survey so you can get some first-hand feedback.
Plan to continue posting on social for a few weeks as well.
Use quotes from the event, video clips of your speakers, or insights from your audience for the content.
You should also consider encouraging your attendees to continue the conversation within a Facebook group or forum.

Keep the buzz going and leverage it for your next virtual event!
Free Assessment:
How does your inbound marketing measure up?
Take this free, 5-minute assessment and learn what you can start doing today to boost traffic, leads, and sales.
Get Started
Free Assessment:
How does your inbound marketing measure up?
Take this free, 5-minute assessment and learn what you can start doing today to boost traffic, leads, and sales.