7 Big Reasons Your Content Marketing Is Failing (And How To Fix Them)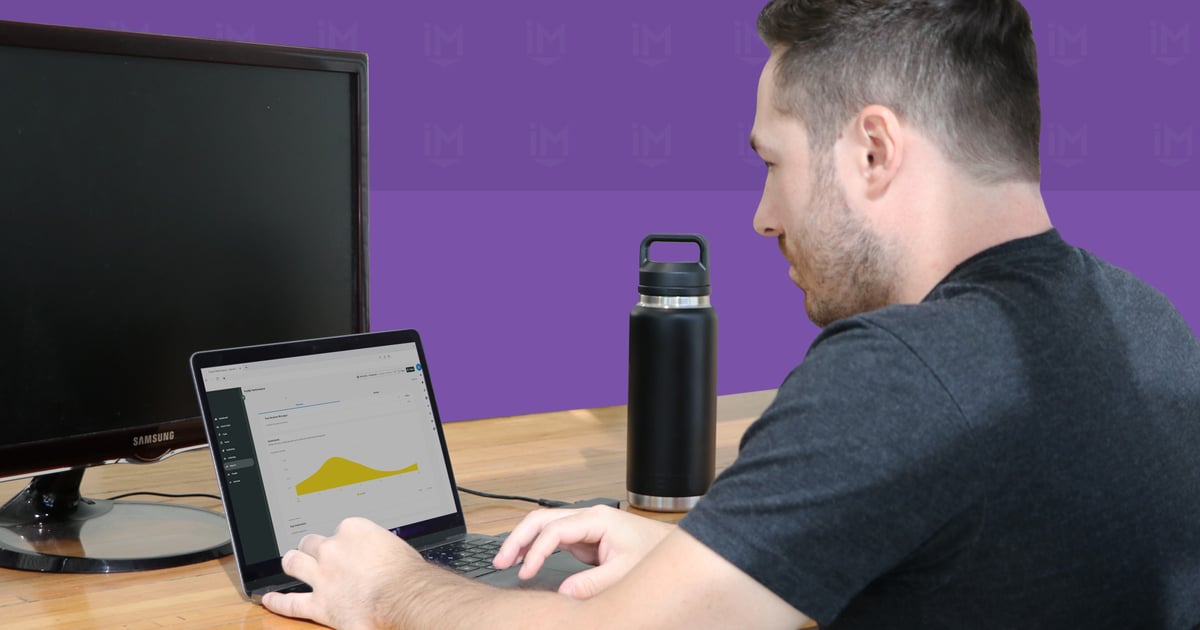 Reasons your content marketing isn't working
You're not using analytics and data
You're selling, not educating
You're not adapting to changing consumer behaviors
You're outsourcing content production
No one owns your content creation
You're not getting input from sales
There's no buy-in from leadership
I know the thrill of seeing your content marketing accomplish exactly what you wanted.
Traffic and lead numbers climbing, the likes rolling in — they're the gold star, feather in your cap, whatever cliche you want to call them.
I also, however, know the sinking disappointment when things don't go as planned.
You churn out blog articles, go out of your comfort zone and film a few videos, and fire off newsletter after newsletter.
Weeks later, you check to see how your numbers are shaping up and whether or not sales have gotten a boost — and its crickets.
If you're staring down the black hole of a failed content marketing endeavor, just know you're not alone, and there's a good chance you can turn these setbacks around.
In this article, we're going to examine some of the biggest reasons your content marketing is failing and, even more importantly, how to fix them.
1. You're not using analytics and data
When you're creating lots of content, it's easy to get lost in the create-publish, create-publish rhythm and forget to look how things are actually performing.
Is your content converting leads? Is it generating a strong return on investment (or ROI)? Is it being read at length or shared with others? Are people linking to and citing it?
Looking at metrics will help you answer these questions objectively. Ignoring them, however, can make it far more difficult for your content marketing efforts to succeed.
Without a reliable way to measure, track, and evaluate your work, you won't be able to fully grasp where you need to improve. You may continue to waste time and energy on content mediums and topics that aren't delivering the results you seek.
How to fix it
Define your most important metrics and track them weekly.
Web traffic and likes may be exciting, but the truth is these are rarely more than vanity metrics for small or medium-sized businesses.
For example, if you're trying to generate leads or close more deals, traffic won't tell you much about your progress. You need to look at conversion rates and close rates to better evaluate this.

We've outlined seven key content marketing metrics every business should be looking at to measure the success of their content marketing. However, if you'd like to go even more granular, Semrush lists 23, touching on data surrounding user behavior, engagement, SEO outcomes, and company revenue.
Screaming Frog, Ahrefs, Parse.ly, and Google Analytics are useful tools for monitoring and evaluating these metrics. Using them can overall help you understand where your content is lacking and shift your effort to what's most effective.
2. You're selling, not educating
Here's the thing — modern buyers can spot a sales pitch from a mile away and they're quick to veer out of the way.
Don't believe me? 39% of B2B buyers reported that vendors could improve their content by curbing sales messages.
In other words: They don't want to be sold to.

They want and expect to have product information available freely so they can do their research and comparisons at their leisure without a biased vendor breathing down their necks.
They want to be empowered to make the best purchase decision for themselves; not have someone with stakes in the game tell them what to do.
In fact, 70% of B2B buyers already have their minds made up before engaging with sales. This means your prospects are searching for solutions to their problems, consuming content, and forming purchasing decisions long before they reach out.
And where do they find it?
The majority of people start their purchasing journey with a web search. So, if you play your content cards right, they're landing on your blog articles, videos, and more.
On the other hand, if your customers aren't getting educational information from you, they're likely getting it from your competitors — and likely buying from them instead of you, too.
How to fix it
Use your content to answer your audience's most urgent questions about your product, service, or industry.
This can be a wide range of topics, but an easy way to get started is with what They Ask, You Answer philosophy calls The Big 5:
Cost and pricing
Comparisons
Problems (theirs and yours)
Best of lists (best in class, best practices)
Reviews
These five areas are the topics every buyer is thinking about regardless of product or industry.

Start with these, then speak to your sales team or monitor social media to discover what else your audience is wondering about.
If your existing customers were searching for and asking these questions, chances are prospects will be too.
3. You're not adapting to changing consumer behaviors
The lingering effects of the COVID-19 pandemic have people working, learning, and living remotely more than ever. Part of this behavioral shift has led to a sharp increase in consumers searching and shopping online.
In turn, demand for contactless tools like chatbots and self-guided purchasing options has skyrocketed, while the effectiveness of direct email and cold calls has dramatically decreased.
We've also seen a rise in the use of social media to explore options and even make purchases.
If your content isn't adapting to these new trends and behaviors, your prospects are looking elsewhere.
How to fix it
Keep up to date on the current trends, then investigate how to apply them.
Are they flocking to the new social media platform? Are they leaning more toward video? Do they land on your site and not know where to go first?
Adapt.

If your customers are looking to use live chat, try it. If they are looking for a self-guided buying experience like a self-selection tool, figure out how to make that happen too. Video? Get ready for your closeup.
To keep on top of buyer needs and trends, sign up for digital marketing newsletters or follow leaders on social media. Some helpful resources include Content Marketing Institute, Search Engine Journal, and eMarketer.
Also, pay attention to metrics as noted in point one. These will help you see how your audience specifically is acting.
4. You have an agency creating your content
When you're eager to get started with content creation and marketing, hiring an agency can seem the like a fast, easy solution.
There are certainly pros to working with an agency, but, over the years, we've seen that relying on a third party to write blog articles and create videos for your business can often lessen the quality of your finished product.
For example, when working with agency, your content may not get focused attention, as the team juggles your needs with their other clients. This may make your content less effective and give you far less freedom to create content as needed or make changes quickly.
Plus, as an outside party, there's only so much they can truly know about your company. By handing over content to an agency, you run a higher risk of the final product sound off-brand or be misrepresentative of what you actually offer.
How to fix it
Create a content team in-house.
While this can be a greater upfront investment, the long-term benefits are lasting and invaluable.
Creating your content in-house can speed up the creation process and ensure the content you're creating is genuine and accurate for your brand and business.

Furthermore, you won't be held to a contract that only allows you a certain number of hours or finished products a month. When your team is in-house, you can pivot more freely and turn around needs without as much red tape.
If you'd like to work with an agency for help or guidance, try finding one that will teach your in-house folks how to do content creation themselves.
5. No one owns your content creation
Even if you bring content in-house, you can still go down the wrong path if you don't have someone owning the initiative.
I see it all the time. People get excited about content marketing and figure they can just make it a group effort.
Fast forward a month or two and crucial articles are being delayed or falling off the back burner as team members tackle other things.
Nothing is getting published in a timely manner — if it's getting published at all.
How to fix it

Hire a content manager — or a director of content, a content writer, or whatever you want to call them.
The point is: hire someone to own the content strategy and production at your organization full-time.
Content is a full-time job. Research, interviewing, writing, editing, publishing, and optimizing — these are all things that take time, focus, and precision. They aren't things that can be tacked on to an already heavy workload.
You need someone in-house whose sole focus is planning and getting content moved across the finish line.
This person may not write every single piece, but it will be their job to do what it takes to keep your content strategy moving. That may include, but is not limited to:
Obsessing over creating high-quality, on brand content
Interviewing your company's subject matter experts to create content.
Working directly with the sales team to collect content ideas and use content in the sales process. (More on that next.)
Monitoring your organic search performance and routinely improving ranking and traffic results.
Updating content to ensure it remains relevant and effective.
When you have someone in-house owning your content strategy, you can better control what's being done and also hold someone accountable for getting it done.
6. There's no input from sales
So, we've already talked about speaking to sales to determine topics or other content needs. This is important because salespeople are the ones hearing customers' most urgent needs and questions first-hand.
They are on the front line providing answers and gaining direct insights on what they want to know.
These are the concerns your content can help calm and the objections to buying it can help eliminate.
Sales should also use the content created for what we call assignment selling.
This is when sales reps use the content marketing creates in the sales process to address customer questions when they arise or even beforehand, to help close deals faster.
When marketing and sales don't work together in this way, you'll likely sense frustration on both ends.
The sales team wonders why marketing isn't providing enough content that actually helps move the needle, and marketing doesn't fully understand what content the sales team needs.
How to fix it
Host a revenue team meeting to ensure your marketing and sales teams are collaborating and communicating regularly.
A revenue team meeting is a meeting held regularly between key players from your sales and marketing teams.

All activities in this meeting, regardless of individual roles, are centered around the shared goal of increasing company revenue.
This includes:
Sales sharing any new questions coming up in their calls or meetings
Marketing sharing new content that has been created and how it can be used
Sales discussing which pieces have been most helpful
The primary goal of this team and meeting is to develop and execute a strategy of content to be used in the sales process that will increase close rates and keep both sales and marketing aligned.
7. Leadership is not bought in
No company initiatives die faster than those without the backing of senior management.
That being said, if content marketing isn't made a priority by them, good luck making strides.
You'll likely find yourself without the budget, time, or resources you need to get the job done. You may find subject matter experts won't make the time for interviews or filming. Pieces may hit a bottleneck while waiting for approval.
How to fix it
Make sure your leadership team knows the "why" of content.

This means:
Sharing the value of

assignment selling

and how it could help drive forward your business.
Emphasizing how sales and your subject matter experts can be part of the content creation process.
Describing how marketing works best when supported by the other departments (and how marketing can also support them).
Content marketing is more of a culture than a strategy, and when your entire company participates (or at the very least understands its value) you have everyone working toward a shared goal.
When you have the buy-in and support from leadership, they can be your champion and help you remove these barriers to success and get everyone on board.
Sometimes the biggest hurdle is getting everyone on the same page and agreeing to adopt these new approaches, but if you start by getting leadership on your side, it is far easier to break through.
Above all, don't give up
Like Winston Churchill once said, "Success is not final, failure is not fatal: it is the courage to continue that counts."
Keep at it and try different things knowing each is, at the very least, an opportunity to learn more about what works and what doesn't for your business.
As long as you keep putting content out there that is honest and helpful for your customers, you will see results.
Not sure where to get started? Check out our course "Creating Memorable, Money-Making Content for Beginners" in IMPACT+!
Free Assessment:
How does your sales & marketing measure up?
Take this free, 5-minute assessment and learn what you can start doing today to boost traffic, leads, and sales.