The 7 Biggest Reasons Your Content Marketing is Failing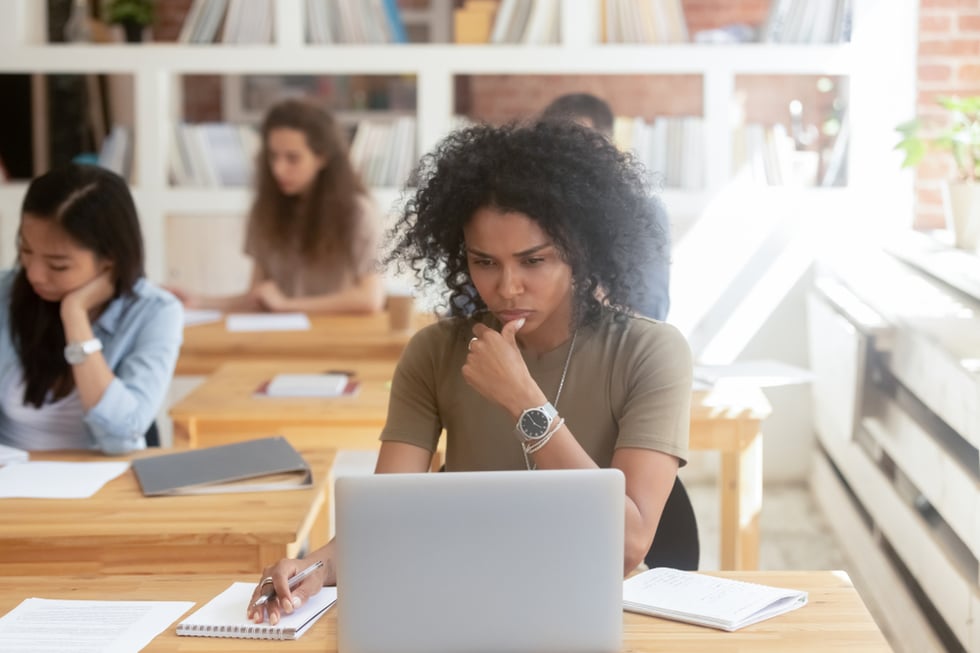 August 26th, 2019 min read
Meet Mary. Mary is feeling defeated today. She and her team have been creating content that answers the top questions of their customers.
Mary looks dejectedly at her computer, wondering why it is that she has all of this content, but just can't seem to get it published.
Mary has seen the success stories. She knows what is possible. She also knows that without hitting "publish," her company will not see the kind of growth that is seen by the "success story" companies.
Mary is not alone. At IMPACT, we have seen this kind of scenario many times. So much great potential, but nothing is getting published.
Here are seven of the most common reasons that marketing teams can't seem to publish the content that will grow their business.
Perfectionism
Perfection is an impossible pursuit. Often, we let the pursuit of perfection keep us from accomplishing the possible. Understanding that nothing is perfect and letting go of the fear that keeps us pursuing it is a huge step.

Perfection is an "endless productivity loop" that hinders the creative process and compromises your productivity.

An example of this is Jill. Her team has written articles and they have been extensively reviewed by her, her team ,and her content consultant. Her team is excited to see their work published, but Jill is reluctant to hit the publish button. She wonders if there isn't just one more thing she can tweak to make it better.

We all want to publish quality work. However, once you have reviewed for accuracy, SEO and user experience, and have edited accordingly, it is time to publish! As Brian Fanzo said at IMPACT Live 2019, the most important thing to do is to stop making excuses. In his words, "Push the damn button!"


Too many people need to review
Great content will not help your business grow when it is sitting on someone's desk waiting for review. This can be avoided by streamlining the review process.

Does everyone in leadership really need to review all of your articles? Derrick struggles with this. He has multiple articles ready to publish. However, his CEO wants to rubber stamp everything that goes out. Unfortunately, he doesn't have the time to review articles in a timely manner, so they sit on his desk for weeks.

Each person that is charged with reviewing articles needs to carve out a regular time on their calendar to get this done. Your subject matter experts (SMEs) and writers can become discouraged when their work languishes on a desk waiting for review.

Having one person make decisions concerning content can streamline the process and be the key to getting things published.


Not having a key decision maker
According to Jolie Higazi, content consultant at IMPACT, not having a central person responsible for content means there's no internal ownership; the buck can always be passed to someone else. That's where having an internal content manager comes in.

Someone has to own the process and keep things moving. According to Marcus Sheridan, "Your content manager will be in charge of everything that gets published on your website, from articles and interviews to case studies, and more."

This is the problem for one company that we have seen. No one wants to own the process. They are creating content, but without the one person who is responsible for making decisions about content, the process stalls.

It's important to have this person in place to be the final decision maker about your content.


Lack of time
Too often, the person who is supposed to keep content creation moving is wearing too many hats and is not able to make content a priority.

If someone told you that publishing the right content would drive traffic, leads, and sales, wouldn't you jump on it right away? That's exactly what we've seen with dozens of our clients. Yes, it is a lot of work, that takes a lot of time, but only when businesses make publishing a priority can they have that kind of growth.

If the person responsible for getting things published for your business is also responsible for things like event planning, social media, paid advertising, and other digital deliverables, they just won't have the time to publish the content your business needs.


Not adhering to the content calendar
Creating an editorial calendar is essential to a strong content creation strategy. It is important to have deadlines for when content is due and for when content is to be published.

Your editorial calendar can keep you on track. At IMPACT, we use a tool called Trello to keep our content creation organized. This allows us to assign writing tasks and keep track of where they are in the creation process.

You can also consider creating a simple Excel or Google spreadsheet.


Use the tools that make sense to you and your company to create an editorial calendar and stick to it!


Lack of expertise or access to expertise
Great content needs the cooperation of SMEs. Every business has people who know the answers to the questions that customers and potential customers are asking. Those people have to have "buy-in" to be available to participate in the content creation process.

Content managers generally have interviewing skills and are charged with interviewing SMEs. It can become frustrating when the SMEs do not make time to be interviewed. Share the editorial calendar with the SME's and then hold them accountable for making time to do their part in creating content.


Lack of buy-in
Lack of buy-in and not seeing the importance of "They Ask, You Answer" is the underlying issue of everything listed above.

They Ask, You Answer is an inbound approach to doing business in which you aim to be the best teacher in your space by creating content that educates your customers and answers their most pressing questions.

When everyone is bought in to the They Ask, You Answer process, they all help answering the questions and creating the content.

Nothing is more frustrating than when content isn't published because of lack of buy-in. When teams make the time to participate in creating content, they tend to get discouraged if that content is never published.

If your team isn't on the same page about the value of content, you'll keep running into a wall when trying to publish.
What Does This Mean For You?
Are you, like Mary, struggling to publish content? Understanding what is holding you back is half the battle.

What will it take to get you to the next level? Do you need to hire a content manager? Here are resources to help you with finding the right person:
How to Interview and Hire the Right Content Marketing Manager for your Company
What to Do When You Don't Have A Content Manager Hired Yet
If you can't seem to get everyone on the same page, an Inbound Culture Workshop may be a good solution for you to help everyone in your company catch the same vision.
This can be facilitated in-house or by a third party. The choice of which is right for you depends on the in-house expertise, knowledge, and credibility.
Identify what the problem is and address it head-on and start publishing that content!