Certified Coaching Program vs. They Ask, You Answer Certification: What's The Difference?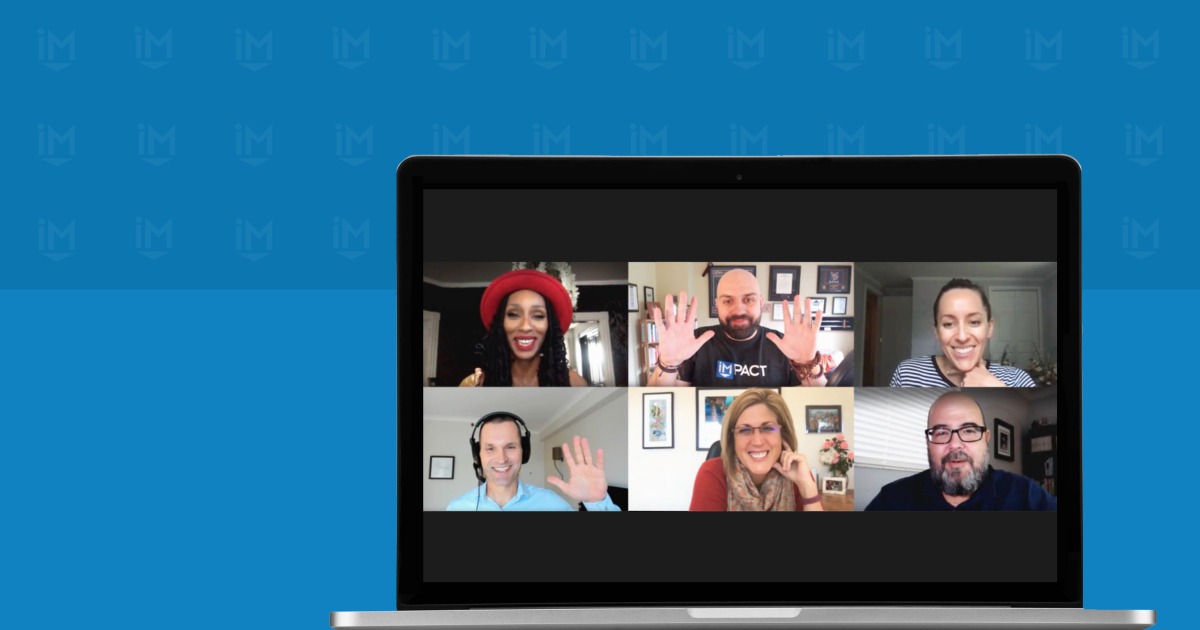 As the leader in They Ask, You Answer education, IMPACT certifies organizations and individuals that are implementing the framework at the highest level.
An organization is able to proudly declare itself They Ask, You Answer certified if it meets certain criteria and has passed specific thresholds. And it's not just organizations. Individuals can earn a role-specific certification badge to add to their resume when applying to jobs — to let employers know they're getting someone who has true command of They Ask, You Answer.
At the same time, IMPACT offers a certification program for marketers and consultants who want to be trained and certified to coach clients through the They Ask, You Answer framework.
These distinct certification programs are intended for different audiences, and this article will clear up any confusion by answering the following questions:
What is a They Ask, You Answer certification for a business or individual?
What is the They Ask, You Answer certified coaching program?
How do the two certifications compare?
To understand these programs, read on.
Why we offer certifications
The first question to answer is the big one: Why offer certifications at all?
At IMPACT, we're committed to helping businesses of all kinds grow and prosper with They Ask, You Answer. We've already seen thousands of businesses do so — from right in our backyard to halfway around the world. But we know this is just the beginning. Every year, more businesses catch the vision and start their They Ask, You Answer journey.
Certifications help us recognize excellence. Any of our They Ask, You Answer certifications are proof of expertise and commitment. Just as a lawyer passes a bar exam or an accountant passes a CPA exam, these certifications convey knowledge and experience of They Ask, You Answer.
IMPACT is proud to recognize those who are winning with They Ask, You Answer. These certifications are how we're doing it.
We offer different certifications for different audiences. Here's how they compare.
What makes a business They Ask, You Answer certified?
At IMPACT, we know there are thousands of organizations around the world thriving with They Ask, You Answer. To acknowledge this success, we created our They Ask, You Answer certification.
At its heart, They Ask, You Answer is about building trust with customers by openly answering their questions. Every organization committed to customer education can seek a They Ask, You Answer certification.
We use a scorecard developed by IMPACT experts to evaluate each organization's progress with They Ask, You Answer, including criteria related to sales, marketing, and company-wide buy-in.
An organization must earn above 80% on the scorecard to be eligible to be a They Ask, You Answer business.
In addition to their score, each business must meet certain benchmarks. For example, they must prove that they regularly publish helpful content, that they run revenue team meetings, and that their website has a learning center.
Additionally, they must be staffed properly, with dedicated professionals in the following roles:
Content manager
Videographer
Sales professional or manager
They Ask, You Answer leader
More information about business certifications can be found on this page.
What makes an individual They Ask, You Answer certified?
When a business is flourishing with They Ask, You Answer, it's because of committed professionals who put the principles into practice day in and day out. For this reason, IMPACT also certifies individuals who demonstrate the high standards necessary for They Ask, You Answer success.
IMPACT certifies individuals in the following areas:
Videographer
Sales Professional
They Ask, You Answer Leader
Content Manager
To obtain a certification, the individual must meet specific criteria set forth by the IMPACT team, which includes scoring above 80% on a role-specific scorecard and demonstrating skills in practice.
Once completed, the individual brings this certification with them if they leave their company, but they must maintain their certification going forward. More information about individual certifications can be found on this page.
What is IMPACT's certified coach program?
While the first two certifications recognize the hard work put in to reach a certain threshold, our third certification is different. IMPACT's coaching certification program is an education program that trains marketers and consultants to be They Ask, You Answer coaches.
Over the course of six months, candidates have regular sessions with IMPACT experts to deepen their knowledge of They Ask, You Answer, communication skills, and workshop facilitation. Certified coaches can offer their clients They Ask, You Answer coaching and training services. (More information about the program can be found on our They Ask, You Answer Certified Coaching Program page.)
Coaching certification candidates enjoy these benefits:
Communication training: Candidates will improve their ability to run meetings, foster discussion, give and receive feedback, lead planning sessions, and help clients self-discover — all while maintaining authority.
Expert knowledge of the They Ask, You Answer framework: They learn the details of Marcus Sheridan's business framework, as well as how to coach clients through it.
IMPACT+ affiliation: IMPACT+ offers the coursework, tools, and community that clients need to master They Ask, You Answer. The platform is regularly updated, with new material added every month. Certified coaches are able to sell IMPACT+ seats to clients at a discounted rate — and receive a 20% commission on each subscription they sell.
Listing in the They Ask, You Answer Partner directory: Each certified coach will be listed in

our directory of certified coaches

so that clients can find you.
Access to private mastermind groups in IMPACT+ just for certified coaches: Certified They Ask, You Answer coaches can freely network, share insights, and discuss challenges.
In the future, IMPACT-trained coaches will be able to offer They Ask, You Answer certifications for their clients, both business and individual.
How do the certifications compare?
IMPACT's mission is to help businesses all over the world thrive and prosper with They Ask, You Answer. To do so, we want to recognize excellence, both at the organizational and individual level — and we want to build the ranks of teachers and coaches who can spread the word.
The certifications we offer help us further this mission.
The business and individual certifications recognize expertise and success. By demonstrating what you can do (and what you have done in the past), you can earn a certification to show the world that you're implementing They Ask, You Answer at a high level.
The certified coaching program is designed to help advanced marketers, agencies, consultants, and coaches improve the way they work with clients. Program graduates can use what they

learn to guide clients to greater success

.
Together, these certification programs will continue to spread the word of They Ask, You Answer and help all practitioners up their game.
What certification is right for you?
If you're a business leader, marketing professional, and salesperson who is all-in on They Ask, You Answer, consider getting certified. Or, if you're not yet at the top of your game, use courses in IMPACT+ to help you get there.
If your business has committed itself to trust-building and buyer education, a They Ask, You Answer certification can show your audience that you're never going to shy away from a tough question. Your buyers know they can have faith in your content because you've committed to candor and honesty.
If you're a marketing agency leader or business consultant looking for a proven framework that can guide your clients to success, our certified coaching program offers in-depth training and a slew of resources so you can start selling new services before you even complete the program.
To learn more, schedule a time to speak with our program coordinator.
Free Assessment:
How does your sales & marketing measure up?
Take this free, 5-minute assessment and learn what you can start doing today to boost traffic, leads, and sales.