Website redesign: 11 signs a new site should be in your budget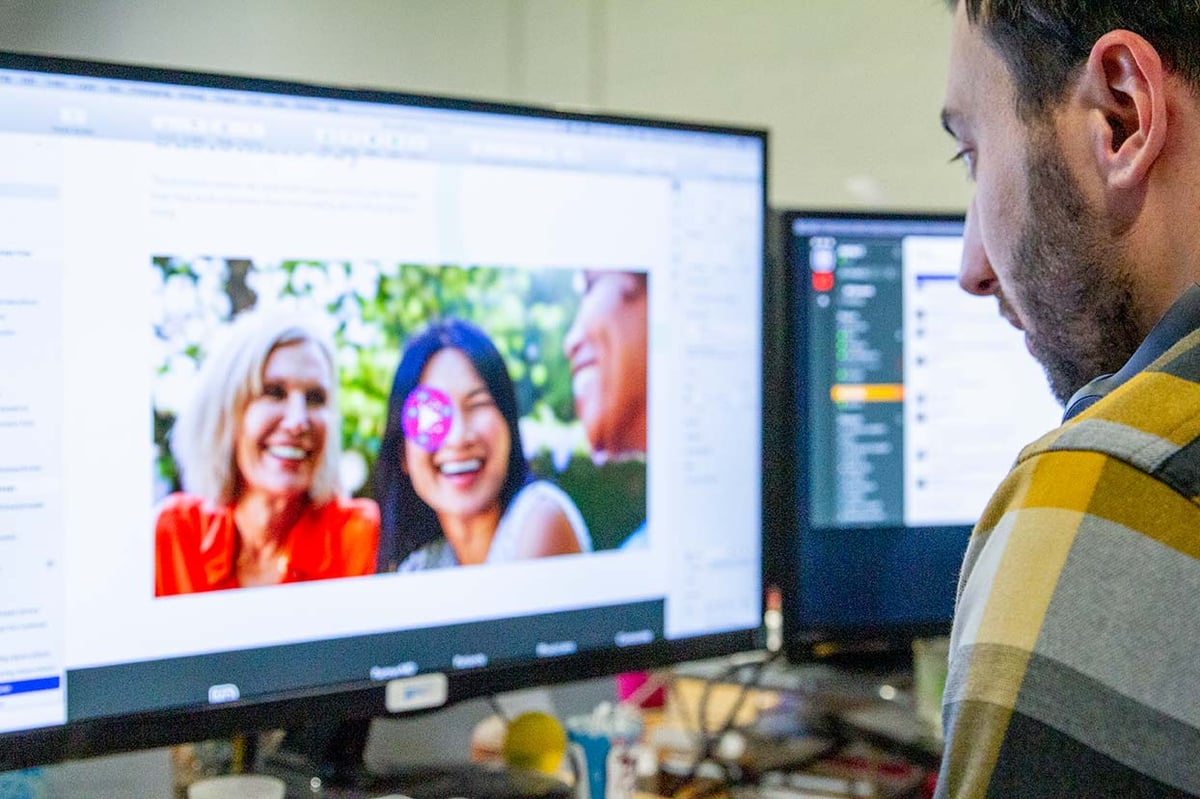 Signs you need a website redesign
Your website isn't optimized for mobile
Updating your website or adding new content is difficult
Your website loads slowly because your site speed sucks
Your website and branding don't align
Your website isn't ranking well in search
Your website conversions have dropped off
Your visitors can't find information easily on your website
You have outdated UX and design
Your website looks untrustworthy
Your marketing goals have changed
Your website simply doesn't work
We all have belongings we hold onto for way too long; things that are way past their prime yet for some reason we can't seem to let them go.
For me, it's always been t-shirts.
Growing up, I could never get rid of an old t-shirt. Whether it was stained, had holes, or just didn't fit anymore, I always rationalized a reason to hold onto it.
"This shirt still technically works. I spent good money on this shirt. I don't have the time to go shopping for new shirts."
Luckily, I've since discovered the Marie Kondo approach to organization and have finally managed to let go of those old t-shirts. Although I may have saved a couple of old band tees from high school, but hey, nobody's perfect.
🔎 Related: 6 most costly business website problems (and how to fix them)
For many of us in the marketing world, our websites are like those old t-shirts. Even though our websites are past their prime and could be performing better, we still can't let them go.
Trust me, I get it. Letting go of our old belongings can be hard, but letting go of an underperforming website and investing in a website redesign project is an investment that pays dividends in the long run.
When built properly, your website has the ability to be your highest performing and hardest working salesperson. Not to mention many of your prospect's first impressions of your company will be based on what they see on your website.
If you're still on the fence about including a website redesign in your 2021 budget, I've compiled a list of 11 surefire signs it's time to pull the trigger.
1. Your website isn't optimized for mobile
This should be a no-brainer.
Living in today's multi-screen culture means you need to be able to provide users with a consistent, fully optimized experience regardless of whether they're viewing your site on a desktop, tablet, or mobile device.
A study released by Salesforce found that "83% of mobile users say that a seamless experience across all devices is very important." In other words, people want to be able to get the information when and where they need it and if your website can't deliver it to them, they'll likely look elsewhere.
In other words, they'll leave without converting and making a purchase. Not having a mobile-optimized site will not only cost you valuable leads and sales, it also stops you from delivering the best user experience to your visitors.
🔎 Related: The ultimate website redesign guide for businesses
If you haven't optimized your site for mobile yet, nows the time to look into a website redesign that gives users a consistent experience across all deviceivides.
Look into a content management system that's out-of-the-box responsive (for example, the HubSpot CMS). This will get you up and running faster with little development knowledge needed. I also recommend investing in a browser testing software, such as BrowserStack, to make sure your website looks consistent from device to device.
2. Updating your website or adding new content is difficult
The days of creating websites that you can just set and forget are long gone. Websites are now dynamic projects that are never really "finished." Turning your website into a high-powered lead generating machine means you need to be constantly changing your site based on your user data and analytics.
That could mean publishing new educational resources, creating additional web pages to bring in more organic traffic, pivoting your messaging to meet new industry standards, or even just tweaking and testing your current site pages to improve conversions.
If you're unsure if you fall into this category, ask yourself the following questions:
Can I quickly log in and access the backend of my website?
Is it easy for me to add a new website page?
Do I know how to make edits to my website's navigation?
Am I able to easily add and rearrange sections on my current website pages without the help of a developer?
If you answered no to any of these questions then it's time to think about redesigning your website on a move your website to a CMS that gives you this functionality. Luckily there are tons of reliable and easy-to-use solutions out there for you.
Redesigning your website on a CMS makes it easy for you to keep your website's content updated and fresh while giving you the ability to make more changes based on your data and analytics.
3. Your website is slow to load
Have you ever left a website because it took too long to load? How long did you wait before you left?
According to dotcom-tools, 47% of desktop users expect a site to load in two seconds or less and 40% of users typically abandon a site that takes more than three.
That's not a lot of room for error.
Site speed plays a major role in keeping people engaged, lowering your bounce rates, and can even affect your Google ranking. Unfortunately, it's also one of those things that tends to fall on the back burner.
🔎 Related: Why site speed is so important to your website rankings
Many people aren't even aware their site has load speed issues because the causes are typically items we can't easily see. Some of the more common causes include images with large file sizes, embedding too many 3rd party scripts on your site, or even just an outdated CMS that isn't using coding best practices.
If you're unsure about how well your site is optimized for speed, I recommend using tools such as Google's PageSpeed Insights or GTmetrix to gain a high-level understanding of how your site is doing and if a move to more up-to-date CMS is necessary.
If it turns out your site is suffering from slow load times, a redesign should be at the top of your to-do list. Redesigning your website on a modern-day CMS will ensure your website is fully optimized to be running as efficiently as possible in the backend. Delivering faster load times won't only help your ranking with Google but also help keep prospects on your site longer.
4. Your website and branding don't align
As your company grows and evolves, it's not uncommon for your branding to grow and evolve as well. Maybe your company expanded the scope of its offerings or entered a new market or maybe you learned your current brand just didn't differentiate you enough from your competition.
While keeping your website and branding aligned can be a tough task, it's an essential piece of digital marketing success.
Maintaining brand consistency across all of your marketing channels helps build your brand awareness, creates more trust with people, and can directly affect your sales. In fact, the average revenue increase attributed to brand consistency is 23%.
Having brand consistency means having consistent messaging across all channels whether it's on your website, in paid ads, or even in print. Your brand should build recognition awareness with people that when they see any of your marketing materials or products they know it's your company.
If this isn't the experience you're creating on your website, you may need a redesign in 2021. A website redesign is a great opportunity to realign your website with your current branding and create that consistent brand experience that builds trust and loyalty with customers.
🔎 Related resources:
A helpful first step in aligning your website and branding is creating a set of brand guidelines and then checking those guidelines against your website to see how well they match up.
You may find you can get by with subtly updating some of the colors and fonts, however, you may also find it's time for more than just a small website facelift.
5. Your website isn't performing well in search
When we hear the term search engine optimization or "SEO" most of us probably associate the term with on-page elements like keywords, link building, and meta descriptions. However, there's a whole other side known as technical SEO.
Unlike traditional on-page SEO, technical SEO doesn't necessarily focus on the content you produce, but rather the optimization of your website and server to improve the crawling and indexing process, as well as to increase search visibility.
🔎 Related resources:
Technical SEO may not be as talked about much as on-page SEO, but if your website isn't built on a sound technical foundation then no amount of SEO magic will get your content in front of people.
Some of the main factors to looks for when accessing the technical SEO of your website includes:
While technical SEO can seem overwhelming at first, one of the best ways to start building a plan for your site's technical SEO is to perform a technical SEO audit of your current website.
Based on what you find during a technical SEO audit, a website redesign can ensure that you address all these technical issues and that your website is built on a foundation that will help improve your visibility in search.
6. Your website conversions have dropped off
In marketing, there's nothing more frustrating (or harder to explain to your boss) than watching your website's conversions taper off month after month, especially if you're doing all the right things.
You're creating content, you're making small iterative updates where you can, you keep a close eye on your data and analytics.
Unfortunately, every website design has an expiration date. As time passes, the way your prospects digest information and the way they want to be sold to will change and your website may slowly fall out of alignment with those needs.
🔎 Related: Why a growth-driven website will give you better results and sales
For example, maybe your prospects expect to learn more about your products through video instead of just blocks of text on a page or maybe now your prospects expect the websites they visit to have some sort of self-selection tool available.
Whatever the reason, if you've noticed your leads tapering off then it's time to take a look at your website and perhaps consider a website redesign
Here are a few more questions to ask yourself when reviewing your website:
Is it easy for people to find your most important information?
Do your landing pages provide users with value and entice them to move them down the funnel?
Are your CTAs placed in the correct areas throughout your website?
Are you using a self-selection tool?
A redesign can improve the way a user interacts on your site and give you the opportunity to create more touch points to keep users on your site longer.
7. Your visitors can't easily find information on your website
As you probably noticed earlier when we were talking about page speed, users aren't exactly patient. They're trying to find the answers to their questions in the quickest way possible. That's why your site needs to be set up in a way that quickly and easily gets this information in front of users.
If you're wondering what information you should be prioritizing on your site, start with simply talking to your sales team.
They spend a lot of time talking to your prospects and listening to their needs so they can provide you with some valuable insight into what the most frequently asked questions are and what type of information people are routinely trying to find.
For example, a lot of salespeople tend to get questions based on pricing. If your salespeople say that pricing is one of the main questions prospects go to, then your website could benefit from either an in-depth pricing page or even a pricing guide easily accessible in your menu.
You'll also want to get a baseline of how the content structure on your current site is performing. The best way to get that baseline is through user testing. You can use services like Userlytics or UserTesting to see how easy it is for users to perform different tasks on your site.
8. The design/user experience (UX) of your site is outdated
Web design and UX are fields that are constantly changing. Every year, we see new trends and approaches that improve the way we engage with our customers. That means over time, older UX principles and design trends become less effective and ultimately start to fade away.
For anyone still using a carousel slider on their website, I'm talking to you.
Now, while I usually wouldn't recommend redesigning your site based on its looks alone, there is some merit to making sure you're presenting people with a website that's attractive and follows modern-day best practices when it comes to UX.
In fact, 38% of people will stop engaging with a website if the content or layout are unattractive.
That's why keeping your website up-to-date with best practices is so important. It ensures you're putting your best foot and delivering users the best experience possible. Check to see if your site uses things such as:
Text embedded inside of an image
Non-traditional scrolling
If you're currently using some of those outdated approaches, it may be time to move away from those bad habits and to look into working more modern-day UX principles into your site through a redesign.
9. Your website looks untrustworthy
Growing up we're all taught "not to judge a book by its cover," but c'mon; we all still do it. A Stanford research study found that 75% of people will judge the credibility of a business based solely on the design of its website and I don't blame them.
Your website is an extension of your business. For many people, it's the first time they're interacting with your company, so it's crucial that you're doing everything you can to show you are professional and trustworthy.
People want to feel like a business has their best interests in mind. If they don't get that feeling, they're likely to leave your website in search of a company that does give them that feeling.
Ask yourself the following questions to see how well your website builds trust with people:
Do you have an up-to-date about us page with pictures of your team?
Are you transparent about the pricing of your products or services?
Do you give prospects all of the necessary information they need to make a purchase?
Is the content on your site easy to digest and understand?
Do you have any testimonials or reviews from actual customers on your website?
Is your copyright information up to date?
Does your site have an SSL setup?
If you're lacking these basic trust-building elements then it's time to consider a redesign in order to start building trust with your users and building up your company's credibility.
10. Your marketing goals have changed
As companies mature and grow so do their marketing goals. Their products and services expand. The way they sell to people in general changes.
In the nine years I've been at IMPACT, we've gone from a website job shop to an inbound marketing agency to a world-class educational community — and with each change came a fresh look to our website.
Change is not a bad thing, but you need to make sure those changes are reflected on your website. Piecing together a website for a major marketing shift with the bones of old marketing goals will only get you so far.
🔎 Related: Why dynamic businesses need dynamic websites
It makes your company's new direction seem like an afterthought. The last thing you want is for these new and exciting changes to just blend into the background of an old site with a different purpose.
You really want to make sure you're setting yourself up to achieve and surpass those new marketing goals.
While you don't need to do a full redesign every time you adjust your marketing goals, it's a good idea to check every so often to make sure your site is still aligned with those goals.
If you find it's not, take the time to develop a new website strategy or go through a website blueprint process to make sure you're kicking those new goals off on the right foot.
11. Your website just doesn't work
This one might seem obvious but is more common than you'd think.
Have you ever been to a site that was almost impossible to use? You wait forever for it to load only to be presented with broken links and images, outdated offers, and a layout that isn't optimized for a modern-day browser?
Not only is it frustrating, it makes you less likely to view that website as being reputable. Your website might not be at this level of broken, but areas of your site may be dated and in need of a tune-up.
🔎 Related: How much does a website redesign cost?
For example, maybe you haven't optimized for the latest browsers, or you're linking to old pages that no longer exist and were never properly redirected. These issues may seem small, but they play a significant role in how people view your company and the overall effectiveness of your website.
Neglecting this for too long can have a significant impact on your traffic and lead-gen efforts. A website redesign will give you the opportunity to address these problem areas of your site and improve the overall user experience for your users.
Don't ignore your website, your business depends on it
If you've noticed that you're experiencing more than one of these signs on your website, then it's time to take a closer look at your website and figure a plan for resolving these issues.
The answer may not always mean a full website redesign, but that doesn't mean that you can let these issues linger on your site:
Watch: Do you need a website redesign or a facelift?
Your website is an extension of your business and can become one of the most effective marketing tools you have at your disposal so build something that inspires trust and with buyers, educates your audience, and can with the needs of your business.
Free: Assessment
Does your website build trust with buyers and bring in revenue?
Take this free 6 question assessment and learn how your website can start living up to its potential.