About ADS
Advanced Data Systems Corporation (ADS) is a leading provider of electronic health records, practice management systems, and radiology information systems (RIS) for radiology practices. The company currently serves thousands of physicians and healthcare providers in every medical specialty and practice size.
Since 1977, ADS' mission has been to create and deliver superior healthcare software solutions supporting optimum productivity, while also providing radiology practices with the finest in training, support, and services.
The ADS team strives to be a leader in meeting the challenges and changes within the healthcare industry, and this includes ensuring their customers can take full advantage of and address upcoming and newly-developed initiatives and requirements.
161%
First-Time Conversions
Planning for the Long Run with Relevant Content
The healthcare software industry is deeply affected by government regulations, and with the 2016 presidential election, we knew there would be an abundance of topical, compelling content we could create to help ADS' audience understand and prepare for shifts in the regulatory landscape.
With that in mind, we developed a content strategy designed to address fear of change within the industry head-on.
In January, we analyzed relevant keywords and news articles to better understand what was driving conversation for our audience. We then developed a long-term blogging, webinar, and email marketing campaign to attract new visitors and answer their questions as they moved through the buyer's journey.
As a result of these efforts, ADS achieved an 86% increase in traffic (54% in organic), a 161% increase in contacts, and a 92% increase in sales opportunities, all of which contributed to the company having a record-setting year.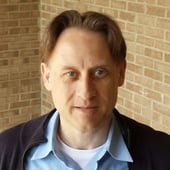 "IMPACT has been instrumental in our company's success. Their ability to provide guidance and expertise for our various marketing programs has led to a substantial increase in sales, as well as positioning us as a thought leader in our industry."
Stephen O'Connor Director of Digital Marketing, ADS
The Finishing Touch: A New HubSpot Lead Scoring Model
Finally, we performed a deep dive into ADS' contacts through HubSpot Reports, as well as individual HubSpot contact records. Our goal was to analyze the interactions of those contacts with ADS' content offers to determine how and when they were consuming content, and how specific content influenced the buying process.
As an outcome of our research, we updated and refined the ADS lead scoring model in HubSpot to better reflect where the company's leads fell within the buying process.
This has empowered us to develop strategically-scoped lead nurturing and retargeting programs, which will only aid in furthering the growth of ADS' sales pipeline.
Take the guesswork out of your marketing in just one phone call
We respond to requests immediately, so we'll get back to you super fast to set up a time to chat.