About Innovative Management Solutions (IMS)
Innovative Management Solutions (IMS) offers project management solutions like consulting, staffing, training, software, and application hosting. Their goal is to help organizations improve their efficiencies in order to increase their project delivery results while minimizing costs.
100%
Training Requests and Sales
380%
Number of Qualified Contacts
1066.6%
Traffic From Emails
What We Did...
After starting with IMPACT, the first thing tackled was a redesign of the IMS website. The biggest challenge here was clearly presenting all of IMS' solutions, services, products, and trainings without overwhelming a visitor. To make sure visitor's felt comfortable and could easily find a solution to their problem, a main focus for the redesign was easy navigation, separate pages for each offering, and clear but short descriptions.
Search Engine Optimization
Outside of housing their extensive offerings, the IMS site also had to be SEO friendly to raise organic traffic and authority. To do so, a company blog was established for additional page indexing and all site pages were optimized with keywords frequently searched for by prospects.
After the redesign and optimization, IMS organic traffic has increased by about 97% since beginning work with IMPACT in 2013. Organic traffic now makes up the largest source of traffic for IMS, but to keep traffic steady, there also needed to be other active channels.
Email Marketing
Email campaigns were also set-up to help boost traffic back to the site. The biggest email campaign created was a blog update email. This email is delivered directly to the inboxes of subscribers weekly and monthly to keep them up-to-date with the newest articles IMS posts. By making their content convenient and intriguing enough to click, IMS's email campaigns have led to a boost in traffic by 1066.6%.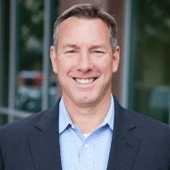 "I've worked with several other organizations...without any results. After working with IMPACT for about 3 months, I've already seen some return. I've experienced nothing but professionalism from them in every aspect of their business: from sales and discovery to the execution of the work."
Jeff Collins President & CEO, Innovative Management Solutions
Results...
After working with IMPACT for only a few short months, IMS was already seeing more results than they did from their previous marketing.
Thanks to social media activity, improved search rankings, and strategic email campaigns, IMS was finally able to connect with and nurture the right contacts. As a result, they saw a 380% increase in the number of qualified contacts being generated in just a few months.
However, this was just step one. To increase IMS's biggest goal of raising their number of training requests, prospects needed to be better guided to the request form.
To help prospects find the page, it was optimized for search engines. IMPACT made sure the URL, headers, page title, meta-description, and other elements on the page included keywords prospects searched for when looking for solutions. Since optimizing, IMS has seen an increase in training requests and sales by over 100%.
Overall IMS has seen the benefits of inbound marketing. With its inbound efforts, IMS is able to reach the right audience with the right information and will continue to increase their leads, training requests, and in turn revenue.
Take the guesswork out of your marketing in just one phone call
We respond to requests immediately, so we'll get back to you super fast to set up a time to chat.