32 digital marketing trends to watch in 2021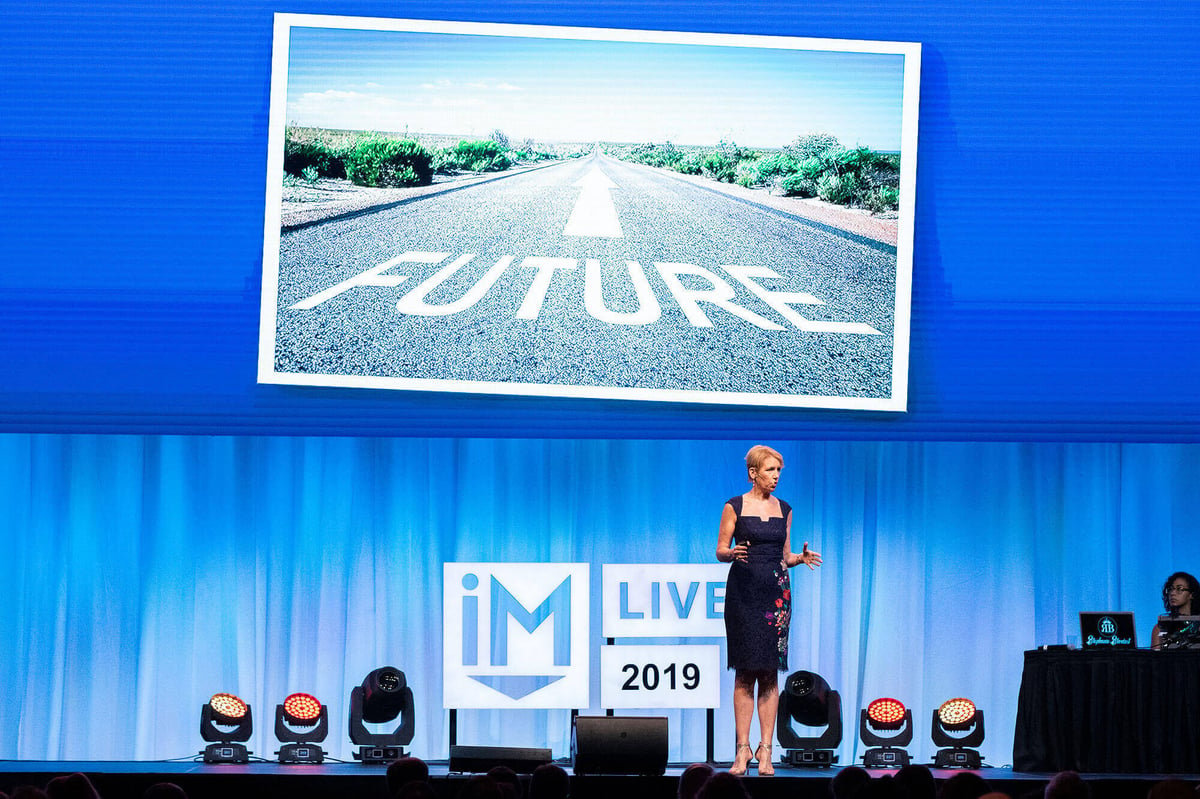 Top digital marketing trends
Assignment selling
Predictive lead scoring
Personalized video in the sales process
Employee bio videos in email signatures
An accepted lower production quality for video
Product-focused videos
Long-form videos
The continued importance of local SEO
Voice search
Google Discover
Content written for user intent
Mobile SEO
The prevalence of more "you" focused language
Shifting from brand awareness to brand affinity
Personalized web experiences
Conversational marketing
Self-configuration tools on your website
Ultra-minimalist website navigation menu experience
Holding revenue team meetings
The pillar page takeover
User-generated content
Bringing content creation in-house
Podcasts (both advertising on them and creating them)
Using social media platforms to speak on important issues
Non-traditional social platforms
Livestream video
Social media stories
Social listening analytics
Online communities and groups
Social commerce
Rising cost-per-click
Paid media advertising beyond Facebook and Google
Stop me if you've heard this one before.

You sit down for a meeting to discuss big goals for the year with your boss — revenue, marketing KPIs, growth, and so on.
Before you walked in, you felt good about the initial plans and recommendations you had put together. "I might have to make a few tweaks," you think to yourself. "Overall, though, what I've got is rock solid."

Flash forward to walking out of that very same meeting. You're feeling confused… maybe even a little overwhelmed by some of the "out of left-field" challenges your boss threw your way. It's that what they were looking for was unreasonable. But, clearly, you need to rethink your strategy from top to bottom.

That means it's time to buckle down and figure out how your marketing team is going to deliver big for your company in the new year. Because, clearly, you're going to need to evolve your strategies to embrace new ways of achieving your goals.

But where should you spend your time and effort? What are the digital marketing trends worth capitalizing on?

When it comes to digital marketing, this scenario is a common one. The landscape is always evolving — and sometimes spinning wildly off into new directions. For example, what most marketers ignored as a smartphone gimmick only a few years ago has now evolved into voice search, which is growing rapidly.

This happens a lot in our space. What starts out as a seemingly inconsequential shift, suddenly transforms into an outright disruption in how buyers search, evaluate, and make purchasing decisions online.

Here at IMPACT, we're obsessed with teaching our clients how to successfully navigate the often choppy waters of digital sales and marketing. My goal with this article is to help you learn and understand the digital marketing trends and shifts that will change how you work.
Digital sales trends
Does your sales team use any of the content being produced by the marketing team? Do you, as marketers, work with your sales team to create content that could help the sales team close deals?

If so, assignment selling is for you. Now, assignment selling isn't so much a trend as it is a shift that will likely be around long-term.
Simply put, it is intentionally using educational content you have created about your products and services to resolve the major concerns and answer the burning questions of prospects during the sales process so they are much more prepared for a sales appointment.

🔎 Related: 5 real-life examples of assignment selling in action

The direct result of your sales team using created content in the sales process is a more well-informed prospect who is more likely to close — and close faster.

As an added benefit, your sales team will also spend less time answering the same questions over and over again through assignment selling. Sales conversations become more efficient and exist only with prospects that understand your offering.
How are you currently prioritizing the leads to focus on those that will most likely result in a sale? If you have a manual process built around lifecycle stages and traffic source, you're wasting time when technology has created the solution.
AI and machine learning has improved so much in the past couple of years and one use of this functionality is predictive lead scoring.
HubSpot and other CRM software options now usually have the ability to help you filter through your contacts and understand trends and behaviors.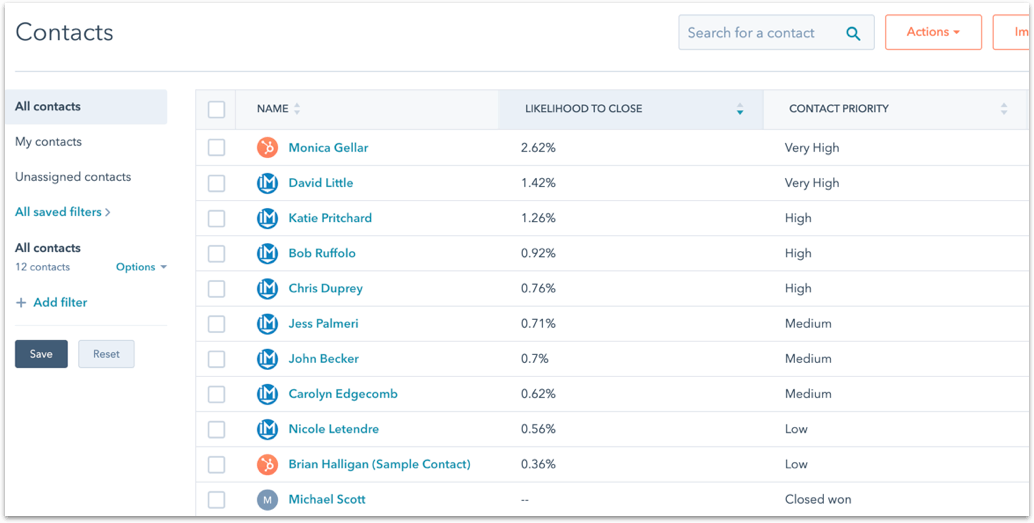 HubSpot contacts report showing predictive lead scoring
Predictive lead scoring rates your contacts based on the likelihood to close. This score is based on factors like email engagement, social engagement, spam, demographic information, behavior, and company information.
Finding a CRM or contact management software with predictive lead scoring is essential to digital sales.

The concept of using video to communicate with prospects is becoming more popular as video tools become easier to use. With the number of emails that your prospects receive on a daily basis, it's hard to be heard among the noise.
Emails with personalized videos have seen an 8x increase in click-through rate when compared to a standard outbound email.
Free tools like Vidyard's GoVideo allow anyone to make quick and personal videos easily using your laptop's webcam. In most cases, it's much quicker to make a video than type an email.

🔎 Related: The ultimate guide to personalized video for sales

In addition to increased click rates, higher open-rates, and greater engagement, video allows prospects to see your face.
Humanizing an email conversation with a friendly face helps your prospect get to know you. This deeper level of connection allows your sales team to break through the noise and build trust.
4. Employee bio videos in email signatures
As professional meetings and conversations are happening almost exclusively online right now, the face-to-face human connection we once had might seem like it's missing. Shooting employee bio videos for every client-facing person in your organization is a way to bring back that personal touch.

Employee bio videos should help explain that person's role, what drives and motivates them, and a bit about their personal lives. Better than showcasing these on your website for people navigating to your about us page, these videos are best deployed in email signatures.

Including them in your email signature means that a prospect or client is never going to get an email from someone they don't know, or can quickly get to know. It also enables a person to "meet" and feel like they know your team before they even have a one-on-one conversation.

🔎 Related: The Selling 7: How to Make Amazing Employee Bio Videos (+Examples)
Video marketing trends
5. An accepted lower production quality for video
What did 2020 teach us about video quality? In short, that the days of needing a perfectly groomed and manicured video are long gone.

Professionally and personally, we were all hopping in and out of Zoom meetings all day and brands were turning to Instagram Live. Even more user-generated content was being shot on phones, like the viral Tik Toks of a man named Doggface skateboarding and drinking juice.
Professional speakers appeared at events from their living rooms and sportscasters and live television personalities recreated the big studio productions we'd become accustomed to from their homes as well.
Consumption and engagement rates through video platforms have done nothing but continue to rise. This proves that you don't need a big production budget and professional equipment to make successful videos. Obviously, if you have these items, higher quality is preferred and we've seen those results with plenty of our clients, but in 2021, not having a big production budget or professional equipment is simply a bad excuse for not having a video marketing strategy.
6. Product-focused videos
Fifty-two percent of consumers say that watching product videos makes them more confident in online purchase decisions.
You cannot assume that your buyers understand the products that you're selling online. Product videos can further explain what written specifications details and pricing cannot. Videos for products should explain:
What is it?
Who's it a good/not good fit for?
Why do I need it?
How much does it cost?
When should I buy it?
How do I buy it?

7. Long-form videos
In 2017, a vast majority of videos (80%) were under five minutes or shorter. These short videos tend to make up less than a third of total engagement of all video content.
Conversely, videos that were 15 minutes or longer resulted in 50% of audience engagement.
With the rise in video as a content medium, focusing on engagement needs to be at the core of your video strategy. Vanity metrics such as likes and views aren't going to move the needle.
Short-form video is proven to be most effective on social media sites, whereas long form video is expected and desired on your website and video channels.
Creating a video series with long-form videos aligns to the content consumption habits of an on demand streaming services like Netflix.
Moreover, often the length a viewer is willing to watch on video correlates directly with the value being provided. For example, someone might be less likely to watch a social video that's more than five minutes long.
However, they might be more willing to watch an eight-minute video that's on a services page because, in that case, they are wanting as much information as possible, as they are in a sales-motivated scenario.
In other cases, it simply may take longer to thoroughly and honestly answer a buyer's question via video, so let the content and context of what you're covering dictate the length of your video.
Think of longer videos as a great way to teach your potential buyers what they need to know without making them read a lengthy blog post.
📽️ Long-form video example: How to conduct an off-camera style interview
Search and SEO Trends
An increasing number of searchers are looking for businesses close to them, which have been deemed "near me" searches.
From 2013 to 2017 there was a 900% increase in "near me" searches. In the past two years, there has also been a 200% growth for phrases like "now" + "near me."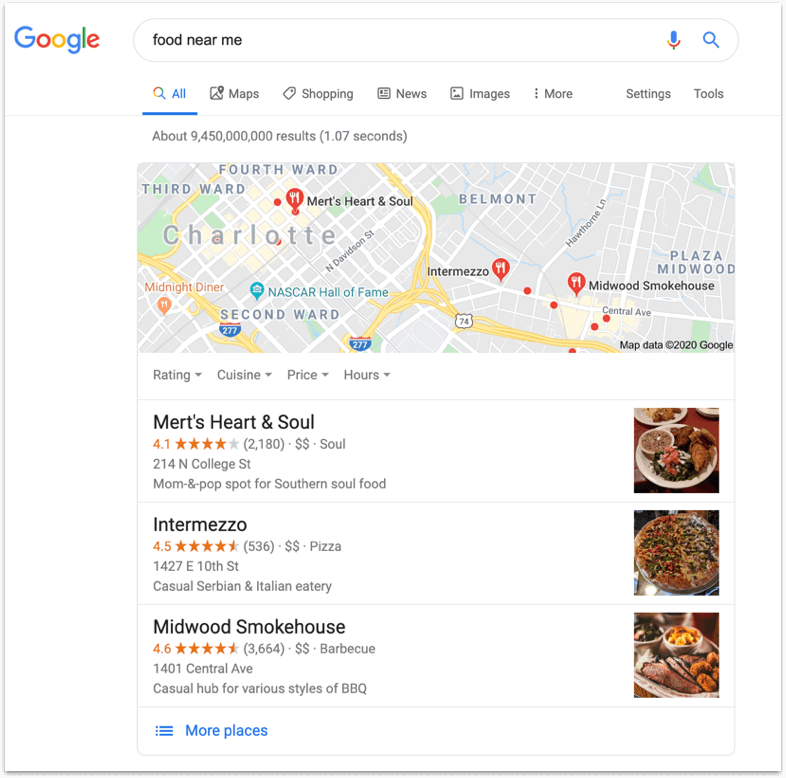 Google maps showing results based on location
For businesses that operate on a local level, there is a massive opportunity to capture buyers at a moment where there is an immediate need.
Optimizing for local SEO starts with creating and optimizing your listing on Google My Business. These local listings from Google My Business will show up before the organic listing.
Think of your Google My Business listing as the local extension to your website. If your business operates on a local level, optimizing your website and Google My Business for local SEO is paramount.

🔎 Related: How to completely optimize your Google My Business Listing for 2020
9. Voice search
By 2020, 50% of all searches across the internet will be voice-based.
The emergence of searches happening on Siri, Alexa, and other voice assistants is taking over. The most important thing to keep in mind is that people search differently when speaking than typing.
Over a traditional keyboard search on Google, it would be common to see a search term like "iPhone 11 cost," but when someone performs a voice search the queries are more conversational and often longer.
A voice search would be more like "How much does the iPhone 11 cost?" Voice searches are also more often in the form of a question when compared to keyboard searches.
According to Neil Patel, one of the best things you can do to capture voice search is answering customer questions with blogs. This is the very same concept popularized by Marcus Sheridan in They Ask, You Answer.
🔎 Related: Despite voice search growth, optimization still lags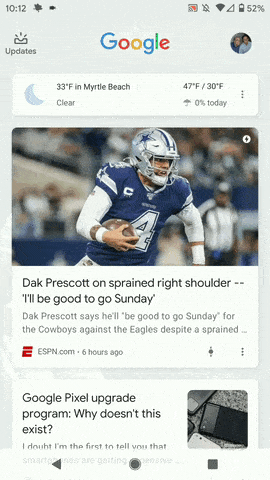 Did you know that you can have your content found organically without people searching for it?
Google Discover creates a user specific feed based on browser history, AI, and marked interests.
If you keep a close eye on your website traffic you may have seen traffic attributed as Referral Traffic from Googleapis.com.
Currently, this app only exists on Android devices and is most easily accessible on Google Pixel phones. Soon the functionality of Google Discover will exist on all Google mobile browsers.
This is a big upcoming source of referral traffic that can deliver your content directly to interested prospects.
There are more than 800 million people using Google Discover to find new content, and that is just the beginning.
11. Content written for user intent
Keyword focused content is rapidly becoming obsolete.
With the BERT update from Google, there is a much bigger focus on delivering content that matches the intent of the searcher. Google's focus is on truly understanding the meaning behind what the searcher is trying to find.
Content that is keyword-driven and focused will quickly lose organic traffic. In order to rank well and be found on Google, companies need to begin focusing content on the intent of the searcher.
We will need to "Focus on how our users talk about their issues, problems, and needs at each aspect of the buyer's journey much more" according to Keith Goode, Sr. SEO Strategist, IBM.
Optimizing for mobile doesn't seem like it should be a trend in 2020. Google announced that it would be mobile-first indexing sites in 2018 and mobile searches have outweighed desktop searches for a while.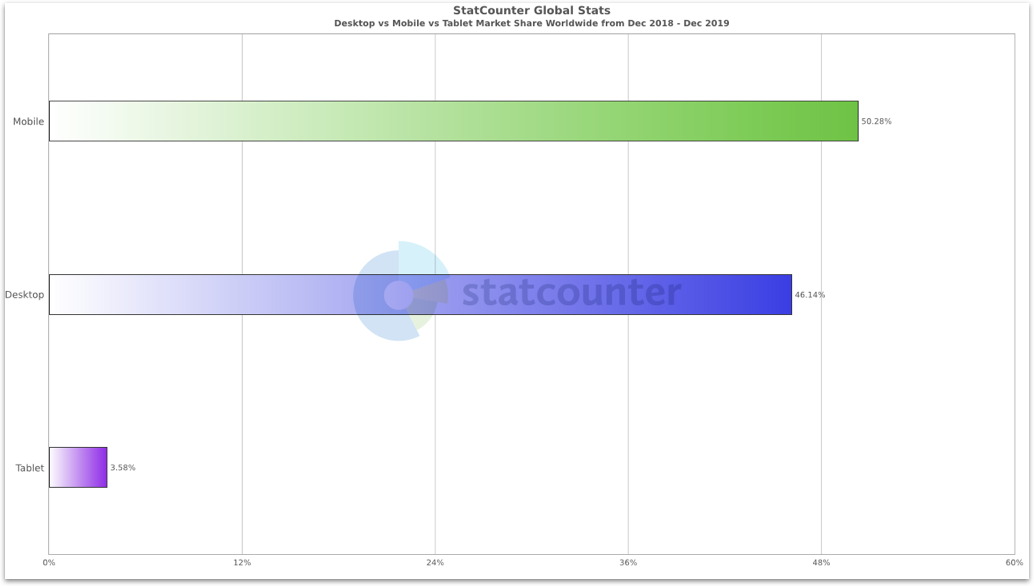 Mobile usage has surpassed both desktop and tablet traffic
Even though it's proven that your website mobile page is more important, the mobile version tends to be de-prioritized.
If your website isn't built so it's responsive (adapts across multiple devices without a mobile-version of your site loading), you'll likely see your traffic decline.
Focus on UX initiatives for mobile such as page speed, responsiveness and proper sizing of images and clickable areas.
You can easily check if your website is mobile-friendly with this free tool from Google.

Website strategy trends

13. The prevalence of more "you" focused language
Too many websites are littered with the same stale value propositions and stock language.
How many times have you seen terms like "award-winning" or "save time and money" thrown around online? If you're like me, it's a daily occurrence that incites a game of "Let's See How Fast We Can Get To The Back Button."

As more and more companies are becoming aware that their messaging sounds and feels the same as everyone else's, they are seeing the value of "you" focused language. Basically, in order to help speak to your buyers, you have to stop talking about yourself.

Limit the number of statements on your website that start with words that put the focus on your company. A good rule of thumb is that you should have 2x as many "you" statements as "we" statements on your site. These statements typically start with "we" or "our." Instead, reimagine how you can get your point across by starting with the customer-centric "you" or "your."

Here's an example of what a "we" statement might look like:
Our award-winning CRM software allows you to use predictive lead-scoring to automatically rank the contacts in your database based on the likelihood to close.
In order to reimagine a statement like this, you must first identify the part of the statement that has actual value to your customer. Once you've identified it, lead your statement by focusing on that value.

So the revised version of that statement might look something like this:
Automatically identify the leads in your database that are ready to close with predictive lead scoring functionality.
By putting your visitor as the center of attention, you position that thing you sell as the solution to their very specific problem.
🔎 Related: 13 best website copywriting tips for digital marketers
14. Shifting from brand awareness to brand affinity
How can you best position your company to attract new customers and grow relationships with existing customers?
Typically, marketing and website strategies have been focused on increasing the number of people who know (or are aware of) your brand or offering.
Due to the sheer volume of options available online, they can all look and feel very similar. Just looking at HubSpot partner agencies — there are over 4,000 to choose from!
Focusing on building awareness seems like a logical goal to help you reach audiences, right? Well, not so fast.
Keep in mind that buyers today choose to purchase from companies that they can relate and connect with. This connection ultimately leads to trust, which is a necessary component to digital sales.
Marketing with brand awareness in mind focuses on an audience who doesn't know your brand and introducing them to you.
Marketing with brand affinity in mind focuses instead on building emotional connections between your existing customers around shared values.
Instead of focusing on new audiences with your messaging and positioning, focus should be on your existing customers and making them promoters.
Create a brand that has a personality and purpose and your customers will promote for you.
Messaging and positioning in 2020 needs to revolve around creating fandom and brand advocates.
15. Personalized web experiences
Let's make one thing clear, it's very easy for companies today to create a "personalized" experience for website visitors with cookie tracking and smart content.
You've likely seen this when you return to a website and your name or company name appears on a website or chatbot. That's not what we're talking about.
Most businesses talk about how great they are and how they are different in their website messaging.
Buyers will come to your website and ask one question before choosing to continue learning: Does this solve my problem? The biggest focal point of the question is that word "my."

Marketing teams need to retool their websites and messaging to allow prospects to have personal experiences. Go through your company homepage and see how many times you use words like "we" or "our."
Compare that to the amount of times the words "you" or "your" are being used. The ideal ratio is 5-to-1, meaning you refer to your buyers five times more than yourselves.

Reframing your website to speak to buyers' problems as they express them will help them see that you understand their problems. With this understanding, they can believe that you can solve for their specific problems.
According to Business Insider, 80% of businesses are currently or plan to be using chatbots by 2020.
Originally the intent behind chatbots was to have a unique way to automate communication with prospects 24 hours a day, seven days a week.
Creating some quick scripts and getting a chatbot up and running is no longer a viable conversational marketing strategy.
With the popularity of online chat tools, you'll need to fine tune your strategy to maximize results. Seventy-nine percent of people use chatbots and live chat to get immediate answers.
As a result, the goal of conversational marketing should be to provide these answers and allow visitors to have a website experience tailored to them. Companies that will succeed with conversational marketing will create an engaging conversation.
If you have the bandwidth, use chatbots to provide immediate responses and then live chat to help answer questions quickly.


From 2015 to 2017, mobile searches with the qualifier "for me" have grown over 60%.
People aren't searching for solutions to general problems, they need specific solutions to personalized problems.
Instead of having one path that all website visitors go down, you have the power to let them choose their own adventure.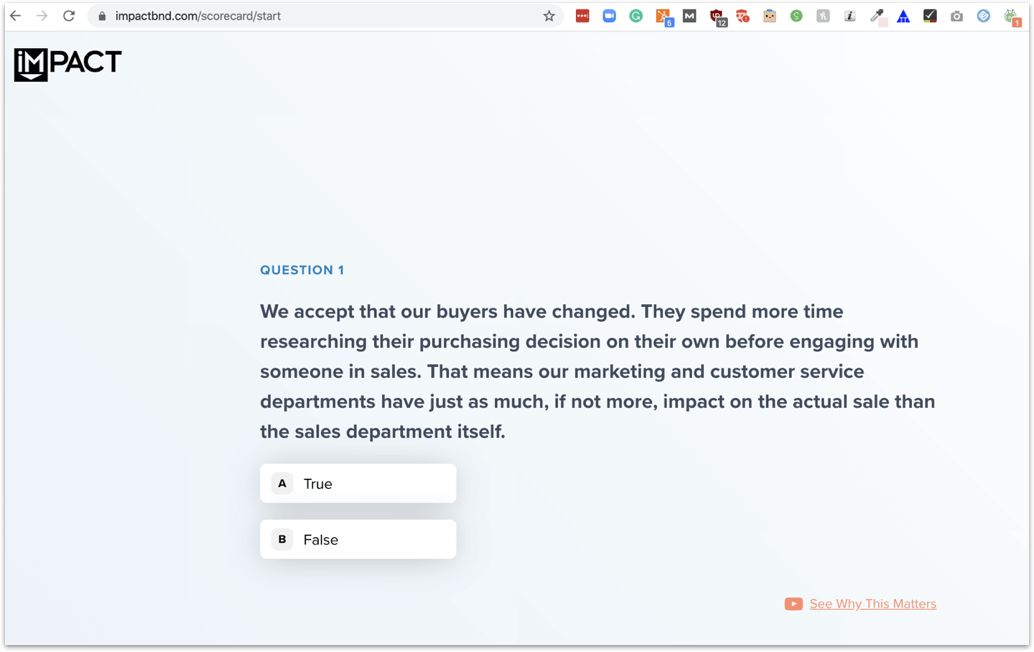 An example of a self-configuration tool
Consider building interactive website tools such as pricing calculators, design and build configurators, and customer onboarding tools. (In our experience, they are the three most effective types of self-configuration tools.)

Users crave personalized web experiences, as we mentioned earlier. Using self-configuration tools helps inform prospects about the solutions best suited for them.
This allows for more productive sales conversations because buyers have already done the research and know what they need.

🔎 Related: What are self-configuration tools and why do you need them on your website?
18. Ultra minimalist website navigation menu experience
You have around 15 seconds to get new website visitors interested in what you have to offer.
Website design that's heavily text centric and difficult to navigate is likely to overwhelm and confuse in that short time span. That means a high bounce rate and lost opportunities.
Less really is more here. Simplifying website navigation makes your website easier to use.
Extremely minimalist navigation boils down to having less options, but clearer paths to choose between. When your website visitor can focus on fewer elements, they will spend more time on your site because it's a simple and enjoyable experience.
Content marketing trends
19. Holding revenue team meetings
The legacy way of creating content ideas was the marketing team getting together, doing some keyword research, and creating an editorial calendar of good blogs and videos that would drive traffic.

The sales team was happy to let the marketing team do their thing in isolation, but very rarely did anyone from the sales team actually use any of the content.

One of the most effective things that we've done with our clients is teaching them how to get sales and marketing teams together in the same room to create content that actually makes an impact on the bottom line. These sessions are called revenue team meetings.

Through revenue team meetings, the marketing team will learn what questions the sales team is being asked by buyers in the sales process that should have a piece of content created for it, and how well previously created content has worked to close new deals.

Through this unified content approach your sales team will be able to close deals more quickly, be more efficient in prospect conversations, and decrease the number of conversations with bad fit prospects.

🔎 Related: What is a revenue team? (definition + video)
If you've seen a drop in your landing page conversions, you're not alone. Companies often promote landing pages without providing much value upfront.
Forms generate leads, but not often leads that are well-educated and that understanding your company. Pillar pages are free to read, deep dives into a subject that your buyers are interested in.
They tell a prospect everything they need to know in order to make a sound buying decision.
Think about the last website that you went to where you were asked to download something right away. I won't even ask you what you did because we all know that you left.
🔎 Related: How to write a pillar page (with examples)

How different of an experience would you have had if the website was truly focused on helping you learn about what you wanted to know? You didn't have to fill out a form to learn, but it was all out in the open.
Pillar pages help drive value for your buyers and answer all the questions they have about that thing that you sell.
Because your content is extensive and informative, you're creating well-informed buyers. Because you're the one who taught them, they've learned to trust you and are therefore more willing to buy.
Additionally, pillar pages are the core of what are called topic clusters — a relatively new type of content architecture that helps you better organize your website content, increases search engine visibility of your content, and improving your search engine rankings.
Here's a great video to explain where this new type of content strategy architecture came from and why it's so important:
Related: See Liz Moorehead speak again at Digital Sales & Marketing World 2020
21. User-generated content
Ninety-two percent of consumers trust organic, user-generated content more than they trust traditional advertising.
Empowering your consumers to provide content also saves your marketing team time and money.
The faces and voices of your customers embody what your brand is all about. They'll also be promoting your brand which increases visibility and builds community.
One of the earliest examples that you may remember was the ALS Ice Bucket Challenge that encouraged people to record videos and post them with a branded hashtag.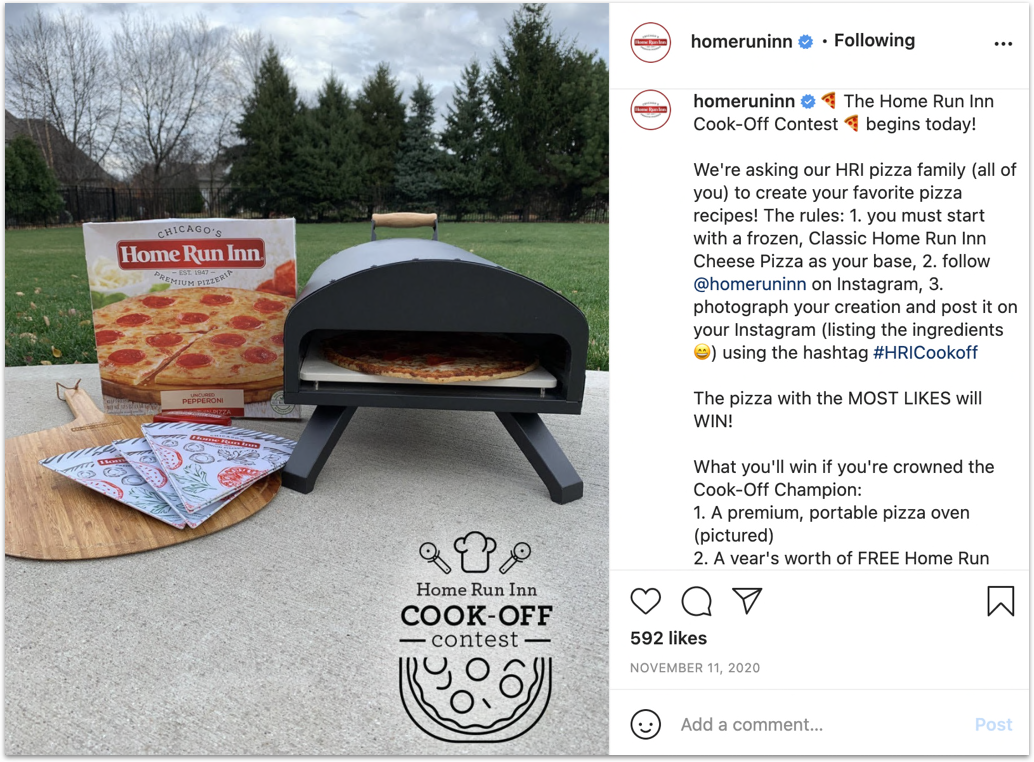 Home Run Inn runs a challenge that prompts users to enter a contest showing off their own unique creations
User-generated content can take many forms such as branded hashtags, photo and video contests, or creating a challenge.
The biggest hurdle to embracing UGC is giving up control from marketing teams and to users. Creating the ability for your users to create content and promote your company online has many benefits if leverage properly.
22. Bringing content creation in-house
Google has given us all a good idea of what type of content will rank well.
Continual algorithm updates continually prioritize pieces with E.A.T. (Expertise, Authority, and Trustworthiness).
References to E.A.T. by Google are specifically tied to content authors, not just companies or brands.

If authors of your content don't have expertise or authority, or if Google can't prove that they do, your rankings will suffer. Companies that have relied on outsourced writers that aren't industry experts with company bios that prove authority will suffer.
🔎 Related: Insourcing content vs outsourcing content, which is better for marketing?
The best way that you can increase your E.A.T. score is by having content transition to an in-house effort.
Written content needs to be tied directly to an author that knows your business and industry well. Building the personal brands of content creators will be as important as the company brand when it comes to being found online.
The amount of people listening to podcasts has steadily increased in the last decade. When looking at 2019 compared to 2009, the number is almost tripled.
Clearly, they are quickly becoming a preferred method for learning and consuming content.
In a world where all marketers are trying to capture attention, the engagement rates with podcasts are worth noting.
Ninety-three percent of podcast fans listen to most of an episode, which means a deep level of engagement and interest.
There are a couple of ways that you can leverage this growing popularity. You can create your own podcast, be a guest on one, or advertise on another.
Because podcasts are often highly targeted, all of these options are cost-effective ways to reach an engaged and interested audience.
Social media trends
24. Using social media platforms to speak on important issues
The people have spoken. 56% of consumers say they have no respect for businesses that remain silent on important issues. Some companies like Patagonia let their voice be heard on social, political, or environmental issues, but prior to 2020, it was a widely accepted norm that most businesses would abstain from taking stances that could be polarizing.

Now diversity and inclusion is being brought out of the shadows and being discussed as an integral part of successful business cultures and sustainability is being more openly discussed in business circles.

Whether or not you personally find it to be fair, businesses that don't proactively use their website and social media channels to join issues stand a good chance of being criticized.

Look for many companies to really hone in their social media strategies and to have more active voices on things that aren't strictly about their product or service.

25. Nontraditional social platforms
Long gone are the days of effectively promoting your company on traditional social media platforms like Facebook, Twitter, and Instagram.
WhatsApp, TikTok, and Facebook Messenger have nudged their way into being well-known. In fact, WhatsApp and Messenger actually have more monthly active users than Instagram and Twitter.
Each platform has unique benefits and ways that companies can promote on them. TikTok, for instance, allows users to create and edit 60-second videos and add music and special effects.
WhatApp and Messenger have functionality that allows businesses to provide customer support, share updates, and promote content.
Due to the sheer volume of active users, these newer platforms are uncharted waters that are ready for early adopters.
26. Livestream video

80% of respondents to a recent survey said they'd rather watch live video than read a blog post.
Couple this with the fact that almost half of users surveyed said that they watch a livestream video at least once a week and a quarter of those same respondents watch livestream video once a day and you've got an impressive case for the medium.
Facebook, YouTube, and Instagram all make creating live video quick and easy. Truly the only thing you need to start a livestream video is your smartphone and an active social media account.
Related: Why live social video is an absolute necessity in 2020

Livestream video promotes real-time interaction with customers and prospects in a cost-effective way.
Viewers aren't consuming your content on their time; instead they are choosing to join in your content on your schedule, so they are naturally engaged.
Here are some ways your business can utilize livestream videos successfully.

27. Social media stories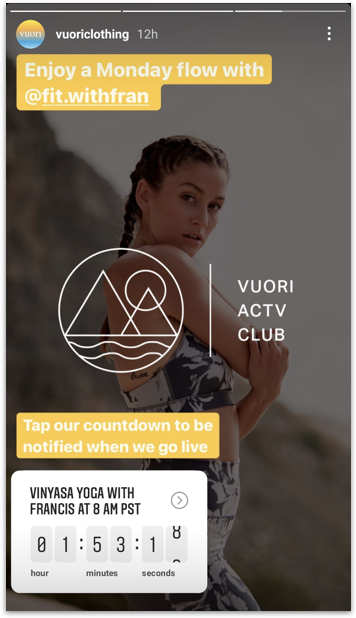 A great way to continue featuring your livestream video for those who couldn't tune in at the time is to show the video on your story afterwards.
With 1/3 of the most viewed Instagram Stories are from businesses, they are also a great way to feature products, events, or links.
There are simple built-in tools proven to make stories more engaging, such as polls, geotags, and mentions.
It's also very easy to take user-generated content that you're tagged in and repost in your story.
More than half of Instagram's users have discovered new products on the app.
They've also indicated that they are open to learning more and even purchasing.
🔎 Related: Instagram stories vs. Facebook stories, when should marketers be using them?
28. Social listening analytics
Social listening is the practice of looking into brand mentions to get a pulse on what users, promoters and detractors are saying.
Social listening has largely been used to this point as a reactive marketing tactic for communicating with customers.
As AI technology becomes stronger and is applied to social listening analytics, the way in which this tactic is used will change dramatically.

Social listening analytics can begin to be used in a proactive way to identify trends and help inform marketing strategy.
Instead of sending a feedback form or paying for market research, customer panels or focus groups - you can quickly receive feedback. AI can help businesses spot trends as they are emerging or get quick feedback that can help companies quickly pivot.
Forty percent of marketers use online communities even though 50% are actively trying to connect with customers in a quicker fashion.
Think about the way that buyers make decisions online: they look for feedback from current users, read reviews and search for helpful content to aid in their decision.
Marketers ignoring online communities and groups are missing an opportunity to help your voice be a part of that conversation as it's happening.

Building an online community isn't a tool that you can sit and forget, so if that's the plan keep moving on. Online communities rely on immediate feedback and interaction to keep them valuable and thriving.

Here at IMPACT, we have IMPACT Elite as an online community. It's a place where inbound marketing professionals can solicit advice, share ideas and learn together.
Creating communities like this allow us to regularly see what our clients and inbound marketing professionals are talking about.

🔎 Related: The definitive guide to online community management for brands
30. Social commerce

Social media titans like Facebook, Instagram and Pinterest have made it easier to shop and buy all without leaving their apps.
On these apps, businesses can now make online stores, customize product catalogs for the social store and sell directly on these social media platforms.

You can open an entirely new audience and provide a seamless transaction without customers needing to have ever heard of your company or go to your website.
If you sell products that cater to a younger demographic, social commerce is worth exploring. It's worth mentioning that this is still a relatively new and therefore untested digital sales opportunity.
Paid advertising trends

31. Expect to see rising cost-per-click (CPC)
The total amount of searches being performed online isn't growing by large margins like it used to.
Pair that with the massive numbers of companies focusing on creating a greater volume and better quality content, and you've got two colliding forces creating a more competitive landscape for ranking well in search results — both organic and paid.
Which, of course, means a rising cost-per-click (CPC) costs for paid media advertisers.
🔎 Related: The ultimate Google Ads getting started guide

It's important to understand this trend, even though it isn't an easy pill to swallow. Anticipate an increase in paid media advertising budgets (Google, Facebook, LinkedIn, and so on) to accommodate more competitive search and CPCs.
Focusing your big strategy to maximize conversions can be an automated strategy to lower CPCs vs. relying on a manual CPC strategy.
Savvy marketers should plan to have a portion of your paid media advertising budget for alternative platforms, aside from Facebook and Google.
What's most important for paid advertising in 2020 and beyond is to meet your customers where they already are. Using social media analytics and engagement rates you can quickly determine potential paths for paid advertising.

Facebook continues to lead the way with monthly active users, but are they your users?

If your users spend time interacting with short videos and stories, sites like TikTok and Snapchat could be worth investing in.
Do your users crave written content and detailed answers to questions? Reddit, Quora and Medium all have tailored areas where conversations are actively happening.

Allocate a small portion of your paid advertising budget to explore and test alternative sources that could help meet you where your buyers spend time.
What digital marketing trends will impact your business in 2020?
I can only imagine how you're feeling after reading through almost 4,000 words on the digital marketing trends for 2020.
It's probably similar to how I felt after researching and writing this. (Excited by all of the possibilities, but overwhelmed and… well, a little exhausted.)
The most important takeaway from this article will be your answer to a simple question:

What emerging opportunities and trends could best help elevate your company to hit your goals this year, based on your current strengths, weaknesses, and industry position?
The world of digital sales and marketing moves at a dizzying speed. The companies that innovate and capitalize on emerging trends will outgrow their competitors and find new customers. Those aren't going to be the people who read this article and say, "That was really insightful," and then move onto something else.

It will be the minority of people who see the urgency what I've discussed here and understand the immediate need for change who will take action.
They will begin experimenting and testing in new digital areas, so that they are the ones who, ultimately, achieve the growth they're looking for.
As a digital marketer, you must immerse yourself in the needs of your customers and the technology available to them. That's the common theme among all of the digital marketing trends for 2020:
Find creative solutions that allow you to create a connection with your ideal buyers.
Free Assessment:
How does your sales & marketing measure up?
Take this free, 5-minute assessment and learn what you can start doing today to boost traffic, leads, and sales.