7 Content Marketing Mistakes You're Probably Making [+Fixes]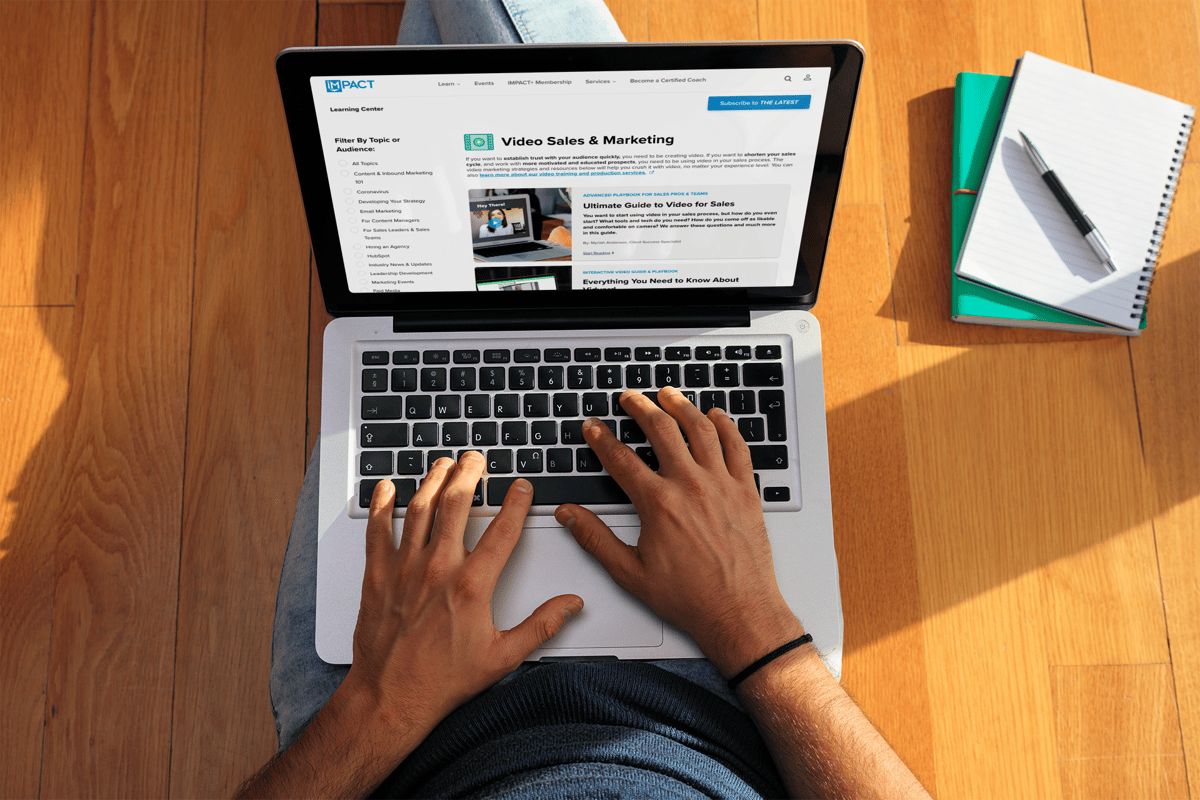 Having been in this inbound space for more than a decade, we've spoken with thousands of businesses about inbound marketing.
The vast majority of them are producing content, doing all the things HubSpot or similar "inbound experts" have told them to do, yet their results are lackluster at best.
Why? Because for years, content marketers have been completely misguided, wasting a lot of time and money.
We can't travel back in time and change the past for you, but we can change your future.
Having helped thousands of businesses turn around those lackluster programs to become some of the best inbound marketing case studies, we can definitively share the seven most common mistakes with fixes that, if you implement them, are guaranteed to deliver incredible content marketing results.
Think of this process as links on a chain. If any one of these links is weakened by a mistake, then the entire chain is compromised.
Mistake No. 1: Outsourcing your content
Fix: Hire a content manager.
Your site needs content. But don't make the mistake of hiring an agency or a freelance writer to do it for you. Instead, make sure you hire someone to be on the inside, someone who knows your culture, overseeing it all while living it.
Content is the soul of your business. An agency will be challenged to legitimately create content that authentically and accurately captures your brand, your core values, and the depth of your subject matter expertise from the outside looking in. A content manager must be embedded within your business to truly share the company's vision. They will understand you because they are you.
Somebody has to own it or you're not going to win. You need a champion for content.
With an in-house content manager on staff your content creation will get done on a consistent basis in a way that captures the true soul and perspective of the company. You need someone whose sole focus is dedicated to your success with the content. That's why you need to hire a content manager.
Mistake No. 2: Not publishing regularly
Fix: Publish at least three times a week.
One of the first things we do with a new client is to get them to publish three articles a week – starting right away.
Our data shows that when companies produce three or more pieces of great content per week for at least one year, traffic and leads skyrocket. What else do you need to hear?
This matters because publishing more articles means more opportunities to offer answers to more questions prospective customers are asking online, and it also signals Google that you are an active educational resource publishing high-quality content. So, Google will crawl your site more often and rank your content high in the search results.
If maintained, a pace of three a week will result in 150 articles over the course of a year, which is no small potatoes. Having that healthy presence online will reinforce your authority in your industry and give your website depth of expertise.
Mistake No. 3: Not answering the questions your buyers are asking
Fix: The Big 5.
You have to answer buyers' questions. Why? If you're creating content that answers the questions buyers are searching for when looking to solve a problem your company solves, they'll find you, land on your page, learn from you — and you control the conversation. Most companies don't do this, and that's why their content marketing falls short.
Essentially, The Big 5 is the surest way of making certain that your team is creating content that addresses the most common questions your customers will bring about your products or services:
How much does your solution cost?
What are the negatives or issues with your solution?
How does your product or solution compare to the alternatives?
What is everybody saying about your solution?
What is the best solution available?
It's important to make the answers to these questions obvious, simple, and easy to find on your website. Following through with solutions to your potential customers' problems is key. After all, you don't want them experiencing the "f-word" of the internet: frustration. Show me a frustrated website user and I'll show you a lost lead. Remember that visitors to your site will spend an average of 10 seconds looking for what they need — after that, consider them gone.
Bottom line: Obsess over The Big 5 questions.
If you'd like to learn more about how to write these topics most effectively, we have a free, detailed course led by our senior content trainer, Kevin Phillips, called "How to Write The Big 5" that you'll find useful.
Mistake No. 4: Not including your sales team in the content creation process
Fix: Set up interviews and/or set up a revenue team.
If someone doesn't help build the thing, they won't appreciate it as much.
The sales team should have a seat at the table when it comes to content creation. But how do you include them in a seamless and effective way so that they are contributing to the process? Interview them! Ask them about what they're hearing when they're talking to current and potential customers. Have a conversation with them like you would if you were a customer.
These conversations will serve two purposes: As the subject matter experts, they will help inform you about how things work for frontline workers, as well as provide you with a better perspective that you can use to inform your content.
As part of this, consider aligning your sales and marketing efforts by forming a revenue team. Made up of key players from your sales and marketing teams, a revenue team is centered around a shared goal of increasing revenue through traffic, leads, and sales.
Team accountability will bring unified results.
Mistake No. 5: The sales team is not using content in the sales process
Fix: Train the sales team to use assignment selling.
Content is your greatest selling tool. If your sales team is using content as a sales tool, that gives them a decided advantage over the competition.
Specifically, assignment selling will push the sales team to know what to expect when dealing with potential customers. Get ahead of those common questions by preparing the sales team beforehand.
By practicing assignment selling – intentionally sharing relevant, educational content about your products or services with prospects in advance of a sales appointment – your ideal buyers will have many questions and concerns satisfied before they ever speak with someone.
This saves valuable time when it comes to actually closing the deal. You want to have better-informed prospects. You want customers coming in knowing a lot about your business. Less time spent educating customers during sales meetings means more time spent selling.
You want knowledgeable clients because they will make your sales process smoother, and, ultimately, better informed customers will come out the other side of the sales experience as informed advocates for your products. Better qualified leads just make business easier.
Mistake No. 6: Not using video
Fix: When you're ready, hire an in-house videographer.
Companies who embrace video are found by more prospective customers, earn more trust, and drive more sales. More and more prospective customers prefer to learn visually over simply reading a textual explanation, and it's clear that video is becoming a fundamental part of your customers' buying process.
A recent study by Cisco found that, globally, video traffic will be 82% of all consumer internet traffic by 2022, up from 75% in 2017. In other words, of all the time we spend on the internet consuming content, the vast majority of that content is video.
The marketplace has spoken. Video is not slowing down any time soon.
Yet almost no businesses seemed to know how to deal with the shift.
If you're like most businesses that we talk to, it's likely that you get the power of video, but the idea of getting a sustainable video program running at your company seems expensive and unattainable.
But it doesn't have to be expensive, it is attainable, and just like the many companies we've helped, you can do it too. There is no better time than right now to embrace video and visual selling, and all the benefits that will come from those efforts. And do it before your competitors catch on. It's likely that you have the opportunity to be the leader in your industry here — don't be passive.
"All you need is the plan, the road map, and the courage to press on to your destination." — IMPACT+ Instructor Zach Basner
The first instinct of most businesses we work with to address this need is to hire a freelance videographer who will typically bring all the necessary equipment, but these clients find it very expensive — one video can cost tens of thousands of dollars, which is not very scalable.
The solution: Hire a full-time videographer.
Your immediate reaction upon reading this is very likely the same as so many business owners and managers have said to us over the past few years when we've spoken on this subject: "Why would a business like mine ever have the need for a full-time videographer? Are there really 40 hours of work per week for such a position in my niche?
When done right, it will take a videographer months, if not years, to create the level of video content that positions your company as the clear voice of your industry. Here at IMPACT, we've worked hand-in-hand with organizations across a wide range of industries with video, and never have we seen a situation when we said, "You know, there simply isn't enough work here for a videographer to work full-time."
Besides that, if you truly understand the incredible importance the videographer position will have on your sales and marketing numbers, you would never question whether or not this should be a full-time position.
With all the successful customers we've worked with, we've never, after the first year of doing video, had anyone question the need for this position. Rather, most are debating, "Should we hire another?
In 10 years, the position "videographer" will be just as important and prominent to an organization's success as a "sales manager" is today.
Instead of a handful of expensive videos sourced to parties outside your business, you will be able to publish hundreds of videos on a constant basis. This will provide a huge advantage over your competition because they are probably not doing this.
Only someone who lives inside your culture, someone who has memorized your mission or purpose statement, who knows who the best on-camera people are without asking, is the right person for shooting your video. You need a video sales and marketing strategy.
Mistake No. 7: Not measuring the ROI of your content marketing efforts
Fix: Using a tool like HubSpot to track your return on investment.
As we've established, your content marketing, if done right, guides the sales and marketing approach of an organization through obsessive listening, teaching, and a desire to solve the problems of the marketplace.
For this philosophy to work, a few things have to happen:
There must be shared buy-in.
Departments must be aligned.
Everyone has to understand the underlying vision.
Great, quality-driven content needs to be produced through text, audio, video, and other media.
But after all of this is done, it's critical that a business can answer the following question: But did it make us any money?
If your organization is going to spend the time, resources, and money needed to make content marketing work, there absolutely should be an ongoing understanding of the company's return on investment (ROI).
This requires a software like HubSpot at the center of all of your content marketing efforts, which provides us the ability to measure ROI.
By using a tool like HubSpot, whenever anyone on your website fills out a form (contact form, ebook download form, and so on), you have the ability to "track" that person — specifically, his or her IP address. With this tracking, you're able to see the major data points that will allow you to measure ROI — the first page of the site a person landed on and how he got there in the first place.
No company, regardless of how big or small, can "do everything well" when it comes to digital marketing. It is for this reason that organizations need to study and measure what truly drives revenue, and use that data to help them focus more energy and efforts on what's generating the most revenue for the organization while spending less energy and effort on that which has the smallest. HubSpot helps you do that.
Perhaps you already have HubSpot, or after reading the above, you realize you need it. Our advisors here at IMPACT will be happy to guide you through the process. Schedule your free consultation.
IMPACT also has an incredible course by IMPACT's Senior HubSpot Trainer, Carina Duffy, called The Fundamentals of HubSpot ROI Reporting.
Putting all of this together
In this article, we've introduced you to a few of the concepts of our inbound marketing framework called They Ask, You Answer. But we've just scratched the surface. They Ask, You Answer is a complete system with one obsession at its core: "What is my customer asking?" By focusing on 10 straightforward concepts, thousands of businesses are seeing the sales results they want from their inbound marketing.
At this point, our coaches and trainers have helped thousands of businesses implement the concepts of They Ask, You Answer to their content marketing programs and have seen dramatic success.
The team at Yale Appliance does everything we mentioned in this article, and They Ask, You Answer, probably better than anyone else. Like many companies, they invested heavily in content marketing and HubSpot but were not seeing the growth they expected. After discovering They Ask, You Answer and with training from IMPACT, things quickly took off. Today, content marketing with They Ask, You Answer is far and away Yale's largest and more lucrative channel for sales. Their revenue has tripled, and they've expanded from one retail location to three. Today, they generate over 700,000 visitors to their website a month! You can see their entire story here.
Yale Appliance is a great example of a B2C company crushing it with content and They Ask, You Answer, but does all of this work for B2B companies too? Of course!
Las Vegas-based AIS offers end-to-end solutions for local businesses, ranging from IT and leasing to copier and printer sales. They'd tried content marketing in the past, outsourcing their marketing to "one of the top" inbound marketing agencies, but as expected, results were underwhelming. But once IMPACT guided them through They Ask, You Answer, AIS started seeing results they couldn't believe. In just 18 months, AIS's organic website traffic grew 11X and new leads increased by 350%. That's translated to huge gains in revenue, too.
What we're sharing here is not to brag. They Ask, You Answer has helped thousands of businesses around the world. As time goes on, more and more businesses are adopting it inside their businesses and the success stories continue to come in.
Getting started with They Ask, You Answer
To take the first steps towards implementing They Ask, You Answer inside of your business and avoid many of these mistakes from the start, here are a few additional resources:
Understand the impact They Ask, You Answer can have on your business:
Talk to an IMPACT advisor and start crafting a custom They Ask, You Answer plan that's right for you.
Free Assessment:
How does your sales & marketing measure up?
Take this free, 5-minute assessment and learn what you can start doing today to boost traffic, leads, and sales.