Best Practices for Getting Started with Conversational Marketing & Sales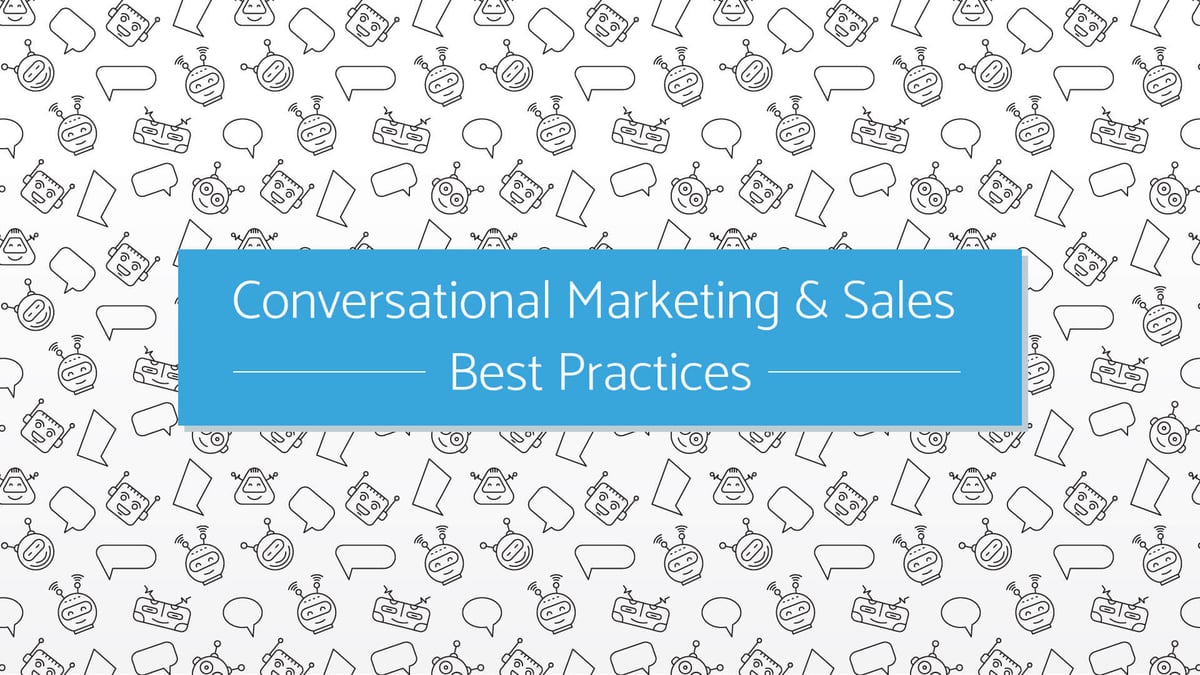 I'll admit, when I first heard the term "conversational marketing and sales," I was a bit… well, confused.
I remember asking myself, "Isn't this just live chat? What do bots have to do with anything?"
If that sounds like you, fear not.
By the end of this blog article, you'll be well on your way to becoming a conversational marketing and sales rockstar.
Now that the initial stupor has worn off, I've come to recognize that conversational marketing and sales isn't really a new concept. In fact, it's a renewed focus on how humans have always done business.
But before we get into, here's how we define conversational marketing and sales at IMPACT:
Conversational marketing and sales is the use of genuine conversations to foster real relationships. It is the return to businesses communicating organically.
In our minds, this includes:
The conversation you, others, and I could have in the comments of this article.
If you think back to the origins of marketing and sales, it all started with one-to-one -- or person-to-person -- communication to arrange the exchange of goods or services.
If you wanted cloth, you had to go barter directly with the guy who sold it!
Over time, however, we've strayed away from this ultra-personalized, buyer-focused approach toward one that favors efficiency and broad reach.
This has resulted in the generic marketing and sales experience we're plagued with today. One which, in many cases, leaves buyers trying to interpret businesses marketing jargon and unpersonalized sales processes.
Think about the number of times you've been to a company's website only to leave unclear on what they actually do. Would that have happened if you were talking directly to their sales team?
The businesses who are the most successful with conversational marketing and sales recognize that it isn't a completely new concept, but that it's simply the return to personalized marketing and sales interactions.
Conversational Marketing & Sales Best Practices
Because the technology that's enabling the practice of conversational marketing and sales is relatively new and quickly evolving, we decided to connect you directly with the experts leading on educating the world on critical conversational best practices.
To get you started, we asked them three questions:
What are best practices for deciding where to leverage conversational marketing and sales?


What are best practices for getting started with conversational marketing and sales?



What resources would you recommend?
There's a lot of knowledge below, so let's dive right into what my fellow Conversational Marketing experts have to say:
Where should businesses leverage conversational marketing and sales?
Look for interactions in your business that are popular, predictable, and impactful.
Conversational marketing, sales, and success is best when you can make an experience more delightful for the end user. For B2B companies, lead generation is a great example.
You can build a great relationship with a prospect as they qualify themselves through a bot and then introduce a human agent when the time's right. A beautiful thing.
What conversational marketing resources do you recommend?
Two left-field ones that I draw inspiration from are screenwriting and game design.
Both disciplines use context to tell a story and engage the person on the other side of the experience. We love posting about this space on the HubSpot Blog and HubSpot Academy, too.
Where should businesses leverage conversational marketing and sales?
If you've built up your website to the point where you're getting consistent traffic - experimenting with a chatbot that greets visitors on all of your pages (upon the initial visit) is a great place to start.
If that's not the case (you better be working on that) you can level-up your email prospecting & nurturing by using smart sequences. Give your prospects a red carpet experience by giving them the opportunity to chat with you in real-time after clicking a link or visiting a certain page.
What are best practices for getting started with conversational marketing and sales?
The most common general "best practice" is to ease into it. No need to do anything drastic, like rip out all of your lead gen forms and replace with chatbots.
Instead, we recommend adding to what you're already doing.
Launch something simple as soon as you can so you can start collecting data. Then you have something to reference to start your tweaking and testing process.
For example, have a general greeting pop-up in your live chat application or bot when someone lands on your site initially. Apply it to all of your pages to start.
From there, you can start making the greeting more specific on pages where you are more clear what the intent of the user is.
For example, users on your pricing page probably want to learn more about your offerings. Try asking if they have any questions about the various plans. If you have a standout piece of content on your blog that gets a ton of organic traffic, start testing a greeting that references that piece in copy.
It's all about testing new types of engagement and learning from the conversations.
Once you're up and running with a couple things, it's time to test and steal ideas from others -- every good marketer keeps a swipe file. For example, reallygoodchatbots.com is a great crowdsourced resource.
Where should businesses leverage conversational marketing and sales?
Most businesses still talk at customers, not with them. Their approach reflects company infrastructure, not customers' needs.
These fragmented experiences frustrate customers—and reduce customer lifetime value. Customers want brands to remember information they've shared. They don't want to be conscious of which device they're on, or whether they're talking to marketing, sales, or support.
The modern (mobile) consumer expects quick and easy access to their brands. Conversational marketing is about putting the customer at the center of the conversation and engaging with them across marketing, sales, and support.
Companies should consider conversational marketing and sales when they want to improve customer experiences.
What are best practices for getting started with conversational marketing and sales?
Map the current customer journey and audit the experience. Identify the communication silos across marketing, sales, and support.
How do these gaps negatively impact the customer experience and their satisfaction? What internal systems are getting in the way of holding a single conversation experience with the customer? How can you re-imagine the journey given modern channels and devices?
Examine the full lifecycle with the lens of: engage, convert, and support.
For example, with Layer, you can synchronize customer conversations across all departments and that delivers a more enjoyable experience for the customer.
Where should businesses leverage conversational marketing and sales?
One of the best times to leverage conversational interactions is when consumers are researching products to purchase and would like help deciding which item to buy. Allowing the customer to initiate a conversation or allowing an employee to assist the prospective customer with their pre-sales research process will dramatically increase the probability of conversion, as well as the amount spent.
Another place to consider leaving the door open to conversations is when your marketing or sales team sends personalized offers or proactive notifications to customers. Let's say you are in retail banking and you have a group of customers who are eligible for a lower mortgage rate. When you text them the offer to take advantage of a lower rate and pay less each month, they may have questions about other fees or closing costs. It is important they can reply to the outbound communication, whether email or text, with any questions they may have or to take advantage of the offer.
What are best practices for getting started with conversational marketing and sales?
Identify a use case or two to test. Monitor feedback and results from your employees and customers. Tune and roll out further.
Because the nature of the interactions are conversational, you want to be sure you have the right employees aligned and trained for the different communication channels deployed.
Make sure you promote that you have two-way conversational capabilities with customers, like having an omni-present button they can push to engage at their moment of need.
Do not just push one-way communications that impose on your customer. That will tarnish the channel and the relationship. Consumers should be able to manage what they receive and how they receive information from companies.
Where should businesses leverage conversational marketing and sales?
It's best to test different funnel options -- it isn't about where to place conversational marketing bots/chats as much as which funnel flows in each bot/chat are suited for which types of content.
It's also traffic-dependent, higher-traffic sites can't handle the volume (cost effectively). The key is getting smart with lead scoring.
What conversational marketing resources do you recommend?
I believe Drift andIntercom are leading in terms of great content on-site -- blog and white papers.
Where should businesses leverage conversational marketing and sales?
Repeat visitors to your blog clearly find value in your offer. That's a great place to start a conversation with a message like, "I noticed you come here often. Do you have a question or two I might be able to answer for you?"
When the visitor sees this message from an authoritative figure (e.g., founder), and it's not a sales pitch but a genuine offer to help them with something -- that's powerful.
It works because:
It's a offer to help the user and likely to get a response.


Not everyone sees the message - only repeat visitors, so it's personalized and genuine.



The user has an opportunity to engage with an authority figure directly.
ConversionXL does this very well using Intercom.
What are best practices for getting started with conversational marketing and sales?
Offer timely help by understanding how users engage with you so that you come off someone there to help when they need it.
For resources, I would recommend ConversionXL courses to learn about how to really understand your customers through research and data so that your messages are succinct and delivered at just the right time.
Where should businesses leverage conversational marketing and sales?
If you're a business that ever talks to your prospects or customers -- then conversational marketing may work for you.
It may be that you offer conversational marketing as an alternative to long lead forms so people can get the information they need to make a decision faster, or so you can quickly qualify then escalate them so your team spend their time only on the best leads.
Or, you may use conversational sales to help prospects through a complicated signup process such as FlamingoAI's offering for selling complex insurance products through chat.
Or, it may be that you want to replace your frontline customer support team with a conversational marketing solution to free up their time to deal with escalated cases only maximizing your customer retention -- something SONOS does really well.
Either way, it is definitely worth testing and when successful, integrating it across your website and all of your other marketing to make it a key part of how you deal with prospects/customers.
What are best practices for getting started with conversational marketing and sales?
To get started, I'd first recommend you pull out your flow diagram software and start mapping out what the customer journey looks like with every location a customer could chat to you added.
Then you should develop unique journeys specific to their needs and concerns that you want them to take -- if having trouble work this out simply ask your team for the most common questions they ask or are asked by prospects and build these in.
Your next step is to select the software offering that closely matches what you'd like to do -- it could be Drift, Intercom, or ManyChat or it could be a software offering specific to your business model or industry.
You then need to build the conversations into the tool you've selected -- ensure you test them. Check tracking is working and work out seamless ways to integrate them into both your website and marketing.
Next step is turning it on -- it's important you have humans ready to take over chats at points that require intervention, so ensure you're only showing the "chat with us" option to prospects when you have a team online ready to handle any escalated chats.
After you've had your conversational marketing bot on for a while you then need to optimize and improve it based on results and logs of how people are interacting.
You should also take learnings from the platform and apply it to other area of your business -- for example, your website copy could be updated to address common concerns identified.
Where should businesses leverage conversational marketing and sales?
Don't think too hard about it. It's just another channel for people to connect with people.
There is a segment of your future customers who will prefer this channel over others, and in some cases, only move forward given this option. Be there for them, and you both win.
Open up your ears and listen to what your customers are saying when they message in. There's always a reason that asked that question. Most of the time, it's an opportunity to make your site better.
What conversational marketing resources do you recommend?
ClosedWon has a course on getting started with conversational marketing. Stop by and check it out.
Where should businesses leverage conversational marketing and sales?
In financial services, we've found that using live chat only after someone has been on our site for over 45 seconds gives us a great ROI.
We give customers time to understand the financial products on their own and then initiate them in a conversation if they linger on the page for too long. It led to a huge increase in conversion, but meant that it didn't require as much resource as if we had just messaged every customer.
What conversational marketing resources do you recommend?
Intercom was great for us, and I would really recommend speaking to those guys and using their tool.
Where should businesses leverage conversational marketing and sales?
In the early stages of a business or product development, chat is a great ways to build confidence. We decided that both founders should be on chat for at least 16 hours of the day.
Back in the day, that was a great way to understand customer questions and that way you can echo customer words on chat but also in sales and marketing copy.
It helps you ask why, why, why,-- which we all know is essential in sales and product development.
Later on when the company is well established, sales and marketers take turns watching chat 24x7x365. It's a great way to get more leads in the pipeline since more and more automations in chat come up.
We decided to only use human agents. It's possible since we are mid-market without A/B testing software and LVT justifies a lead source like chat with a cost of several thousand dollars as acquisition cost.
What are best practices for getting started with conversational marketing and sales?
We learned a lot from the LiveChat articles back when we started, now Drift seems to be the inbound of conversational marketing and we learn from that as well. I think it all starts with humans. Start with a couple hours a day as sales and marketers.
Automations can replace people by solid pre-chat questions and real-time validations on Clearbit, FullContact, Mattermark or features offered by the chat tools themselves.
Dynamic routing of solid leads to humans while bots take the rest can make a difference if your lead volume is high or pricing does not justify human contact, even though my and your customers will really value the attention.
Now, It's Your Turn: What's Been Your Experience with Conversational?
Everyone's experience with conversational marketing and sales is going to be a bit different -- that's the point, isn't it.
So, now that you've had the opportunity to hear from these conversational marketing and sales experts, we'd love to hear your experience.
Has there been an area that you've seen success with conversational?


Have you really enjoyed an experience with a brand that was practicing it?



Did you have any "ah-ha" moments in reading this blog?
Let us know in the comments below.
This is the first of many articles we have planned at IMPACT covering how businesses are leveraging conversational. We also have a ton of experiments we're currently running, and I can't wait to share the results with you.
If you're interested in following along, click here to get email updates.
Interested in working with to IMPACT to generate more business and raving fans with conversational? Click to setup a time to meet with us!
Free Assessment:
How does your sales & marketing measure up?
Take this free, 5-minute assessment and learn what you can start doing today to boost traffic, leads, and sales.