If you need content marketing inspiration, all you need to do is listen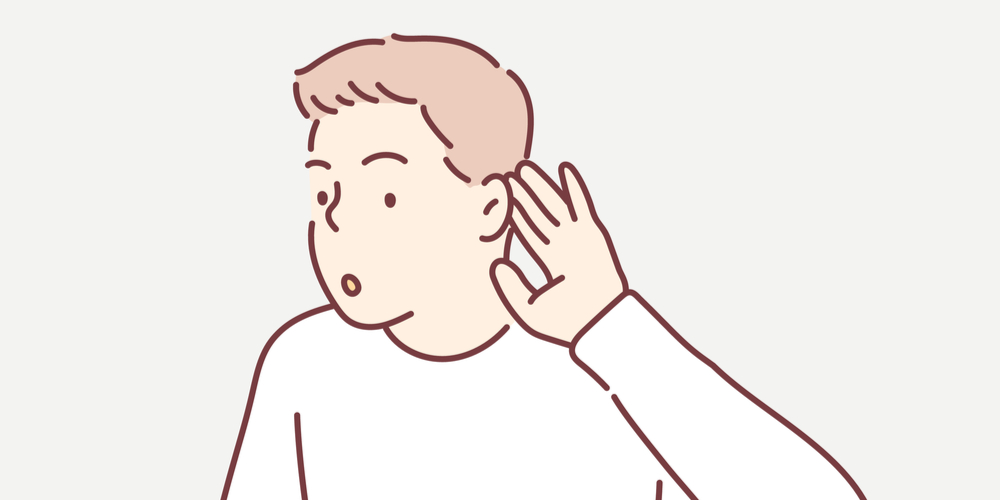 I remember when I first started out as a content marketer many, many moons ago, I always found coming up with business blog topics to be the hardest part. Back then, I didn't have a ton of confidence or understanding of how a great content strategy was supposed to come together.
All I knew is that there was some sort of keyword research involved, then there was (what I could only imagine was) a dash of wizardry that happened in the middle involving a marketer with a big brain, and finally a beautiful, bouncing, baby content strategy would spring forward into the world, ready to bring all the traffic, lead, and revenue milkshake to the yard.
🎓 FREE course: The revenue team approach to sales enablement content
Today, of course, I realize that there are (likely) no wizards involved in the genesis of content strategies – I mean, unless Hogwarts is trying a new approach to attracting prospective students in the digital age.
But that doesn't change the fact that I know many of you content marketers out there right now facing a similar struggle, where coming up with that list of blog topics you need to punch out to drive qualified traffic to your business website never feels like the seamless process it should be.
This is a trend Marcus Sheridan has noticed, as well:
"We're making this process of 'blog topics' harder than it needs to be because we've forgotten our greatest source of information and inspiration – living, breathing, and thinking customers."
In fact, Marcus says that the greatest and most effective content strategy there is for any business, no matter what industry you're in, is simple – it's listening.
Wait, what the heck does that even mean?
I know, I know. Saying "the best content strategy is listening," sounds dangerously close to one of those flowery sounding (but, ultimately, useless) clichés like "Yesterday is history, tomorrow a mystery and today is a gift. That's why we call it the present."
Yuck.
But when we say the best content strategy is listening, we mean that quite literally. You see, the best content strategies aren't developed by a single marketer by themselves in a room while they question their life choices.
Instead, they are born when you start listening to your ideal buyers and realizing that their biggest questions, their deepest fears, and their gravest concerns are the truest and most effective sources of content ideas for your company.
But where do you get such awesome insights for your own content strategy?
Brainstorm content ideas with your sales team
Your sales team is the #1 listening source of buyer questions. Why? Because they spend all day talking to prospects and ideal buyers. They know exactly what the most common questions are, where the inflection points are in conversation that pushes someone to buy or not buy, and so much more.
So, if you're tasked with heading up the content strategy for your company, you absolutely must involve your sales team – and what I mean by that is you should be sitting down with them for a sales content brainstorm once every other week (at least) and asking them the following question:
"What questions are you currently being asked by buyers in the sales process that should have a piece of content created for it?"
Alternative questions you can ask to get the juices flowing include:
What questions do you get asked that immediately indicate the buyer is not close to ready to make a decision?
What do your clients and buyers push back on the most?
What are your buyer's biggest doubts or worries (with respect to the product, the process, the company)?
What do your buyers have to convince the key decision-makers of?
What is the thing that you talk about with a specific product or service that, 99% of the time, results in the most questions, confusion, or resistance?
What questions result in the most attrition from prospects, based on the answers and why?
🔎 Related: How to create sales enablement content your sales team will adore
As they share each of their suggestions, make sure they also answer the following questions for each idea:
Is this the exact question being asked, in the words of the prospect?

Or have you reworded it in any way, based on what you know the actual problem is? (Hint: It should always be in the words of the prospect.)
Why are they asking this question?

Did they ask this proactively? Or is it in response to something we told them, asked them to do, etc.? Is it a question in response to us saying no to something?
When are they asking this question during the sales process?

Is it always at a particular stage of the sales process? Is there no specific time, just a general question that comes up randomly?
In answering these three questions, you'll have all of the context you need to guarantee that each piece of sales enablement content you create is a winner.
What if they're still struggling with ideas?
OK, this is usually more common when you first start out with content brainstorms. As time goes on, however, it will get easier. But for those initial brainstorming sessions, you can challenge your sales team to focus in on questions having to do with what we call "The Big 5" blog topics:
👉 Watch: What are The Big 5 blog topics?
The Big 5 blog topics were a discovery Marcus made after reviewing the traffic, leads, and sales data for his company's content marketing. And, as it turned out, these five plucky topics not only correlated with the highest revenue for his company, time has shown that they do the same for every single industry, no matter what you do or sell.
That's right, The Big 5 blog topics were completely industry-agnostic in their ability to drive remarkable growth for companies who answered questions within those categories thoroughly and honestly.
What are they? You may be surprised at how deceptively simple they are:
Cost and pricing
Comparisons
Problems (theirs and yours)
Best of lists (best in class, best practices)
Reviews
So, when you're talking with sales, you can also ask them things like:
What are the most common questions you get about pricing?
What are the most common comparisons our ideal buyers are looking at when evaluating solutions?
What are the most common problems they're experiencing that would lead them (down the line) to consider us as a solution?
What are the most common problems they might experience with our products and services, and what questions do they have around that?
See what I mean? If you come up with 100 blog topics and blog twice a week, that's enough blog topics for an entire year.
🍿 Watch on-demand: How to run a powerful sales content brainstorm
Still need more help with your content strategy?
Having the brainstorm and developing your strategy is only the beginning of your content marketing journey. After that, you actually need to sit down and crank out the content, right?
Well, here are a few great resources that will make that process so much easier:
No more wizards or sorcery, y'all. It's time to embrace the real way to create content strategies that drive the traffic, leads, and sales you're looking for.
Free Assessment:
How does your inbound marketing measure up?
Take this free, 5-minute assessment and learn what you can start doing today to boost traffic, leads, and sales.
Get Started
Free Assessment:
How does your inbound marketing measure up?
Take this free, 5-minute assessment and learn what you can start doing today to boost traffic, leads, and sales.