"The Content Marketing Playbook for Success:" The IMPACT Show Ep.10 [Show Notes]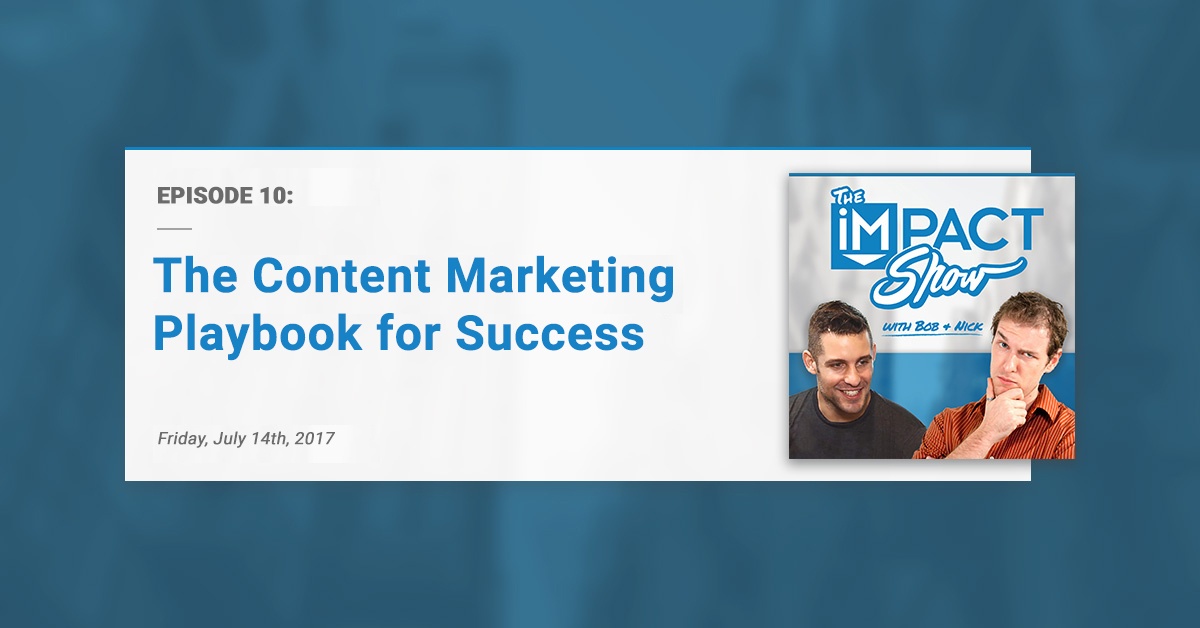 Content marketing is not for the faint of heart!
This week on The IMPACT Show, Bob and Nick took to Facebook Live to share our Content Marketing Playbook for Success and also talk Net Neutrality, LinkedIn videos, and how you can get a free IMPACT Show t-shirt!
Just in case you missed us live (or if you want to relive the magic), you'll find the episode's show notes below as well as the recording.
Enjoy and make sure to share with your peers!
Like what you saw? Make sure to subscribe on iTunes and give us a review.
Have feedback or questions? We'd love to hear it. Comment on this blog or email us at show@impactplus.com
Get your FREE The IMPACT Show tee at the event!

Hartford, CT on August 1-2nd, 2017

An intimate group of experienced, dedicated marketing and sales leaders.

Speakers include Marcus Sheridan, Tara Robertson, Mike Volpe, Mark Roberge, George B Thomas, Paul Roetzer, and more.

ALMOST SOLD OUT: Get your ticket here now.
Something stopping you? Price? Getting buy-in? Email us.
Dharmesh Shah on Net Neutrality
The new commissioner of the FCC has vowed to strip down the Net Neutrality provisions put into place in 2015.

July 12th: Day of Protest again the repeal
HubSpot Co-founder and CTO, Dharmesh Shah, published an article to express his stance against the repeal.
Net neutrality: Principle that Internet service providers (ISPs) and governments regulating the Internet should treat all data on it the same and not discriminate or charge differentially based on user, content, website, platform, application, type of attached equipment, or mode of communication. In practice, this means that ISPs would not be allowed to favor their own services over those of another provider.

Without Net Neutrality, cable/internet companies can discriminate against individual content providers and tech companies. They can easily create a competitor and favor theirs over yours.
Former HubSpot CMO, Mike Volpe Interview
LinkedIn Allowing Native Videos
Influencers have been allowed to upload video for quite some time, but now rolling out to more users via their mobile app.
Videos can be uploaded natively, will play automatically.
Some viewer stats will be available including information about viewers' companies and job titles
Bottomline: Video marketing is the expectation! All major social platforms are on board and you need to be too!
If you want to build a following, you need to go first. (i.e. enter new channels)
Main Topic: "

The Content Marketing Playbook for Success

"
4 things to know before starting a content marketing program:
It's a big investment to do it right.
It's a long-term play to see direct benefits

Direct benefits: Traffic and leads
Everything you do compounds over time.

In-direct benefits can come quickly

Creating sales enablement materials
Professional development

Gives people the opportunity to research, learn, and educate others.
Builds expertise
Builds ability to communicate your knowledge

Company culture

Need to be different and valuable

Don't put out the same content that everyone else is putting out.
Need to be different, be quality, and be valuable to rank higher, get shared, and earn traffic.
Test out different mediums/channels, different topics, etc.

Solve for people in a new way
How to Get Started/Revitalize Your Content
1. Define your audience

Know your audience inside and out
Give them something they want and need.
2. How can you get to your audience with content?

3. Document a quick content strategy

Key word is "quick," -- You can iterate over time

Mission, audience, schedule, topics discuss, points of differentiation,

4. Manage an editorial calendar

Consistency is delightful -- Makes consuming your content a habit.

Be agile -- Leave room for newsjacking, new promotions, etc.

5. When creating content, research what's already out there

Make it longer (or shorter), visualize it differently

6. Spend more time promoting the content you create than you spend creating content.

What's the value in doing this if no one is reading it?

Distribute where your audience is hanging out

Consider paid promotion on social media

Promote, not post!

7. Love thy audience
Books/Resources:
Next Steps:
Get your tickets to IMPACT Live 2017 to meet Mike Volpe, David Meerman Scott, Bob, Nick, and dozens of other experts in-person this August! We're almost sold out! Don't wait!
We would love your comments! Feel free to send us an email or comment on the facebook thread.
If you really liked it, please give us a 5-star review on iTunes. Review offer: We have a special price for the first 10 people to leave us reviews on iTunes (hopefully 5-stars). After you do, send us an email at show@impactplus.com so we know it's all set.
Join Us Next Week! Topic: Turning Customers into More Customers
We'll be back again next Thursday, July 20th at 1:00 PM ET. Want to get reminded? Drop us your name and email address below and we'll make sure you're notified before the broadcast every Thursday!
Free Assessment:
How does your sales & marketing measure up?
Take this free, 5-minute assessment and learn what you can start doing today to boost traffic, leads, and sales.