4 Steps to Creating Your Company Core Values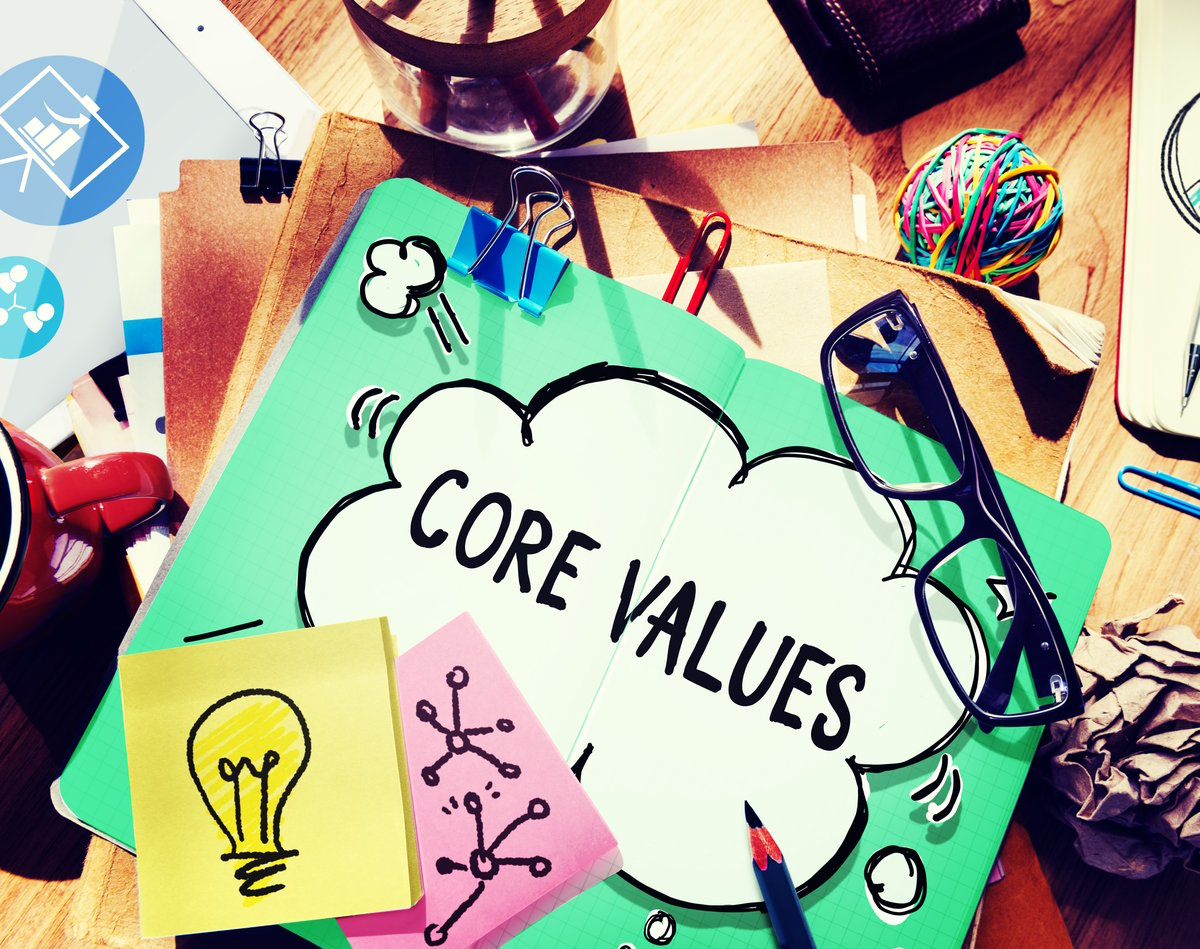 Before 2015, if you asked anyone at IMPACT what our core values were, they'd probably look like a deer in headlights.
Not only did we not have them, we really didn't even know what they were. or more importantly - how crucial they are to defining our culture.
At the time, our CEO, Bob Ruffolo, was reading more books than we could count.
It wasn't until he read Good to Great by Jim Collins that he learned about core values and realized how badly we needed them.
From there, he began educating himself on core values until we were finally ready to discover our own.
If you're in the same stage as we were and you're looking to establish your core values, our process might be a valuable reference to help guide you along the way.
Before diving in to discover your core values, however, it's important to educate yourself on what core values are.
You'll find a lot of insight online, in books, through talking to other companies, etc.
Here are a few essential questions and answers to get you started:
What Are Core Values?
According to YourDictionary.com, "Core values are the fundamental beliefs of a person or organization. These guiding principles dictate behavior and can help people understand the difference between right and wrong."
In other words, consider core values the guiding light to show people how to act in your work environment. As Bob used to say, it's "how people should act even when the boss isn't around."
How Many Core Values Should You Have?
There isn't a set rule on how many core values you need. The most important things are that they're authentic and you follow them.
Keep in mind that you want your employees to understand and remember every core value, so the more concise you can be the more likely that will happen.
When we were developing ours, we aimed to stay under six or seven.
We thought that was a reasonable amount to expect people to be able to recite without going too over the top.
What Are Some Good Examples of Core Values?
When defining your core values, it's a good idea to see what other people in your industry have done to help guide you to the outcomes you're looking for.
Below I included a few that we referred to when making ours.
One of the unique things about HubSpot's core values is that they spell out "HEART." This is a great way to help employees remember each one.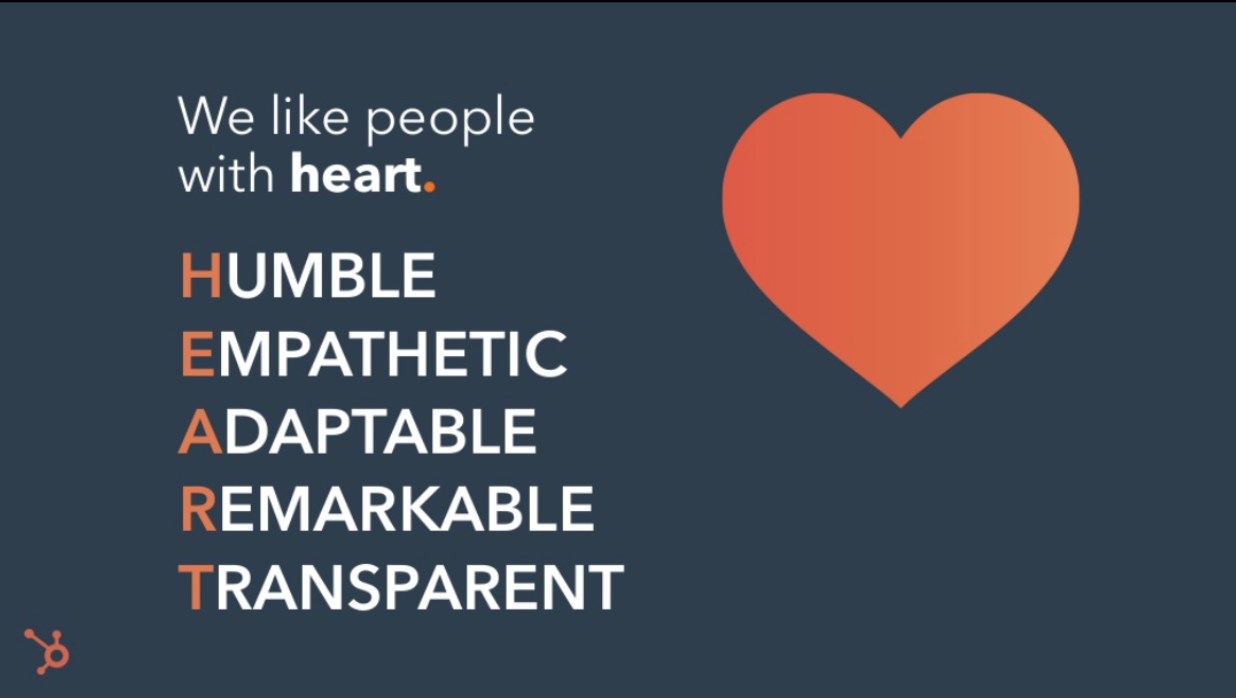 Sony took their values to a deeper level by providing a sentence that explains each one. This helps to make sure employees all have the same understanding of what each value means.
Dreams & Curiosity
Pioneer the future with dreams and curiosity.
Diversity
Pursue the creation of the very best by harnessing diversity and varying viewpoints.
Integrity & Sincerity
Earn the trust for the Sony brand through ethical and responsible conduct.
Sustainability
Fulfill our stakeholder responsibilities through disciplined business practices.
Airbnb's values are unique because they are in between just being a word or two, and including a long description of each. While short and concise, they do a great job of explaining what each value means.
With all of this background information under your belt, now you can start to work on creating your company's core values.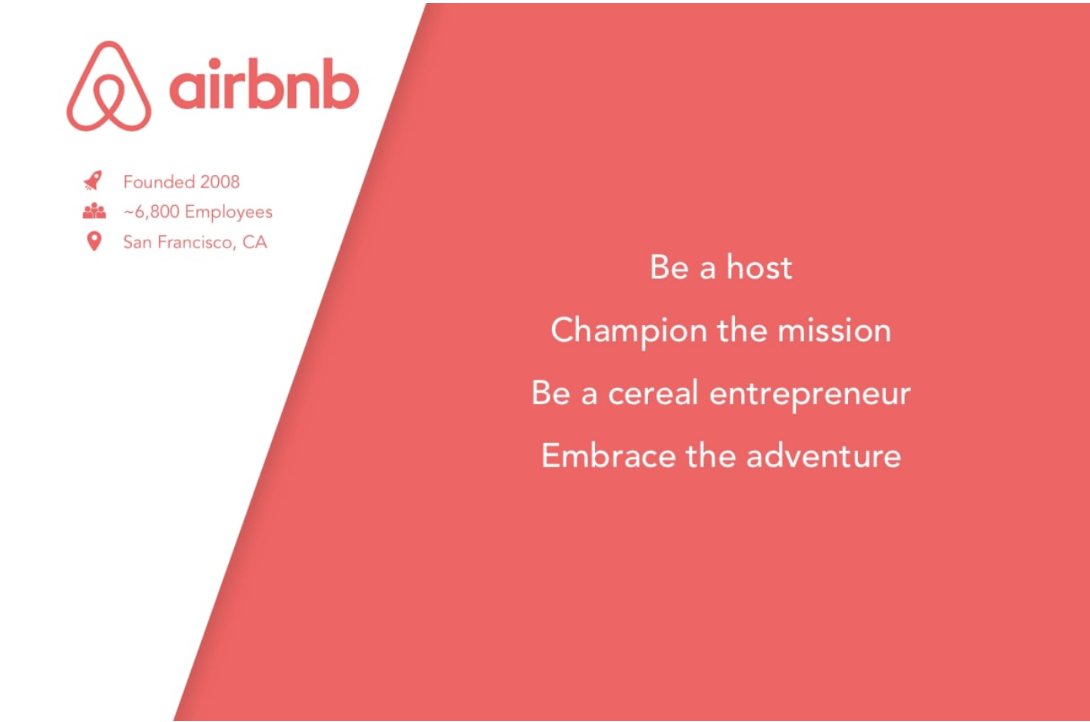 Step 1: Assemble A Team
When we created our core values, IMPACT didn't have a defined leadership team. So, Bob pulled together a team that would later become our leadership team in order to get the job done.
I felt very lucky that I was selected to be part of this team. It consisted of a mix of tenured employees, directors, and c-level team members, but your team may look differently.
When selecting your core values team, ask yourself the following questions:
Who understands your culture really well?
Who demonstrates what you'd like to see in an "ideal employee?"
Who knows the employees really well?
Whoever's names come up for all of these questions will narrow down to the right people to include in developing your core values.
Having a team will ensure that the values aren't just from one person's point of view. Instead, it will combine the ideas and observations of the people who know your culture the best to produce a realistic and inclusive final product.
Step 2: Brainstorm, Brainstorm, Brainstorm
When we finally had our team assembled, we needed a starting point.
Bob remembered an exercise he read from Jim Collins called "The Mars Group," or as we called it at the time, "Mission to Mars."
Below Jim Collins explains the what and why behind the exercise.
"The "Mars Group" works like this:
Imagine you've been asked to recreate the very best attributes of your organization on another planet, but you only have seats on the rocket ship for five to seven people. Who would you send? They are the people who are likely to be exemplars of the organization's core values and purpose, have the highest level of credibility with their peers, and the highest levels of competence.
One method is to have all the people involved in the process nominate a Mars group of five to seven individuals (not all need to come from the assembled group), and those most nominated become members.
Generally, it is best to have the Mars group not include the top officers of the organization. Then, later, those top officers can respond to the output of the Mars group to create a final articulation of the vision."
Once we assembled our "Mars Group," we started listing out all of the attributes about each person that made us nominate them.
After a while, we started to pull out the trends that we noticed. This started the foundation for defining our values.
Step 3: Condense and Finalize
The process of finalizing our core values took weeks of after-hour meetings where we could all focus and work as a team.
At one point, I remember we had 10 core values listed out (I wish we had it documented what those were!).
Realizing that was too many, we started the process of keeping the best ones, combining the ones that were similar, and eliminating the ones that weren't strong enough.
Eventually, we got down to two core values: passion and helpfulness. However, we knew one was missing, but we couldn't quite articulate it.
A couple of meetings later we finally got it. Dependability was our third and final core value.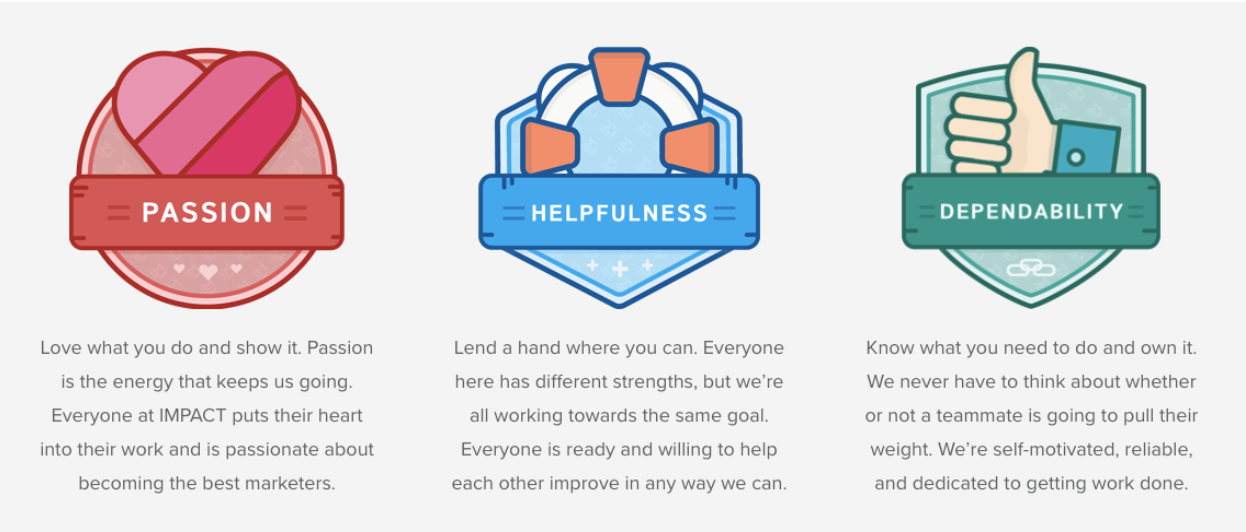 While it wasn't a quick or easy process, we ended up with three core values that we thought truly represented IMPACT and what we wanted to see in our team.
It was important to us to be concise not only because we wanted our team to easily be able to remember them, but we wanted to make sure we didn't have any "fillers" for the sake of having more.
When uncovering your core values, make sure each and every one of them is as strong and necessary as the next one.
Step 4: Roll It out to the Team
While working on our core values, we were also developing our mission statement, vision, and Big Hairy Audacious Goal (or BHAG for short).
Once we had everything together, we set aside an entire afternoon to roll this out to the team.
We took the team offsite to a venue where everyone could disconnect from their day-to-day activities. For something so important to the company and culture as a whole, we thought it was necessary to make a really big deal of the rollout.
In the off-site venue, we had everyone sit in small groups, and we even passed out workbooks for people to follow along and fill in. We hoped the workbooks would make the rollout interactive and in turn, more memorable and engaging.
Let the Team Brainstorm
For each section of the workbook, we had related activities so we could keep the team involved and engaged.
Below is an example of one of our activities: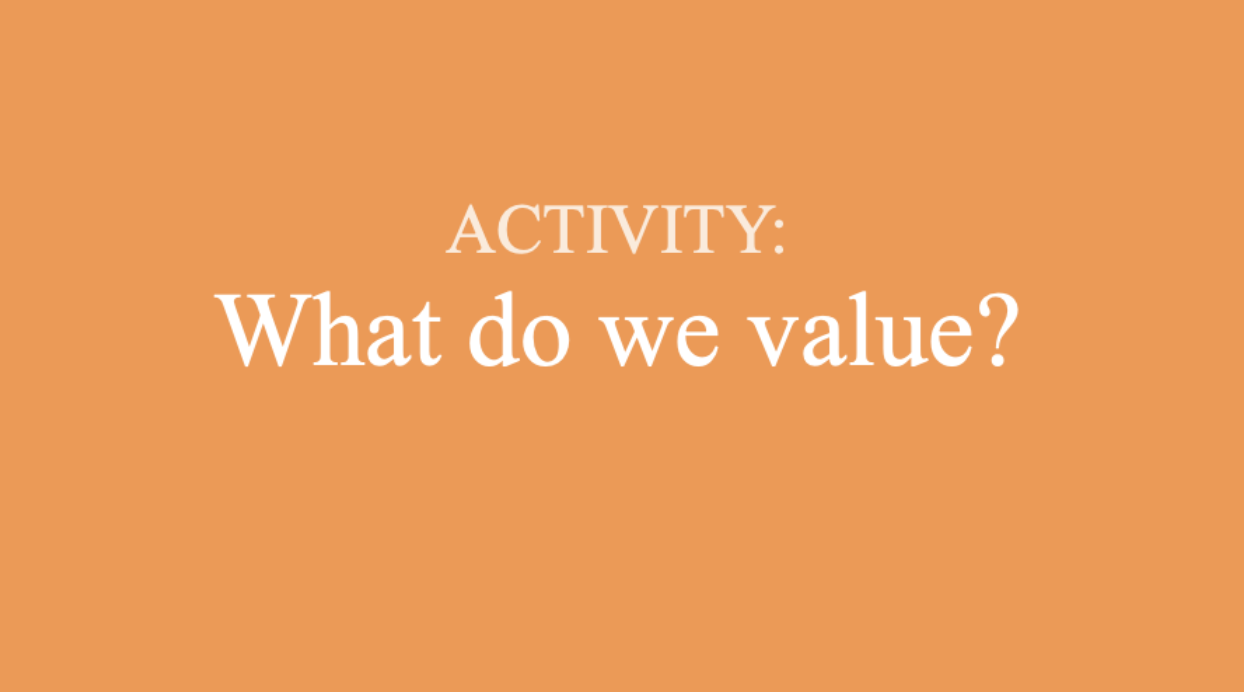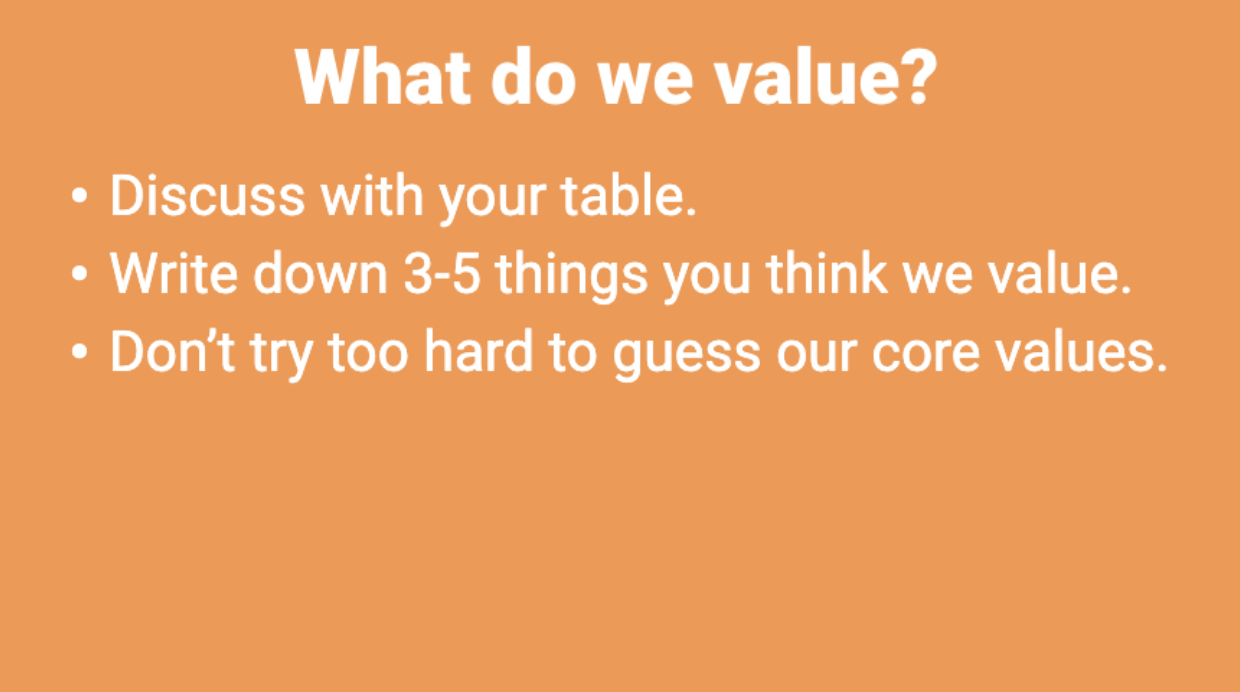 We wanted people to brainstorm in a similar way that we did so we could (hopefully) see the similarities between the way we were all thinking.
Ideally, this would allow them to feel like part of the process, while also confirming that we're aligned on what we value at IMPACT.
Explain Your Process
Next, we explained our process. We wanted the team to know all of the thought that went into choosing our core values, so we explained the activity that we did to get there.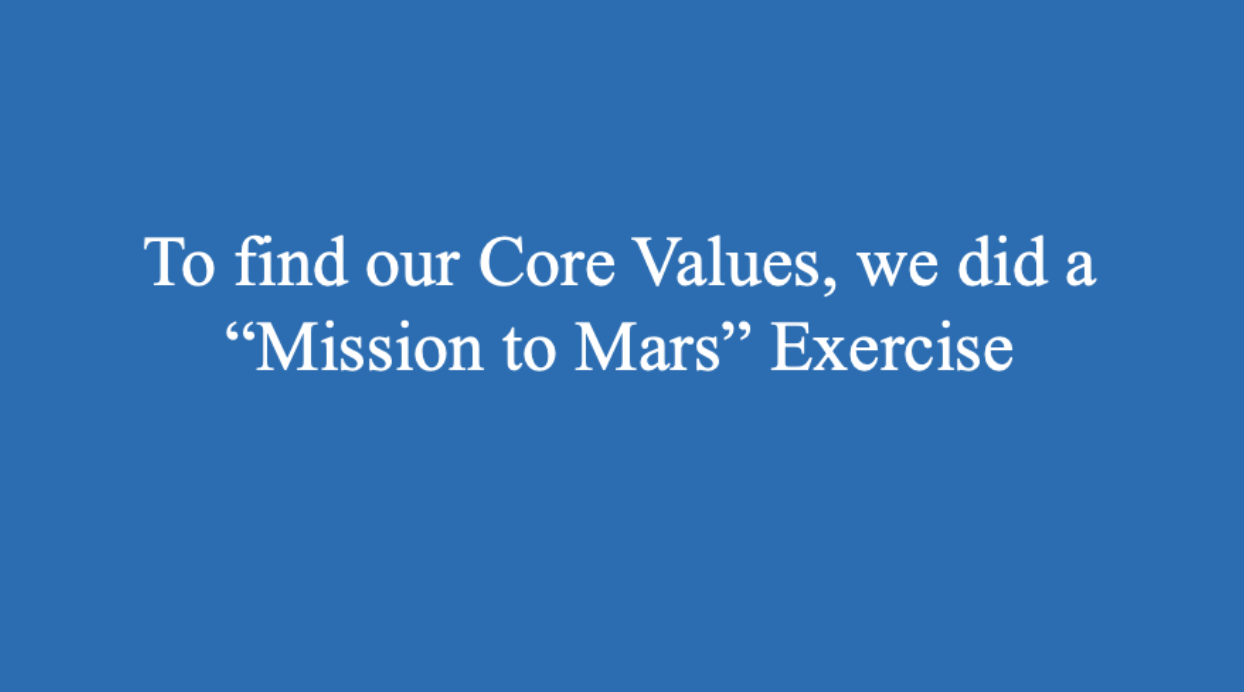 This gave them insight into our process, so they could better understand the outcome and know we didn't just pull these out of thin air.
Show the Characteristics That Added up to Deciding Each Value
When we did the activity where we listed out the reasons we chose people for the "Mission to Mars" exercise, we were able to group a lot of the statements together to get one concise value.
This showed our team a deeper look into our thought process.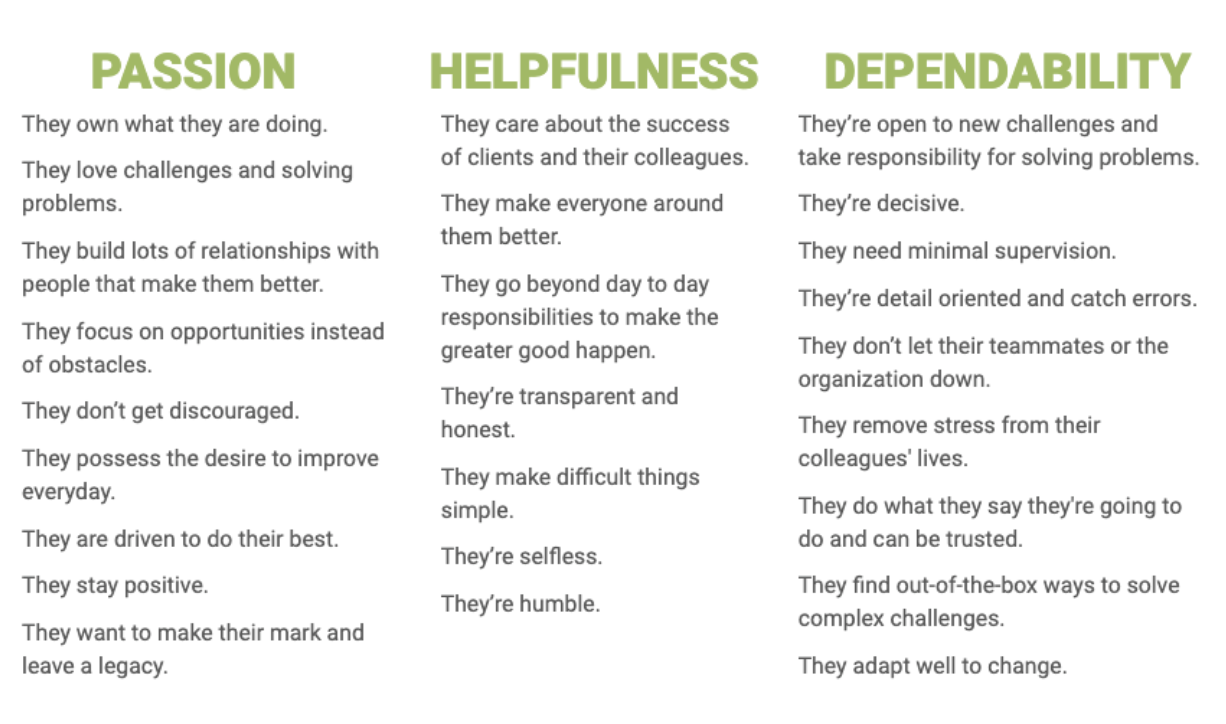 The image above shows the grouping of each statement and how they rolled up to each core value. This showed the team some deeper context behind each value and described what we expect from someone who successfully demonstrates each one.
Roll Out the Overview of Each Value
Each of your core values should be able to be defined in a couple of sentences.
This is how your team will know exactly what the value looks like in practice, and what they can refer back to for clarity.
When we rolled this out to our team, we showed them the following overviews for each core value: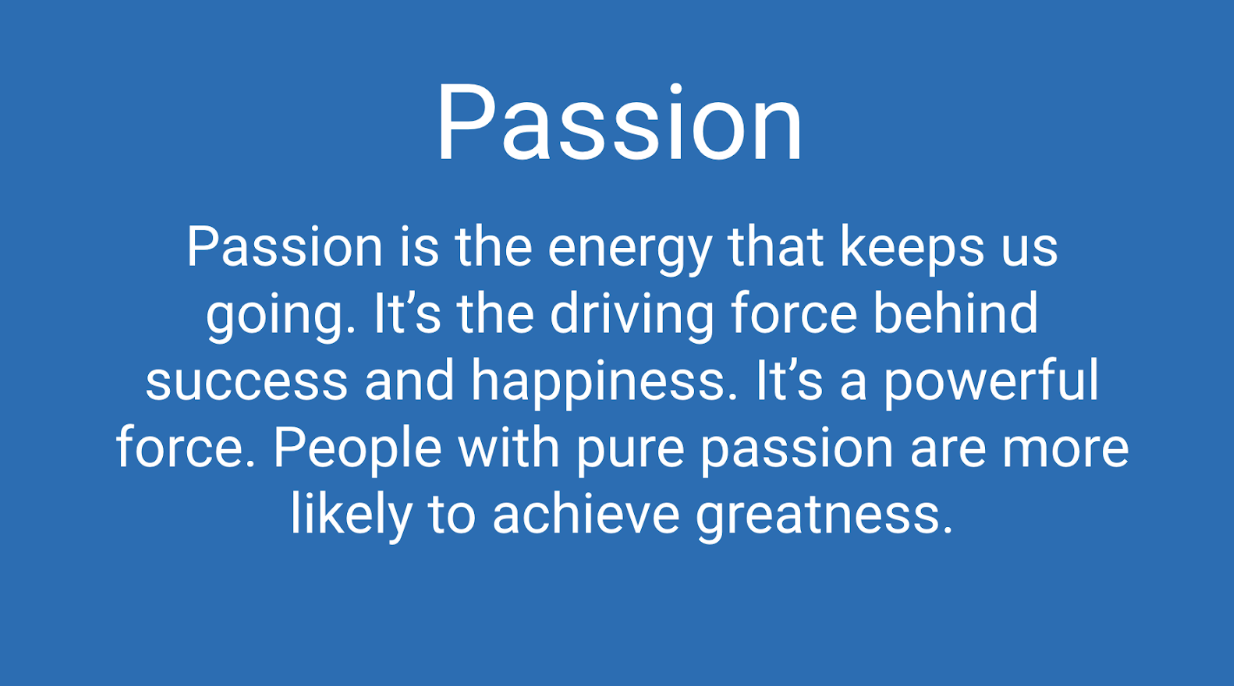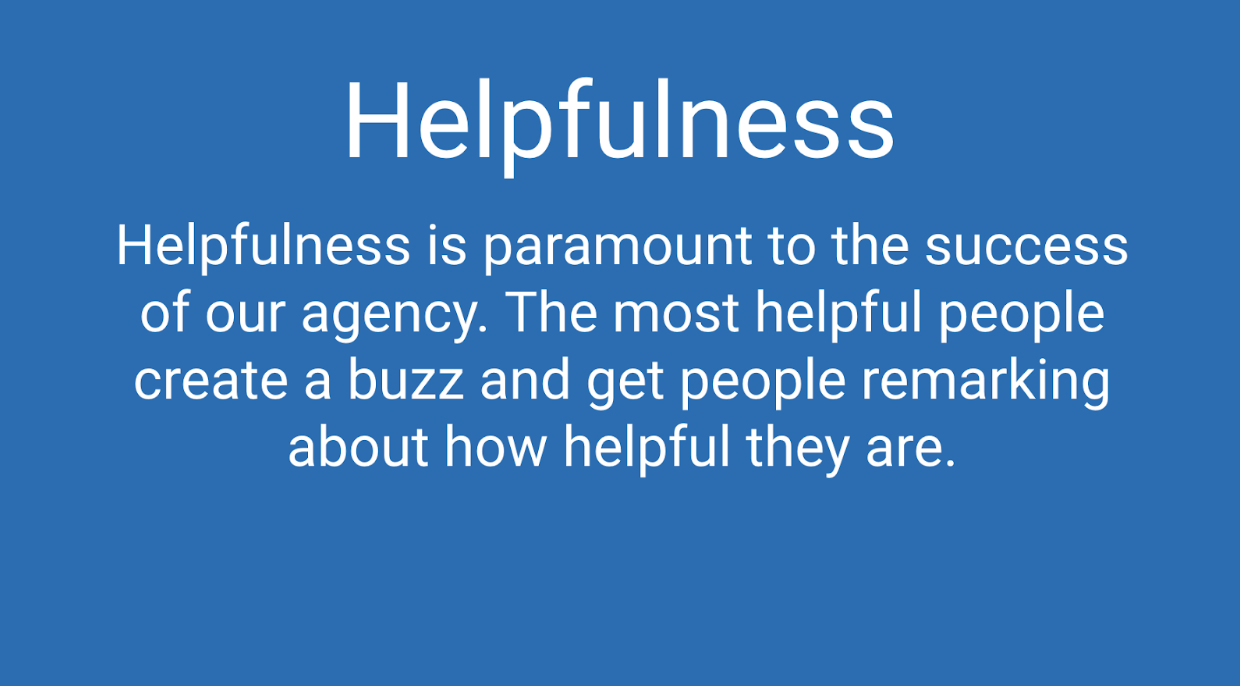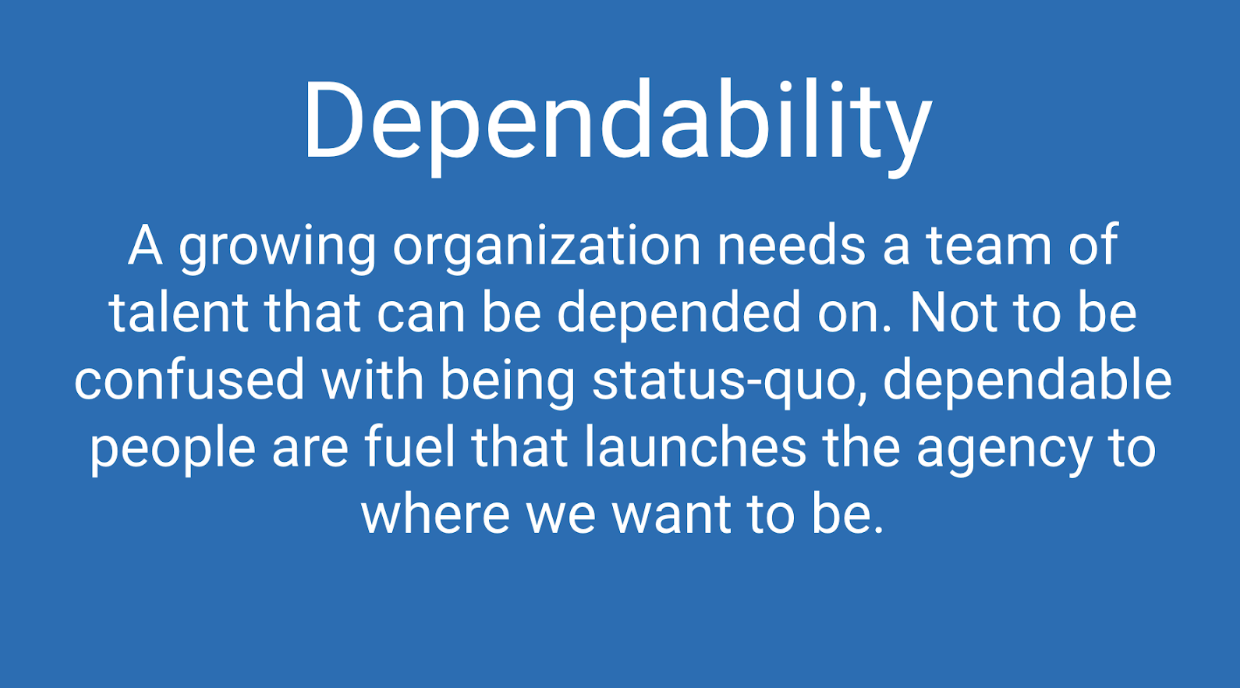 Take some time and reflect on exactly what each value represents in your organization, and make sure it's documented for the team to see. This way, they can refer back to it and can also be held accountable by the same standards as everyone else.
At IMPACT, we documented ours in our culture code slide deck, which sets the tone of our culture for anyone who reads it.
Bringing Your Values to Life
After defining your values, what they mean to your company, and documenting them, it's time to bring them to life.
It's likely you're already acting on your core values (or else you wouldn't have chosen them right?), but once you've documented them, it's time to go all in.
Make sure you've integrated your values throughout every part of your business. A few places we integrated our core values include:

Our Culture Code: We dive deep into our core values in our culture code slide deck so our current employees, potential employees, and the rest of our community can see what we're all about.
Recruitment and Selection: Every job candidate is asked specific culture-based questions to evaluate their alignment with our core values.
Onboarding of New Employees: New employees are educated on our core values during their first few days at IMPACT.
Employee Evaluations: We're constantly taking a pulse on our employees to make sure they're embodying our core values.
Annual "Core Awards:" Every year the team nominates people to win individual awards based on our core values. These are announced at our annual company party.
Integrating your values into your culture keeps them alive and relevant. The more you can enforce them with the team the more seriously they will take them, and the more prominent they will become.
Now - it's time to go forth and start the process! While it may seem overwhelming at first, the payoffs from further defining your company culture will be worth it in the end. Have questions about the process? Find me in IMPACT Elite!
Free Assessment:
How does your sales & marketing measure up?
Take this free, 5-minute assessment and learn what you can start doing today to boost traffic, leads, and sales.