Facebook Ads The Inbound Marketing Way (a.k.a The Right Way)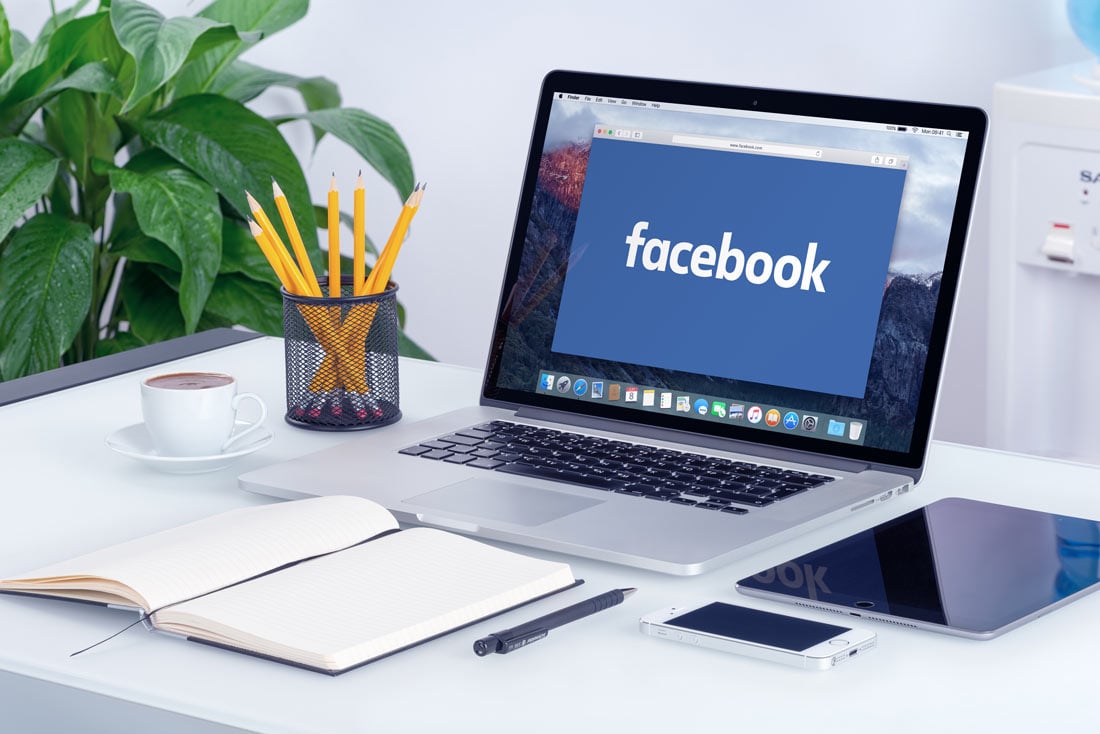 "Facebook ads are only for top-of-the-funnel."
I hear this all the time. And it's wrong—110% of the time.
Facebook ads are phenomenally powerful at every stage of the funnel when done right.
In turn, Facebook ads can, and should, be used with an inbound marketing mindset.
You know that inbound marketing is based on the idea of sharing useful information online to educate and help people become aware of your brand organically, but the organic social game is getting harder to play.
Over the last few years, getting brand content seen on its own accord has become next to impossible as Facebook aims to bring the focus back to friends and family.
Fortunately, that's where Facebook ads come in.
You can use Facebook Ads to generate leads, market to existing customers, and retarget existing customers.
In essence, to attract, convert, close, and delight (a process every inbound marketer should know by heart!)
Now, I won't belabor the point of why you should be on Facebook any further—you should already know the number of active users per month (2.19 billion, most likely includes your audience.
You just need to be able to effectively reach them.
So what does "done right" mean?
Note: I'll be talking even more about this at my session at IMPACT Live 2018! Don't have your ticket yet? Get it here now!
Successful Facebook Ad Funnels Must be Inboundy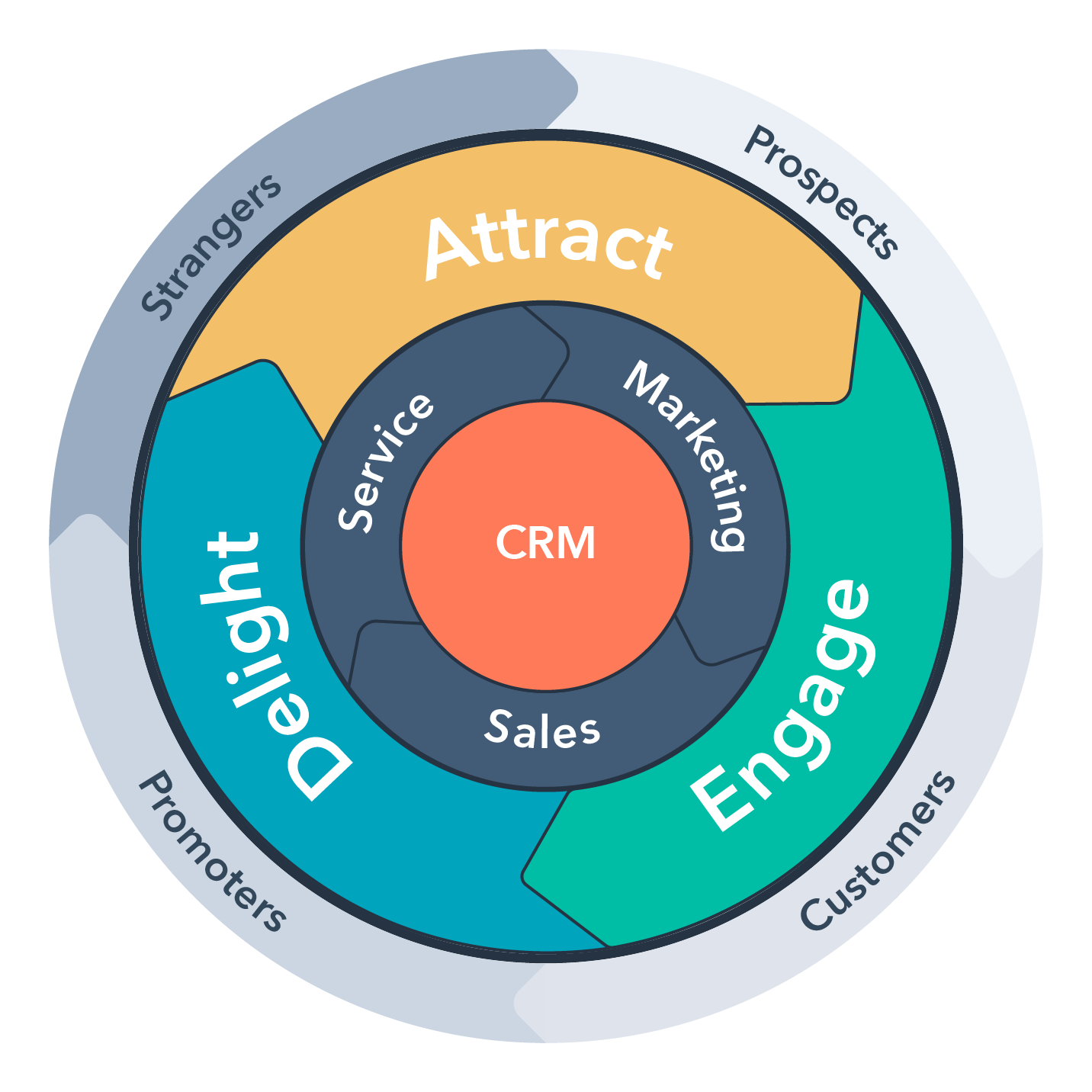 Each of the different objectives available when building campaigns on Facebook fit perfectly into the "inbound way."
When building your campaigns, you always start by selecting objectives and as you can see, the options in Facebook align perfectly with the inbound methodology and buyer's journey.
Take the attract/TOFU objectives, for example. These are typically the most cost-effective, which is helpful since they are running to the widest audience:
Video Ads

Brand awareness

Reach

Traffic

Engagement
Middle-of-the-Funnel (MOFU) is where you start selecting objectives that are the first toe in the water for converting.
These usually target leads and sales from those who have already passed through the TOFU ads and focus on these objectives from Facebook:
Conversion

Lead generation

App installs
Bottom-of-the-Funnel (BOFU) is where you usually retarget the MOFU engagers and contacts who didn't convert yet.
Many people think this is only for eCommerce, but it also works for lead generation too.
Facebook's Ad product catalog is the holy grail for purchase retargeting in eCommerce, but we have also run extremely successful lead generation campaigns that retarget people who have gone to webinar or demo pages but didn't sign up.
We retarget them with reminders and added incentives to still sign up. Of all the Facebook objectives, our mainstays for BOFU are:
Product Catalog Sales

Conversion
Here are two examples of exactly how we build our full funnel inbound Facebook Ads campaigns that follow the buyer's journey.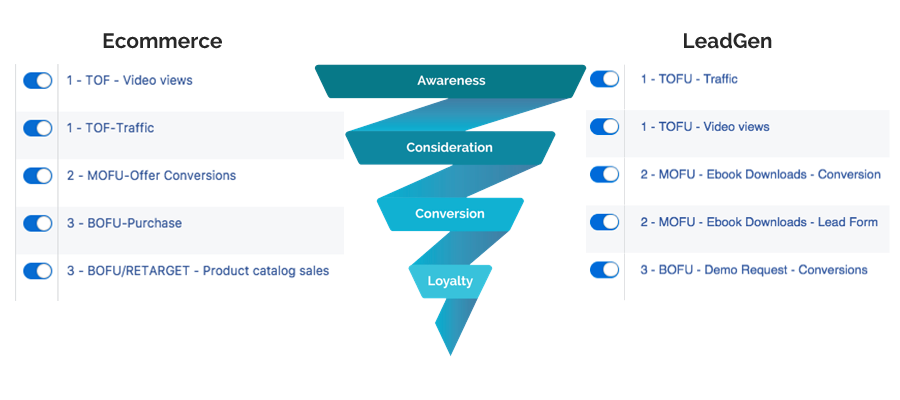 We even use naming conventions to clearly show what stage of the buyer's journey each ad is being used for.
Now, keep in mind, these are the basic guidelines, but like all great marketing plans, you have to be willing to test and take risks.
For example, while TOFU seems like it would only be for priming audiences to drive them through your funnel, some eCommerce brands are seeing amazing success right now with TOFU Dynamic Product Ads (DPAs).
If you are not familiar with Dynamic Product Ads, these are the ads that make that perfect pair of red shoes, must-have moisturizer, or even fantastic vacation to Fiji follow you around on Facebook and Instagram.
They are synced directly to the eCommerce sites they promote so that all inventory, product names, and prices are passed through to Facebook.
If you've shown interest in those items, but haven't purchased, they will most likely be retargeting you (if they have a strong Facebook ads campaign running).
In fact, we have one eCommerce client whose TOFU DPA is one of their best performers, converting $12,800 in sales for them from $2,800 in spend. That's a 4.57 Return on Ad Spend (ROAS).
So, never be afraid to try new ideas, as long as they're strategic. This is a cornerstone of inbound success!
Creating and Maximizing Your Facebook Ads
There are several questions you need to ask yourself when choosing your hook.
What are you offering or promoting? Is it useful to the audience? How will it help them—what pain point are you solving?
From the beginning, you need to be in the inbound marketing mindset and fully understand your buyer personas.
What forms of inbound marketing content can you use as 'hooks' for Facebook ads? You can use virtually any type of content to draw users in, such as:
Videos

Blogs

Podcasts

Whitepapers

eBooks

Webinars
If there's content on your website that has done well, it's likely that it would make a good hook for your Facebook ads.
To identify this content, start by thinking of the different stages in the buyer's journey and the content you have in each other them.
It's important to remember that one piece of content is never going to fit all of your buyer personas at each stage of the funnel. That of your ads, like on your website, need to be relevant.
Remember when we said the hook was the key to a successful Facebook Ads campaign? This is where you put it into action.
The hook you use in the Facebook ad should correspond to where the user is in the inbound funnel and buyer's journey in order to be effective.
And here is something that is a strategy we live and breathe by—Facebook ads should follow a principle we call "ad camouflage."
In other words, they should actually share helpful, useful information (i.e., the inbound way) and be something you don't mind engaging with.
They are "camouflaged" or appear native to the platform because we specifically leave off the call-to-action button whenever we can, use high-quality imagery, and make sure the tone of the copy helps to solve a pain point for the audience...not just pitch and puff up our client's egos.
How To Put It Into Action

While creating full funnel Facebook ads is daunting, there are a few tips to help get you started and supercharge your campaigns:
Look at your assets.

What do you have available? Look at all of your content and see what would work as a solid hook for each part of the sales funnel.

Sketch out your Facebook Ads funnel strategy.

What is your campaign going to look like? How are you going to reach users in different stages of the buyer's journey? And how are you going to measure your success and ROI? Our secret—sticky notes! Start with these so you can easily move different components around until you love the blueprint. Then we solidify it in a Keynote document with our expected metrics. (Bonus: When we present our funnels to clients, we get fancier and love Lucid Charts.)

Build out your Facebook Ads campaign funnel.

Remember, the strategy is just your best theory. You have to be ready and willing to be agile, split-test your ads, and tweak them as needed to get your results. This could mean changing images, headlines, copy, landing pages, or email copy...a lot.

Keep track of your leads.

Make sure you have a solid CRM (we love

HubSpot's free version

) to track your conversions and build segmented lists.
Want to learn more about how we run Facebook ads for IMPACT and our clients? Grab your ticket and be at my session at IMPACT Live 2018!
Free Assessment:
How does your sales & marketing measure up?
Take this free, 5-minute assessment and learn what you can start doing today to boost traffic, leads, and sales.