8 best webinar software to go live on Facebook (free and paid)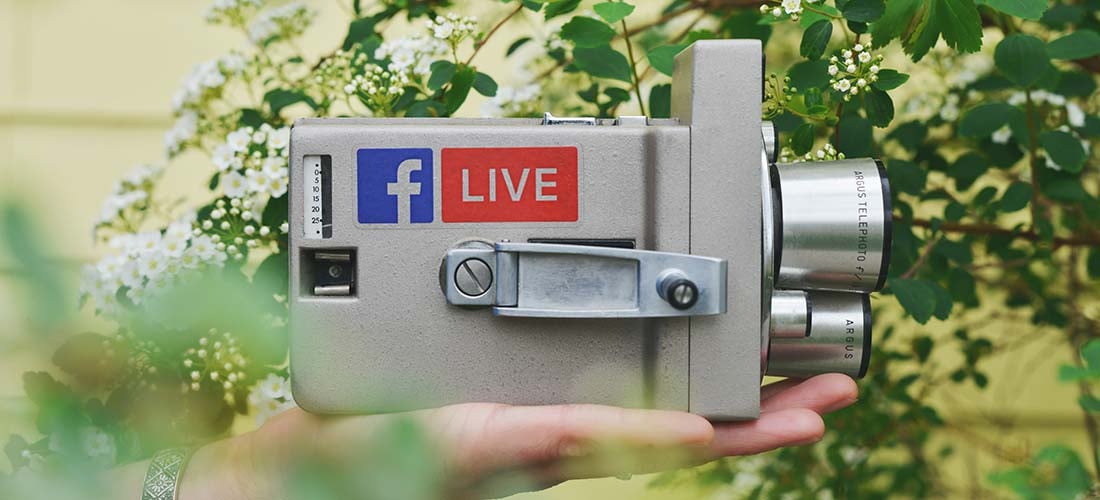 I love working out in a class setting. For me, venturing to a yoga studio every Sunday morning to join others in a 60-minute practice was just part of my routine.
But since COVID-19 began to limit our in-person interactions, video became the go-to way to still connect.
Rather than in-person, I now join my yogis virtually on the mat, and watch live as an instructor teaches the class.
And we're not alone.
In order to keep moving, businesses of all kinds are left with no choice but to learn how to virtually sell to their clients, host online events, teach classes or workshops, and so much more.
For many marketers, video content like this, especially in webinar and interview formats, are incredibly useful ventures that allow them to educate their audiences.
Fortunately, even before this virtual landscape took shape, there were already multiple platforms businesses could use to live stream online.
One of the most familiar ones is Facebook Live, but by itself, it only currently allows you to stream by yourself.
As a business, how would you stream a live webinar with yourself and two presenters from other companies who are hundreds of miles away?
Or what if you wanted to enhance your production with transitions, graphics, or multiple cameras?
How Facebook Live can be the solution
Facebook Live has quickly proven its unique ability to engage audiences in a more personable and human manner.
With it, you're able to easily go live on your mobile device or desktop and interact with users in real-time, all without the need for specific codes and URLs.
This makes it incredibly simple for both marketers and users to get started, but when it comes to more dynamic productions, the platform on its own is quite limited.
Fortunately, there are several tools you can purchase to broadcast live for more complex productions.
With that in mind, let's take a look at the eight best webinar software options you have to help you go live on Facebook for your next webinar, class, interview, etc.
For those looking for live stream software that has features robust enough to enable you to produce TV-level productions, Wirecast might be your best option.
Wirecast is a video capture software that allows you to pull video feeds from your desktop, iPhone, and DSLR among other things into your computer and stream them live on Facebook.
Using the image below as an example, you could create a scene that includes a video of yourself, placeholder A could be a slidedeck and placeholder B could be a social feed. Or, Placeholder A and B could be video feeds of two speakers.
To pull your guest's videos into Wirecast, they first need to be using video conferencing software like Zoom, Skype, or Google Hangouts.
Then, you can use Wirecast Rendezvous to connect your guests' video and audio into Wirecast to manipulate as needed (limit seven remote guests).
What's unique about this software is that you can edit and enhance your video on the fly by utilizing transitions, text and lower-thirds, countdown timers, title screens, scoreboards, audio mixing, etc. like they would for any live TV broadcast.
Due to the complexity of the software, I would not recommend Wirecast for live streaming beginners, or those looking for quick and easy solutions.
The software is somewhat intimidating and requires you to either have background video production knowledge, or an overall willingness to sit down and watch some tutorial videos to learn the software.
Wirecast is available for a free trial or purchase at a one-time fee starting at $599 for the lowest option.
Many of us are now familiar with Zoom Meetings and chat in light of social distancing.
In addition to their meeting software, however, the company also offers Zoom Webinar which enables you to create a conference room, invite participants, and stream live to Facebook or even YouTube.
Before hosting your webinar, you first need to schedule one within your Zoom portal.
The link can then be sent out to your participants ahead of time and scheduled on your respective calendars.
Once you and your participants have the software downloaded to your computer, you can each enter through the webinar link. From here, check to make sure all participants are promoted to Panelists.
If they are, you are ready to go live! You can do this by selecting the 'more' button at the bottom of your Zoom window and clicking "Live on Facebook."
Once this is activated, you will be streaming live! There is no preview mode before people can start seeing the stream, but you should see a little red recording button in the top left hand of your Zoom window indicating the connection to Facebook is active.
Zoom does not allow you to brand or stylize your stream, which could be great for those looking for very bare-bones software, but this does mean your live stream won't have a visual identity for those to recognize you with.
This wouldn't be ideal if you live stream a regularly scheduled show that would benefit from simple static graphics.
The Zoom Webinar package starts at $54.99 at 100 attendees if attendees are being invited to watch within Zoom. There is no limit on how many people watching through Facebook Live.
Editor's Note: This article following feature was sponsored by LiveWebinar.
Unlike most of the tools on our list, LiveWebinar is a cloud-based solution for screen sharing, live video streaming, broadcasting to social media (YouTube, Vimeo, and Periscope, aside from Facebook), and HQ recording.
Image Source: GetApp
That means you can easily join a meeting or run a webinar without needing to download and install any software; super convenient.
In addition to that, LiveWebinar productions can be fully customized to match your business' branding and be hosted under your own domain in two different ways (either by embedding a webinar room on your site and through the tool's enterprise white-label option). This creates a more seamless, consistent user experience.
You can also set up polls, chats, and calls-to-action, as well "event scenarios" to automate these elements into your productions.
Last, but not least, LiveWebinar integrates to dozens of other marketing tools including HubSpot, Zapier, AWeber, Slack, and MailChimp to help you not only analyze your stream's performance, but also make it cohesive with the rest of your marketing activity.
BlueJeans is another multi-party video platform that grants users the ability to create video conferences with multiple uses that can be streamed easily to Facebook Live.
What's interesting about BlueJeans is both its meeting software and events software give you the ability to stream live.
So if you find yourself in a position where you need to live stream a one-time large scale virtual conference, BlueJeans might be a good option to consider.
For specifically those looking to live stream using BlueJeans Meetings, the tool functions very similarly to Zoom Webinars live stream option.
Before even setting up a room, you need to enable the Facebook Livestream integration (which you can do by following these directions).
After that's squared away, you would start a meeting room and invite the necessary participants.
Once in there, you select the 'Apps' icon in the top right corner, Facebook Live should be one of the options.
The tool will prompt you to select what Facebook page you want the live stream to broadcast to followed up by a window that will allow you to preview your video feed and enter your video title and description.
If everything looks right, you can press the "Go Live" button to start the broadcast.
Like Zoom, you also have the option to share your screen and change the layout of the videos, but you won't have the option to customize certain branding elements unless you are using BlueJeans Events.
The BlueJeans Meetings package starts at $12.49 host/mo and allows you to invite up to 50 participants, which is relatively affordable if you need both a virtual meeting and live stream solution in one.
StageTen is a live streaming platform ideal for those looking to not only stream but incorporate templated scenes you can easily create and manage.
StageTen's "scenes" are layouts that allow you to pull in media such as video feeds, screen shares, lower thirds, and screen overlays.
These pieces of media are all gathered within StageTen a couple of steps before you create your scene.
The first step has you add in your video feeds, this could mean sharing your webcam, your screen, or inviting remote guests to join using your URL.
The second step has you pull in whatever visual assets you need to show within your scene, this could be photos, videos, audio, or even custom-built lower thirds that you can build within the tool.
Once you've used your assets to generate your scene, you can connect yourself to Facebook live using the on-screen instructions.
During your broadcast, you'll have the chance to switch up your scenes as you please to create a more dynamic experience for your viewers.
You can get started free, but a watermark will be added to your live stream unless you upgrade to a paid account. Their consumer options are either $22/mo or $92/mo depending on what options work best for you.
Free Facebook Live streaming alternatives
Unlike many of the other options mentioned, OpenBroadcaster is not a meeting software. Rather it allows you to select a specific video source (such as your desktop or webcam) that can be manipulated in the software and streamed through Facebook Live.
The software will need to be combined with a conference room tool (such as Zoom, BlueJeans, Skype, etc) which you can have as the active screen when you set your video source to share your desktop.
Despite this, what's nice about Open Broadcaster is you can seamlessly switch to other screens as your streaming, whether that be pre-recorded video resources, a DSLR camera, mic only, or otherwise.
There are a variety of step-by-step video tutorials to help you get everything configured on YouTube.
For a piece of software that's free, Open Broadcaster is fairly robust and also has a wonderful community who's willing to help if you have any questions.
StreamYard is very similar to BeLive or StageTen in that you have a setup that allows you to create different scenes using available feeds while incorporating different graphics.
StreamYard allows you to invite up to six participants, which as a free option, is quite generous.
In terms of branding your stream, you can add banners and opt for a specific brand color that all names and comments will appear with, but you will, unfortunately, have the StreamYard logo added to your stream which can be removed in upgrading to a paid plan.
You'll also be able to have all stream comments pulled into the software so you don't need to go back and forth between the software and Facebook.
If you're curious about incorporating overlays and backgrounds, you'll need to upgrade to the paid plan.
A final note on the free plan is you're limited to 20 hours per month of streaming. For many small businesses, this will be more than enough, but if you ever choose to upgrade to the paid plan, it's $25/mo (or $20 annually) you can unlock that time limit among other features.
Last, but not least, BeLive is an easy-to-use free alternative that enables you to go live with a single guest immediately or on a later date.
Like Zoom, the software allows you to control the layout of you and your guest's video with the click of a button.
Then, if your stream has a specific agenda you want to showcase to your viewers, the software allows you to write on-screen updates that will show to the Facebook stream.
Another neat feature BeLive has is its ability to pull all Facebook comments on the live video into the BeLive software. This way, you aren't going back and forth between the Facebook page and the video chat to monitor comments.
As mentioned, the software only enables one other user to join you which can be problematic if you require a larger group of panelists.
We'll do it live!
I'm sure there are many of us that are intimidated to even try exploring new virtual tools, especially when we have so many other things to adjust to during this pandemic.
My recommendation is to pick two that you think might be the best fit for what you're trying to solve for. Read further into them, whether that be looking at reviews, tutorial videos, etc. then, start to slowly experiment with them and have patience.
Soon, you'll find yourself a live streaming expert in the platform of your choice.
Free Assessment:
How does your sales & marketing measure up?
Take this free, 5-minute assessment and learn what you can start doing today to boost traffic, leads, and sales.