Inbound Marketing for Financial Services Providers and Financial Advisors (+ examples)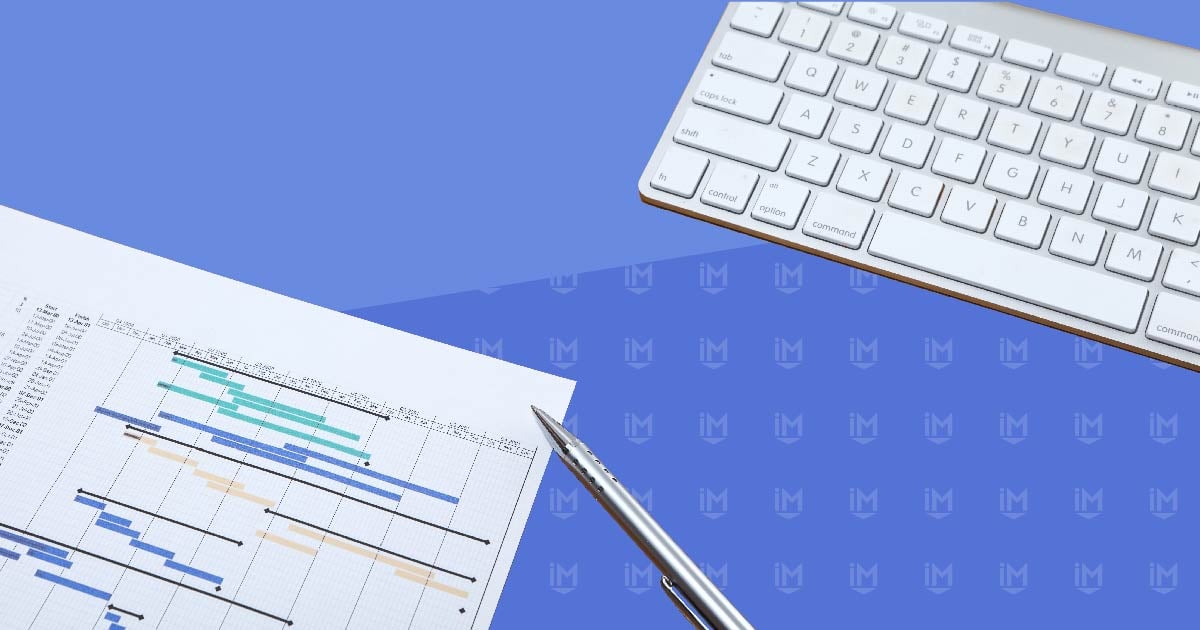 The financial services industry touches nearly all people's lives in one way or another by way of workplace benefits, college savings accounts, business loans, tax preparation, home mortgages, and all manner of investments.
Financial services firms serve people in periods of joy and stress, providing stability, stewardship, opportunity, and security.
But as with any service connected to money, customers can be distrustful and skeptical of experts. They think, "How do I know this person really has my best interests at heart?" and "Can I actually trust them with my life savings?"
For this reason, inbound marketing can be very effective for firms in the financial field for one big reason: inbound marketing can overcome a trust deficit much more effectively than traditional outbound marketing.
When your potential customers begin researching any financial service or product, they begin with a search engine. They want to become educated customers who can spot a bad deal or a disingenuous firm. They're on the lookout for information about hidden service fees, risk evaluation, and best practices.
The rise of DIY trader apps like Robinhood and cryptocurrency only prompts more questions and confusion.
But all these concerns should not discourage you, as a financial expert. Just the opposite. There are literally tens of thousands of qualified prospects out there looking to work with your firm, and inbound marketing can bring them to you — provided you go about it the right way.
In this article, we're going to explain:
What inbound marketing is — and how it applies to the financial sector.
How financial service firms can get found online through organic search.
How the right content strategy can drive qualified traffic to your site.
Inbound marketing: An overview
At the most basic level, inbound marketing is really simple. It starts off with two basic premises:
The internet has changed the way people buy.
Educated prospects become happier, better customers.
When customers are thinking about making a purchase, whatever it is, they start by gathering information. They do this with a computer and a search engine.
They begin by typing in questions, and they look for pages that answer those questions. They keep reading and they keep learning, all as they get closer and closer to making a purchase.
Whether they're buying a lawnmower or a mutual fund, their buyer's journey follows the same path. If they read a few blog articles on the same website, that company becomes a brand they recognize and trust. As a result, they're more likely to sign up for a newsletter, attend a webinar, or schedule time with a financial advisor or sales rep.
A full inbound marketing strategy will require keyword research, deep knowledge of your competitors, and a fully-realized brand identity.
Still, you can get started with your inbound marketing initiative by focusing on one question: What questions are your prospective clients asking?
They Ask, You Answer: Connecting with your target audience
Today, Marcus Sheridan is a celebrated speaker and author (and co-owner at IMPACT). But 15 years ago, he ran a pool installation business in Virginia. When the Great Recession hit in 2008, he saw customers pull out of projects, citing their concerns about cost. In a few months, his thriving business was on the brink of collapse.
Having heard something about inbound marketing (and having spent years as a salesman), Marcus began an act of desperation that ultimately saved his business.
He set out to write detailed answers to every question he had ever heard from a customer — and then publish these answers on the company website.
He knew that the things customers asked about most frequently were things businesses didn't like to talk about. He also knew that answering these questions would build trust and make buyers feel informed.
He called his strategy They Ask, You Answer — and it became a trusted framework to guide a company's inbound marketing efforts.
What started as a desperate act became a business philosophy that has since spread around the world and been adopted by businesses in a number of sectors: healthcare, manufacturing, real estate, software, home services, and more.
Despite the differences in industry, every company thriving with They Ask, You Answer shares common beliefs:
If a customer asks a question, you should answer it.
Trust is the currency of every business.
If people see you as an educational resource, they are more likely to buy from you.
The content your company creates can also be used to speed up the sales process.
They Ask, You Answer is particularly well-suited to the finance industry. Considering buyers have a slew of questions and do their own research for purchases and investments, trust-building, educational content is exactly what they're looking for. This is the inbound strategy that can help you connect with your target market of potential clients.
After all, you know that your customers have questions, and these are getting typed into Google right now. If you're the one answering their questions, you have a great chance to make them a customer.
Inbound marketing strategy: The 5 topics you need to cover to drive traffic
To build a solid content strategy, you should draw from two sources. The first is your sales team. Meet regularly with sales reps at your company to ask what questions they're getting from prospects.
At IMPACT, we meet every two weeks for an hour for a "revenue content brainstorm" meeting to make sure the content our marketing team is producing matches the questions our customers are asking. This is the surest way to avoid writing the fluffy content that sales teams hate.
To supplement what you hear from your sales team, we suggest you cover the following five content topics. So critical are they to the buying process that we call them The Big 5 — and they are universal for all industries, both B2B and B2C. You'll quickly see how this strategy makes sense for financial advisors and other industry experts.
Buyers everywhere are asking the same questions. Whether they're buying a wedding cake, a trumpet, setting up a dog walking service, or planning for their retirement.
Cost: First on everyone's mind, of course, is cost. We are all skeptical when a website won't tell us how much a product or service costs. (Does "Call for price" ever actually work?)
Sure, it's hard to say exactly

how much something might cost — especially something with as many variables as a financial product — but customers want to have some idea. Addressing cost openly and explaining what factors make that number go up and down will be very appreciated.

Problems: When we make a purchase, we want to know what might go wrong. This is why we're so drawn to 1-star reviews. Feeling informed about worst-case scenarios helps us feel prepared for whatever could be thrown in our way. Are there problems with annuities? Drawbacks to reverse mortgages? Your customers want to know.
Reviews: Connected to problems are reviews, whether they are of products or of entire companies. According to Inc., 84% of consumers trust online reviews as much as they trust the word of a friend.
"Best of" lists: Customers frequently Google questions that help them find the best solutions. "Best 401K alternatives" or "Best mortgage brokers near me" are good examples of well-trafficked searches.
Comparisons: Roth or traditional? LLC or sole proprietorship? Fixed rate or flexible rate? Consumers want to put things side by side to know how they stack up. Addressing these head-to-heads can help demonstrate your experience and make your potential customers feel informed to make the best choice possible.
You know that customers are asking about these topics, so you can kickstart your content marketing with these areas of focus.
These come from two clients we work with in the financial services industry. Each has seen incredible growth in its traffic since going all-in on They Ask, You Answer.
Here are examples of how they've approached The Big 5.
1. Always address cost
Cost is on every buyer's mind. People want to make sure they're getting a good deal and that they don't get surprised by hidden fees or additional costs.
In the financial services industry this is critical. When discussing something like a mortgage or retirement account, you're talking about huge sums of money.
What's more, there's a big information gap between seller and buyer. A financial expert is going to understand terminology that will be foreign to the person sitting across the (virtual) desk. All the more reason you should address cost openly — and make sure to do it in a way that is candid and comprehensible.
Employee Fiduciary is an Alabama-based provider of retirement plans for small businesses. Check out their article titled: 401(k) Fee Study: What Does a Fiduciary-Grade Advisor Cost?
Note how writer Eric Droblyen clearly explains the factors that make cost go up and down, using visuals like graphs and tables to present data.
Also, a headshot and bio make readers trust the writer's credentials when absorbing this information.
2. Talk openly about problems
No business is eager to talk about the drawbacks of their products or services, but buyers sure are. In order to feel more comfortable with a big purchase, buyers want to explore the worst-case scenario they might encounter.
To build trust, speak candidly about the drawbacks your buyers should know.
Philadelphia-based investment firm Dakota directly addresses problems in their post: 3 Problems to Consider When Buying an Institutional Investor Database (and How to Solve Them)
In this case, the author is Gui Costin, the company's founder. Note how each problem is written in the voice of the buyer. It's "me" and "my" instead of "you" or "they."
Also, there are solutions here, not just problems. In the same post the author is able to empathize with customers while also offering answers.
3. Share your insight with reviews
Reviews are tricky. We all flock to Yelp or look to read the reviews on Amazon when making a purchase, but even there we are sometimes skeptical. Are we sure this review is legitimate?
A review on a company website can be hard to write because readers suspect bias and self-promotion. However, your expert advice can be hugely helpful.
This post from Dakota offers some generalized guidance to help readers evaluate options themselves.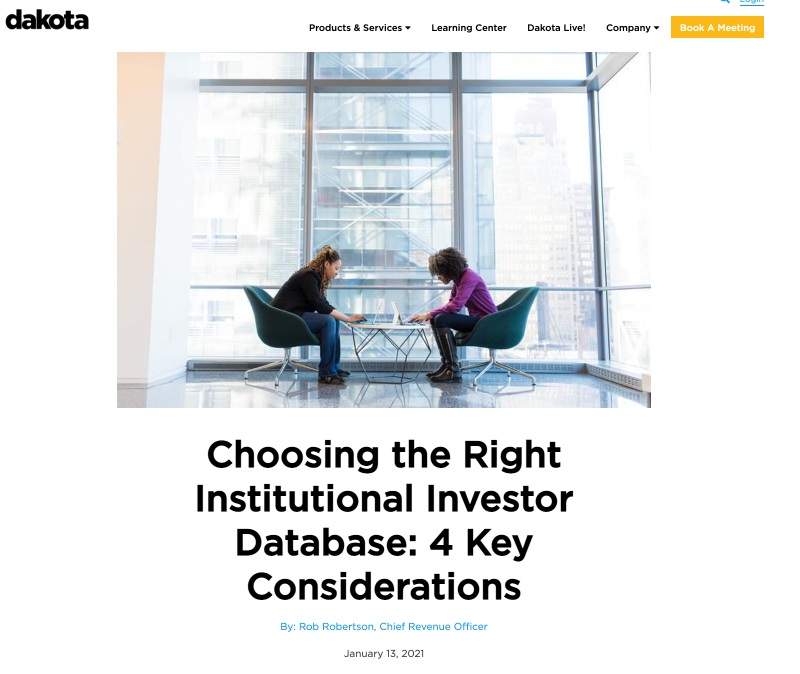 Without calling out specific databases, the article offers expertise and information — two core components when it comes to building trust — to help site visitors make the right decision.
4. Compile "Best of" lists
Best gyms near me.
Best recipes for banana bread.
Best ways to treat shin splints.
Searchers frequently use "best" as a prefix for their searches, hoping to come up with a list of options that suit their needs.
In an article titled "The Top 5 Most Popular Types of Small Business 401(k) plans," Employee Fiduciary outlines each type of business 401(k), noting the high points and low points of every option.
I love how this post ends with a "there's no one-size-fits-all 401(k)" section. As readers, we're reminded that the ball is in our court. The decision is ours. Thanks to this article, we now have the information to make the best decision for our unique circumstances.
5. Offer candid comparisons
Buyers search for the ability to quickly and accurately put their options side by side to explore differences.
Here, Employee Fiduciary covers a comparison that many are sure to ask about.
Notice how the article offers tables to organize the information being provided. What's more, the author puts in real-world examples that demonstrate how the same amount of money might perform differently in different situations.
Anyone reading their post knows that such writing is not a guarantee of performance, but an estimate. Even so, the article closes with this line: "That said, nobody has a crystal ball about their future earnings and tax rates. If the right choice for you is not clear, you can always split your deferrals between Roth and traditional."
As a reader, you feel that you have the information you need to make an informed decision.
To make inbound marketing work, you need the right team
With The Big 5 as your cornerstone, you can begin to write content that will speak to your customers' needs. But you'll need the right personnel to do so.
At IMPACT, we strongly suggest that organizations bring in a dedicated content manager to organize, govern, and execute your inbound marketing strategy.
An internal writer is vastly superior to the outsourced or freelance alternative, because they are more likely to "get" your company and its culture, and their presence within the organization will lead to content getting published more regularly.
You'll be surprised how quickly you can find and onboard a talented writer who can produce content that speaks to your audience.
After working with hundreds of clients over the years, we've found that half-serious inbound efforts only deliver minimal results. We advise our clients to staff up and start writing so they can build a library of content that's full of helpful information for their customers.
More than ever, this includes other forms of content as well. Beyond blog articles, you might produce videos, podcasts, guidebooks, social media posts, and more.
Thinking beyond The Big 5
While The Big 5 is a wise place to start, the financial services industry comes with its own unique questions that buyers everywhere want to know. These include a million "What is…" and "Do I…" type questions. As you plan your content strategy, pull some team members together and brainstorm some questions your buyers might type into search engines, such as:
How do I tell the difference between index funds?
Do I need to invest in commodities?
What is an annuity?
When is refinancing my home a good idea?
What is a variable rate mortgage?
You get the idea.
Gated content
Once you've built up a library of valuable content, you can focus on creating high-value content that can help with lead generation. Perhaps it's a guidebook to everything you need to know about college savings or a checklist for estate planning.
Site visitors could give you their contact information to download this kind of free ebook. This way, you grow your audience and your mailing list.
Inbound marketing strategy: Email marketing
Everyone uses money, which means that everyone (at least every adult) is a potential customer for the financial industry. And the opportunities for cross-selling are tremendous.
That person setting up a college fund might also need life insurance. Or a Roth IRA. Or both.
As you build your database, engage with your audience through email marketing. But when you do so, focus on being helpful, not salesy. Remember to think like a customer. What kind of emails do you want in your inbox?
If your emails offer helpful, educational content, you will continue to build trust and establish relationships with your audience.
Focus on education, not on offers, Provide a checklist or a guidebook to help people understand what they need. You could cover topics such as:
A beginner's guide to cryptocurrency
College savings checklist: Everything new parents need to know
How to determine if a Roth IRA is right for you
Any email campaigns you initiate should invite your customers into a conversation by providing relevant content. Help them feel well informed and like they're being treated fairly.
You can use marketing automation software to send the right emails to the right prospects at the right time.
The perfect website for inbound marketing
Often, businesses hoping to get started with inbound marketing are wary that they'll need a new website. In almost all cases, this is not true. You do not need a new website to get started with inbound marketing — you don't even need a great website.
Unfortunately, there are plenty of website design agencies out there that will gladly take your money and sell you a full site redesign that you don't really need — at least not yet. Still, these agencies will tell you that a new site is critical to your inbound marketing program.
They're wrong.
Even if your current website is a bit outdated, it probably has all of the necessary functionality for inbound success:
Can you publish a blog?
Can you interlink between blog articles or use a tag system to organize content?
Can you use CTAs and a landing page to capture leads?
If your website can do these three things, you're probably good to get started.
Just remember, your website is for your customers, not for you. Focus on their questions and challenges. Speak their language.
Visitors will consider your site to be a better website than your competition's if you have the helpful content they need.
Time to get started
A robust inbound marketing strategy can draw hordes of qualified traffic to your site, bringing in leads and sales. While this can drastically cut down on (or eliminate) the budget you've traditionally spent on ads, it is not something that should be undertaken without a serious focus. Bringing on a content writer and building out a strategy will help set you up for success.
Using these topics as a starting point, begin focusing on the questions your prospects are asking. If you cover The Big 5 for each of your products or service categories, you're doing a good job covering your bases.
Your sales reps or financial advisors can then use this content with prospects. (Remember, listen to the questions your sales team is hearing!) When a customer has a question, a thorough, well-researched piece of content can help alleviate their concerns.
At the same time, all of this content can begin driving organic traffic and qualified leads to your site. More content means more customers. More customers means more questions. More questions means more content. It's a cycle that keeps building momentum.
When we obsess over the questions our buyers are asking, we produce content that educates them and builds trust in our brand. This is true no matter the industry or the sales process.
After all, trust is the true currency of all business.
Free Assessment:
How does your sales & marketing measure up?
Take this free, 5-minute assessment and learn what you can start doing today to boost traffic, leads, and sales.