Getting Started with Video on LinkedIn. Here's What You Need to Know.
Whether you're trying to attract job applicants or looking for potential customers, LinkedIn is a becoming an even better social platform for companies each day.
One of their latest advancements was the addition of native video on its mobile apps.
While this feature was initially launched last August, it was only available for its 500 influencers. Today, it is being slowly rolled out to all users.
What Makes LinkedIn Videos Different?
LinkedIn is a bit late to the video game compared to other platforms, so they aren't reinventing the wheel. Like other social platforms offering video sharing, LinkedIn will be making viewer stats available to users like views, likes, and shares.
One unique analytics, however, is you'll also see the companies viewers have worked at and their job title. This additional professional insight is what makes LinkedIn a unique video-sharing platform for companies.
Also unlike other social platforms, LinkedIn currently doesn't support video ads. However, what the future holds is still a little unclear.
Another thing many social platforms do is utilize algorithms to boost videos or particular posts into users feeds; that will not be the case with LinkedIn.
The biggest difference you'll see when uploading native video to LinkedIn is the audience. Unlike other social networks, LinkedIn is the go-to platform for B2B and professionals to learn, engage, and find solutions to their business problems. So, this is your opportunity to create professional oriented video content and have an audience interested in it.
What Does This Mean for Your Business?
Video is no longer something you can keep on the back burner for another time. It's become an expectation for companies. In fact, Entrepreneur expects 80% of all online content to be video by 2019.
Even though they're late to the party, it was inevitable for LinkedIn to introduce the publishing of native video especially since it's already been implemented by Facebook, Twitter, and Instagram.
Now that all major social platforms are on board, you need to be too!
Remember, creating video content doesn't need to be a burden. Here are some tips to help you get started with video marketing :
Make video marketing a habit and part of your culture

Create a video studio where you can keep your video equipment set up

Don't be afraid to hire an in-house videographer, or learn how to film like one

Just start filming. You might struggle at first, but that's often the case when you're learning how to do something.
And, if you want to build a following, you need to go first. You need to put in the effort to create videos and content for those channels that will build your audience.
Using LinkedIn's Native Video
With the addition of video sharing, Linkedin will be adding a video icon between the camera and @ icons within the status update box in the app.
If you've used Facebook Live, recording a video in LinkedIn's app is similar.
All you'll have to do is click the new video icon and you can either start recording a live video or upload a previously recorded video from your phone.
While you can upload a video up to 10 minutes in length, LinkedIn recommends sharing videos that are between 30 seconds and 5 minutes.
Also, videos that are uploaded will automatically play (with no sound) in your audience's feed.
Sharing Video on Desktop
Not only can you publish native video, but also share existing videos to your LinkedIn profile, articles, or updates via Desktop.
How to Add Video to LinkedIn Publisher Posts
Adding video to a post on LinkedIn Publisher is simple. All you have to do is paste a link.
Start or open a Publisher post, then underneath where it says "Headline," click on the square icon with the + symbol in the lower right-hand corner.
Once that box is expanded, click on the video icon where you can paste the link to your video.
Adding Video to Make Your Updates Stand Out
You can shares links in your regular updates.
All you have to do is paste links to videos already created and published on Vimeo, Facebook, YouTube, and even on your website. Don't be afraid to share videos created by industry influencers as well.
How Your Company Can Implement LinkedIn Video
So… before you start publishing native video to LinkedIn, it's important to identify if this is where your audience is hanging out. If your audience isn't on LinkedIn, this may not be worth your time.
If it is a popular platform with your audience, however, consider using video to:
Host or Share a Webinar

Host a Q&A or AMA

Conduct interviews with industry thought leaders

Showcase your office

Behind the scenes look at new products
While native video isn't accessible to all LinkedIn members yet, here's a look at how users are utilizing LinkedIn's new video feature: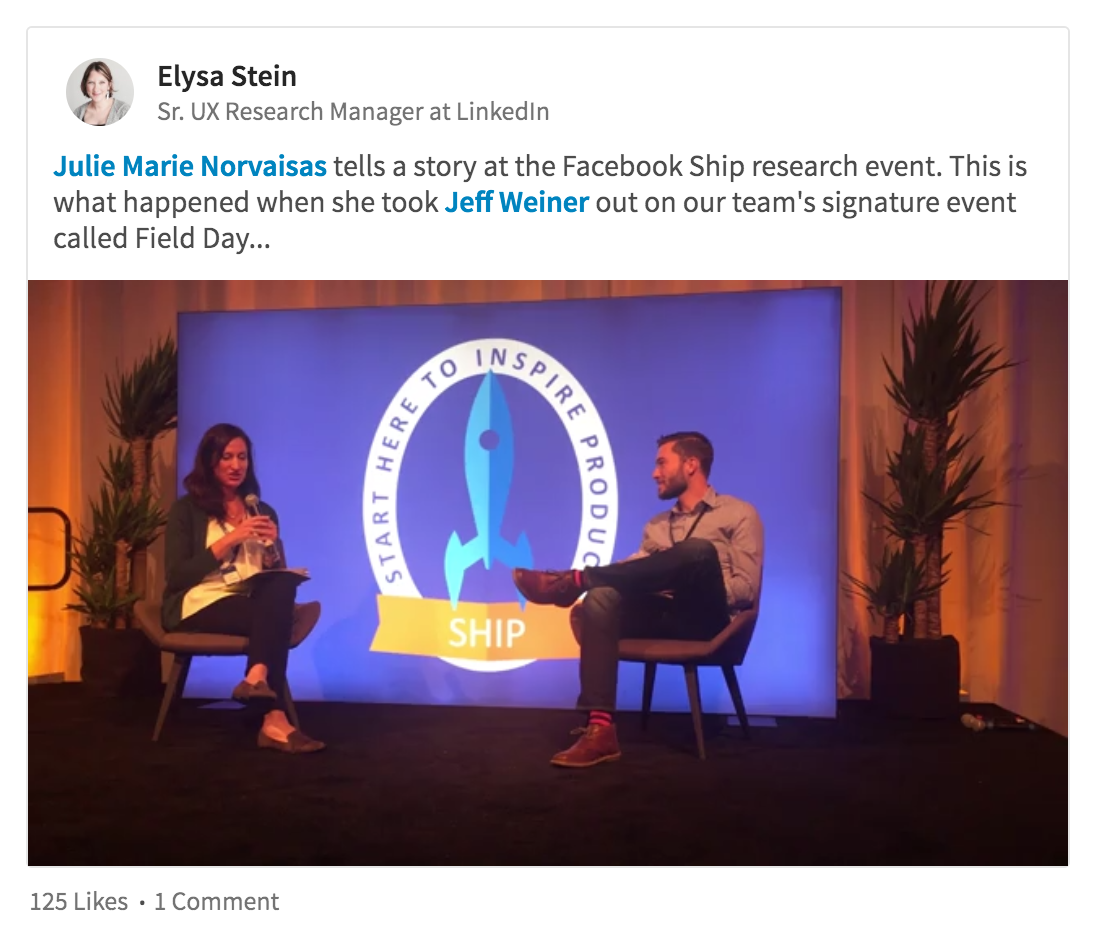 While those are just a couple of examples showcasing how LinkedIn users are using native video, it's something that everyone can and should start implementing.
And, with 51% of marketing professionals naming video as the type of content with the best ROI, get out there and start telling your brands story through video content.
Have you published native videos to LinkedIn yet? If so, let me know what you think.
Free Assessment:
How does your sales & marketing measure up?
Take this free, 5-minute assessment and learn what you can start doing today to boost traffic, leads, and sales.