Subscribe
Join 40,000+ sales and marketing pros who receive our weekly newsletter.
Get the most relevant, actionable digital sales and marketing insights you need to make smarter decisions faster... all in under five minutes.
Thanks, stay tuned for our upcoming edition.
Google's Algorithm v. RankBrain: What's The Difference?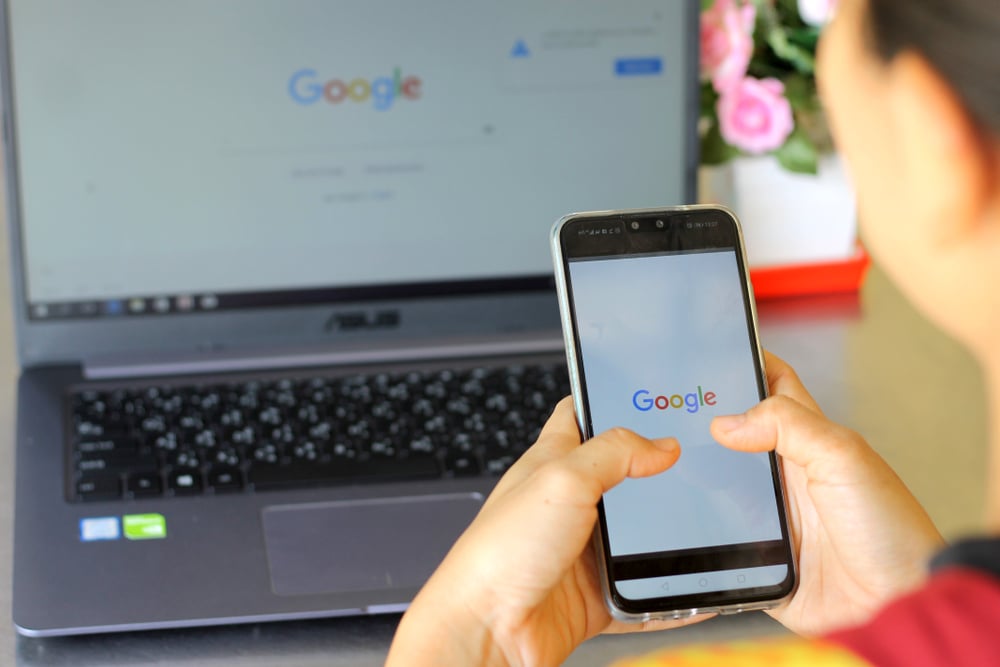 As marketers, we spend a lot of time thinking about SEO and how to get our content to the top of the search engine results pages (SERPs).
We're often so focused on the marketing performance of our own businesses that we forget that search engines are businesses, too.
Their goal, put simply, is to deliver the best answer, the fastest.
Like any competitive business, the search engine that's able to deliver on this promise the best is the one that will win the lion's share of the market (or in this case, searches).
Right now, that company is Google.
One way that Google is working on delivering the best results to the people searching on its platform is through the use of artificial intelligence (AI) and machine learning. Specifically, it is increasingly relying on a proprietary AI engine it has dubbed "RankBrain" - instead of more traditional mathematical algorithms, as has historically been the case - to determine rankings.
For marketers who want to keep their content at the top of the SERPs, it is important to understand the difference between algorithms and RankBrain, and how RankBrain works, because it has a direct impact on how their content should be structured and optimized.
What Are Google's Algorithms?
Throughout its history, Google has used a variety of algorithms (essentially, a set of programmed rules that computers use to solve problems) to determine how web pages should rank in search results.
PageRank, named after Google co-founder Larry Page, was the company's first algorithm. It was developed in 1996 by Larry Page and his co-founder Sergey Brin while they were students at Stanford University relied on the number of quality of links that pointed to a webpage (what Brin called "link popularity") as a measure of that page's importance. The more important the page, the higher it would rank.
Since the introduction of PageRank, Google has continued to introduce new algorithms (with animal themed names) including Google Panda (2011), Google Penguin (2012), Google Hummingbird (2013) and Google Pigeon (2014) in an effort to continuously improve the quality of search results it delivers by reducing webspam and preventing marketers and SEOs from "gaming" the system through tactics like purchasing backlinks, stuffing their web pages with keywords, etc..
Today, there are over 200 ranking factors in Google's algorithm, many of which Google has not disclosed.
(They also change a lot, resulting in many marketers becoming frustrated and declaring the death of SEO.)
What is RankBrain?
RankBrain is a type of algorithm that relies on machine learning (a form of computer program that can automatically access data and use it to learn and improve from experience) to sort through all of the possible search results for a user's query and rank those results in the order that will best meet the intent and needs of that user.
RankBrain was first introduced by Google in 2016 in an effort to improve its ability to relate individual web pages to broader concepts, which in turn is designed to increase the usefulness and relevance of search results on Google.
Here's what Google itself had to say about RankBrain on Twitter:
RankBrain is an AI-based system Google began using in 2016 to understand how pages are related to concepts. It means we can better return relevant pages even if they don't contain the exact words used in a search, by understanding the page is related to other words & concepts...

— Google SearchLiaison (@searchliaison) March 21, 2019
One way RankBrain functions is by using "word vectors" - groups of words that are similar to each other linguistically - to guess what people mean when they enter a search query and adapt the results it delivers accordingly. It can do this using datasets that are vastly larger than what was possible in the past and the result is a dramatic improvement in the quality of search results.
This is significant because nearly 15% of the words people use when searching Google are not terms that Google recognizes. In the past, Google's algorithm would look for pages that exactly matched those keywords and deliver those as search results.
By contrast, RankBrain will try to understand what the searcher's intent is.
RankBrain "learns" and improves its results by evaluating past searches and matching results, and by identifying patterns between seemingly unconnected searches to determine how they are similar - and it does this all without any human supervision.
Rank Brain's use of AI is incredibly effective - so much so that the results it produces are 10% better than those achieved by Google's (human) engineering team.
Since it was first introduced, the volume of search results that are determined by RankBrain has steadily increased and Google has stated that RankBrain is one of the three most important factors in its ranking algorithm, along with links and content.
What Is the Difference Between Algorithms and Rank Brain?
While RankBrain is technically a type of algorithm, its use of artificial intelligence and machine learning means that it is constantly updating and evolving itself (whereas traditional algorithms need to be updated by a human computer programmer).
Before the advent of RankBrain, Google's algorithm was entirely developed and updated by people. Now, RankBrain is able to automatically adjust the algorithms on the fly.
This is significant because it eliminates the ability for marketers and SEOs to game the system - and increase page rankings - by following a formula.
Think about it - if the formula is always changing, you can't rely on it to rank.
Instead, RankBrain is designed to think like a human by looking at all of the traditional ranking factors - such as backlinks, keyword density, bounce rate and dwell time - and then layering semantic analysis on top of this.
I know, that's a lot of technical jargon!
In the simplest terms, RankBrain is looking at all of the content on a web page to try and figure out what it's about and whether it is a good match with what the searcher is looking for.
One way it does this is by looking at the relationship between words. For example, if I went to Google and searched "how to tie a bow," it would find lots of web pages that referenced bows. Some of those would be related to the bow of a ship, some would be about archery bows, and others would be about bow ties and/or ribbons.
In this case, RankBrain is going to look at the other words used on the page to determine which results to show me. If words like "ship" or "boat" or "arrow" are present, it will eliminate those. By contrast, if it sees words like "tie" or "ribbon" or "loop" then it will be more likely to rank those pages higher because they include terms that are related to my query.
Google's own Danny Sullivan explains it best:
This is a look back at a big change in search but which continues to be important: understanding synonyms. How people search is often different from information that people write solutions about.

— Danny Sullivan (@dannysullivan) September 24, 2018
RankBrain gets smarter over time by evaluating patterns between past searches and looking at user behavior, including bounce rate and dwell time, to essentially conduct a post mortem and determine whether the results it delivers were in fact useful to the searcher.
Why RankBrain Matters For Marketers
Google's increasing reliance on RankBrain means that there are no shortcuts for creating content that will automatically rank well in search engines. Instead, the highest quality content will win the ranking game.
Marketers that are serious about their search engine rankings need to take off their marketing hats and think like people.
Crazy, right??!!
What does someone really want to know about the topic for which you are creating content? What level of detail do you need to provide in your content to make it useful, relevant and actionable? What questions might someone who is reading your web page, article or blog have and how can you answer them?
Solve for these things and create content that is truly useful, and you will be successful as a marketer living in an AI-driven search world.
Free: Assessment
Does your website build trust with buyers and bring in revenue?
Take this free 6 question assessment and learn how your website can start living up to its potential.