7 graphic design trends that will dominate 2021 [Infographic]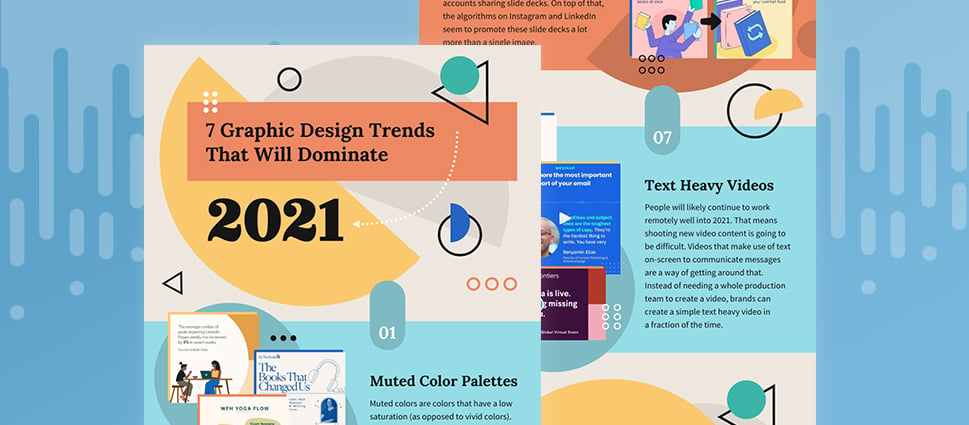 This might be an unpopular opinion amongst designers, but I'm a firm believer that companies shouldn't fear experimenting with new design trends in their branding and marketing.
Oftentimes companies are steered away from this because they're afraid of investing in just another trend that will come and go; something that can't possibly deliver results.
However, while some trends do fade over time, that doesn't mean they should be ignored. Experimenting with new trends can help expand your design horizons and allow you to create new concepts that will elevate your brand and grab eyes.
The key is implementing trends in a way that won't sacrifice your messaging or branding.
Putting it simply, practice moderation when it comes to implementing trends.
I always compare this to when you go to a frozen yogurt shop and you end up dumping so many different toppings into your cup that you don't know what you're tasting or what kind of frozen yogurt you even got. There's just too much going on.
Instead, focus on one or two different trends that you feel like might work for you and see which parts of that trend you can implement into your marketing.
With 2021 quickly approaching, now's the best time to take a look at what trends the design world thinks will dominate the upcoming year and see if any will work for you.
To help get you started, the team over at Venngage put together the infographic below which outlines the seven biggest trends to keep an eye on. Let's dive in.
1. Muted color palettes
A common theme I've noticed from many clients recently is the desire to appear friendly, yet professional. A muted color palette is one of the most effective ways to capture that feeling which is why we've seen many brands move in this direction.
Muted color palettes include colors that have a lower saturation and appear more on the subdued, neutral side of things. These colors give users the feeling of being safe, relaxed, and secure while also giving off the feeling being organic and natural.
While muted color palettes put users at ease, combining these colors with a bold, clean-cut typeface will give you the professional yet friendly vibe many companies are looking for.
Nerdify uses a variety of calming muted colors on their website to subtly divide up the different sections on their site while giving users the feeling that their product is very user friendly and easy to use.
2. Simple data visualizations
Data visualizations aren't new, however, over the last year, we've seen an increase in companies using these graphics not only on their websites but also on social media.
The main reason is data visualizations can be very effective at communicating complex data in a matter of seconds and that is what most users are looking for when they browse the internet today.
Whether they're scrolling through their newsfeed on Twitter or looking for an answer to a question on Google, people are constantly taking in a ton of data in a short period of time which means you have a small window of opportunity to catch their attention.
A well-designed data visualization or a simple chart is a powerful way to grab a user's attention.
Twitter marketing is constantly using this design trend on its Twitter account.
In the example below, you can see how they catch the reader's attention by calling out the "72%" and then pairing it with a simple graph and statistic that's easy to read and understand.
3. Geometric shapes
In her article on design trends, fellow IMPACT designer Marcella Jalbert said "The trends are going to look a little different this year. Like everything else in our lives, our websites are being shaped by the COVID-19 pandemic."
With that in mind, I think we'll see an increase in sites using more clean-cut geometric shapes.
With all the craziness and uncertainty in the air, people are looking for more order, consistency, and certainty and that's the exact feeling the geometric shapes deliver.
While these types of shapes tend to work really well for companies who want to appear more professional and trustworthy, they can also be used by companies who are looking to create a more visually interesting layout without coming across as too playful.
Zendesk uses this approach on their website. You'll notice how they paired bright photography with geometric shapes to create a layout that's interesting, shows off their personality, and still feels professional and trustworthy.
4. Flat icons and illustrations
Flat icons and illustrations have been the go-to style for many designers for the past few years and I don't see that changing in 2021.
This style of illustration is known for its clean crisp edges and two-dimensional minimalist style and have remained popular for so long because they are very adaptable
They can be used in a number of different ways, whether it's on a website, on social media, in a video, all without needing to change their overall appearance. This makes it easy for companies to retain consistent branding across different channels.
Collibra takes advantage of this trend by pairing the links in their dropdown menu with flat icons.
This helps create some hierarchy with the information in the menu and, in a very simplistic way, gives a little more meaning to what each service is.
5. Serif fonts
Sans serif fonts have dominated the web for years. Major companies such as Google and Facebook have notably baked these fonts into the core of their branding and it seems many other companies have seemed to follow in their footsteps.
Traditionally, sans serif fonts were seen as being clean and approachable, while serif fonts were seen as being more dated and traditional. However, now companies are finding interesting ways to work serif fonts into their branding that make them look like more approachable and fun companies with a lot of personality.
Mailchimp is one of the companies leading the charge on this new movement.
They've built a very unique visual brand using a serif style font combined with quirky illustrations and a bright color palette to give people a very fun and authentic tone.
6. Social carousel
With both Instagram and Linkedin topping more than 700 million users more and more brands are taking advantage of the image carousel feature to share company updates and repurpose existing content on these social media platforms.
In fact, a recent study of over 22 million Instagram posts cited by SearchEngineJournal found carousels are the most engaging type of post.
Using these carousels are a visual way of communicating longer messages in an engaging format. It also helps brands take a more storytelling approach to their social media posts. That's why we've seen so many social justice, political, and wellness accounts sharing slide decks recently.
Zoom uses slide decks on Instagram to promote different features of their software.
This approach is a great way to engage with users to educate them on product features they may not have known about.
7. Text-heavy videos
Many people will likely continue working remotely well in 2021 which means that creating new video may be difficult for a lot of companies. You're not able to just jump into a room with your team and shoot a quick video.
That means that companies are going to have to find new and creative ways to create new video content. One of those ways being through the use of videos that rely more on text and motion graphics.
Take this post from Wrike for example.
How important is #branding for a company? This Friday, our last session of #ReimagineWithWrike features Dimitrios Papadogonas, VP of Marketing NA at @SolarEdgePV. He'll share some insightful stories on his experiences as a veteran in the industry. Join us! https://t.co/krAgYhKhpK pic.twitter.com/ev1yTA36FY

— Wrike (@wrike) August 25, 2020
They were able to promote their weekly video series with just a simple audio clip and some engaging text graphics. You don't even need to have the sound on to watch these videos and get the point so even a passive viewer still gets value out of this.
Not only are these videos simple and quick to produce but they also allow you to repurpose pre-existing content. You can take any pre-existing slide deck or snippet from a podcast or interview and turn it into a GIF to be used on social media.
Choose your trends wisely
When it comes to web design, not a lot stays the same. Every year, we see new trends and shifts in the way we do things, but remember, that's not a bad thing. These new trends and ideas give you an opportunity to experiment with new ideas and approaches to help keep your brand fresh and relevant.
My advice to you is don't be scared to experiment with new design trends as they come out. Just make sure you implement them in moderation and that you're implementing them for the right reasons. The trends should be implemented because they'll improve your user's experience, not just because they look cool and creative.

Free: Assessment
Does your website build trust with buyers and bring in revenue?
Take this free 6 question assessment and learn how your website can start living up to its potential.