Sales tips: How do I increase my close rate and speed up the sales cycle?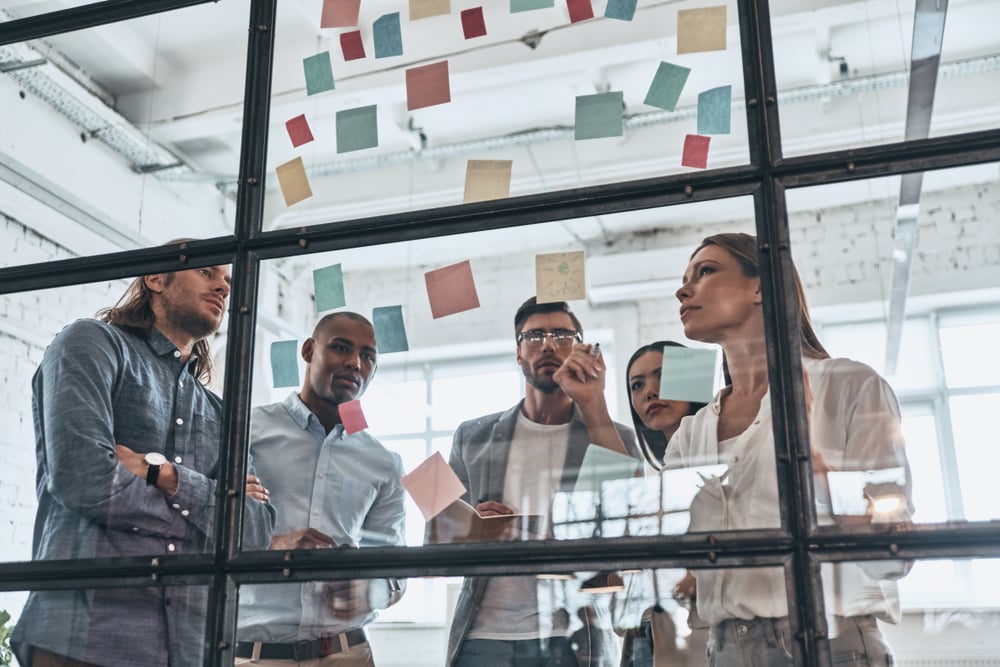 Trust.
There's really no need to bury the lede here. I won't waste our time with a long anecdote or some analogous intro filled with buzzwords and sales jargon.
Want to improve your sales process? The solution is truly that simple.
The faster you can build trust with your prospects and buyers — the more sales you'll close, and the less time you'll spend answering the same questions about your products and services, over and over again.
So, the follow up question is this: How can I build trust faster with my prospective buyers?
Just think about it as a consumer yourself. What brands have earned your trust, and why? What did that company do or say to make you feel confident in your decision to buy — before, during, and even after your purchase?
At IMPACT, we coach our clients to build this long-term trust with their customers and prospects through a proven digital sales and marketing philosophy.
Using They Ask, You Answer as our playbook, we teach organizational leaders to step into the shoes of their buyers.
What concerns, problems, and challenges do they have? What questions do they need answered in order to build trust and make an informed buying decision?
How are you answering these questions and sharing that knowledge with prospective buyers in every stage of the buying process?
While the solution might be simple, it takes time to develop an honest and transparent sales and marketing strategy focused on educating your buyers.
Whether you're in sales, business development, or customer service, building trust quickly begins and ends with educational content — in the form of blog articles and videos.
If you're looking to build trust faster with your prospective buyers, follow the steps below for effectively creating, organizing, tracking, and using informative website and sales enablement content consistently.
Think about the following five questions. Can you answer these with your current sales and marketing strategy?
How are you helping to create content within your organization?
Is that content organized and easy for buyers to find?
How are you tracking the way buyers interact with the content on your website?
How are you using that content in the sales process?
How are you using personalized video to share your content directly with prospects?
How are you helping to create content within your organization?
Consumer research shows us, on average, 70% of the buying decision is already made before a prospect even speaks to a company.
If we know that to be true, think about where your buyer's are finding their information to build up that 70% knowledge base.
How much faster could you establish trust with a prospect if that educational material was coming directly from your company?
As a sales rep, no one understands the concerns and questions of your potential buyers better than you.
You hear these questions in daily exploratory calls, in-home visits, email exchanges, and good old fashioned networking opportunities at events and trade shows.
Share this knowledge with your marketing team and help them create educational content that calms concerns and answers the questions you hear every day.
Where should I start with creating content?
Sit down with your organization's content manager and get involved in the content development process. Spend at least one hour a month brainstorming and working directly with this content writer.
Use this time wisely and imagine your writer is the most important prospect you'll meet with all month.
Start with the most common questions, which will ultimately be rooted in The Big 5 topic buckets of price, problems, comparisons, reviews, and best in class.
Each subsequent month you should meet to discuss the most recent questions you have been asked by prospective buyers. Are there new questions and therefore new topics to cover and include in the content calendar? Do older pieces of content need to updated?
Is that content organized and easy for your sales team to find?
Now that you're working with your marketing team and helping to produce educational content that is honest and unbiased, do you know how to find those articles and videos when you need them?
Organizing this content on your website in a learning center is extremely important for your customers, prospects, and general site visitors — and perhaps even more importantly, for your entire sales team.
A great learning center makes it easy for visitors to find content that will answer their questions. Filters and searches can be integrated into the functionality, allowing users to easily jump to the content they're looking for.
Along with a catalogued learning center, your team can create an internal repository spreadsheet, organized by categories such as publication date, topic, specific product or service offering, and a link to the respective article or video.
If you're looking for a template, you can always use your marketing team's content calendar as a repository document. This will allow the sales team to track and organize all the most recent content, and better understand what topics are coming down the pike.
🔎 Related: Our best 2020 content calendar template (no email required)
"Where should I start with organizing content?"
Work with your marketing team and content writer to create an organized Excel spreadsheet or Google sheet. Include links to all the educational content on your website so your entire sales team can easily access this information as soon as they need it.
How are you tracking the way buyers interact with the content on your website?
If you're working with marketing to help create educational content and you have an organized repository of articles and videos that are easily accessible — you're off to a great start.
Before you begin sharing this great content with prospects in the sales process, do you know how those prospects are interacting with the content on your website? Can you see the website and landing page history of these potential buyers — which blog articles they have read and videos they have watched?
If you want to have a deeper understanding of your potential buyers, use a robust CRM (customer relationship management) tool to track these engagements for actionable, lead intelligence.
Tools like HubSpot allow you to better understand a prospect's specific needs.
🔎 Related: Is HubSpot's Marketing Hub the right call for your business?
If they're reading articles about a particular product, you know you can focus your conversations and learning material around those product reviews, problems, and prices — tailoring your communication to their unique concerns.
When we learn how our buyers are interacting with our articles, videos, webinars, and ebooks — our sales teams can better prepare before interacting with each prospective buyer.
Where should I start with tracking content?
Is your content helping your company make money? If you struggle to answer this question, start by reading this playbook:
Get the Most Out of Digital Sales & Marketing Technology (& Measure ROI)
Schedule a meeting with your marketing team to discuss your marketing automation and CRM capabilities. Are you getting the most out of the tools you're using now?
If you're using HubSpot, but not sure where to get started, schedule a HubSpot CRM training with your sales and marketing teams to establish a culture of understanding your buyer's behaviors.
How are you using that content in the buying process? (Hint: assignment selling is the key)
Now that you have high-quality content that answers your prospect's questions, how can you use these educational articles to help build trust?
Remember that every email sent out by your sales team, and any communication with a prospective buyer, is a teaching opportunity. Intentionally using these articles to educate customers and prospects before you ever pick up a phone — that is what we call assignment selling.
🔎 Related: What is assignment selling and why does it work?
Sharing this educational content before you speak with a prospect will help you be seen as a teacher first and a sales person second.
Now that you can track a prospective buyer's history on your website, you can identify the specific products and services they are interested in.
When you reach out to that prospect directly, you have the ability to help resolve their major concerns so they are much more prepared for a sales appointment.
Imagine how much less time you would spend answering those common questions if a prospective customer already had the knowledge they needed to make an informed buying decision?
What if they read all those articles you helped create about the problems, reviews, and product comparisons — before you spoke with them?
By sharing content and educating prospects in the buying process you can spend more time teaching before the appointment, and less time convincing during the meeting.
Not only does sharing this educational content with prospects help speed up the sale, but it will also improve your average closing rate.
Marcus Sheridan shares proof of these increased closing rates in They Ask, You Answer. When he began tracking the way visitors were interacting with his website River Pools and Spas, he noticed something interesting about the number 30.
When a prospective customer who requested a sales call had read 30 pages or more on his website, Marcus found his closing rate to be an average of 80%.
Compare that to the prospects who had requested a sales call and read less than 30 pages, where his closing rate dropped all the way down to 25%.
In addition to learning about products and services, these prospects have also come to know Marcus and his company. They've gotten to know the voice and tone of the brand, and this leads them to know and trust the company before they buy.
Marcus' research proves that knowledge and education are powerful tools for the sales process. Sharing this knowledge with your prospects during the buyer's journey, through your content and videos, can help you dramatically improve your closing rates.
Where should I start with using content in the buying process?
Create a plan to educate your prospect before and after the initial sales call. What content did they consume on your site before filling out a form or clicking "request a quote?"
Share additional resources with them about those topics to help them prepare for your call.
After the call, follow up with additional educational resources rather than sending those standard salesy emails like "Just checking in. Let me know if you have any questions." Instead, include a few links to specific articles and videos on your website that will continue to educate and inform your potential buyer.
🔎Check out this article: "5 examples of assignment selling in action"
How are you using personalized video to share your content directly with prospects?
As IMPACT's Video for Sales expert Myriah Anderson likes to say "video isn't just a tool for marketers anymore."
When it comes to building trust quickly with your prospective buyers, there's nothing quite as effective as the sales team using personalized videos.
93% of all communication is nonverbal. That means if we jump on an audio-only call with a prospect before meeting them, we're introducing ourselves with only 7% of our communicating ability. We're trying to win over their trust, and yet we're only operating at 7% capacity. So how do we improve our odds?
What if we introduced ourselves to prospects with 100% of our communicating capacity? When people hear us AND see us, they know us and start to trust us. Using one-to-one personalized videos to communicate with prospects will help you dramatically increase the odds of building trust quickly.
And we're not talking about Spielberg-quality videos with high-production value.
You don't need expensive video equipment, high-tech lighting, and a personal makeup artist to shoot effective sales videos. Imagine you're recreating an in-person conversation and you're speaking directly to one person. In fact, it can actually be more effective to use your computer's webcam or even your phone to produce these videos.
There are great software tools like Vidyard that allow you to record videos and share them directly into your emails. You can even record a video that includes a unique GIF image, along with a specific URL to your video message, followed by a custom title and message.
Where should I start with personalized video?
Before you start typing out your next email to a prospective buyer, think about how much more impactful your message would be coming as a personalized video. You can get started for free using Vidyard's simple software solution — and share that custom video in your email.
Here are a few helpful tips to use when including one-to-one videos in your sales emails.
Use "Video" in the subject line ("Mark, I made this short video message for you")
Let your viewers know the length of the video
Spark the viewer's interest with the lead for your video
Get creative with your video thumbnail
Include links to your website content that will educate the prospect further
🔎 Related: 1-to-1 video vs. 1-to-many video — when to use each in your sales process [+video]
Playing the long game to build trust faster
In order to increase your company's close rates and shorten the sales cycle, go back and think about the brands that have earned your trust. What brand's do you interact with that give you the confidence needed to make an informed buying decision?
Put yourself in the customer's shoes and create a step-by-step plan for your sales team that will help you build trust faster. Focus on educational content and use this guide to effectively create, organize, track, and utilize informative content throughout the sales process.
Take the time to plan out this process with your marketing and sales teams, understanding that the end-goal is to build trust faster with your customers.
This long-term strategy will ultimately result in more knowledgeable customers, shorter sales cycles, and higher closing rates.
Free Assessment:
How does your sales & marketing measure up?
Take this free, 5-minute assessment and learn what you can start doing today to boost traffic, leads, and sales.