Subscribe
Join 40,000+ sales and marketing pros who receive our weekly newsletter.
Get the most relevant, actionable digital sales and marketing insights you need to make smarter decisions faster... all in under five minutes.
Thanks, stay tuned for our upcoming edition.
I Sat in Silence for the First Time & Here Is What Happened [MarketHer]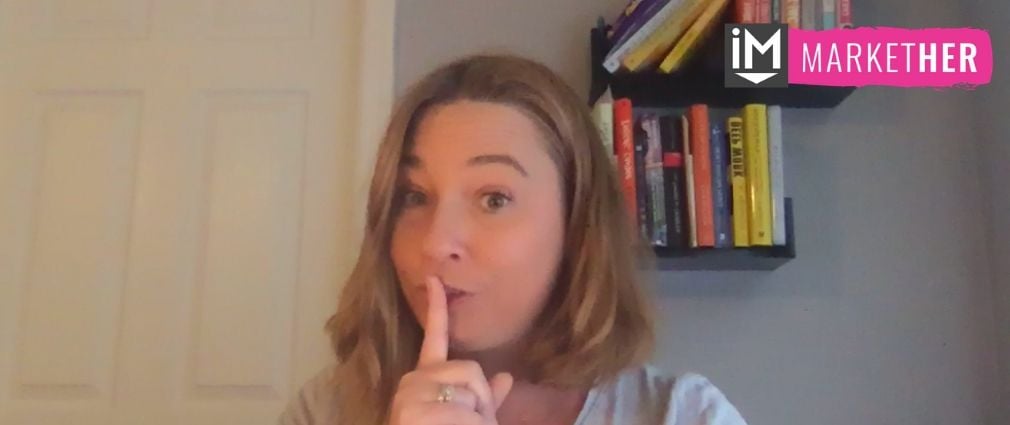 Last week I took off for what I thought was going to be an awesome family beach trip. However, we were in the middle of finishing our basement, and of course, it wasn't done yet. We also decided to replace the carpet on the entire second floor of our home at the same time. Our only full week of family vacay this summer was spent at home finishing home improvement projects. Oh, poor me, right? My point of this story is that during the time we were to be at the beach, I was really going to dive into a meditation practice and I didn't.
There was an episode we published a few weeks ago with Suma E P on how silence can change your life. Out of all the stories we have shared on MarketHer over the last year, this one really hit home for me!
After a week of crazy home remodeling crap and going back to work, I immediately felt the pressure and stress of work-related stuff on my shoulders again. Even though I was in constant contact with my team while I was "vacationing," I still felt out of sorts the day I got back. I started telling myself stories again.
So, I sat in silence for the first time! And here's what happened....
---
If you have a passion for mindfulness and/or meditation and would like to be a part of this show, complete this form!
We'd love to have you join in on this conversation about mindfulness!
---
First, everyone is right!
You become immediately aware of every thought, conversation, to-do list and anxiety-driven life moments that haven't even happened yet. When I sat in my living room before everyone got up and before I checked my computer, I envisioned all of these thoughts rushing through my body like a million highways with a million cars going in a thousand different directions.
All I wanted to do was shout STOP!!!
The moment I realized the power I had over my thoughts
Something became very clear to me. For 15 minutes I sat in silence. I realized that nothing could be done about all of those things rushing through my mind. Not a damn thing was going to solve any of it in that very moment.
This was not only frustrating, but fascinating at the same time. From one angle, I thought, what is the point of sitting in silence if I am actually not solving ANY of these problems right now?
But, from the other angle, I had a clear understanding of how I COULD actually stop the pointless, recurring thoughts from constantly popping up in my head that cause me to lose sleep, and which certainly don't help my anxiety levels or high blood pressure.
Knowing I had complete control over how to better manage those thoughts made me realize that I could put things in place to cut down on the highway in my head.
I had a plan for everything that popped up in my head. Yet, every day and every night I'm worried and stressed because the issues haven't been resolved yet.
So, in my journal, I started writing down all of those constant thoughts and mapped out what my plan was to solve for them. This allowed me to get it all out of my head and on paper.
Before sitting in silence, I really wasn't aware of how much I was allowing mind control my overall health or how many "things" I was truly stressing about that I didn't need to be stressed about. I had a plan for all of it, so why am I over-thinking, over-analyzing and stressing about it all?
Stress often comes from a deeper, more emotional concern
When I sat in silence, the same problems kept popping up over and over again. Silence helped me dig deeper to figure out why these problems were leading to more stress and why I couldn't push them aside. I learned that things that happened in the past were actually influencing my emotions in the present.
This was a huge a-ha moment for me because a simple 15 minute conversation with someone about the why behind my frustrations can bring about deeper connections with people in my personal and professional life.
If I can explain to someone where something is coming from, maybe I won't look as crazy as I sound or perhaps people won't think I'm blowing something out of proportion if they just understand where it's coming from.
The second part of this goes back to my first point. If you cannot stop the constant conversations in your head, write down the issue you're having, then plan and schedule the conversation with the right people. Write down the date and time this conversation will take place. This will allow you to have peace of mind that your plan is in place, you have the date and time jotted down and maybe your mind will rest easier.
Appreciation is louder in silence
Being able to speak is definitely a blessing and, more importantly, makes life easier. But, sitting in silence also reminds you of how much you depend on other people. Whether in your professional life or your personal life, your goals are rarely met unless you lean on people for help.
Appreciation of these people is often missed, but silence helps you lean in more so that you can relate to them easier. Listening to understand them instead of listening to respond is something that isn't easily achieved unless you practice it. Sitting in silence can help you with this technique, and thus, allow you to connect more deeply and appreciate those around you more than you ever have before.
Silence isn't easy; I've learned that the hard way!
From high blood pressure to high levels of anxiety, I'm FINALLY starting to put what others have shared with us into practice and it's starting to pay off. I'm no longer afraid to face who I really am and be present in the moment. This is also starting to help me have more faith and trust in my abilities, my team, and my family.
As I stated before, I don't have to be in control of everything all the time. And when I'm not, the world isn't crumbling around me and my family is happier!
---
Have you started to put any of the tips we've shared into practice? Email us at markether@impactplus.com! We'd love to hear your journey and share your story with others!
We hope you found this episode as insightful as we did and if you have feedback or comments, please follow us on social and share!
Again, if you have a passion for this topic, please complete this form for the opportunity to be a part of this season and our show!
Join us in our Facebook MarketHer Group to continue talking about opportunity!
As always, if you have some tips, email us at markether@impactplus.com. We will share it on our Facebook page!!
Listen to the Episode on iTunes
Stay Connected, Get Engaged!
First, subscribe to MarketHer on iTunes.
Second, have a question or an idea for a future episode of the podcast? Let us know by commenting below, subscribe to our playlist on YouTube, connect with us directly on our channels below, or send us an email.
Angela: LinkedIn, Twitter, Instagram
Kate: LinkedIn, Twitter, Instagram
[NEW] MarketHer Official: Facebook, Instagram, Twitter (also Snapchat IMPACTMarketHer)
Or, you can leave us a comment below! Until next week...
We Listened, You Heard, Now, Go MarketHER!

Free Assessment:
How does your sales & marketing measure up?
Take this free, 5-minute assessment and learn what you can start doing today to boost traffic, leads, and sales.