How to Create a LinkedIn Sponsored Update Campaign (That'll Score More B2B Leads)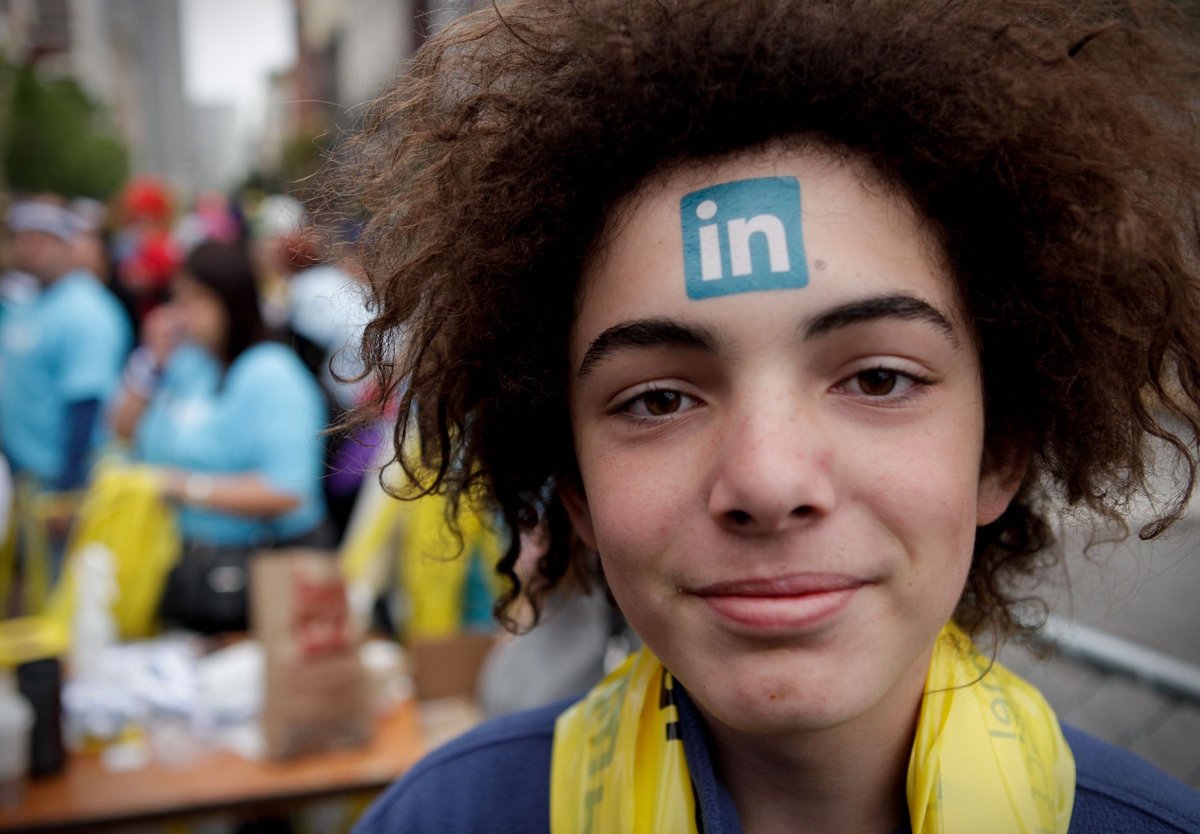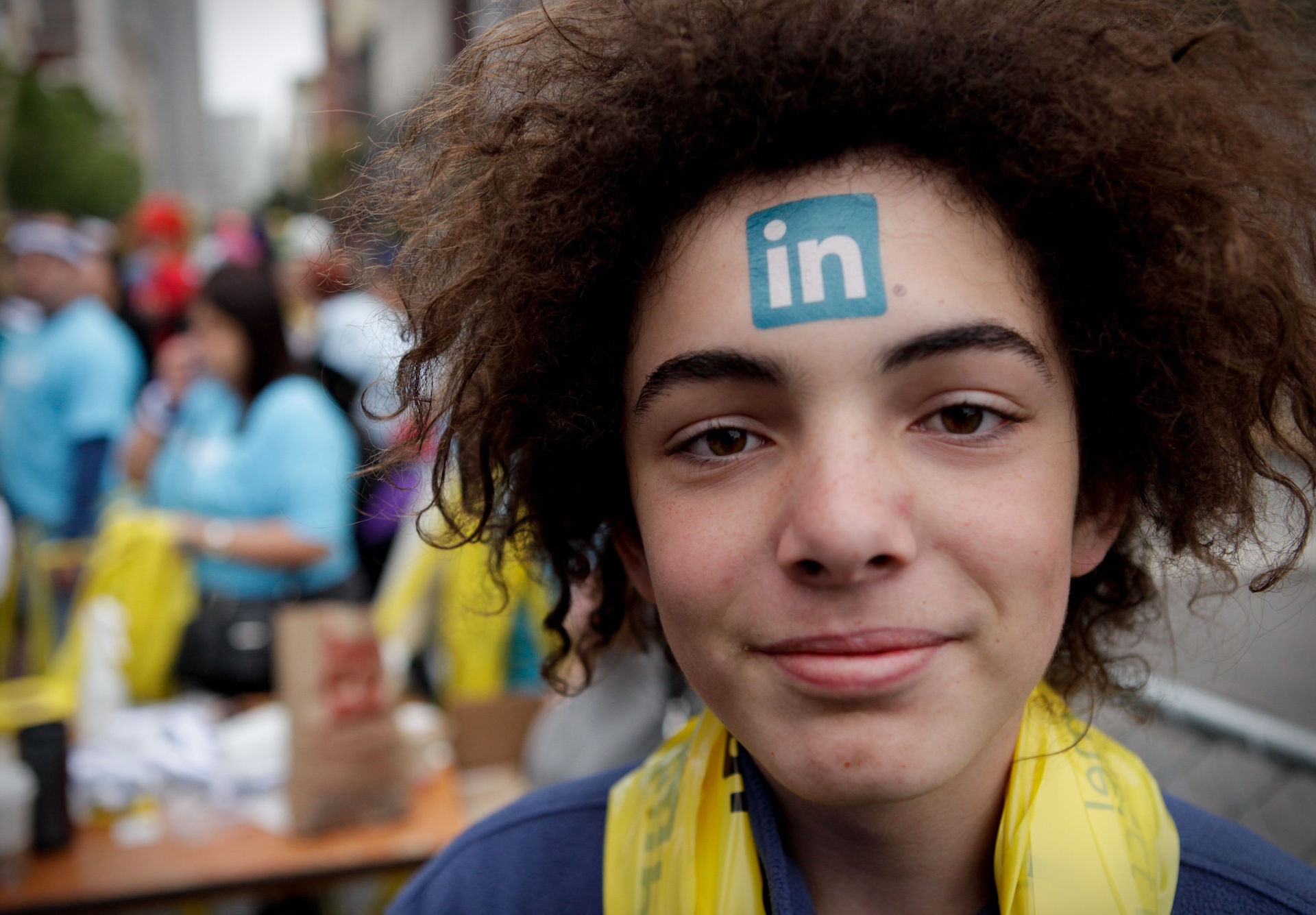 According to LinkedIn, over one-third of the world's 600 million professionals are using their platform.
That makes it the largest network of influential, affluent, and educated people on the planet -- and a great place to advertise a B2B brand. (Naturally.)
Despite being one of the most powerful and popular social networks, LinkedIn still doesn't get as much attention from marketers, but that is quickly changing.
One feature that is helping it gain momentum is the network's native advertising tool, LinkedIn Sponsored Updates. It's extremely similar to "boosting" a post on your Facebook page as with both you pay to promote an existing post on your page to a targeted audience, but I digress.
Creating a LinkedIn Sponsored Update campaign is simple. By the time you're finished with this short tutorial you'll be able to create your own campaign to get more exposure for your brand and most importantly, more leads. So, let's get to it.
How to Get Started on LinkedIn
As you'll see later on in this article, you need to create a Company Page on LinkedIn before you can create a Sponsored Update.
If you don't have one already, you can find a step-by-step guide here, but I'll give you a brief rundown below.
The first step is to provide your company name and your email address at the company.
Next, you'll want to add your logo and create an attractive banner image for your page. If you don't have one handy, you can go to Canva and create something really nice in a few minutes.
To ensure that your banner image fits well and looks great, use custom dimensions for your template that are 646 x 220 pixels.
After that, fill in the general information about your brand and you're good to go.
How to Create Your First LinkedIn Sponsored Update Campaign
If you're a HubSpot customer, you can create a Sponsored Update campaign from LinkedIn or directly from your HubSpot dashboard using the Ads add-on. This tutorial is based on the latter, but the two tools are nearly identical.
Step 1: Go to Campaign Manager on LinkedIn (Business Services > Advertise)
Once you arrive on that page you will be presented with two options: Sponsored Updates and Text Ads.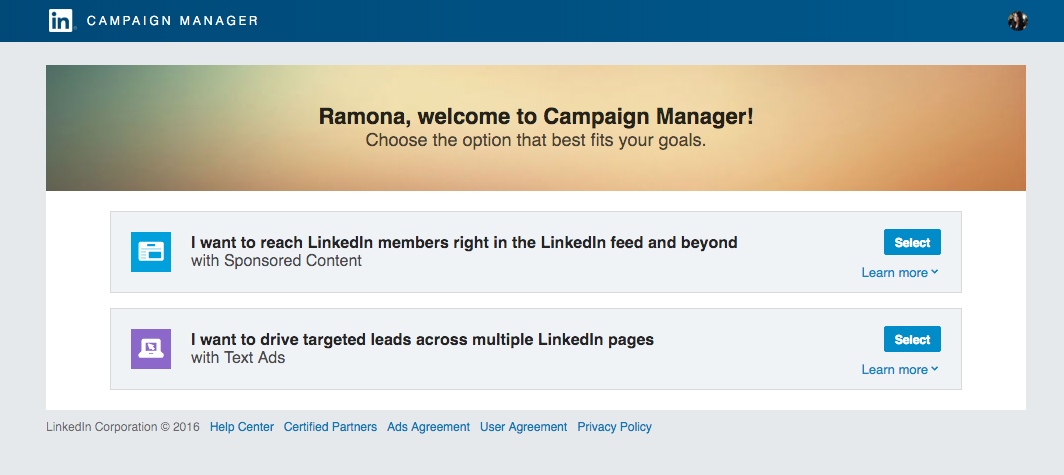 Text Ads are useful also, but we're going to focus on Sponsored Updates, for now, so hit "Select" on that one.
Step 2: Open an Ad Account For Your Campaign
Since you've already created your Company Page you won't have to worry about doing that here.
Simply type in the company name and select the page, then fill in the account name and select your currency.
Step 3: Create Your Campaign
On the next screen, you'll give your campaign a name and select the language you want to use for your campaign.
Step 4: Select the Content You Would Like to Sponsor
Now we're getting to the fun stuff.
On this screen, you'll see a list of all of your existing content. To add any of your existing updates to this campaign, simply check the box on the left and click the buttons at the top right that says "Sponsor-selected."
If you'd like to create something new specifically for this campaign, or you just don't have any existing updates to sponsor, select "Create new sponsored content" and proceed from there. (This article will give you a few tips on how to create a high-converting Sponsored Update.)
Step 5: Select Your Target Audience
Before you get started with this section you should refer to your buyer personas for guidance.
From there, selecting your target audience is pretty straightforward.
You can target based on criteria such as:
Industry
Company (can even exclude existing clients or your competitors)
Company Size
Job Title
Schools Attended
Seniority
Skills
Gender
LinkedIn Groups
Location
Age
If you'd like to target several buyer personas, it's better to create a separate campaign for each one. You also might consider creating unique content for each persona if they are dramatically different.
Step 6: Define Your Budget and Campaign Duration
You have two options for paying for ads:
Cost per click (CPC) -- The price you pay each time someone clicks on your link. You don't pay when someone sees your ad, only when they click on it. This is the best bid type for driving traffic to your website or a landing page.
Cost per impressions (CMP) -- The price you pay for 1,000 impressions (views) of your ad. Even if people don't click on your ad, you pay for the impressions made. This is the best bid type for building brand awareness or just getting more eyeballs on your ad.
Once you've determined which bid type you want to use, you have to set an amount that you are willing to pay for the desired action.
LinkedIn will provide estimate ranges for you and you will have to test different bids over time to see what works best for you.
After that, you need to determine your daily budget. This is the maximum amount that your campaign will cost on any given day. It's setup to where your ad will run whenever possible throughout the day until it uses up your daily budget and then it automatically stops.
Once you've set that, you'll need to determine when you want your campaign to begin and end.
Step 7: Launch Your Campaign and Start Tracking Its Success
Once you've launched your campaign, you can start tracking its progress by going to the Campaign Manger in LinkedIn or by accessing your Ads dashboard in HubSpot.
From there, you'll be able to make adjustments to your targeting and budget, as well as being able to start and stop your campaign at any time.
How to Get the Most From Your Sponsored Update Campaign
Creating ad campaigns is an art and a science, but it really doesn't have to be that complicated. Here are a few tips for more successful LinkedIn Sponsored Update campaigns.
Make sure you are promoting the right content for the right audience. To do this, it's a good idea to add several Updates to each campaign and measure the progress of each of them against each other. From there you can eliminate the content that doesn't perform well and create new content to compete with the highest performing Update.
Carefully consider targeting. If you try to speak to everyone with your copy, you'll end up not speaking to anyone. Know your buyer persona and cater your ad to it. HubSpot suggests keeping your campaign's target audience to about 50,000-300,000 without going too much higher than that.
Have a clear call-to-action (CTA). "Click here" is not a good call-to-action; "Get access your free report" is. This is clear about what you're asking and it uses real language that's more conversational without creating friction. Here are a few CTA best practices to help you nail down the right one.
Include a high quality, relevant picture. The best photos have people smiling, but that might not always be the most appropriate, depending on the content you're promoting. Whatever photo you choose, it should be eye-catching and feel natural to the platform.
Look great on mobile. Mobile optimization is a must. According to recent research, 44% of B2B buyers researched company products on a smartphone or tablet in 2014 and that number is on the rise. An ad that looks bad on mobile already loses half of your potential audience.

Image Credit: Smi23le
Free Assessment:
How does your sales & marketing measure up?
Take this free, 5-minute assessment and learn what you can start doing today to boost traffic, leads, and sales.