How To Differentiate Your Marketing Agency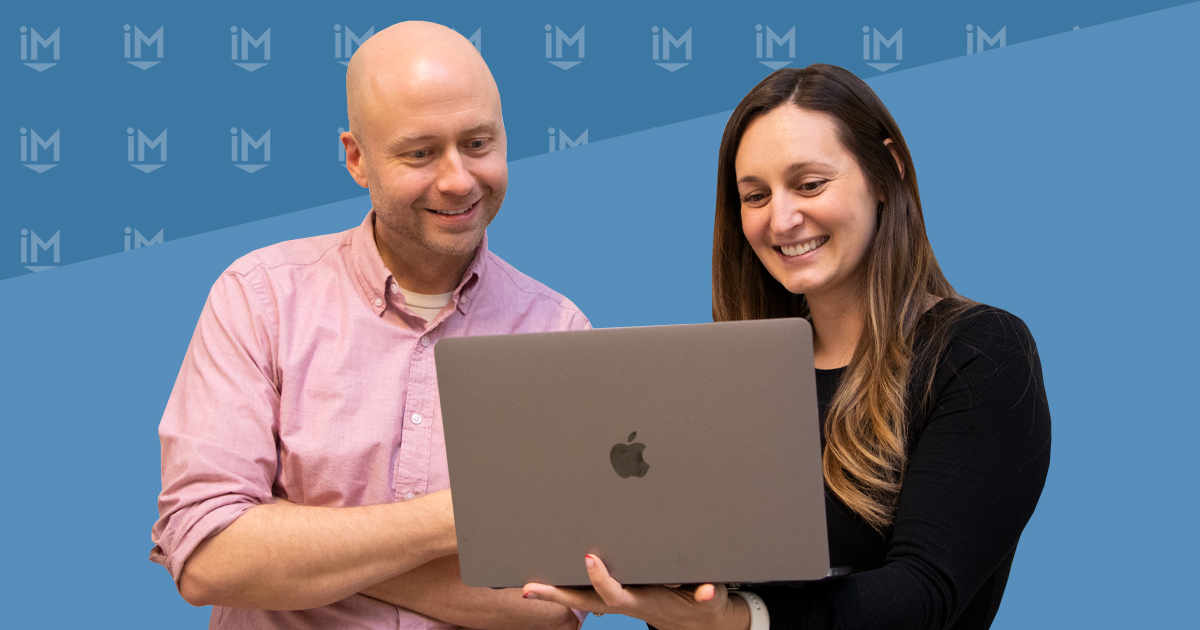 To differentiate your marketing agency:
Narrow in on specific industries or verticals your agency serves well.
Consider your passion and past experiences.
Find specific programs or consulting opportunities.
Search for underserved sectors of the marketplace.
Ask your prospects better questions.
The digital marketing space is overloaded with marketing agencies that promise a full suite of end-to-end services. Many of these agencies not only help develop their clients' strategies, but they implement them too.
Though these generalist "do everything for you" models work great for some agencies, others find it much harder to get noticed by prospective clients and stand out from the crowd.
Over the years, IMPACT has changed the way we serve our clients, which has helped us learn how to provide the most value to those businesses we work with. We've learned what it takes to better position our digital marketing agency and attract more right-fit leads, despite a crowded digital marketing space.
We want to share with you what we've learned.
We'll dive into all the ways you can set your marketing agency apart from the rest and become more desirable to your right-fit prospects, including:
Why it's important to differentiate your marketing agency.
What prospects look for when choosing a marketing agency or consultant.
How to differentiate your agency by narrowing its services.
This way, you'll be able to find your niche and better serve your clients in a way that propels your agency toward vast and sustainable growth.
Ready to find out how to break out of the digital marketing agency marketplace and better serve the needs of your clients?
Here's what to know.
Why it's important to differentiate your marketing agency
Although you don't necessarily have to differentiate your marketing agency, there are several benefits to doing so.
Having unique-to-you or highly specialized offerings makes it easier for your agency to:
Gather more referrals. When you offer a specialized service, one that delivers high value, more people will recommend your agency.
Acquire new clients. Having strong differentiators makes it easier for prospects to see the value you provide and, as a result, they are more willing to hop on board.
Tap into specific, high-value verticals. Some industries require specialized marketing services, and you're better positioned to fill these needs.
Position yourself as the authority in your space. We're all in the business of trust. Having specific expertise will help you better command that trust.
So, while you don't necessarily have to differentiate your marketing agency, narrowing your offerings (and communicating them clearly to your prospective customers) is where you will see the biggest difference in business booked and deals won. This is especially true when your differentiating factors help you tap into a specific need your prospects face that they can't solve with anyone else.
It really comes down to whether or not you want to carve out your niche, narrow in on the clients you serve, and succeed in a smaller market, versus trying to get noticed in an overcrowded sea of agencies.
If finding a differentiator is something your agency wants to pursue, first consider what your prospects are looking for.
What prospects look for when choosing a digital marketing agency
When your prospects are looking for digital marketing agencies, there are factors they weigh to be sure they're making the best choice.
Often overlooked, these factors provide are great areas to mine for ways to make your offerings stand out.
They include:
Pricing. Maybe your agency operates with a more expensive pricing model than others because your offerings are more specialized and niche. Have your pricing clearly listed on your website, and if there are reasons your services are higher or lower than the competition, explain why.
Project timing. Does your agency take a week to provide deliverables or complete a project, end to end? Is it months? Different agencies take different lengths of time to complete projects or achieve certain outcomes, and your prospects will want to consider this before signing on with your agency.
Goals/outcomes. It's important to understand how your agency helps its clients achieve their goals and objectives. Clearly communicate the steps your agency will take to help your clients achieve what they're setting out to do.
Team bandwidth or structure. Spell out how your prospective client will be working with your agency and

what the team looks like

. Let them know if they'll be working with one point person or five, and explain the benefits of working with you this way.
At the end of the day, your prospects are going to choose the agency they trust the most to help them succeed. Be clear about not only what your agency offers, but how. It will help your prospects see more quickly whether or not your agency is the right fit.
How to differentiate your agency's brand by narrowing its services
Now that you understand why it's important to differentiate your agency — and how to find differentiating factors based on what your prospects are looking for — how do you home in on that unique-to-you offering?
When our clients set out to find a marketing agency, they are typically looking to solve a major pain point, and these pain points will vary depending on our prospects' needs.
Between your prospect's biggest needs and the best services your agency offers is where you'll find your biggest differentiators.
You want to offer the services your agency does really well. You can eventually add complementary services and expand your catalog, but the more focused and narrow you are in answering questions in the sales process, the more confidence your prospects will have in you.
Once you decide that you want to narrow your offerings and help your agency stand out, there are a few places to look that will help you get laser-focused on the unique services you provide.
Here are several avenues to explore:
Narrow in on specific industries or verticals your agency serves well. Analyze your current book of agency business and see if there are specific types of businesses you often serve, such as financial services or SaaS companies.
Maybe you're a social media marketing agency. You could use this specific industry knowledge to attract other companies in a similar industry. Make it clear that you have marketing solutions for their specific industry and demonstrate how your knowledge can help your clients succeed without having to overcome a too-steep learning curve. Clients looking for marketing solutions want to know you understand their business.
Consider your passion and past experiences. Maybe you've always wanted to serve nonprofit companies or help small businesses grow. Perhaps you understand exactly how a small business can take advantage of marketing automation on a budget. Think about the different niches you'd like to serve and consider whether you've succeeded there in the past. Narrow in on the reasons why you've thrived in these spaces (or why not), and find a way forward that works better.
Find specific programs or consulting opportunities. Are there specific programs, frameworks, or software systems out there you're excited about? Maybe you can get certified in them (such as our

They Ask, You Answer Certified Coaching Program

). There might be consulting opportunities via established

programs your clients would benefit from

that you could adopt and hang your hat on. Not all differentiating factors have to be created by you to be worth pursuing.
Search for underserved sectors of the marketplace. Maybe there are businesses, industries, or geographic regions that don't seem to be doing a lot of effective digital marketing. Have you noticed a lot of small insurance agencies aren't able to set up their website in a way that efficiently brings in leads? Are you frustrated by a lack of content marketing know-how in the manufacturing sector? Have you reviewed industry reports and magazines specializing in a specific vertical?

As you help clients through the marketing process, you'll see patterns you can use to recognize these needs.
Ask your prospect better questions. Sometimes your clients will think they understand their problems and what needs to be improved, but your agency can help them even more in other ways. Maybe your client wants a better-looking website, but you can help them make it beautiful AND a better sales tool. Perhaps someone comes to you wanting to create content to drive more traffic, but you know how to help your clients do this AND use it more effectively in the sales process. Sometimes our prospects think the solution they need is only a portion of the help they actually need.
The ultimate goal is to carve out a space for your business that few other agencies can, making your agency poised to fill the specific needs of your ideal clients.
Remember, too, that both the digital marketing landscape and the needs of your clients are always changing. This means there will always be new opportunities to differentiate your agency in a way that helps it grow. The trick is getting better at recognizing them.
Consider becoming a They Ask, You Answer Certified Coach
Most digital marketing agencies struggle to stand out in their marketplace and provide the inbound marketing services their clients are looking for.
Here at IMPACT, we teach our clients how to build up talent within their company and become world-class marketers and salespeople. In this model, our clients take ownership over their marketing and sales results, and our team members help create sustainable systems and cultures of content that enable those businesses to grow and thrive.
Subsequently, our team doesn't get burned out in the never-ending strategize-implement cycle and held captive to "deliverables."
We also teach our clients how to grow their businesses using a specific framework that makes their inbound marketing initiatives work.
To learn more about the They Ask, You Answer framework, a methodology that has helped hundreds of B2B and B2C companies in a range of industries generate millions in revenue, set up a time to chat with one of our coordinators, who can answer any questions you might have.
IMPACT's Certified Coaching Program will help your agency:
Learn a simple, effective framework that helps your team become more effective coaches and lead your clients toward bigger growth, faster when they hire a marketing coach.
Find its niche and set itself apart from the overcrowded coaching and marketing agency landscape.
Pave a clear, simple path to strengthen communication skills and value so you can be confident in raising your rates.
As a certified coach, your agency will gain access to dozens of courses on our IMPACT+ learning platform, as well as a community of coaches who are always there to support your team.
It is an easy yet effective way to provide specific, differentiating services that will help your clients grow their businesses faster and more efficiently.
In turn, your agency will grow faster and more efficiently, too.
Free Assessment:
How does your sales & marketing measure up?
Take this free, 5-minute assessment and learn what you can start doing today to boost traffic, leads, and sales.