Marketing's 5 Biggest Data Challenges (& How You Can Fix Them)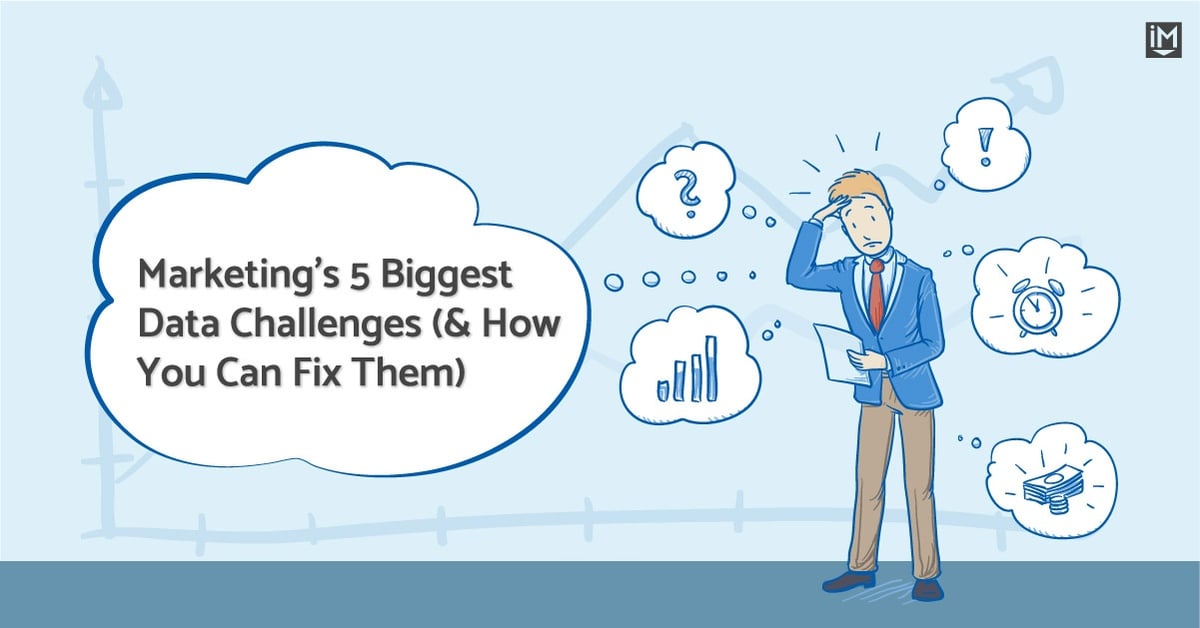 I'm sure you've heard the declaration before:
Marketing today is as much about crunching numbers as it is creativity.
Now, that's all fine and dandy, but numbers don't just fall out of thin air.
Before you can analyze and act on data, you need to actually have it. You have to be equipped with all the right tools to collect and track your marketing activity, and while this may sound easy, many organizations continue to struggle with it.
With multiple programs collecting lead and performance information, data often lives in many different places.
Marketing, sales, support, finance, and operations teams not only lose time jumping from platform to platform gathering everything they need, but they also miss out on the full, accurate picture of the performance of their teams and investments.
In this article, we'll discuss five of the biggest (and most common) marketing data challenges organizations face and share insights from Zak Pines, VP of Marketing at Bedrock Data, on how to solve them with integration with HubSpot.
Challenge #1: Getting Data Too Late to Act
Thanks to digital marketing, there is a wealth of channels through which consumers can find and interact with brands and brands, in turn, can make an impression.
At any time of the day, someone may be googling a company, visiting their website, consuming content, attending a webinar, registering for an event, engaging with them on social media, or even talking to a sales or support rep.
Brands that track this activity can effectively recognize the best time to connect and close a deal, but with so many different systems collecting data, this information is often discovered too late to act.
"We don't know when prospects or customers will want to engage," explains Pines. "...but when they do....you want to make sure that that data is organized, shared, and triggered to the person who needs it - whether it's an SDR, sales rep, support rep, or a marketing program."
The Solution:
To avoid a missed opportunity, marketers need to get and share useful information with sales as quickly as possible. If you're using HubSpot, the most efficient way to do this is with automated bi-directional data integration.
"The buying process is very rarely linear," Zak continued.
There are so many different "touch points" available as people bounce around and engage before making a purchase. With bi-directional data integration, marketers can better monitor and track their prospects at all of these moments in one simple place.
Despite collecting lead data with different systems (i.e. Eventbrite, Cvent, WebEx, MailChimp, Intercom, Shopify, etc.), all of your information will be consolidated into one, single, complete view of user activity within your HubSpot portal.
This makes it easier for teams to see what's happening in real-time and identify when to reach out, inform more actionable lead scoring, and also better aligning sales and marketing teams.
Challenge #2: Legacy Systems
If your organization has been around for more than a few months, chances are it has a lot of processes and systems in place, especially for sales or customer support.
To be successful, this is necessary, but as the market has evolved, many older, legacy systems lack the agility needed for modern marketing.
As technology advances and teams try to adapt, important data remains locked in these systems, hindering marketing and sales efforts -- but it doesn't have to.
The Solution:
Instead of completely overhauling trusted sales and finance processes to accommodate new marketing tools, businesses need to recognize and embrace the importance of each one and incorporate them into their modern strategy.
Thanks to bi-directional data integration, there is no need to disrupt what's working for something untested.
Powerful, but complex and cumbersome software for marketers to traditionally work with (like NetSuite and Microsoft Dynamics for example) can be quickly and seamlessly integrated into HubSpot, Marketo, Close.io, or other new tools, to both empower and unite your sales and marketing teams.
Challenge #3: Reading and Understanding Trends from Data
As valuable as they are, I've never been a numbers whiz, so when it comes to reading, identifying, and understanding trends from those provided by various tools, I usually find myself struggling.
When data is divided between, or provided by, multiple sources, it becomes even more difficult to analyze.
You may find conflicting reports for the same metric, see another identified by two different names, or even get distracted by numbers you shouldn't even care about.
Between all of this misalignment, confusion ensues and identifying useful trends becomes that much harder.
The Solution:
Data integration helps merge and streamline your data to ensure that the right information is being shared with HubSpot.
When only the best, most essential information being shared and accurately tagged around one unique identifier, HubSpot Reports can better read and interpret the data for you.
Challenge #4: Spreadsheets.
(Enough Said.)
As Zak says, "every marketing team has lived through spreadsheet hell."
Whether you were trying to move leads from one system or simply sharing data with a colleague, it's likely you relied on a spreadsheet.

The process of using spreadsheets to transfer data is long, tedious, and prone to error. It also creates an unavoidable gap between the time you receive the information and actually getting it to the right people to take action.
The Solution:
With bi-directional data integration, you can easily and quickly connect your key data systems so that crucial data is posted in real-time to all of them.
For example, if you're hosting a webinar on GoToWebinar, you can integrate your account with your HubSpot portal so that all of the lead information gathered during registration is automatically synced into a contact's profile.
With the right bi-directional integrations in place, you will never have to upload a spreadsheet of leads again.
Challenge #5: No Single, Complete View of the Customer
As you might have noticed, this is something we mentioned multiple times throughout this article.
All in all, the largest data challenge faced by most marketers today is not having a single, complete view of their customers. With disconnected lead sources, comes multiple, if not duplicate records of a person's interaction with your organization.
This can misrepresent your lead's position in their buyer's journey and be very harmful to your marketing.
Duplicate data records across disparate systems can also throw a major wrench in your efforts towards personalizing and target your message. If the underlying data is wrong, the targeted message will be irrelevant
The Solution:
Automated data integration by a company like Bedrock Data helps you align your customer data across multiple, disparate systems, so your team can find all of their critical information on the platform they work with every day, whether it be marketing automation for the marketing team, CRM for the sales team, or the customer support system for the support team.
Rather than hunting through several reports, marketers, salespeople, and customer service reps can turn to their most-trusted source of all of a person's information and ultimately create a better experience from awareness to delight.
Bedrock Data helps automate the integration of many popular SaaS systems to connect, clean and synchronize data such that multiple teams across the organization have a unified view of customer behavior, in the systems they are used to. To learn more about their company and approach to automation bi-directional data integrations, visit their website here.
Free Assessment:
How does your sales & marketing measure up?
Take this free, 5-minute assessment and learn what you can start doing today to boost traffic, leads, and sales.