How To Get and Keep Great Clients for Your Marketing Agency (Acquisition & Retention Strategies)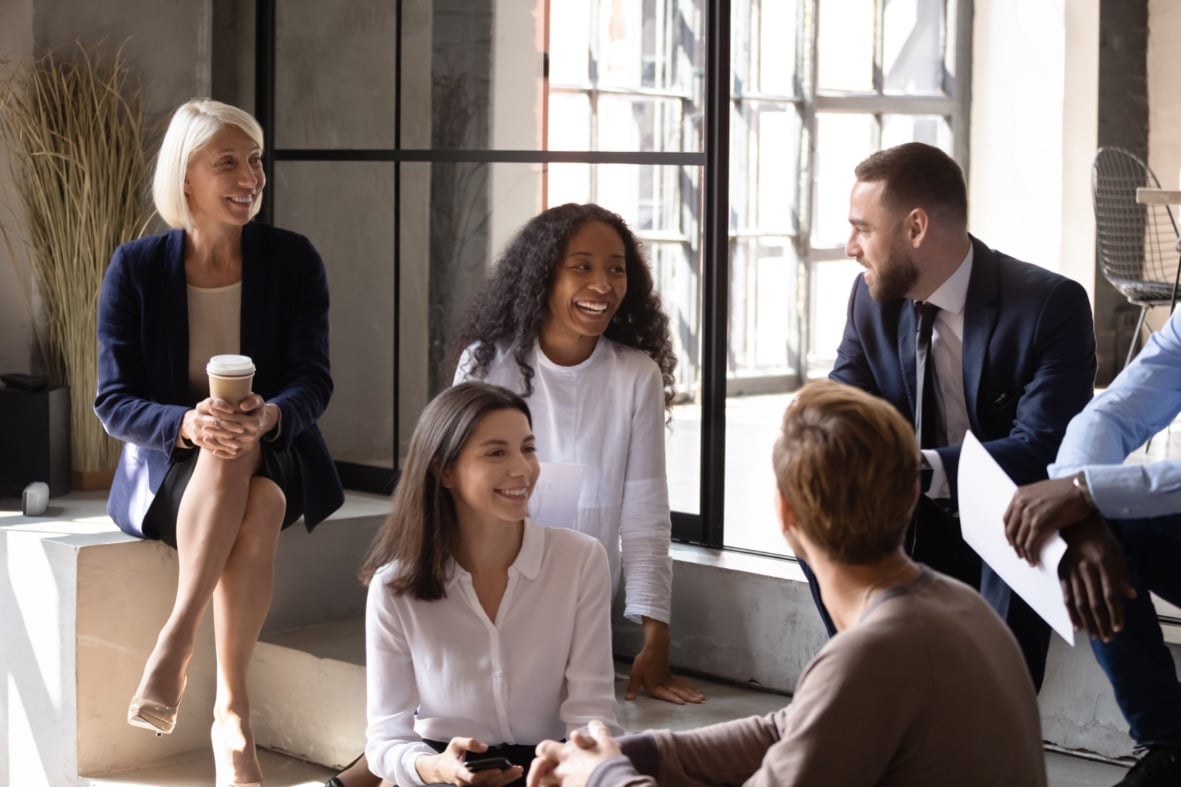 How to find (and keep!) clients for your marketing agency:
Define what companies are (and are not) a good fit for your agency
Invest in content marketing
Train your team to be world-class educators
Get full company buy-in
Be authoritative in the sales process
Train staff to be ready for every possible situation
Offer training and coaching
Record every client call
For marketing agencies trying to find and retain a steady stream of right-fit clients, few things are more stressful than making sure you have enough new business to tie up loose ends.
Maybe a handful of your clients are thriving, but you need more clients to make ends meet. Or perhaps you need to be ready in case a client decides they no longer need your services.
Running a business without a healthy retainer of work in the pipeline — especially when each client contributes a large portion of the business's income — is far from reassuring.
Especially when it feels like at any moment the bottom could drop.
If this sounds like something your marketing agency is going through, first know that you're not alone. There was a time when IMPACT was there too — frustrated, scrambling, and feeling desperate to make sure we could quickly replace any clients we lost if we had to.
But having come out of the other end of the tunnel doing better than ever, there's a lot we've learned about creating an agency that our clients not only value but need.
In this article, we're sharing what's worked for us, including:
Why the traditional agency-client relationship might be setting your business up to fail.
Steps to acquire new business that few marketing agencies are doing but work for thousands of companies.
What successful marketing agencies should do to retain great clients.
Building a marketing agency today isn't easy. There's a lot of competition out there and the rules are constantly changing. But with these simple-to-implement tips, you can reel in better clients that value your work and grow your business in no time.
Here's what to know.
Why the traditional agency-client relationship might be setting your business up to fail
As marketing agencies, many of us feel like we have to provide and be everything to all our clients at the same time in order to succeed. As a result, we expect our team members to do all the work for our clients, including strategic planning and implementation.
This means our team is writing blog articles, filming videos, setting up and using CMSs, managing sales pipelines, and more — for several clients all at once.
If there is one thing you're going to take away from this article, let it be this: As an inbound marketing agency, when you plan — and do — the work for your clients, it will always be difficult to build good relationships with them.
There are a few reasons this is true:
Your team members will be spread so thin trying to be everything to everyone that they will inevitably burn out.
As the ones responsible for your clients' results, you will always be on the line for another business's success.
You will always have to answer to your clients and be moving mountains to make them happy.
Sound familiar?
While it's difficult to work against these obstacles, not being able to navigate them perfectly doesn't mean your agency isn't able to succeed and provide your clients with value. It does mean, however, that the traditional marketing agency model is flawed and might not be as ideal for growing your inbound marketing business as you once thought.
If you're ready for real growth and want your inbound marketing agency business to have what it needs to rise above these challenges and really flourish, here's what to do.
Steps to acquire new business (that few marketing agencies are doing)
There are things you can do that marketing agencies typically don't do to get your business out in front of your prospects and keep the steady flow of clients coming. What you want to avoid is having a fire drill each time a client decides they no longer need your services.
To do this, you first need to take one extremely important step.
Define your offerings and know clearly what companies are (and are not) a good fit for your marketing agency
One of the biggest lessons we've learned at IMPACT is how useful it can be to know exactly what you do — and what you don't.
While this might sound obvious, when an agency can clearly define those things, they spend less time chasing after the wrong kind of potential customers. When you have a wrong-fit client, they will never find value in your work and partnership, and you will continuously need to justify the cost of your services.
Defining what you do and don't do upfront helps set up the proper expectations and ensures the success of your client-agency partnership from the beginning — all while weeding out the bad fits that you would have wasted your time on in the first place. Think of it as pre-qualifying your target audience.
Invest in your own content marketing
Inbound marketing agencies take the time to write content and create videos for our clients, day in and day out. But when it comes to doing the same for our own business, we tend to fall short.
But here's the thing: Content marketing works just as well for inbound marketing agencies as it does for our clients.
As explained in Marcus Sheridan's revolutionary inbound marketing framework They Ask, You Answer, one of the most powerful things you can do as a business is to use your website to answer every question your clients have ever asked about you — and our marketing agencies sure field a ton of them.
Invest in a content manager or team that creates this content for your agency and no one else.
Train your team to be world-class educators
Once you nail down your niche audience and start creating content that answers their questions, train your team on how to teach your approach at business events and conferences.
There is no better way to get your business out there than by bringing your ideas to a roomful of potential clients and teaching them about what you do.
Many of the members of our leadership team, including IMPACT Partner and Principal Marcus Sheridan, and CEO Bob Ruffolo, attend these events to teach other agencies how to do what we do. Educating the audience in a way that gets them excited about your services is one of the best ways to keep the conversation open with new clients.
To get results, you need to be willing to get out there and teach and have the right people in place to do so.
It also helps to educate your prospects before sales calls. This helps answer many of your prospects' questions upfront and saves your sales team time on the actual call. We call this method assignment selling, and you can learn more about this effective way to sell in Marcus Sheridan's free course, Assignment Selling: Content Is Your Greatest Sales Tool.
Give workshops and get full company buy-in
The first thing that needs to happen before a client signs on with you is that leadership needs to "catch the vision" and understand how working with you will benefit them.
The only way to get those leaders to buy in is to help them understand the what, how, and why of working with you.
Start engagement with some sort of workshop. Explain what the company needs to do to grow and how you are the right guide to help them do that.
If you're able to deliver the workshop in a way that everyone in the room wants to work with your team, you'll be winning better clients regularly.
Bring an authoritative presence to the sales process
One of the things many marketing agencies struggle with — often without realizing it — is that they come off as desperate and needy. No one is going to give you their business because you need them to!
It might be difficult to do, especially at first when you don't have the luxury of saying no to potential clients, but you have to be willing to walk away and trust your process or it won't work.
Remember, it's the great-fit clients you want — not the ones that seem wishy-washy. Explain how you can help and move on to the next. This keeps your business in a position of authority in the sales process, which is where you want to be.
What successful marketing agencies do to retain great clients
Once you're reining in those good-fit leads, you need to build trust in that relationship and make sure you're providing your client with enough value in an authoritative way.
Here's how.
Train staff to have authority in every possible situation
In every marketing agency-client relationship, there is someone on their toes (giving direction as a leader) and someone on their heels (taking direction as a follower). In a healthy agency-client relationship, your client values your insight and listens to your direction as their leader. When we lose our footing as leaders and our clients call the shots, it means we have handed off the leadership role and taken the follower stance.
Every time this happens, the relationship is in jeopardy.
Make sure your team knows how to steer each situation back on track and keep control.
Also, keep in mind that it isn't about winning the lead over your client or dominating the room — and it certainly isn't about being a jerk. We love the way Kim Scott explains how to embrace this mentality in her book Radical Candor.
Establishing yourself as an authoritative peer needs to come from a place of caring. If your team keeps the best intention in mind for your client while you develop these skills, your client will appreciate your help and work hard to accomplish the tasks you've set for them to do.
In no time, you'll see your clients trying to impress you with what they've achieved instead of the other way around.
Make sure training and coaching is a significant part of the value you're delivering
Your success as an inbound marketing agency shouldn't be measured by all the work you're doing for your client, but by the education and training you're providing.
This is where pivoting your strategy from catering to your clients' every whim to teaching them how to do the work on their own can be a game-changer for your business. If you're teaching your client how to grow their business in a way that inspires them to bring their A-game and take their success into their own hands, the possibilities of success for your agency (and your clients!) are limitless.
At the end of the day, we can only do so much of the work ourselves. But by empowering our clients to do the work and create their own digital marketing strategies, we are then in the position to help more businesses grow.
Record every client call
Something that has helped IMPACT grow and learn immensely is recording every call with a client.
This way, you can have other members on your team learn about exactly what your clients are thinking, what questions they are asking, and how to handle every situation.
One of the biggest ways to grow your business is to know what your clients need — inside and out. Keeping a record of these conversations is one of the quickest and easiest ways to gather that knowledge and spread it throughout your team.
Stop surviving, and start thriving — with a bigger, better client base
Here at IMPACT, we've helped thousands of B2B and B2C companies and agencies like yours take charge of your own inbound marketing strategy and make millions in revenue with a simple-to-implement framework called They Ask, You Answer.
With our They Ask, You Answer Certified Coach Program, we teach coaches and marketing agencies how to improve their clients' results with this method too.
By signing up for this program, your agency will:
Learn a simple, effective framework to help you become a more effective agency that leads your clients toward incredible growth faster.
Find your niche and set yourself apart from the overcrowded agency and marketing strategy landscape.
Pave a clear, simple path to strengthen your team's communication skills and value so you can increase your rates.
Learn more about They Ask, You Answer and our Certified Coach program to get started today, or talk to one of our advisors who can answer any of your immediate questions.
After completing the program, your agency will gain immediate access to dozens of courses on our IMPACT+ learning platform in addition to a community of like-minded professionals who are always there to support you.
It is the one step you can take today to become an indispensable resource to your clients, who won't be able to imagine achieving their growth and success without you.
Free Assessment:
How does your sales & marketing measure up?
Take this free, 5-minute assessment and learn what you can start doing today to boost traffic, leads, and sales.