How to get sales excited about creating content for your company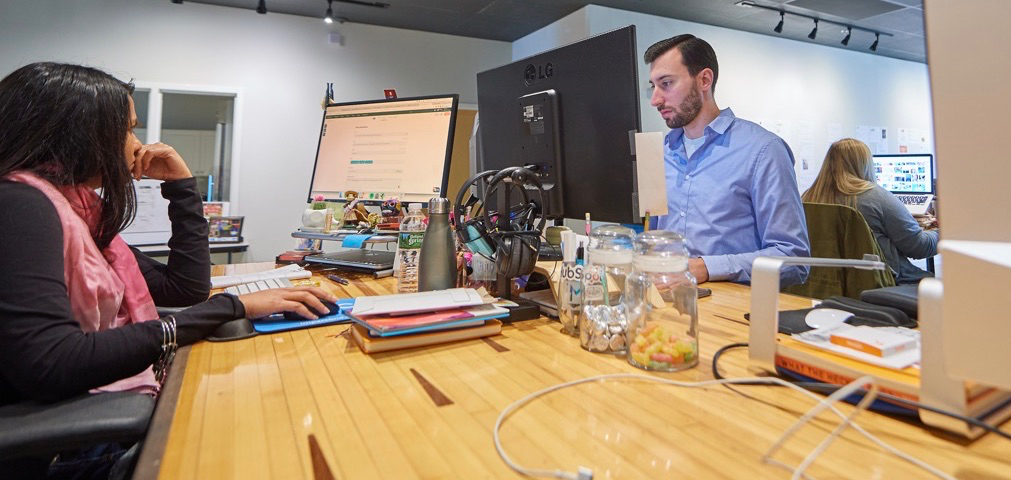 If you're reading this blog post, you probably understand the immense value a successful content marketing program can bring to your organization.
Generating qualified, inbound leads in a sustainable, cost-effective way on an ongoing basis can literally transform the outlook of your organization.
That being said, building a successful content marketing program is a big effort.
Okay, it's a huge effort. It's like combining ultimate frisbee with running a marathon — combining a team sport mentality with individual endurance. It requires a large investment of time and effort by multiple people — not only in marketing, but across the entire company.
One team in particular that has an important role to play in your content marketing effort is your sales team.
Now, before the sales managers out there start dropping their headsets in disgust at the idea of salespeople doing absolutely anything besides selling, take a deep breath. We're not talking about turning them into full-time writers.
So let's say you, as the marketing manager, have successfully convinced the powers that be that sales needs to contribute to the content marketing effort at your company.
Now comes the next challenge: getting salespeople not only willing to get involved, but excited about the prospect! It seems impossible to fathom, but I'm here to tell you, it's possible.
How am I so sure?
Let me let you in on a secret — I'm a salesperson, and I contribute at least one piece of content per month as part of my job at IMPACT.
Not only does that aspect of my job make me a more effective and efficient salesperson, but it also helps drive qualified leads into my funnel, which I can close more quickly due to the extent they've educated themselves via our content marketing efforts.
That's right, I'm seeing the ROI from my effort writing content for IMPACT directly in my own day-to-day life. It's not an esoteric, trickle down benefit. It helps me more than anyone.
Here are five lessons I've learned from my experience at IMPACT getting my colleagues and myself excited to contribute kick-ass blog content:
1. Start with why
If you want to convince anyone to do anything (literally), you'll be infinitely more successful if you start by telling them why it's important.
Great marketing content is every salesperson's best friend. It's like having a superhero sidekick that works 24 hours a day, 7 days a week, and never asks for a raise or takes a vacation. It can work around the clock to educate and qualify your prospects (if it's addressing the questions on your prospective buyers' minds).
No salesperson on the planet loves answering the same question 500 times. They'd much rather have their prospects come to their calls educated on all the basics of what they sell and cut straight to the meaty part of the discussion about their prospects' goals and challenges.
Salespeople can also use the content they generate to prospect. It's endlessly more effective to reach out to a cold prospect with a blog post you wrote that shares some useful insight than to simply ask for a meeting with nothing valuable to offer.
I use the content I generate for IMPACT all the time in my sales interactions. I love showing my prospects that I personally have thought deeply enough about a given topic that I wrote an entire blog post about it. It earns me way more trust and respect from my prospects than if I were just sharing content the marketing team generated for me.
2. Don't assign salespeople fluffy topics
This is huge. I can't stress enough — if you want salespeople to contribute content and you've started with why it's going to help them, you have got to assign them topics that will actually educate prospects and help them close.
Nothing will kill your sales team's enthusiasm more quickly than having them write blog posts they'll never use in their sales process. If they don't see the clear benefit of how a topic will help them close deals, it will be like pulling teeth every time.
So how do you avoid this trap? Easy! Ask them what questions they're getting over and over again in the sales process! Let them brainstorm their own topics and collaborate with the marketing and leadership teams to generate blog topics that will move the needle.
No one knows your leads and prospects better than your sales team, so don't overlook them as a source of insight and competitive intelligence.
3. Allow them to be interviewed
Okay, so you've been reading so far, thinking, "this all makes sense, but my VP/CEO/COO/etc. will never in a million years sign off on my salespeople spending the requisite time to write a blog post." Believe me, we hear that all the time.
If your organization is one of those black and white, no-room-for-nuance type companies, we've got a solution for you as well: make your salespeople available to be interviewed. This way, they don't have to be the ones to actually sit down and write the content.
As long as they can effectively transfer the knowledge to whomever will be writing the content, they can simply make themselves available for the 15-20 minutes it will take to talk through and outline a blog post or video.
Someone from the marketing department can either ghostwrite the content for them, or you can simply publish the content as an interview. As long as your sales team is contributing what they know to your content marketing effort, they're doing their part to put their expertise on display and educate the market.
4. Explore other mediums (video/podcasts/etc.)
At IMPACT, we have a rule that every employee at the company, from the CEO to our newest hire, has to contribute content every month. But that doesn't necessarily mean they have to write a blog post.
People host podcasts, record videos, design infographics, lead webinars, and leverage a variety of other channels to keep the IMPACT content machine chugging along (and it works for us to the tune of over 600k visits per month).
If you have a salesperson or sales team who simply can't or isn't willing to write, there are plenty of other ways they can contribute to your content marketing effort.
Video is becoming vital for companies to stay relevant in today's age in which every company is a media company. If your sales team doesn't like to write, have them record a new video every month. It will probably be even more useful in their sales process than written content.
The point is, where there's a will there's a way. If they're willing to give you the information they have parked in their brains that they're sharing with prospects day in day out, it's on you to find a medium to showcase it.
No matter the objection (too time-consuming, too difficult, etc.) there's a way to get your sales team excited to get involved if they see the path towards ROI for their time.
5. Remind them — they're the expert
Nobody knows more about how to educate prospects about your products and services than your sales team. They talk to prospects all the time about what your company does.
They're the experts when it comes to giving prospects the info they need when evaluating your company.
It only makes sense to have them put their expertise and experience on display in the form of content.
Re-imagining the sales process
In a perfect world, by the time prospects engage me in a sales conversation, they've consumed several pieces of content on the IMPACT website.
They're coming to me with a good understanding not only of IMPACT and what we do, but they've read something either I or one of my sales colleagues have written that educates them about the specific marketing challenge they're looking for us to solve.
If they're reading something I wrote, they're already familiar with the direction in which I want our conversation to go. They're thinking about the things I want them to think about. They're prepared for the conversation I want us to have.
The entire point of inbound marketing is controlling the information your prospects collect while investigating a solution like yours.
If your best case scenario is for them to get on the phone with a member of your sales team, why not have the lead up to that sales conversation feature the sales person themself?
Still not convinced?
Ask your sales team what part of their job they dislike the most. They might say things like prospecting, cold-calling, or people not getting back to them.
Or if they're a more senior rep, they might say answering the same questions over and over again or dealing with unqualified leads that come into their funnel.
Imagine a world where most of the people they talk to came to their calls already having read multiple pieces of content on their website.
They've educated themselves on the products and services your company offers, and it's the sales reps job to simply close the deal.
Then, ask them if they'd be willing to write one blog post a month to help make that dream a reality. I bet they'll come around.
Free Assessment:
How does your inbound marketing measure up?
Take this free, 5-minute assessment and learn what you can start doing today to boost traffic, leads, and sales.
Get Started
Free Assessment:
How does your inbound marketing measure up?
Take this free, 5-minute assessment and learn what you can start doing today to boost traffic, leads, and sales.
Published on December 19, 2019