Ah, role-playing. Every deal-closing sales rep's least favorite past-time, am I right?
Pro Course: Fundamentals of Virtual Selling
Seriously, by a show of hands, how many of you have ever uttered out loud – or at least thought quietly to yourself with a fake smile on your face – any of the following when the option of role-playing sales scenarios was mentioned:
"What a freaking waste of time... role-plays are never helpful."
"On what planet do I have time to spare for useless training?"
"Role-playing for sales is cheesy and never gets close to feeling like reality."
It kind of reminds me of the seething, side-ponytailed angst I used to feel as a know-it-all, Leonardo DiCaprio-worshipping eighth grader, whenever my English teacher, Mrs. Hagan, asked us to submit an outline as a separate assignment for an essay we were writing.
Why all the extra, useless work, Mrs. Hagan?! Why are you trying to hurt us?!
But here's the deal, folks. Our digital sales and marketing coaches have worked with hundreds of sales teams around the world, and the outcome is virtually always the same when we really start digging into the preconceived notion that role-playing is a total waste of time.
Role-playing, when executed correctly, is anything but useless. In fact, role-playing (when done the right way):
Builds genuine, lasting confidence in sales reps.
Empowers them to test and refine critical sales communication techniques in a safe, private environment... instead of on-the-fly in live-buyer scenarios.
Ultimately improves the sales experiences for your prospects and your customers.
Moreover, with virtual selling having become the standard for all industries in the wake of the coronavirus (COVID-19) pandemic, it's more important than ever that sales leaders and reps just like you embrace role-playing. Relying on face-to-face sales tactics in a virtual environment simply isn't going to cut it.
🎓 Watch the full course: Role-playing virtual selling with sales teams
By the end of this article, you'll understand how to make role-plays effective, and the the basic dos and don'ts of role-playing virtual selling with your own sales team. You'll also learn the essential best practices you need in order to become a remote-selling master.
How to make virtual sales role-playing effective
The role-playing master at IMPACT also happens to be one of my favorite humans – IMPACT CLO Chris Duprey. And when he talks to business leaders and sales teams about how to transform role-playing from a cheesy time suck into something that's wildly productive, it always starts from the same place:
In order to make your role-playing effective, you have to set the right conditions for that to be true. And you do that by first establishing that everyone has a shared understanding of the "why" behind what you're doing, and that every part of the role-playing experience must be treated like the real thing.
You should also follow these ground rules, as they will mitigate the behaviors and habits that undermine the power of roleplaying:
Absolutely

no sarcasm

, participants must fully commit. ("You're not doing this for laughs, you're doing this to master your craft.")
Every role-play must have a read-ahead written and then read. "What the heck is a read-ahead?" I'm so glad you asked. Read-aheads are given to the partner who will be acting as the "buyer" in the virtual selling role-play. It provides them with everything they need to know to be the best partner possible, and with all of the background information they need to make the scenario feel real. Without it, the role-plays will fail.
Every part of the role-playing scenario must be treated like the real thing. You can't treat your partner (who is maybe a friend) as anything other than the role they're playing – the person being sold to or the sales rep. Be in character and stay in character.
In addition to following these ground rules, it's critical that you center your role-plays around real-life scenarios – for example, sales conversations that are coming up soon with actual prospects. This will ground you (and/or your team) entirely in reality, where you're fully committed to mastering the virtual selling techniques you need.
🎓 Watch the full course: Role-playing virtual selling with sales teams
If, however, there simply isn't a real-life scenario you can draw upon, center your role-playing around a virtual selling principle you want to practice.
How often should you do role-playing for virtual selling?
Although there's no hard and fast rule around how often you should be doing virtual selling role-playing, Chris notes that it's kind of like exercise. You need to build a habit around your virtual selling role-playing and "the more reps, the better."
It's with that in mind that you should establish a scheduled rhythm of role-playing virtual sales scenarios – for instance, once a week or once every other week. You shouldn't, however, make it something that only happens once a quarter, because as the remote-selling landscape continues to evolve, you need to stay sharp.
🔎 Related: The ultimate guide for video in the sales process
For example, right now I'm learning Italian, and I'm currently being bullied by a hostile green owl to do so every single day.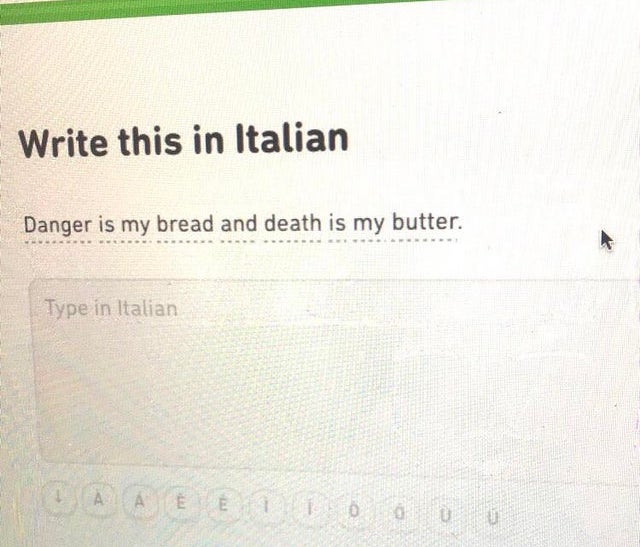 I've committed to a practice. Now, imagine if I scaled back that learning from once a day to once a month? I wouldn't learn nearly as quickly, and (because of the elapsed time between lessons) I wouldn't be so much practicing as trying to remember what I had already learned.
Virtual selling role-playing best practices (during and after)
Now that we understand what conditions need to be true to make your role-playing a success overall, let's dive into a few best practices for during and after your role-playing to make you remote-selling bosses.
1. It's OK to pause and try again during a role-play
If you're in a role-play and you can feel in the moment that you didn't handle something as you wanted to, you can "pause and rewind" so you can get it right in that moment. Role-plays are little laboratories for you sales pros, and this is an incredibly effective way to refine your virtual sales communication techniques in real-time, instead of having to wait until after the fact to discuss it.
2. Send a follow-up email (just like in real life)
So, we've mentioned repeatedly throughout this article how important it is to treat these role-plays like real-life scenarios, right? Well, that doesn't end the second after the role-played video sales call is completed.
🔎 Related: 8 must-know virtual selling best practices for sales teams
Instead, if you're the person acting as the sales rep in a role-play, you will want to complete the full experience of the role-play by sending your "buyer" (your role-play partner) a follow-up email as you would if they were the actual prospect.
That way you are able to receive feedback on every aspect of the sales interaction. And, given how critical email is to the success of your virtual selling processes, you need to make sure your follow-up email communication skills are laser-sharp.
3. After-action reviews of role-plays are essential
What happens after a role-play is where the magic happens. It's time to dive into how well it went by discussing what the original goals were of the role-play, whether or not those goals were achieved, and (if they weren't) what the opportunities are for improvement to nail it in a real-life situation.
As the person whose performance is being evaluated, we have to be open to receiving feedback. And, as the partner, we need to be honest with our partners about what worked and what didn't work.
Role-playing is the key to your long-term virtual selling success
Although we're now more than a year out from when COVID-19 radically altered our lives and the way we do business forever, the hard truth is many sales teams and seasoned sales pros – those used to consistently putting up big numbers month after month, and quarter after quarter – are still struggling to crush their goals in a remote-selling environment.
🔎 Related: Why virtual sales will dominate still after COVID-19
Now is the time to master the virtual selling techniques you need to succeed, because virtual selling isn't going anywhere. That's why we created the following courses (free with a 14-day trial of IMPACT+) to help you become the #1 sales pro (or team) in your space:
If you or your team is also finding it challenging to thrive in this now virtual-first sales world, don't worry, you're not alone. Moreover, all it takes is a commitment to embracing this new way of doing business and learning the new virtual selling tactics and strategies that will empower you to reach your most aggressive sales goals.