HubSpot's professional services vs. IMPACT's HubSpot consulting services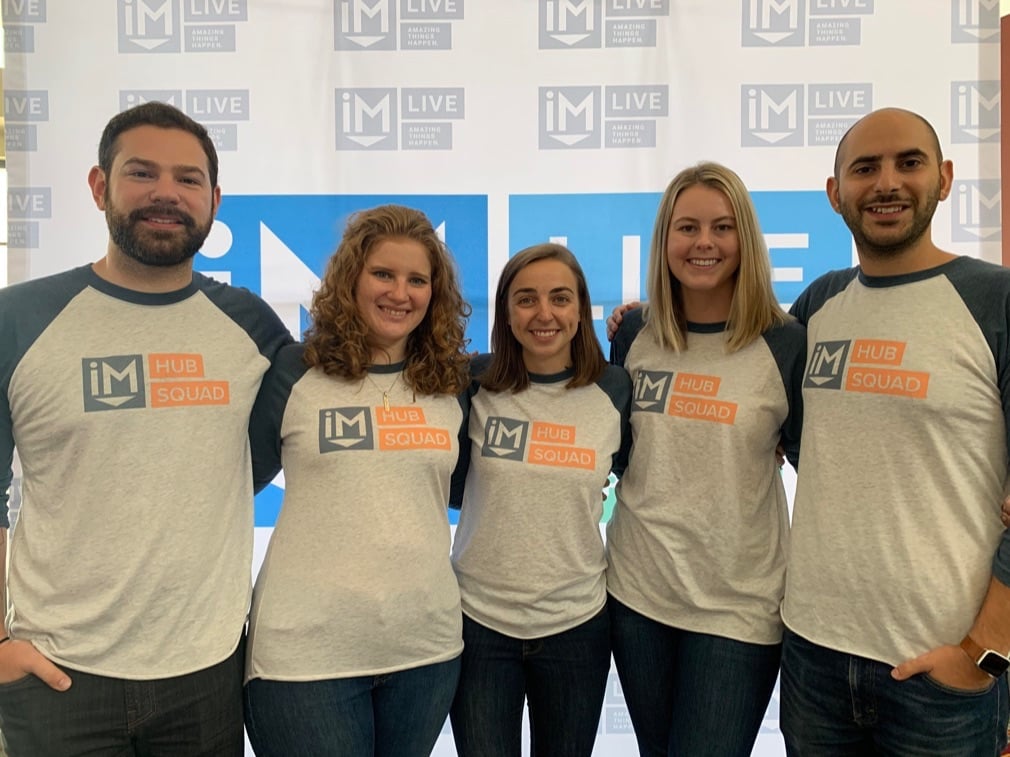 So you've decided investing in HubSpot is a good decision for your company. Now you're ready to get your flywheel spinning, grow better, make 1 + 1 = 3, and embody all the other taglines HubSpot has coined over the years.
Or maybe you've been using HubSpot for a while and you're just not seeing the results you thought you would.
In either case, you've probably come to the conclusion you need some expert guidance on how to make get maximum ROI out of your HubSpot portal.
You've been on HubSpot's professional services page and seen the plethora of options they offer for consulting, but you've also heard of HubSpot partner agencies like IMPACT offering HubSpot consulting.
Which is the better option? I'm so glad you asked.
HubSpot's training options:
Onboarding
Most HubSpot clients are onboarded directly by HubSpot. HubSpot mandates that all HubSpot customers do some form of onboarding upon purchasing the software. They require onboarding as a means to prevent churn so that people don't fail to learn how to use the platform and end up cancelling as a result.
This could take the form of a 90-day onboarding engagement with a HubSpot implementation specialist or working with a HubSpot partner agency.
Your HubSpot implementation specialist is there to help you with any and all technical setup and to familiarize you with the HubSpot tools you are most interested in utilizing. You get access to your implementation specialist for 16 hours over the course of your first 90 days with the software. Those hours can be in the form of phone calls or email support.
After the first 90 days of your HubSpot contract, you lose access to your implementations specialist and you rely on HubSpot support and HubSpot Academy for technical support and product training.
Ongoing Consulting
If after your first 90 days you'd like to continue working with a consultant from HubSpot on an ongoing basis, you can purchase one of many consulting packages that HubSpot offers. Packages range from one hour per month with a consultant to premium packages that give you five hours of access per month to an inbound consultant as well as a technical consultant on an ongoing basis.
Inbound consultants will also review one campaign with you quarterly.
Classroom Training
If you prefer to learn from someone in person, HubSpot organizes classroom trainings all over The United States, Europe, and Australia. These classes are designed for groups, so they won't be personalized or customized for your individual business and situation. They will, however, give you the chance to meet and network with other marketers looking to grow their HubSpot skills and solve similar challenges.
HubSpot charges by the seat, so if you're sending three members of your team it's three times as expensive as sending one (as opposed to consulting, which stays flat regardless of how many members of your team you involve).
HubSpot Academy
The most easily accessible and cost-effective option for learning how to leverage HubSpot and inbound marketing is HubSpot Academy (an entire suite of self-guided training courses, certification programs, and product tutorials).
HubSpot User Groups (HUGs)
There's also the worldwide network of HubSpot User Groups, which are less product training focused and more broadly educational about digital marketing, sales and service. They're fantastic networking opportunities.
IMPACT's training options:
As the two-time reigning North American Partner Agency of the Year, IMPACT has a very long and established track record of helping our clients leverage the HubSpot platform. From marketing automation to sales to service to web design, HubSpot is interwoven into almost everything we do as an agency, and we leverage our depth of experience growing our own business using the platform in how we educate and train our clients.
Some of our clients work with us when they're initially onboarding onto the platform — whereas others have been using the platform for years and just need some expert guidance. Perhaps they're onboarding a new employee or fixing a persistent issue that has gone unresolved — either way, we seek to add as much value as possible wherever our clients are in their HubSpot journey.
Ongoing HubSpot consulting
Most of IMPACT's HubSpot consulting clients meet with us on a weekly basis for 30 or 60 minutes and communicate with their consultant via Basecamp in between meetings. Much of our consulting focuses on our clients' growth strategy and includes product training as a means to drive results (as opposed to simply training people on how to use the software).
Intensive HubSpot training
For our clients who need to proverbially go "from 0 to 60" with their HubSpot usage and expertise, we offer 1- or 2-day intensive workshops where we travel to our client's office and meet with them to map out their strategy and train them on how to use the software. We work with clients in this manner when they're looking to ramp up quickly and need to move fast and decisively to get up to speed with HubSpot.
The biggest difference between this kind of service offering and a classroom training session with HubSpot directly is the level to which we would customize our training to our individual clients compared to HubSpot's one size fits all classroom training.
We also come to our clients' location wherever that might be (whereas HubSpot only offers classroom training in a handful of specific locations in major cities across the globe).
Factors to consider when choosing between HubSpot or IMPACT
Cost
If you're already spending money on HubSpot, spending more money on a consulting engagement is not the most attractive idea in the world. That being said, you want to ensure you're going to see a return on investment with HubSpot.
If you're going to use HubSpot, you have to pay for some kind of onboarding consulting, either from HubSpot directly or from a certified agency partner.
HubSpot's onboarding consulting costs a one-time fee of $3,000 if you're onboarding to the professional product, or $6,000 if you're onboarding to the enterprise product — and both expire after 90 days.
IMPACT's consulting packages start at $2,500 per month and continue as long as our clients find value in working with us.
The trainer
HubSpot employs a large team of consultants, implementation specialists, and technical support staff.
You'll be paired with a HubSpotter with knowledge of inbound marketing and the HubSpot product line. HubSpot has a rigorous interview process and training model that all of their employees go through that has earned them a reputation for hiring young, bright professionals.
At IMPACT, our HubSpot consultants are all Certified HubSpot Trainers, which means they're part of a select group of renowned HubSpot experts that have been trained and certified by HubSpot to lead trainings and public speaking events on behalf of HubSpot. HubSpot puts their certified trainers through an application and training process that only accepts applicants several times per year.
Our consultants have also spent a number of years working at HubSpot certified agencies, where they've executed campaigns on behalf of clients and felt the pressure to produce results.
Some members of the HubSpot consulting team have worked at agencies, some are former HubSpot customers, and some have come from other software companies.
The business model
HubSpot consultants are employed by HubSpot (obviously). Their goals and objectives are tied to whether or not you renew or expand your HubSpot subscription.
IMPACT consultants are employed by IMPACT (obviously). Their goals and objectives are tied to whether you're seeing results from your marketing campaigns.
In either case, your ability to see ROI from HubSpot is a central component of the consulting engagement, but there's an essential distinction between getting advice from someone employed by HubSpot and someone who's an objective third party.
An IMPACT consultant will advise you on your marketing strategy and empower you to see results, regardless of whether that increases or decreases the likelihood you'll cancel your HubSpot subscription. The same can't necessarily be said for your HubSpot consultant.
For example, let's say you're thinking of implementing a chat bot or redesigning your website. Your HubSpot consultant will most likely do everything in their power to convince you to use the HubSpot conversations tool or the HubSpot CMS.
Your IMPACT consultant will help you weigh the pros and cons of all the tools you're evaluating and help you make the best objective decision. Our business model depends on you trusting us and placing value in our strategic advice. If you decide to phase HubSpot out of your marketing tech stack, that doesn't affect our bottom line.
In the end, it all comes down to the trainer
Whether you go with HubSpot or you go with IMPACT, you'll get guidance and strategic advice on your inbound marketing plans. The qualifications, experience, and incentives of the consultant delivering that strategic advice will be the variable to consider.
You can think of it like hiring a personal trainer when you sign up for a gym membership. If you limit your search for personal trainers to only the people your gym employs, you're missing out on a range of options for all the other personal trainers in the world.
Imagine if your trainer only ever recommended exercises you could do at their gym or only recommended protein powder they sell. If their incentive is to get you to upgrade to a higher gym membership or at least not cancel your membership, then they might not always be certain you're getting the best advice.
Free Assessment:
How does your sales & marketing measure up?
Take this free, 5-minute assessment and learn what you can start doing today to boost traffic, leads, and sales.