HubSpot Service Hub is Here! But Why Should You Care?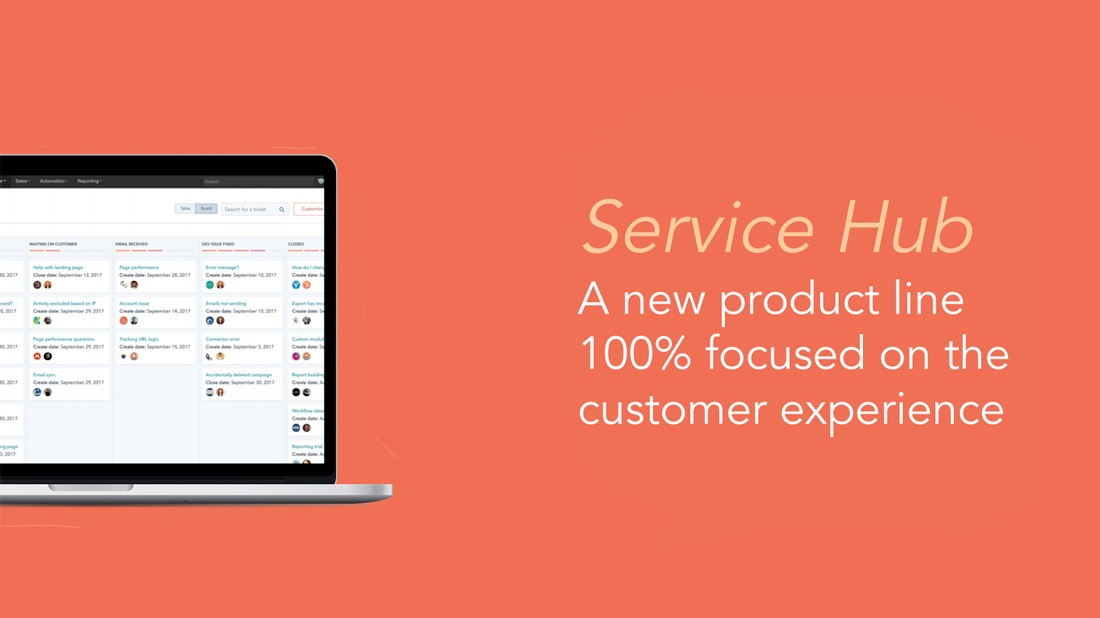 This past week, HubSpot released a ton of new updates and announcements regarding its software.
Being a HubSpot Elite Solutions Partner, we got the scoop on all of the updates at Partner Day; one of the biggest being the Service Hub -- and honestly, it looks pretty great!
As marketers, the client services team and I are constantly helping clients maximize their use of HubSpot, so we wanted to give you honest insight on what the Service Hub is, and how we envision it being more useful to marketers, businesses owners, and of course, our customers.
First, let's start with some background on why HubSpot created the Service Hub.
Here's what the company said in its own words:
"People have changed. Today, we're less patient and less willing to spend significant time on phone support, and instead lean-into online experiences and chat. In addition, today we trust friends and reviews over marketing. This change, is exactly why leaning into your customers success can help you grow."
That being said, HubSpot historically had a few features of its product that could fit under the 'delight' part of the funnel, but no elements that truly focused on customer success -- until now.
HubSpot created Service Hub to provide simple tools for marketers, sales teams, and customer success teams to better interact with and provide customer service to people through their entire journey with your brand. HubSpot intends on helping it's users generate (and maintain) more business through this avenue, by creating happier customers.
Now, diving in...
What Is HubSpot's Service Hub (and What's Included?)
The Service Hub is a new, stand-alone product focused on customer experience.
That means its goal is to help you continue to provide value via simple communication tools and support to your contacts even after they've become a customer.
HubSpot's so passionate about showing #CustomerLove, customer service teams can purchase the product without their marketing team using HubSpot. If you already have HubSpot, however, you can, of course, add on the Service Hub to your existing setup.
Some of the brand new & unique features of Service Hub include:
Ticketing: Allows customers or users to submit support tickets or issues.
Customer feedback: Customers or users can submit thoughts or ideas.
Knowledge base: Users can search commonly asked questions.
Conversations: Live chat with contacts.
Conversational bots: Create automated responses in a chat pane.
Automation & routing: Allows questions and comments to get to the right team quickly.
Some of the tools below are available in the marketing & sales hubs, but for those who don't have other paid HubSpot tools, Service Hub also includes:
Reporting: Advanced reporting using data from the service hub to create graphs.
Contact management: Basically, the CRM & its contact record system.
Contact & company insights: Advanced insights from HubSpot on the contact and their company. This lives on the contact record.
Email templates: Optimized templates your team can send.
Email tracking: Tracking opens and clicks on emails you send.
Email sequences: Automated emails sent to users with conditional progress, meaning if they take the action you want, the emails can stop.
Meeting scheduling: A tool to sync your calendar and allow users to book meetings at your preferred times.

Now, while all useful, personally, I'm most excited for ticketing, the knowledge base, and conversational bots.
Ticketing will be great for all of the smaller or startup SaaS companies out there.
Users will be able to submit tickets for support and your team will be able to move them through the resolution pipeline seamlessly.
This is valuable because all of the ticketing information will live within the same platform as their user data so anyone can pop in and see a full history of that user's interaction with your brand.
Plus, it's got a simple interface that will make sure your team doesn't miss an issue.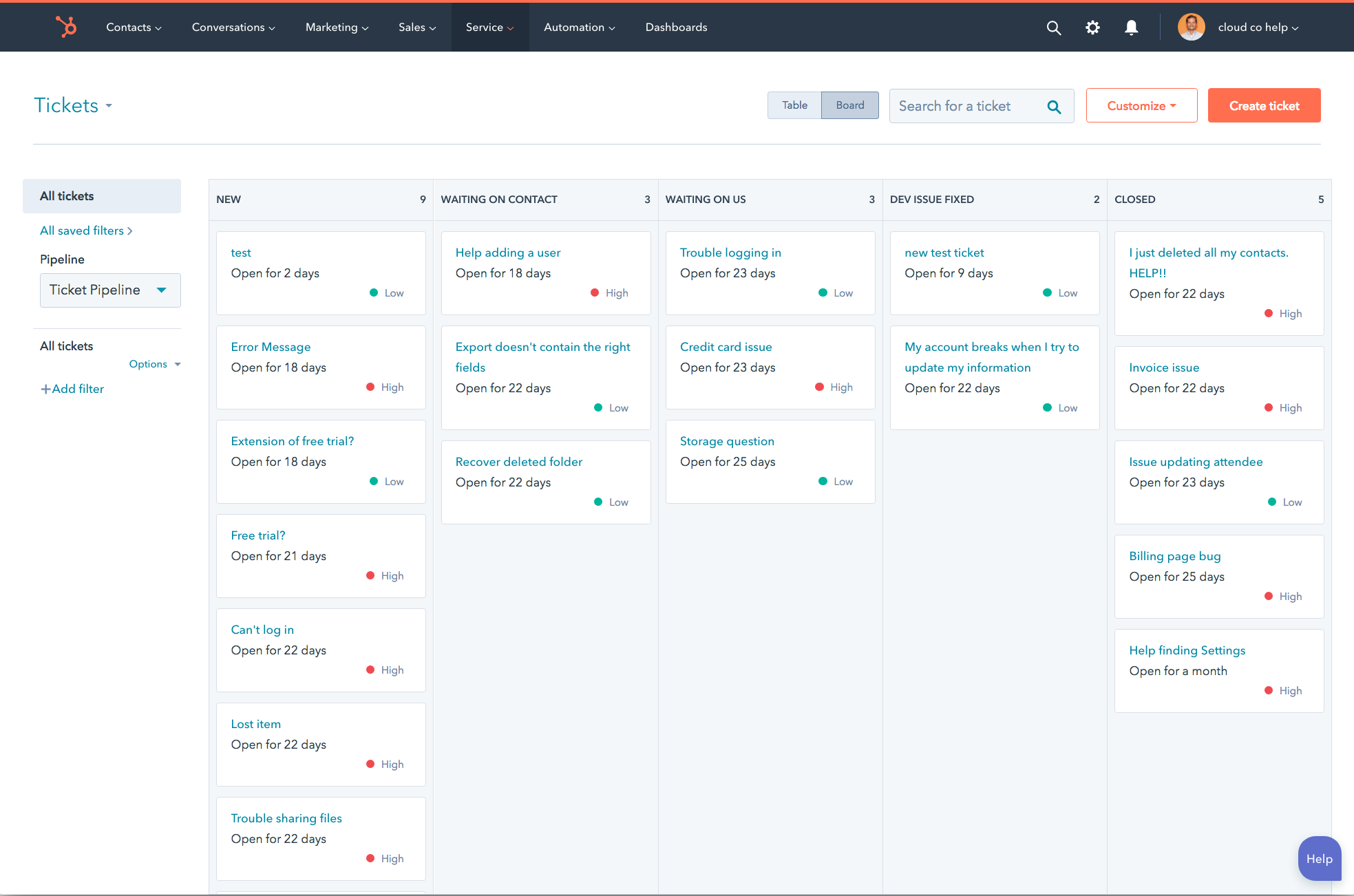 Knowledge Base is another great tool for SaaS companies - but non-SaaS companies can use this as well.
Think of it as a FAQs page. It's a place where you can fill all of your commonly asked questions and the answers to them into a simple, responsive template.
Think about all of the information your customers NEED to know in order to work most effectively/efficiently with you. This can be the answer to all of their questions.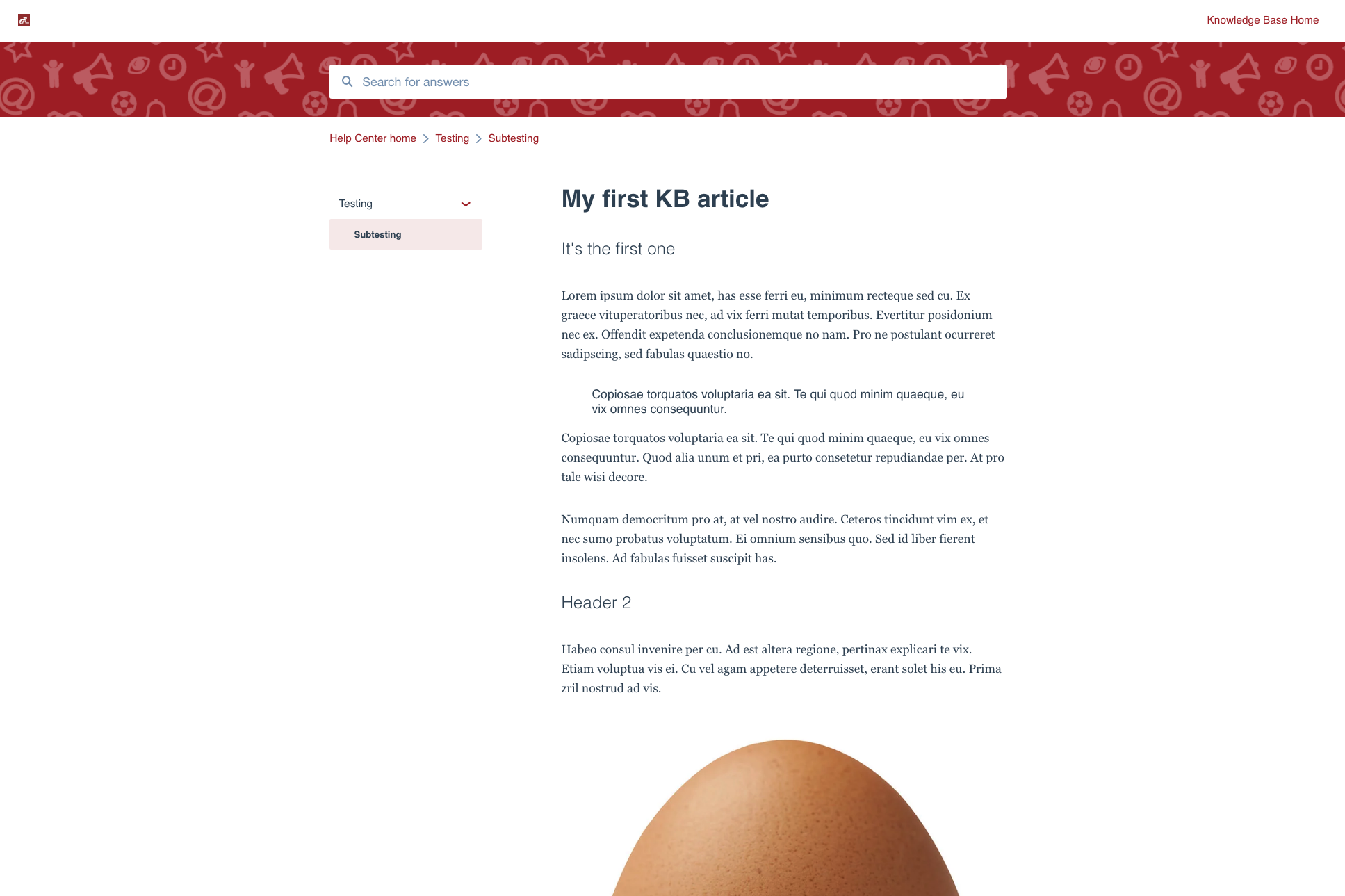 Conversational Bots will be the one most people will get really creative with.
Depending on your business, there are a million uses for the conversational bot. Plus, this bot tool loads a lot quicker and more efficiently than a lot of others out there on the market.
In a similar setup to workflows, you'll be able to create conditional paths that users can take while in a chat conversation with a bot. This will save your team time in simple responses to users - and let them spend more time on complicated questions that require a human to human conversation.
Why Should We Care?
If you're reading this and think that this product is only suited for SaaS companies, or that your company wouldn't find this valuable, you need to reconsider.
If any department of your business involves communicating with or servicing customers, you're missing a huge growth opportunity.
Everyone has changed their purchasing habits..We've all seen the stats about 70% of the buying process is made before someone reaches out to your business.
With that, people are becoming less and less patient, and more and more skeptical about what companies say about themselves online. Just because you say you're the "most trusted" doesn't necessarily mean that you are.
This is why people are trusting friends/colleagues/other customers in this world of information overload.
Thanks to HubSpot and inbound marketing, we have recognized this shift in behavior with our marketing. Unfortunately, however, we've done very little to incorporate the same ideals into the rest of our businesses -- particularly post sale.
Marketers have put little to no effort in making sure that people become not just buyers, but raving fans.
Today, 55% of people start online when they have a service issue, and when making a call, they'll usually wait only 1-5 minutes before hanging up.
THIS is why you should care about Service Hub.
If not managed properly, these poor customer interactions can slowly break down the trust people have in your product, making them less and less likely to recommend you to others.
If your customers don't recommend you, you're going to have to work harder and harder to get new ones in the door with your inbound marketing program.
However, if you were to focus on customers AND inbound marketing, the two can work simultaneously, maximizing your effectiveness.
The Service Hub accomplishes this by providing a simple tool to communicate with customers that lives within the HubSpot marketing hub.
With HubSpot's new focus on entire company 'growth' (as opposed to just 'Inbound') with Service Hub, they've also shifted from the traditional funnel to the flywheel.
Essentially, rather than focusing on a linear path ending at customer, the flywheel is a continuous cycle and effort all encompassing the customer.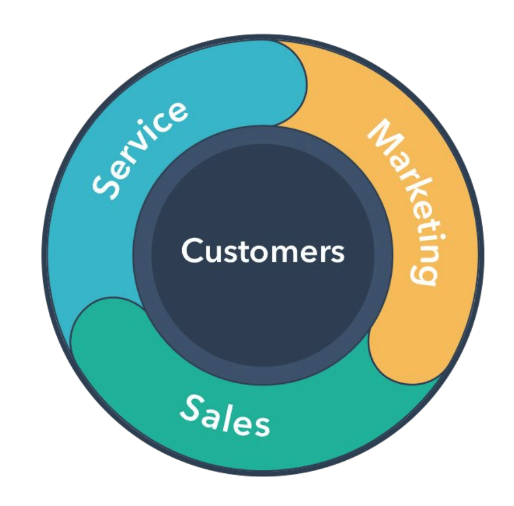 With this, HubSpot shifted its positioning to better reflect the cyclical focus businesses should have surrounding their customers - it's more of a perspective shift from the linear funnel.
As someone in client services, I'm excited at the idea that our customers will be able to have a simple way to provide more value to their customers. It makes responding to messages easier, the team will be more efficient in resolving issues in one portal, and customers will be able to help themselves and save employees crucial time.
How Much Does it Cost?
Now, the big question: how much does the Service Hub cost?
The skinny: it starts at $400/mo for five users.
This price is for both existing and new Hubspot customers. If you currently have an agreement with HubSpot, the Service Hub pricing would be added on top of your contract.
What would drive the price up:
More users (additional $80/user/mo)
Reports add-on ($200/mo)
API ($500/mo)
If you want to check out the HubSpot pricing page, you can find it here.
The HubSpot Service Hub vs. Other Customer Service Software
When checking out the Service Hub, two other customer service software we looked at were Zendesk and Team Support.
When considering the Service Hub, the benefits we see are:
All-in-one product. You don't have buy a bunch of products on top of one another. Some competitors make it seem like a less expensive option by breaking out each service. Zendesk, for instance, lets you choose which products you want, but the cost could add up depending on your needs.
Integration into your HubSpot sales and marketing hubs
Simple user interface
Fast operating conversational bots
Can be purchased alone
Easy to use reporting (with great visuals)
Some of the current downsides we see are:
One level of pricing (right now)
A lot of features on the Service Hub are new! Which means there may be some limitations or things they'll change in the future after receiving feedback, but if you're like us and trust HubSpot with other tools, there should be no surprises.
Where to Read More
As the Service Hub is used more, we'll continue to provide insight into each tool, but I hope this overview gave a good understanding of how you can find value in the new platform. If you're looking for more guidance, now here are a few links I found helpful when writing this article:
Now, tell me, are you planning on purchasing Service Hub? What are you most excited about? If you're an agency - do you plan on selling this as an additional service or including within your current offering? Let me know!
Free Assessment:
How does your sales & marketing measure up?
Take this free, 5-minute assessment and learn what you can start doing today to boost traffic, leads, and sales.