HubSpot COS: The Facts You Really Need to Know About HubSpot's Website Platform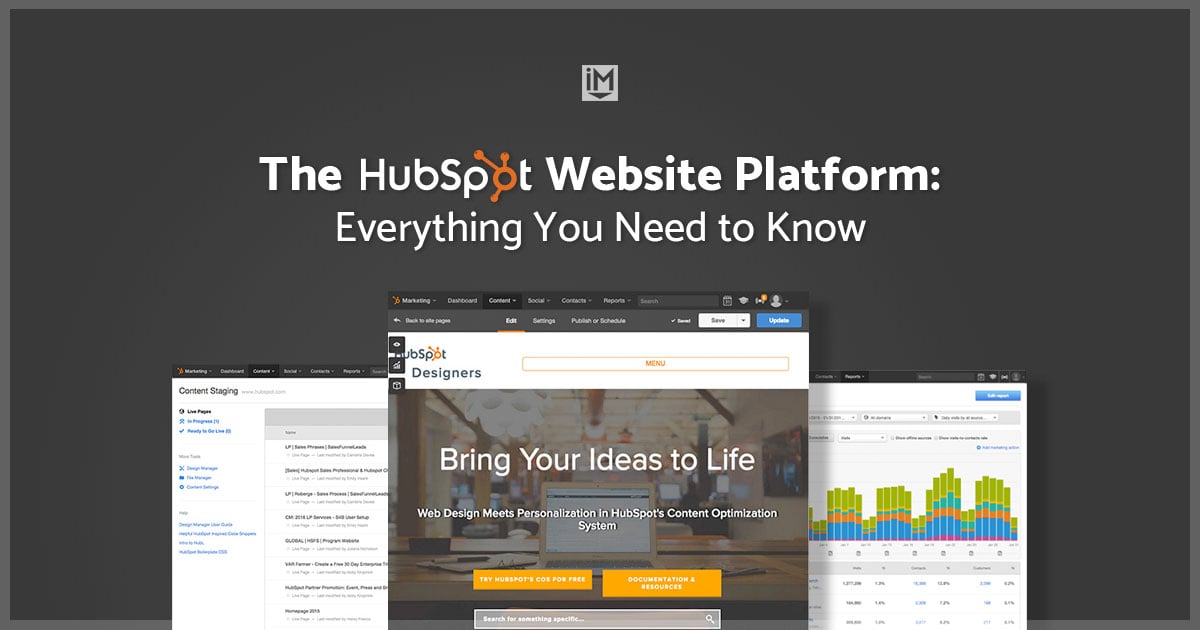 The HubSpot Website Platform (formerly HubSpot COS) is fast, easy to use, fully integrates your content to your HubSpot Marketing platform, optimizes it for search, and offers personalization to specific viewers. We're huge fans of the HubSpot Website Platform here at IMPACT, and recommend it to businesses who are considering redesigning their website.
In fact all of our designers and developers are COS certified, but you don't have to take our word alone for it.
Here are the facts:
Pro: Easy to Manage Interface
HubSpot's inline editor allows you to customize pages with drag-and-drop elements and create page templates without any code. You can quickly edit content, add CTAs, and more from your HubSpot dashboard.
Pro: Secure
SSL (secure sockets layer) is automatically included to ensure your website and any data your prospects and customers input are highly-secure. Plus, HubSpot includes a Web Application Firewall to protect from malicious threats.
Pro: Optimized for Mobile
Your blog posts, landing pages, and all other web content will automatically adjust to the perfect dimensions for any screen, big or small.
Pro: Integrates Perfectly with HubSpot Marketing
Seamless integration makes it easy to deploy all of the rich features in HubSpot's marketing software, as well as having access to detailed analytics without any coding.
Pro: Fast CDN
HubSpot uses a content delivery network to ensure your website has reliable uptime and blazing fast performance.
Con: You'll Need an Experienced HubSpot Developer
Not all web developers are familiar with HubSpot's platform. So, to customize the appearance of your website beyond what is capable with HubSpot's website builder, you'll need an experienced HubSpot developer.
Fortunately, partner agencies like IMPACT have you covered if you need any development work done (and of course, HubSpot can also refer you to other skilled options.)
Learn more about our HubSpot Website Platform Design and Development services here!
HubSpot Website Platform vs. WordPress
WordPress is the go-to for many bloggers and businesses because it's free, fairly easy to use, and usually reliable, but with it is also an aging platform that has become widely criticized in recent years.
With thousands of plugins, premium themes, and other tools available you can easily replicate most of the features of WordPress on the HubSpot Website Platform. (In fact, many of the features such as SEO come built-in, no need for additional plugins.)
Why Use HubSpot Website Platform?
If you're on an extremely tight budget, it wouldn't hurt to start out with Wordpress and transition to HubSpot later. However, if you want to unlock the full potential of inbound marketing from the beginning and not hassle with code and other upfront technical work – HubSpot Website Platform is a no-brainer.
See a deeper comparison between HubSpot and WordPress here.
It's difficult to fully appreciate HubSpot's Website Platform unless you've built or managed business websites in the past, or tried to launch a robust inbound marketing campaign with other platforms. The difference is night and day.
HubSpot's Website Platform is built to scale. It makes life incredibly easy in the beginning because you have immediate access to powerful features that are normally considered "advanced," then as your business grows and your inbound tactics evolve, your website is ready to deliver Smart Content, run A/B tests, and handle any other technical task you have in mind.
Weighing the Pros and Cons of HubSpot

Are you considering purchasing HubSpot? We'd highly recommend you read this candid and comprehensive getting started guide on HubSpot Marketing from our resident HubSpot expert, Carina Duffy.
Free: Assessment
Does your website build trust with buyers and bring in revenue?
Take this free 6 question assessment and learn how your website can start living up to its potential.