17 IMPACT content statistics that were 10 years in the making [#IMPACTTurns10]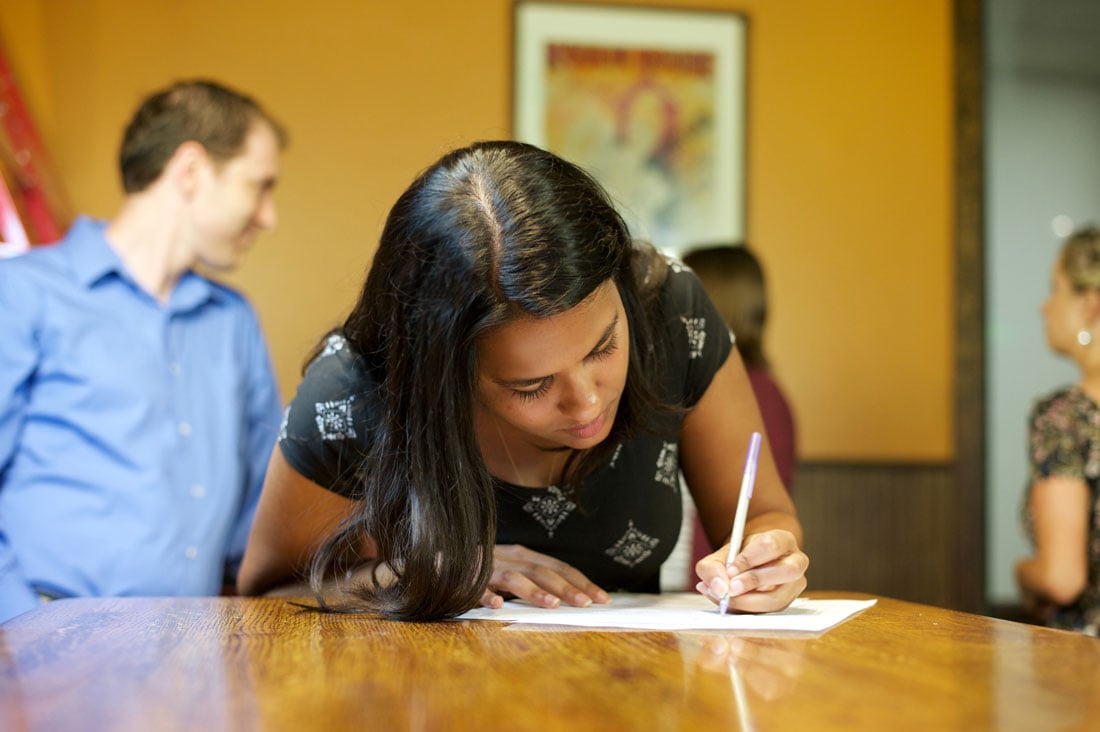 In 2015, I had big shoes to fill — and, as someone who has no shame wearing children's Converses, this was an intimidating task.
I had only been IMPACT's content marketing manager for about two months when our then marketing director (and my manager) announced he was leaving the company.
I became a content team of one. And not just on the internal marketing team but in the company in general.
IMPACT wasn't offering dedicated content consulting or creation at the time, so I felt like I was on an island and being thrown to the wolves — and a number of other cliches we could pin on it.
During my manager's tenure, IMPACT took home the "Best Inbound Content" partner award at HubSpot's INBOUND 2012. He also established wonderful relationships and great respect with many industry thought leaders. He was seen as one of the best.
How was I going to live up to that?
On top of this self-doubt, I found myself working directly under IMPACT's CEO, Bob Ruffolo, for the first time, bringing his vision to life.
I was terrified.
But that fear subsided and something truly amazing emerged.
Within months of what seemed like an earth-shattering transition, we 10x our traffic, from roughly 40,000 monthly visitors to 400,000. We went from publishing three articles a week to two a day.
Content became our backbone.
Today, we are a media company that publishes anywhere from three to seven articles a day (mostly written by our team) and we are on track to welcome one million users a month to our website early next year.
We have grown from just publishing text articles to also writing pillar pieces, producing several podcasts, and investing in video marketing. We have an internal content team of three and a content consulting team of nine working with our clients.
This month, IMPACT turns 10, which also means this company has been publishing content online for 10 years.
For nearly five of those years, content has been largely been my responsibility and, as you would imagine, I've watched some interesting trends, lessons, and landmarks emerge during this time.
So, in celebration of our big birthday, I decided to do a little data digging and share some of the most interesting stats and facts about our content in the past 10 years.
The first article ever published by IMPACT was 10 Benefits to Having an Impressive and Up-to-date Website.
It was published on September 21, 2009.
It had no intro or conclusion and was only 448 words long.
We have published 4,265 articles since then.
217 writers have published on our site.
I currently hold the title for most articles published on our site with 497 as of November 14, 2019. 498 if you include this one — but I don't like to brag.
Our highest viewed article of all time is 10 Examples of Company Profile Pages You Can Learn From [+Free Template].
It has also generated the most contacts for us.
The five tags that have generated the most traffic are Website Design, Social Media Marketing, Video Marketing, and Marketing Strategy.
Facebook has been the most popular social media platform to read about, followed by LinkedIn and Instagram.
Example posts have generated 35% of our total blog traffic in the past 10 years.
Our most shared article on social media in the past five years was "17 Infographics for Anyone Starting Digital Marketing in 2017."
The format we've used the most on our website (outside of text) is "podcast or shows," followed by infographics.
Infographics, however, have generated the most traffic.
Our highest viewed infographic of all time is "7 Must-Have Word-of-Mouth Marketing Strategies."
Since we started publishing contributor content in 2014, Franco Valentino has generated the most traffic out of everyone.
The longest piece of content we've ever published was our "Ultimate Guide to Video for Sales" pillar coming in at roughly 18,000 words.
What can you take away from this?
Honestly, I know these facts are a bit self-indulgent, but I also think they paint a very interesting picture of just how much IMPACT has evolved and grown over the past 10 years.
Our content strategy, much like our company, is dramatically different from what it was a decade ago.
We have expanded not only the scope of content types we create but also the topics we cover and the authors, voices, and stories we welcome.
If you take anything away from these numbers, let that you should never let your content become stagnant. Never let it become boring or predictable.
Always look for opportunities to break things and start fresh (if they're not working, of course). Try new things to not only keep it interesting for you but for your audience.
This experimental spark is largely what has gotten us where we are today and it will certainly carry us even further as we enter our next chapter.
Thanks for reading
💗
If you have been reading our content all these years, thank you and I'd love to hear from you. If you have any ideas or maybe even an article or story that has helped you, tell me about it. 😀

Shoot me a tweet @ramonasukhraj.
Free Assessment:
How does your sales & marketing measure up?
Take this free, 5-minute assessment and learn what you can start doing today to boost traffic, leads, and sales.