33 Most Important IMPACT+ Resources To Train Your Marketing Team in 2022
Ready to get the most out of our learning platform? Start with this vital content.
Connor DeLaney also recommends this free guide: The Ultimate Inbound Marketing Strategy Playbook 2022.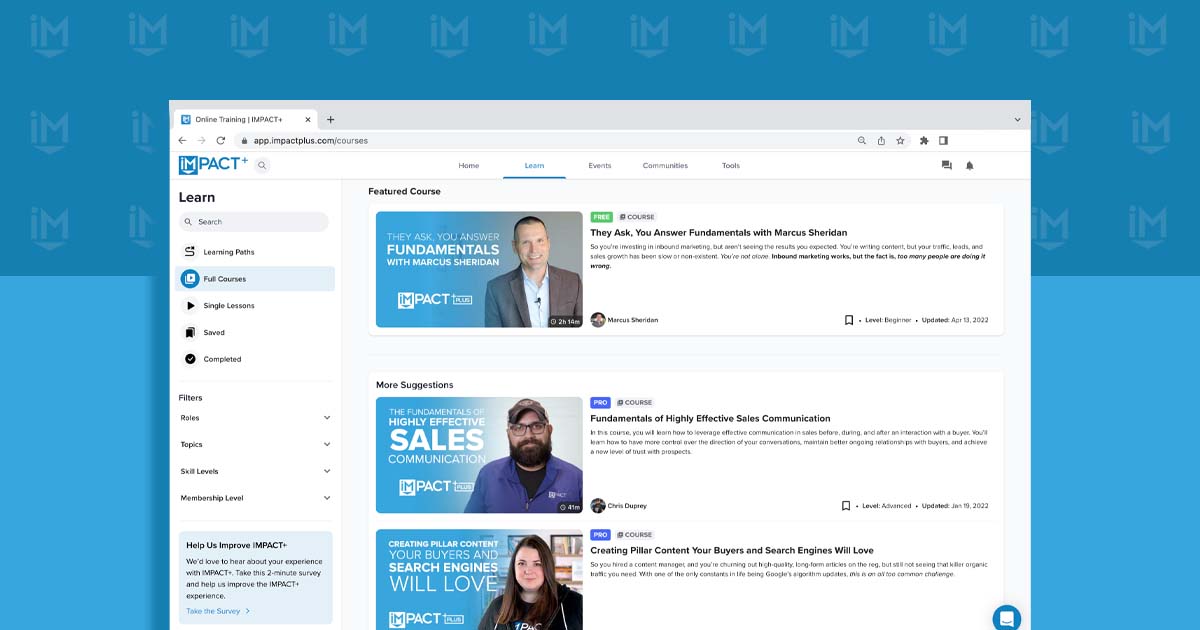 We all want to get better, but it can be hard to find the time to devote to professional development, and I'm not just talking about the time spent reading, watching, or listening.
A big part of the challenge of professional growth is the time spent finding the right material.
Whenever I start exploring a new learning platform, I feel a bit like Goldilocks. Sometimes I need to start with the absolute basics, but can only find advanced-level content.
At other times, it's the opposite. Everything I see I know already, and I'm looking for something more high level.
I'm trying to find the perfect fit. The bowl of porridge that's just right.
IMPACT+ is a learning community dedicated to teaching all aspects of They Ask, You Answer. Yet even in this niche, the volume of content can feel overwhelming.
That's where we come in.
We've scoured our entire library of recordings and courses to find you the most important resources to help you take control of your marketing destiny in 2022 and beyond.
There are some on-demand talks from previous IMPACT events as well as a list of some key courses, many of which you can access with a free IMPACT+ account.
Below, I'll provide you with the can't-miss content no matter where you are in your They Ask, You Answer journey:
Courses and lessons to learn from IMPACT's experts
Event recordings to learn from industry leaders
Mastermind groups to learn with your peers
Ready to see what the platform can offer you? Let's dive in.
Free Guide: The Ultimate Inbound Marketing Strategy Playbook 2022
Courses and lessons
The core of IMPACT+ is its courses and lessons, which offer tactical instruction on everything you need to succeed with They Ask, You Answer, from interviewing subject matter experts to building automation in HubSpot.
But we're talking about dozens of courses. Where to begin? I've grouped them below by subject matter. You'll find brief descriptions of each so you can know which ones best suit your needs.
But that's not all. For each, look for:
The instructor
The level (beginner, intermediate, or advanced)
The overall length
A course description
First up are courses that focus on They Ask, You Answer company alignment.
Courses for getting your company on board
They Ask, You Answer works best when everyone is pulling in the same direction. These courses help you align sales, marketing, and leadership with a shared vision.
Instructor: Marcus Sheridan
Level: Beginner
Length: 2 hours, 14 minutes
What you'll learn: They Ask, You Answer is a revolutionary approach to inbound marketing that has empowered thousands of companies around the world to reach their most aggressive traffic, sales, and leads goals, and in this inspiring, high-energy course, the mind behind the framework, Marcus Sheridan, dives into what it is and how it works.
By the end of this course, you will:
Understand how modern buyers and the buying process have changed and what that means for your business.
Know the right content to create to drive traffic, leads, and sales and how to get started.
Learn how to use this content to speed up your sales process.
Learn the elements of the perfect inbound marketing website.
Understand the importance of trust in all of your inbound marketing efforts.
Instructors: Marcus Sheridan and Bob Ruffolo
Level: Advanced
Length: 2 hours, 58 minutes
What you'll learn: Building on the fundamentals you've learned from other courses, this advanced-level course teaches you how to make the framework come alive at your business.

You'll learn:
How to set and maintain standards for success with They Ask, You Answer at your organization.
Problems you may encounter in bringing They Ask, You Answer to your organization and how to get ahead of them.
What technology your sales, marketing, and video teams need to be successful with They Ask, You Answer.
Instructor: Bob Ruffolo
Level: Beginner
Length: 1 hour, 54 minutes
What you'll learn: In order for They Ask, You Answer to revolutionize your business, you need all your teams to be on board. Having led hundreds of companies through this process, IMPACT CEO Bob Ruffolo has seen what works and what doesn't. He shares:
What success looks like in each of the 10 core concepts of They Ask, You Answer.
Characteristics of the top people bringing They Ask, You Answer to life at their companies and how they're maintaining their level of success.
Challenges businesses implementing They Ask, You Answer have faced and how they've overcome them.
Instructor: Chris Duprey
Level: Intermediate
Length: 55 minutes
What you'll learn: Full-company alignment is hard to achieve, but it's essential for maximizing your results. In this course you'll learn what it means to have buy-in and a willingness to participate, including:
Who needs to be aligned at your organization and why.
Problems that will happen without buy-in.
How to do ongoing team training and why it works.
5 ways to make They Ask, You Answer stick at your organization.
Courses for producing great content
To attract traffic and convert leads, you need great content that answers buyers' questions and builds trust. Here's how to get it.
Instructor: Liz Moorehead
Level: Intermediate
Length: 1 hour, 3 minutes
What you'll learn: It's not enough to simply say you're doing content marketing. You need to commit to it. That means hiring a comma-wrangling storytelling boss of a content manager to own your content creation effort and make sure it not only gets done — but that it accomplishes your goals.
In this course, you'll learn everything you need to know to find the powerhouse content manager who will truly own your strategy, tell your story, and start driving the traffic, leads, and sales results you're looking for. You'll gain the same expertise and access the proven playbook we've helped all of our clients implement to successfully find their dream content managers.
This course teaches you:
What should be in your content manager job description.
How to screen applicants so you only spend time with the best fits.
The questions you should ask in an interview and what answers to look for.
How to run a situational activity in the hiring process that shows which candidates can "walk the walk" and "talk the talk."
How to set your new content manager up for success before they walk in the door.
Instructor: Liz Moorehead
Level: Intermediate
Length: 44 minutes
What you'll learn: No matter how much we publish great traffic-driving, lead-generating content, many of us still have sales teams telling us, "You're still not publishing what we need" or "Yeah, only maybe 1% of our content helps me close any deals."
In fact, B2B sales teams report that only 27% of the leads passed to them from marketing are even remotely qualified. Enter the revenue team and sales enablement content.
As IMPACT has seen with businesses all over the world, when your marketing and sales teams join forces as a revenue team, you can start creating powerful content that actually helps close deals (also known as sales enablement content).
But how is it different from what you're already creating? And how do you go about creating a sustainable, scalable sales enablement content strategy that doesn't make you want to rip your hair out and also makes you look like a total money-making hero at your company?
By the end of this course you'll know:
What sales enablement content is (and isn't).
What a revenue team is and how the revenue team model is the key to your success.
How to run powerful content brainstorms with your sales team.
How to leverage our custom-built revenue content brainstorm tool.
How to report on the ROI of your content, so no one ever questions your value.
Instructor: Kevin Phillips
Level: Intermediate level
Length: 1 hour, 52 minutes
What you'll learn: For a content marketer, nothing is more frustrating than churning out content and seeing nothing come of it. Maybe it's getting some likes on social media, maybe it's pulling in some healthy traffic, but when it comes to leads and sales, if it's leaving you high and dry, what's the point?
For most businesses, it takes a year or more for inbound marketing to start showing real results, but it doesn't have to. Though inbound and content marketing are long-term plays that compound over time, there is content you can create that has been shown to drive sales immediately.
We call these topics "The Big 5" and we have seen their power work with hundreds of clients and companies over the past decade.
The Big 5 addresses the most urgent questions and concerns modern consumers have when making a purchase, regardless of industry. They are the questions being searched online and, with the answers in hand, your sales team can tackle objections in their conversations head-on.
In this course, you will learn:
Why each of The Big 5 is critical to content marketing success.
Specific nuances for writing each of The Big 5.
Examples of high-performing Big 5 articles in action.
Instructor: Liz Moorehead
Level: Intermediate
Length: 1 hour, 52 minutes
What you'll learn: You know you need to create persuasive, engaging, powerful content your audiences will adore, but frankly, for many, that process is really hard. It's painful trying to get information out of your team, and it takes time to write, edit, and publish. On top of that, so much of the content doesn't show any return in traffic, leads, or sales.
Believe it or not, creating great content can be broken down into surprisingly easy (and repeatable) writing formulas, techniques, and processes that anyone can put into action — and that's what this lesson is focused on.
By the end of this lesson, you'll know:
The simple processes you need to produce the highest quality content possible every single time.
How to make sure you're answering your ideal buyer's questions through your content.
How to craft insanely memorable blog introductions that hook your audience.
How to craft conclusions that excite your ideal buyers and make them ready to take immediate action.
Why adding personality into your content is mission-critical to your success as a content creator today.
The dos and don'ts of adding personality to content.
The best tools to help you optimize your content and production.
Instructor: Kevin Phillips
Level: Beginner
Length: 1 hour, 10 minutes
What you'll learn: As a content manager, you lead the charge of your company's content marketing efforts to drive traffic, leads, and (most of all) sales. Still, as a newcomer to your role, you likely have a few questions:
What does a content manager do?
What problems does a content manager solve?
How can I get the results needed to prove myself in my new role?
What should I be doing on a daily, weekly, and monthly basis?
By the end of this course, you'll feel confident in your new role as content manager and will have a clear roadmap of how to establish yourself as a results-driving hero at your organization.
Instructor: Carina Duffy
Level: Beginner
Length: 1 hour, 5 minutes
What you'll learn: This course is a great fit for any marketing professional new to inbound marketing who is looking to learn how to bring in more prospects through their website, and ultimately provide new sales opportunities for their company.
By the end, you'll know how to get started with inbound lead generation and conversion optimization — from the moment a visitor enters your site, to when they become a lead and beyond!
Courses to shorten your sales cycles
They Ask, You Answer is first and foremost a sales strategy. These courses help your sales team catch the vision so they can focus on educating prospects.
Instructor: Marcus Sheridan
Level: Beginner
Length: 43 minutes
What you'll learn: Assignment selling, one of the fundamental pieces of They Ask, You Answer, puts the content you create into the hands of your sales team to help them address prospect questions, objections, and concerns head-on and close deals faster.
In this course, Marcus Sheridan teaches you everything you need to know to make assignment selling a success at your organization.
In this course, you will learn:
The importance of leveraging content in the sales process.
How to spend less time educating in sales meetings and ensuring you're always working with qualified prospects.
How assignment selling works.
When you should be using assignment selling.
What great assignment selling looks like.
How to get started.
Instructor: Marcus Sheridan
Level: Beginner
Length: 1 hour, 11 minutes
What you'll learn: Virtual selling can shorten your sales cycle and provide additional opportunities for your business to connect with potential customers, especially in a world where face-to-face interactions can be difficult to come by.
Video enables you to hear someone's voice, see their face, and build the more human, trusting connection needed to help your customers feel comfortable buying from you, all of which we cover in this course.
By the end, you will know:
How to use video through different stages of the sales process.
How to be successful with virtual selling.
How to measure your success with virtual selling.
Instructor: Zach Basner
Level: Beginner
Length: 1 hour, 20 minutes
What you'll learn: In this course, you'll learn how a highly effective sales professional (and sales team) can unlock the power of video and visual communication. By understanding and applying the philosophies of The Visual Sale, you'll see dramatic improvements in buyer engagement, shorten the sales cycle, and build more trust with your prospects and customers.
This course is a great fit for any sales professional, whether you're beginning your journey with virtual sales or are looking for new ways to continue adapting to today's changing buyer.
By the end, you'll have a full understanding of why video is important for all sales teams, where to focus your time and energy, and an introduction to the strategies used by some of the best "video-first" sales teams around the world.
Courses to help you develop a culture of video
Your content can't just be words. Today, buyers expect video content too, whether that's on your website, on social media, or on YouTube.
Instructor: Lindsey Schmidt
Level: Beginner
Length: 55 minutes
What you'll learn: Being a They Ask, You Answer videographer is not as simple as knowing how to film and edit content. You must understand They Ask, You Answer and know how to implement this unique approach into the video strategy. A videographer is the bridge between the sales and marketing teams, knows how to give feedback, obsesses over metrics, and can clearly show the success of their content.
In this course you will learn:
The fundamental skills a They Ask, You Answer videographer must possess and continue to improve.
The problems a videographer solves for a business doing They Ask, You Answer.
How to own the video process for your organization from start to finish.
Instructor: Alex Winter
Level: Advanced
Length: 2 hours, 3 minutes
What you'll learn: Learn how to set up and grow your YouTube business channel by utilizing the They Ask, You Answer framework. Your business YouTube channel is an extension of your company website and this course will guide you through:
Setting up a Google account for YouTube.
Creating a channel description and video titles.
Adding video content with principles of The Selling 7.
Creating enticing video thumbnails.
How to drive engagement by using call-to-action features on your video.
Monetizing your YouTube videos.
YouTube analytics and why they are important.
Instructor: Zach Basner
Level: Intermediate
Length: 49 minutes
What you'll learn: If you shudder at the thought of speaking on camera, you're definitely not the only one. Whether it's worrying about how your hair or makeup looks or your tone of voice, it's common to feel self-conscious when the camera starts rolling — but you can overcome it!
IMPACT They Ask, You Answer Coach Zachary Basner firmly believes that anyone can be good on-camera with practice and the right guidance, so he's here to walk you through all of it.
In this course, Zach helps you uncover the skills and techniques needed to master your performance on-camera, whether it's for a Zoom meeting, a 1:1 sales video, a YouTube tutorial, or full-scale production. This includes:
How to overcome self-doubt and fear.
On-camera tips to bring out your best performance.
How to look your best on camera with effective facial expressions and gestures.
How to sound your best on camera with the right tone, pacing, etc.
Knowing when to use a script.
Courses to optimize your website
Your website is the library that stores and organizes your content. If you do it right, your website can be your best 24-7 salesperson.
Instructor: Zach Basner
Level: Beginner
Length: 20 minutes
What you'll learn: In this course, you'll learn how to transform your website into a true buying tool for your prospects and customers.
By looking at the ways that digital consumers have changed, we'll pull out some basic principles that you can apply to your website to make it perform better in search results, convert more visitors and sales, and ultimately get ever-closer to creating an online experience fit to be regarded as the most trusted resource in your industry.
Instructor: Vin Gaeta
Level: Advanced
Length: 1 hour, 30 minutes
What you'll learn: If educating potential buyers is your goal, then you must stop viewing your company website as a marketing tool and start seeing it as a sales tool. Buyers will never appreciate a beautiful site if they can't find what they need. Your site needs to educate potential buyers to help your sales team close deals faster.
In this course you will learn:
The 10 core components of every great website.
What it means to have a "great website."
How to leverage website data to increase your sales.
Learning paths help organize our courses
If even this list of courses feels overwhelming, we invite you to check out our learning paths, which organize courses and lessons into groups to provide you with a complete learning experience. You can find the complete list here.
Event recordings
IMPACT+ features hundreds of recordings of keynotes, presentations, interviews, and demonstrations. You can watch luminaries like Rand Fishkin, Ann Handley, Andy Crestodina, and David Meerman Scott speak about tried-and-true techniques and cutting-edge industry developments.
Here are some gems for you to check out:
Essential insights about culture and teamwork
More than any other time in the last 100 years, buyers and customers today have made a dramatic shift in the way they make purchasing decisions. Unfortunately, many companies haven't adapted to this shift and are not prepared for the continual evolution of the "new digital customer."
In this keynote filled with real-world takeaways, Marcus Sheridan brings clarity to the ways buyers have changed.
In this session, Chris Marr will share with you what he believes leaders should be doing more of to empower, elevate, and enable high-performing sales and marketing teams.
The website your business needs
Marketing guru Andy Crestodina of Orbit Media walks through each step in the process of driving B2B leads with content marketing, from first action to final outcome.
Do the terms DNS, Canonicals, and Core Web Vitals make your head spin? Fear not, as we take you on a guided tour to unravel the mysteries of technical SEO with Franco Valentino. Learn — in simple terms — how international websites, such as the Panama Canal, Avis, and Chilisleep, tune their platforms to maximize user happiness and increase sales.
Optimizing sales in the digital age
What is the best way for you to start implementing video into your sales process? This session is for salespeople who want to know the actionable steps to get started selling with video.
Learn simple on-camera techniques that will make you more comfortable and confident, and then see real stories and examples of sales pros who are crushing it with video.
25. Transformative Communication in a Virtual Selling World
If you're looking to be inspired to elevate your communication skills to be the absolute best sales professional you should be, this keynote will sure hit the mark.
Becoming a video-first organization
How can you create videos that look and sound professional, without a videographer, and potentially from your home?
You'll learn exactly how to make better video content yourself on a shoestring budget with little to no production knowledge.
In this session, IMPACT Video Trainer Lindsey Schmidt will help guide you in creating your own video production process, help you avoid mistakes like having too many cooks in the video kitchen, and set you up so your video process can grow and scale as you do.
Mastermind groups
Available to Pro-level members, mastermind groups are monthly meet-ups and discussions with other professionals in similar roles.
These meetings are led by IMPACT employees and usually take the form of a guided discussion followed by an open-floor opportunity for members to share struggles, wins, and lessons learned, and to ask questions of the group.
(28-33) IMPACT+ offers six mastermind groups:
It's time to get learning
Finding your path through a learning platform can be a challenge. This list should help you avoid the Goldilocks paradox so you can find the right content at the right time to suit your needs.
And remember, IMPACT+ is always growing. We're releasing new courses and lessons every month, as well as tools to help you stay organized, chart your progress, and align with your team.
Don't see exactly what you need? Post a message to the community. Chances are, if you're looking for something, someone else is too — or a third person has a solution for you to try.
It's a learning platform, yes, but it's a community first. Come join in so we can all learn together.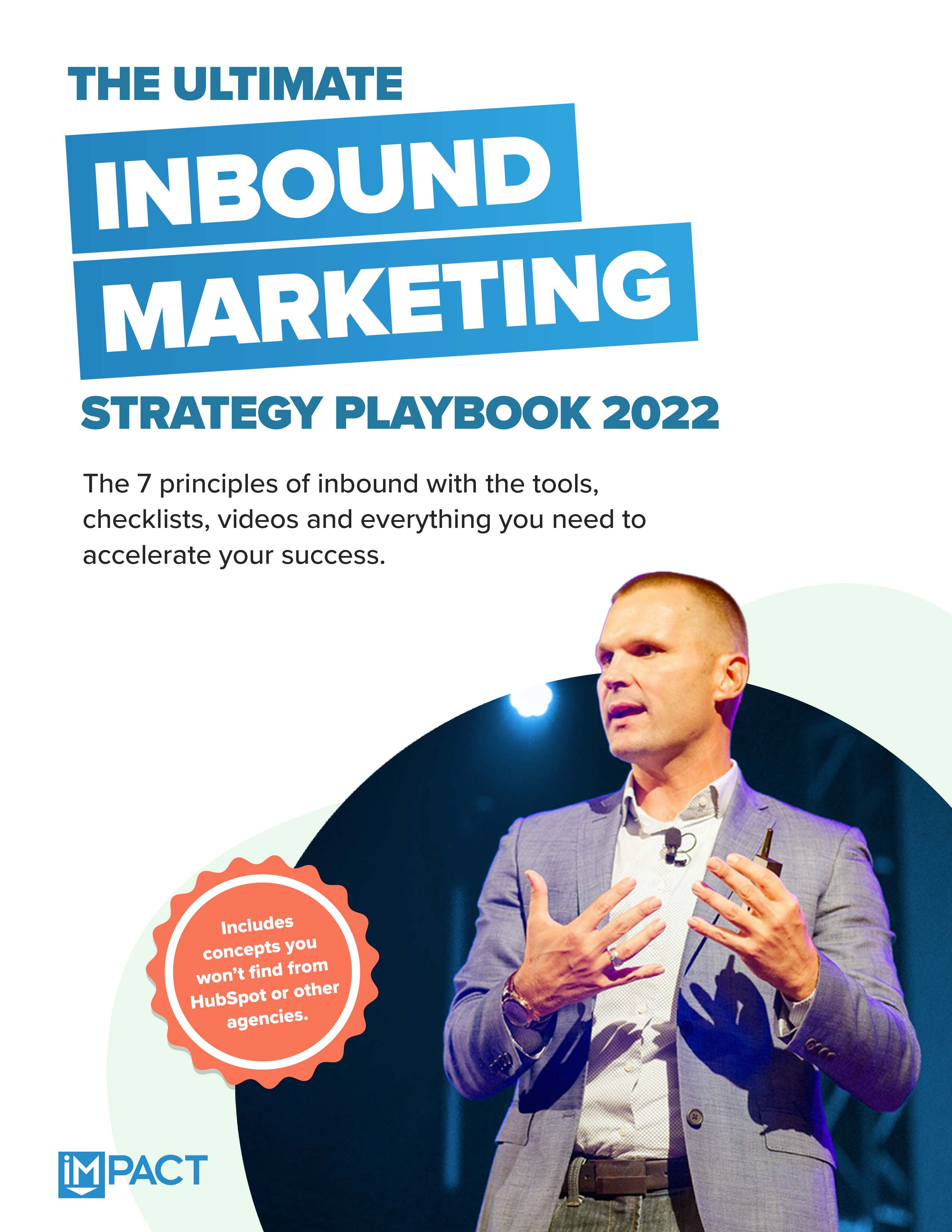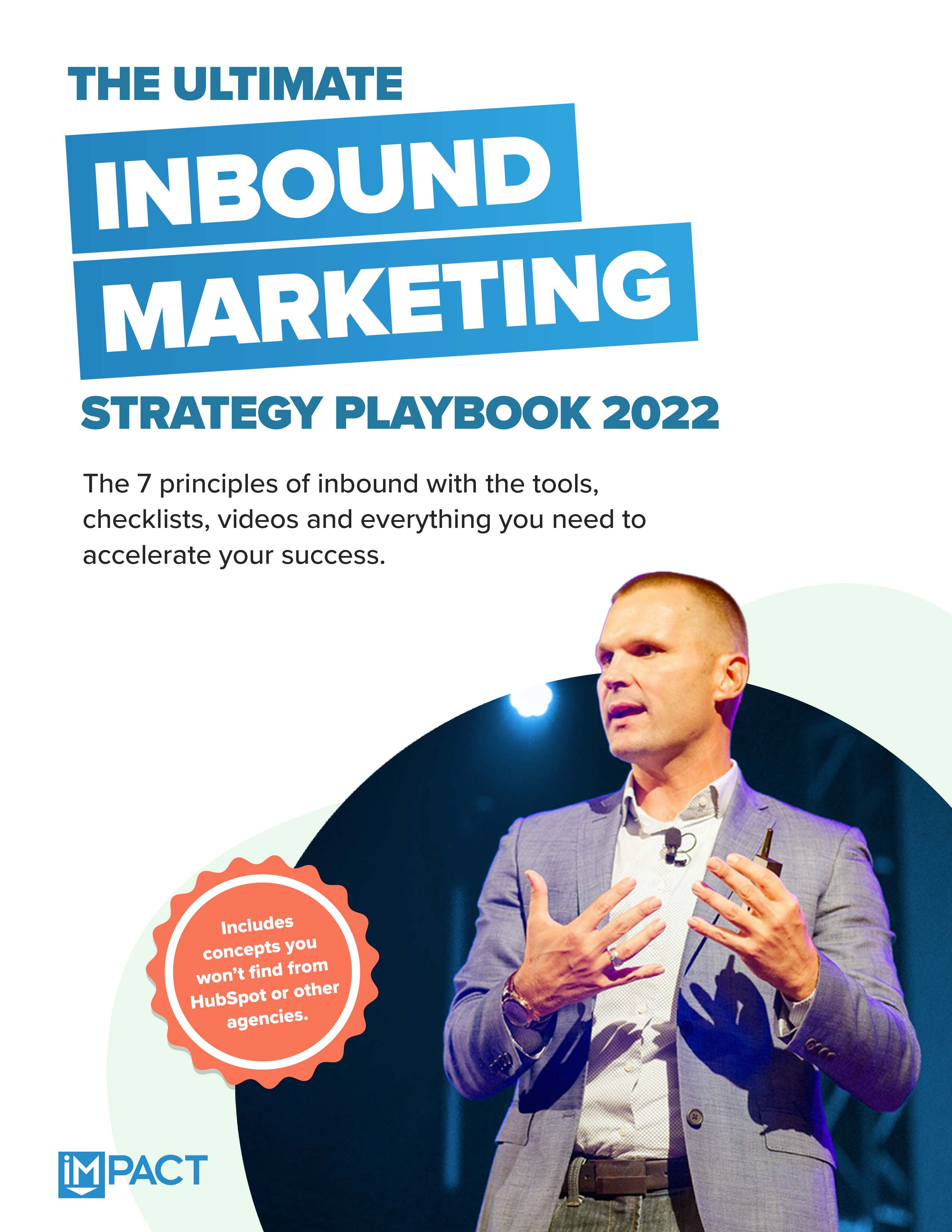 Free Guide:
The Ultimate Inbound Marketing Strategy Playbook 2022
Take your inbound strategy to the next level
Master the 7 principles of highly effective inbound marketing
Dramatically improve your inbound sales
Get more buy-in at your company
Published on April 26, 2022