Inbound Marketing Process: How to Get Started in 3 Months [Infographic]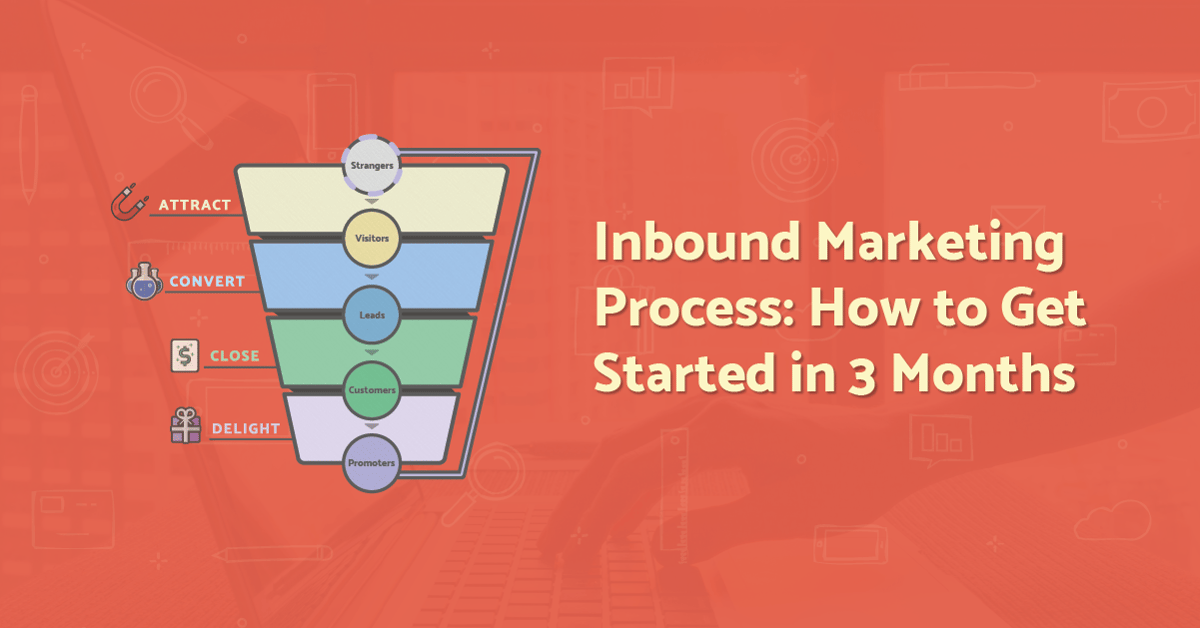 Ah.. Remember 2012?
London was hosting the summer Olympics, President Obama was just re-elected, Facebook was going public, and the team here at IMPACT was riding high on its first ever viral infographic.
Having just become a certified HubSpot Partner agency, this infographic shared how we implemented inbound for our clients at the time and, in many ways, also acted as our "debut" on the industry stage.
While 2012 was a clearly great year for inbound marketing (and IMPACT), a lot has changed since then -- including the inbound methodology.
Today, inbound marketing and its strategies are more widely accepted than they ever have been. Outlets like blogging and social media have become business staples and many best practices, more refined.
With all this change, it seemed only right that we give our legendary infographic a bit of a facelift too.
So, I give you the new inbound marketing process.
If we've learned anything over the last four years, it's that in inbound, time is of the essence.
Though not something that you can master overnight, to start making traction (a.k.a. building site authority, attracting traffic, generating inbound sales leads, etc.), you need to hit the ground running and make improvements as you go along.
In this infographic (beautifully redesigned by IMPACT Creative Lead, Marcella Jalbert) and its corresponding guide, we'll give you a crash course in inbound marketing and outline 10 simple steps to help you get started with it in as little as 90 days. Get your free copy here!

1. Get Educated on Inbound
Inbound marketing is an intuitive methodology, but with so many different facets, it does take time to learn everything. Before you get started, take advantage of the thousands of free resources available to truly know the methodology:
Get the HubSpot Inbound Certification (it's free!)

Read Blogs:

IMPACT, HubSpot, KissMetrics, Unbounce, Neil Patel, CopyHackers,Social Media Examiner
2. Build Your Inbound Team
Inbound marketing is a "go-all-in" strategy. To do it right, you need to form a team that is dedicated to its planning and execution including a:
Marketing Strategist

Content Copywriter

Designer

Web Developer

Marketing Coordinator
Working with a well-known, trusted inbound marketing agency (like IMPACT) will help you easily fill all of these seats with skilled, experienced professionals.
3. Assess Your Current Marketing
Before starting any new marketing program, it's important to take into account your current performance. Take an audit of your current strategy and ask yourself:
What is our current budget? (for people, tools, etc.)

What activities are we doing now?

How are they performing?

What marketing assets do we currently have? (i.e. website, online content, printed content, videos, presentations, branding, etc.)
4. Define Your Marketing Goals
You also need to know why you're selling what you are. What is your business trying to achieve? What does it want people to do? Use these ideas to start setting goals that are:
SMART (Specific, Measurable, Attainable, Realistic, Timely)

Aligned with your business goals
5. Clearly Define Buyer Personas & Journeys
In addition to why you're selling, you need to know who you're selling to. Develop a buyer persona that tells you:
What are their demographics?

What is their role? (in their company, family, community, etc.)

What are their desired gains?

What pains or problems are you helping them solve?

What is their story?
You also need to research and document their buyer's journey, explaining:

How they become

aware

of products like yours?

How do they

compare

and consider products like yours?




How do they

decide

to buy?
6. Build Your Marketing Game Plan
With your goals in mind, start putting together your inbound marketing strategy and the tools/resources needed to achieve them. This includes (but not limited to) your:
What is your value proposition?

What keywords are your personas searching?

How often will you blog?

What kind of content do you need to create to help your buyer through their journey?

What social media networks should you be active on?
Conversion Paths

How will you generate leads?
What will be your "lead magnet" to attract new people?
What offers will you create to funnel them towards making a purchase?
What will this path look like on your website? Think about calls-to-action, forms, landing pages, emails, etc.

Technology Needed

Marketing Automation Software

Customer Relationship Management (CRM) Software

Content Management System (CMS)
7. Build Your Launchpad Website
An effective website is the hub of all your inbound marketing and lead generation efforts. It needs to be built around your marketing game plan and reflect your goals: It should be:
Professionally Designed (to appeal to your buyer personas)

Easy to Navigate

Fully Search Engine Optimized

Mobile Responsive

Cross-Browser Tested

Optimized for Lead Generation

Strategically placed CTAs, Forms, etc.

Landing Pages

Ready for Content Creation
Blog

Resources Page
8. Publish Content
Put your content strategy into action! Content creation is essential to establishing yourself as a thought leader in your industry and getting found in search engines. This usually includes:
Blogging:

We recommend at least twice a week for the first 3 months. From here you should be able to benchmark your performance and make changes.

Social Media

Sharing useful or interesting content from others

Engaging in conversation

Premium Content to Generate Leads:

Calculators

eBooks

Toolkits

Templates

Videos

Content Outside of Your Website

Guest blog on industry publications

Appear on industry podcasts or webinars
9. Promote Your Content
Capitalize on Social Media

Share links to drive traffic back to your site and content

Make sharing easy by including social share buttons on the pages

Distribute on relevant forums/communities

Reach out to (and mention) influencers

Send an email to your:

Subscribers

Existing Contacts

Consider PPC/Paid Advertising

Paid search/ads on social media can help you reach qualified people faster, but remember, they need to be well-targeted and keyword-focused to be effective.
10. Evaluate Progress, Report, & Test!
What's working in your inbound marketing? What isn't? Take the time to track various marketing metrics (i.e. website traffic, conversion rates, click rates, etc.) to gauge your performance and see where things could (and should) be better.
Tools to help: HubSpot, UserTesting, Hotjar, Google Analytics
Based on what you see, A/B test different variations of your copy, design, and more to see which versions will deliver the best results and help drive you towards your goals.
Tools to help: HubSpot, Optimizely
🔍 Related: 5 Key Elements of a Winning Inbound Marketing Strategy
Free Assessment:
How does your sales & marketing measure up?
Take this free, 5-minute assessment and learn what you can start doing today to boost traffic, leads, and sales.