16 Ways to Learn Something New About Web Design & Development This Week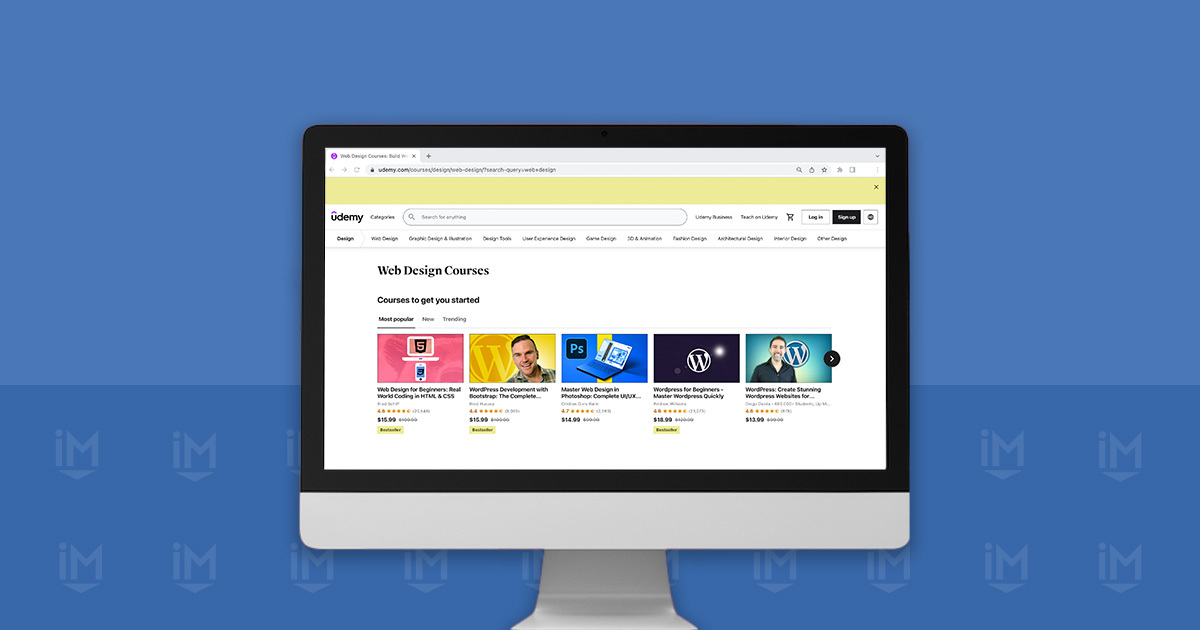 "You learn something new every day."
If you were in our office you'd hear me say that a lot.
Whether it is a fun fact about someone, a new skill, or a lesson from your mistakes, you are always learning. In fact, at IMPACT, we encourage all team members to dedicate at least 5 hours to this a week -- so why not take learn something new about my field, design, and development?
But I'm a Marketer?
"There are a lot of good, practical reasons to make learning something new a part of your daily routine (i.e. being a leader in your field), but the best reason has nothing to do with practicality — we are learning creatures, and the lifelong practice of learning is what makes us humans and our lives worthwhile." (Lifehack, Learn Something New Everyday)
I'm not saying you have to become an on how to code or craft an infographic, but you should have some general knowledge -- especially if you work in the marketing world.
Having even just a general knowledge of design and development can help you greatly when it comes to communication and understanding in marketing. For example, learning these 28 design terms will make it easier to talk to your designer, or even these 21 HTML codes could save you if you can't get your hands on a developer.
You may be saying to yourself, "I don't have time for that; I have a full-time job, family, and not a lot of time." Well, the great thing about online learning rather than classes is that even with a few hours you can learn a lot and at your pace.
Are you willing to take on the challenge of learning something new every day?
If you are, here are some great resources and tools to learn something new about web design & development this week.
Design & Development Learning Tools
CodecAcademy is one of the most popular FREE online platforms to learn code interactively. At CodecAcademy, you can take courses on some of the most essential coding languages such as HTML & CSS, JavaScript, Jquery, PHP, Python, and Ruby through exercises.
Instead of telling you what to do, it shows you then gives you a guided tutorial to practice the skill right on the page.
Here at IMPACT, we have our Strategists and IMCs (Inbound Marketing Consultants) learn the basics of HTML & CSS by using CodeAcademy all the time.
2. Envato Tuts+ (Tuts+)
Envato Tuts+ formerly known as Tut+ is a hub of how-tos and courses.
Envato describes it perfectly, "As part of Envato's creative ecosystem, Envato Tuts+ contributes to our mission of 'helping people learn and earn online.' Whether your day job is creative or not, life is better when you learn and apply creative skills regularly."
Treehouse is an affordable technology education hub for those looking to learn how to build a website, app, and even start their very own business.
The platform hosts over 1000 educational videos for you to learn from, as well as quizzes and "Code Challenges" to practice your skills. In a fun twist, Treehouse also gamifies the experience, giving you the opportunity to earn badges as you complete videos.
Unfortunately, Treehouse does come with its price tag, but there is a 7-day free trial for you try it out.
Lynda.com is an online learning platform with over 600 Design and 100 Web Development video courses. Companies as notable as Adobe, NBC, Patagonia, Full Sail University, which speaks volumes about the quality of their information, but like Treehouse this comes at a cost. Lynda offers a 10-day free trial, but otherwise, it will cost you $20-30 a month on average.
Udemy is a global marketplace for learning and teaching online. It offers many reasonably priced online courses (started at as little as $10) for individuals are several different skill levels. Some of Udemy's features include video, audio, and text lectures, and over 15 million students are already signed on.
Code School is another interactive learning destination for expert or aspiring developers. With a free account you can access 13 introductory courses, but with a paid subscription, you get unlimited access to all 68. Like CodecAcademy, it also lets you "Code directly in the browser with our course challenges, bringing to life what you learned and receiving immediate, helpful feedback and code validation" and also earn points and badges.
Leaning a little bit more into the design arenA, we have CSS tricks. Not only is CSS Tricks a wonderful destination to keep you up-to-date on trends, it is also a valuable resource for both text and screencast tutorials. As their tagline says it's full of lots of great design "stuff that isn't published anywhere else!"
Along with a web design and development blog that updates you on latest web trends and techniques, Codrops shares blueprints (essentially, templates of basic and minimal website concepts, components, plugins, and layouts you can customize), tutorials, and a playground that details experimental ideas.
Bento is a platform that lets you become an expert self-taught developer -- for free. Unlike a lot of the other options I shared, Bento not only organizes and shares over 200 web technology courses in five different tracks but also crowdsources submissions to continuously build out its library. Something great work for you? Share it!
At W3Schools you can learn the most popular coding and programming languages in tutorials that are always up to date and simplified to make sure the skills are understood and become engrained. Not only does it show you simple code but you can also test it out yourself with their live preview.
Last but not least, want to master one of the most important tools in design? The Bezier game will help you do just that.
The pen tool is essential to creating icons and many shapes from scratch and getting the right technique can be difficult, but this free game walks you through its essential functions and fun exercises to start practicing them.
Design & Development Blogs
Whether you are a pro designer/developer or just looking to get your feet wet, blogs are another great way to learn something new about design and development this week. Below are several that the IMPACT Creative Team checks on a daily basis to see what is going on.
Not only is InVision a free web and mobile prototyping platform for UX designers, but they also have a great blog of resources on anything from managing a design team, to UI/UX trends, and development.
Looking for great inspiration?. Awwwards recognizes the talent of the best web designers, developers, and even agencies around the world. In their blog, they cover a wide range of topics such as Web Design, Graphic Design, Photography, Art, and Illustration.
Smashing Magazine is a diverse great resource that covers another wide range of topics from Design & UX Design to Coding and to even Mobile Apps. It gives you a great resource of how-tos and what is trending.
This is also one of my favorite resources. It even has greatly monthly calendars that you download and even submit!
WebDesigner News is a single hub of daily curated news for designers each day. What is so great about this hub it is a single location to discover the latest and most important stories of the web. Create an account to save your favorites that you want to come back to and read for your daily learn something new everyday challenge.
Dribbble is an online show- and- tell for web designers. If you are hitting a design roadblock, take a look around here and maybe you will find some great inspiration for your next project.
While you are at it check out the IMPACT Creative Teams work.
Always Keep Learning!
The world wide web is quite possibly our great resources (and biggest classroom) to learn something new every day. If you don't want to learn design and/or development, explore something that piques your interest.
I wish you good luck in your learn something new everyday challenge.
Free: Assessment
Does your website build trust with buyers and bring in revenue?
Take this free 6 question assessment and learn how your website can start living up to its potential.
Score My Website
Free: Assessment
Does your website build trust with buyers and bring in revenue?
Take this free 6 question assessment and learn how your website can start living up to its potential.
Published on March 24, 2017