How to manage your online reputation and reviews in today's marketplace [Free IMPACT+ Course]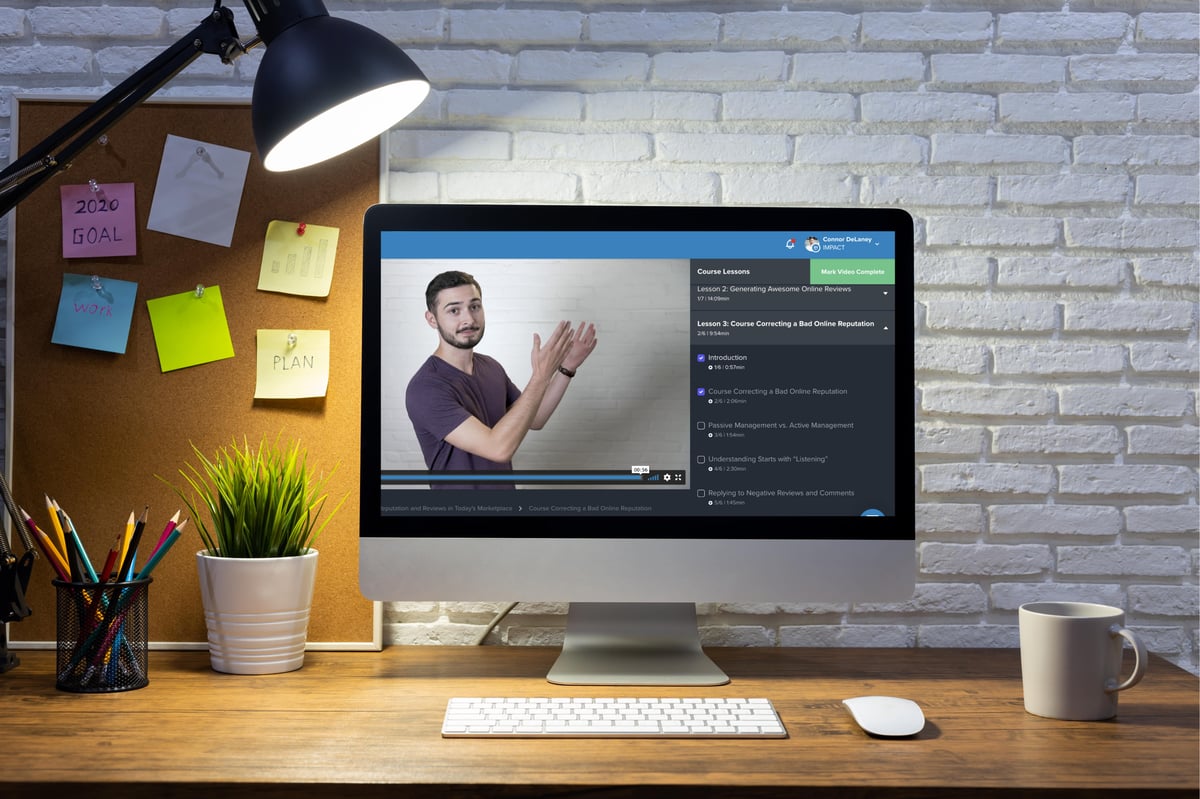 As you analyze the words on your screen, the hair on the back of your neck stands up. It just doesn't make any sense...
Their customer service was anything but good. After waiting well over 30 minutes to talk with a sales rep, they were unhelpful. I wouldn't recommend this company as far as I could throw them!!

0 / 5 Stars
Your stomach drops. Swirling anger and panic set in.
"How could someone say something like this? That's not us! We have amazing customer service… Am I missing something? Should I fire someone? Was this...me?"
I know that feeling. It's hard enough to accept that someone would say terrible things about your company; it's even worse when you don't know who it could be talking about or when it could've happened.
You keep scrolling and realize your Google My Business page has been haunted by reviews like these for weeks without you knowing. You can't delete them, that'd be like putting wet dynamite over a bonfire. You can't ignore them and you certainly can't just tell them that they're right — that wouldn't help anybody — but you know you can't just sit there and let them haunt your business.
You feel handcuffed. Your online reputation is on the line and your business counts on online reviews, not just on Google My Business but other industry websites too, for lead generation.
So what do you do?
Take back control of your online reputation
While so many of us say we are "different" or "special" versus the industry norm, every business is in the business of trust and today, a lot of that is built on your online reputation. However, the example above is only one aspect of your online reputation.
An online reputation is what other people think about you and actually willing to share publicly on different online platforms.
While many companies think of reviews being the end-all-be-all for an online reputation, it also includes social proof such as customer testimonials, external company profiles on third party websites (like Yelp, G2, etc.), company case studies, and social media conversations.
Through these mediums, consumers have more power than ever before to research, make a purchasing decision, and even influence future consumers. In fact, 91% of consumers ages 18 to 34 report believing online reviews as much as personal recommendations.
For example, when I researched the best vertical whiteboards for my at-home office space, I Googled "Best 24" x 18" whiteboards," found the top options from a couple of different articles, then searched for reviews and testimonials of each to see what other consumers thought.
Other buyers' opinions heavily influenced my purchasing decision and it's the same way for your business too, whether it's a product or a service. If your company doesn't have a strong or positive online reputation, you are setting yourself up to get beat out by competitors each and every time.
Unfortunately, the online reputations of many businesses are heavily at the mercy of their customers due to businesses taking an inactive role in regards to their online reputations. Instead, they need to not only monitor their reputations but do what they can to maintain or improve them. They need to be proactive.
Businesses that take a reactive approach to their online reputation run the risks of:
Never have a strong online reputation which they control the narrative of
Never being able to leverage their biggest advocates to grow their business long-term.
Instead, businesses being proactive in requesting feedback from their customers and prospects and addressing the reviews they receive organically can shape their online reputation in their own vision. Organizations that are proactive get ahead of bad press, establish credibility and trust in their industry, and can attract new business and set themselves apart from competitors.
Consider the response you would have if you went to an industry-leading reputation site such as the HubSpot Partner Directory and saw a company that had a 3.5 / 5 versus a company that had a 4.4 / 5.
Who are you going to connect with first about a future project? Me too.
I want your business to take control of your online reputation so it becomes a strength and revenue driver for you, not a detriment.
Learn how to manage your reputation and reviews in

my IMPACT+ course

!
I created this free course for the marketing professional or business owner who needs to understand the fundamentals of an online reputation and who wants to control their reputation to attract new customers and drive revenue for their business.
In comparison to other online training, it's pretty short clocking in at 42 minutes, but that doesn't mean it's not loaded with content.
Here's a brief clip, highlighting what you can expect in the course:
Note to self: Get a haircut
So at a high-level, there is a lot to cover in a short period of time and I know that can sound intense, so I'll give you a quick roundup of exactly what you can expect to walk away with by viewing this course.
If you haven't signed up for an IMPACT+ account yet, you'll want to click this link and set up your account now for absolutely free. That way you can take advantage of not only my course but all the other cool features we have in IMPACT+ too.
What you can expect to walk away with by the end of this course
There's a lot to unpack in this course (which I'm going to do a bit more down below) however, to help lay the foundation, here's what I promise you'll get out of it: :
The core elements of an online reputation
The different ways to leverage online reputation on your website
How to understand where your online reputation currently stands
Setting up a repeatable process to drive new customer reviews to high-target external sites through creating a culture of feedback
Addressing negative public feedback so that you can win back trust with your current as well as your potential buyers
Tracking and managing your online reputation and reviews all in one convenient tool called the

Active Online Reputation Management Playbook

which you can download right here (or check out the discussion section in IMPACT+)!
So how do we get there? It feels only fitting that I break down the course just a little bit further so you can map out how each lesson will help you manage your online reputation and reviews.
Lesson One: Understanding the core elements of your online reputation
This first lesson helps set the foundation for where you currently stand in terms of your online reputation, starting with the fundamentals: What is an online reputation in the first place?
I defined it earlier in this article, and as you may guess, "the fundamentals" doesn't always equal simple. Not only do you have to be cognizant of where the reviews or testimonials live, but you also need to look at the details and potential level of bias included in any contribution to a company's online reputation.
That's why I broke it down into two questions you must ask yourself when evaluating how others talk about your brand and what makes for a strong, influential online reputation.
How detailed/specific is this information?
How biased or unbiased is this source?
What people say on the internet needs to be taken with a grain of salt. Does everything include specificity and objectivity on the internet? No! Of course not. That's why, when building your online reputation, it's crucial you know what you are looking for and asking for in order to build and maintain a great reputation.
Throughout the rest of lesson one, I discuss the different formats of customer feedback that feed into your online reputation including social proof that lives on your website, external company profiles, and online reviews.
By understanding each of these formats and how they can be valuable to customers and prospects, you can start generating what I call "Revenue-Driving Reviews," which we cover more in-depth in lesson two.
Lesson Two: Generating awesome online reviews
This lesson is much more focused on activating your organization and customers as review-generating machines.
Getting awesome online reviews isn't a simple on and off switch though. It takes patience and a lot of effort company-wide to deliver service that customers and prospects want to talk about.
This clip will help show you what I mean:
It takes two to tango when it comes to online reviews
The first step in this process is building a culture of feedback in your organization.
Not only do you need employees, yourself included, bought in that asking for feedback is worthwhile, you also need them to understand the right time to ask for one.
That brings us to the art of the ask and how to make that conversation a whole heck of a lot less awkward.
In the final couple of videos, I cover making parts of the review process automated through marketing and CRM platforms as well as how to go about setting and tracking your goals for your online reputation.
This is a great time to start building out that Active Online Reputation Management Playbook I mentioned earlier because setting and tracking your goals can be done directly in that tool!
Lesson Three: Recovering from a bad online reputation
Think about when you go to buy a product online and look at the online reviews. You probably start by looking at the five-star reviews to see what people love, then you go and look at the one to two-star reviews to see what people hate.
You aren't alone in this behavior, and I can almost guarantee you that, as a customer, you will remember those one to two-star reviews more than the five-star reviews, even if they are extremely outnumbered.
Lesson three covers exactly how businesses should go about managing and responding to those bad online reviews and course correct. It also identifies the opportunities that come with building trust and learning areas of growth for your business.
This lesson concludes with simple, actionable tips for becoming a more active manager of your online reputation, including the Active Online Reputation Management Playbook, designed specifically to help you take active steps in managing your online reputation every month.
🔎 Related: Check out this quick walkthrough of how to use the Playbook
Your online reputation is in your hands
It's time to take back your online reputation and make it a valuable tool for your business to leverage as you grow. The stronger your online reputation is, the more opportunities you will have in the future.
I hope you enjoy my course on managing your reputation and reviews in today's marketplace and be sure to let me know what you think in the discussions section of the course!
Free Assessment:
How does your sales & marketing measure up?
Take this free, 5-minute assessment and learn what you can start doing today to boost traffic, leads, and sales.