The only meeting agenda template you'll ever need (+ meeting tips)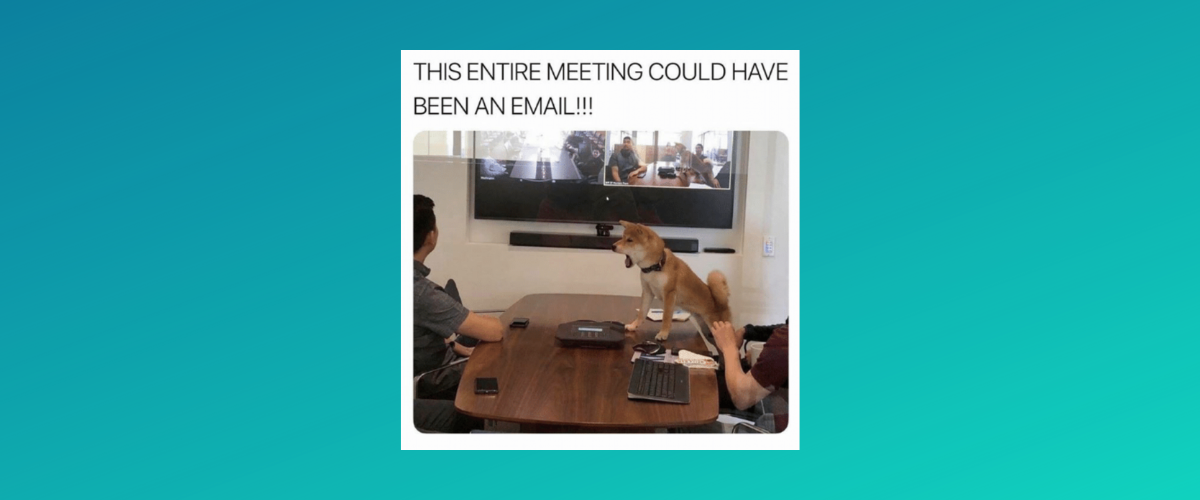 What should a meeting agenda include?
Purpose for the meeting
Before the meeting homework
Agenda breakdown with time estimates
Expected outcomes from the meeting
As I write this, I've just completed a marathon of six meetings in a single day. Six. Thankfully, they were all purposeful and productive. I think we all know, however, that purposeful and productive are not two words often affiliated with most business meetings.
Nine times out of 10, the culprit is the same — poor planning.
In fact, according to Doodle's 2019 State of Meetings report (which studied 19 million meetings), the cost of poorly organized meetings in the United States will hit $399 million by the end of this year.
On top of that, the poor souls who attend poorly organized meetings cite the following consequences:
"I don't have enough time to do the rest of my work"
"Unclear actions lead to confusion"
"Bad organization results in loss of focus on projects"
"Irrelevant attendees slow progress"
"Inefficient processes weaken client/supplier relationships"
Yikes.
It's with these jarring statistics at the front of my mind that I come to you today with a mission — to help you run more purposeful and properly planned meetings that your teams and teammates don't consider a waste of their time.
And I'm going to do that by sharing with you one of my favorite meeting agenda templates, as well as some of my best battle-tested tips for running amazing meetings.
Meeting agenda template (no form fill required)
Because I think calling a meeting without an agenda borders on criminal behavior, you do not need to fill out a form to access this beauty: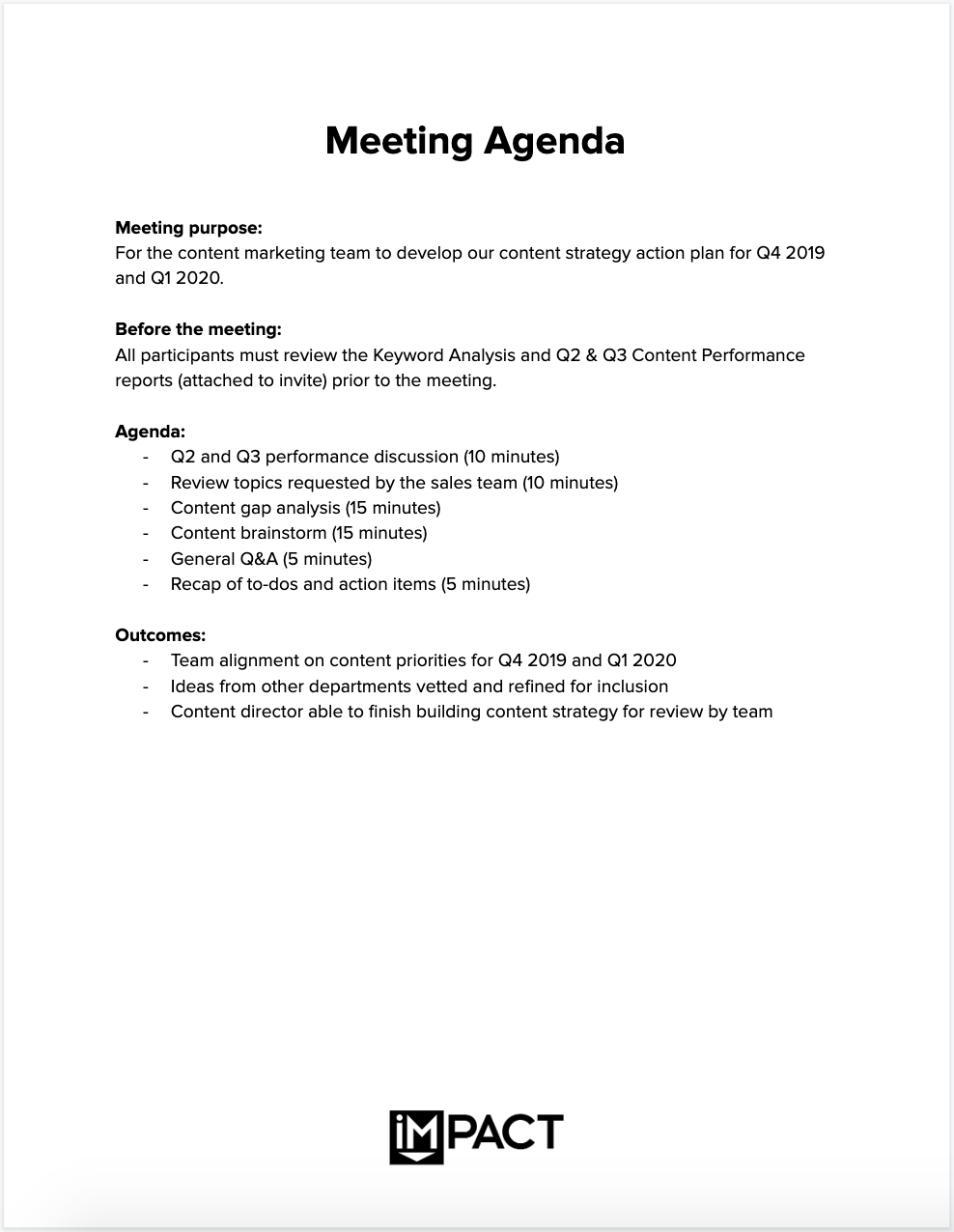 Get your copy of the meeting agenda template.
The agenda template has an example in it to guide you in the creation of your own.
Also, how you use this meeting agenda template is entirely up to you.
While some folks like to create a separate branded document (like the one above) to hand out in a meeting, I usually just copy and paste the above template into the Google calendar invite I send out to attendees.
4 essential elements of a meeting agenda
Purpose: Why you're calling the meeting. Basically, justify the existence of your meeting in one sentence.
Before the meeting: Any homework people need to complete in order for the meeting to run effectively and efficiently.
Agenda: What will occur during the meeting and in what order, with time estimates.
Outcomes: What will be completed or facilitated as a result of the meeting.
How to run a great meeting (favorite tips and best practices)
If your meeting revolves around performance reporting, send the report in advance and reserve the meeting time itself for discussion of key takeaways and defining next steps, as a result of the data.
Only invite folks who are absolutely essential to the success of the meeting. For those you want to be "in the loop," trust me, an email will suffice.
Never send a meeting without an agenda. It sets a good example for your teammates, as you're not only informing them, you're demonstrating you value their time. Plus, even though you say you'll get the agenda done in advance, there's a good chance you won't, and you'll just try to "wing it."
Even freeform brainstorms can have an agenda. Open with some introductory remarks and initial questions (five minutes) and close out the meeting with a review of what was discussed and next steps (five to 10 minutes).
Don't default to a one-hour meeting time slot just because it's fewer clicks to do so. Meetings will take up as much time as you let them. I schedule mostly 30- and 45-minute meetings, and they're just as effective and everyone will thank you for giving them between 15 and 30 minutes back in their day.
Set the expectation that "before the meeting homework" must be completed before the meeting. Do not cater to those who do not; keep moving along and they will learn for next time.
Now, go forth and be better colleagues, managers, and organizational leaders!
Free Assessment:
How does your sales & marketing measure up?
Take this free, 5-minute assessment and learn what you can start doing today to boost traffic, leads, and sales.