Now is the time for excellence: perspectives on a pandemic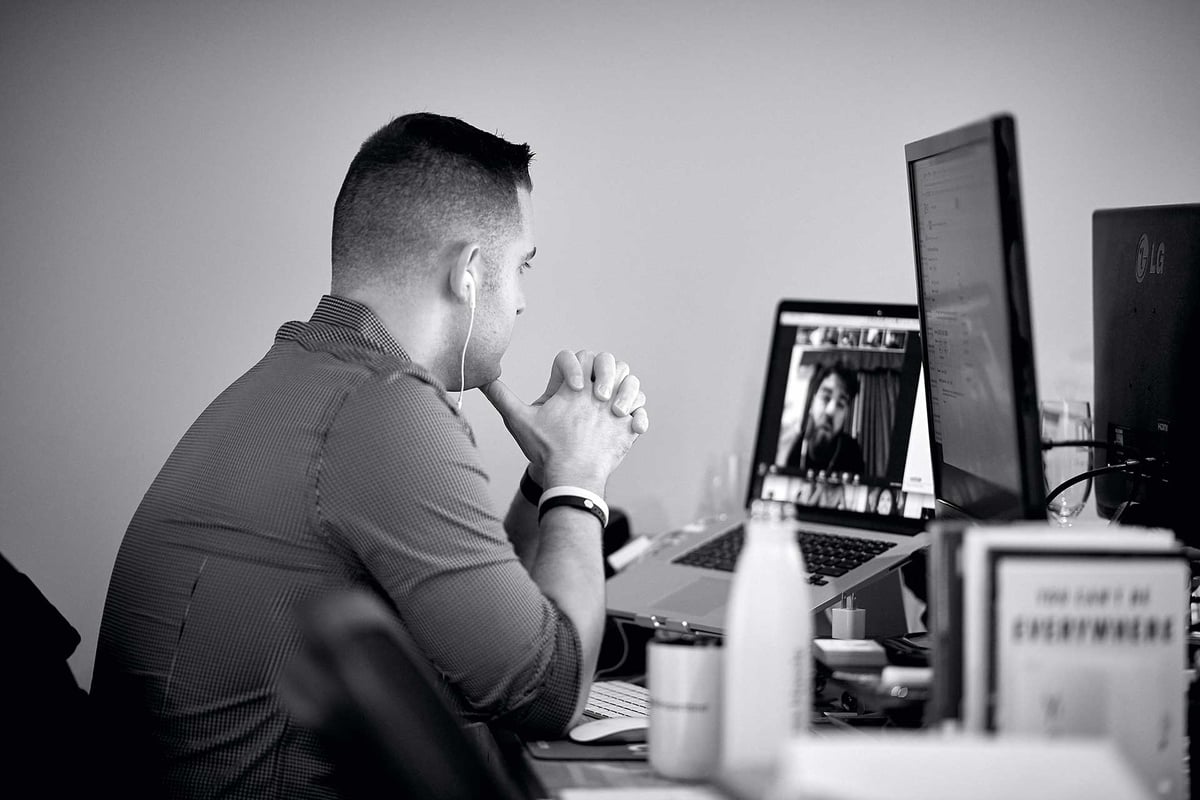 A week ago, coronavirus and COVID-19 felt like someone else's problem. There were quarantines in place in China and canceled flights in Italy, but this all felt like far away news.
Today, as I write this, it feels very much like my problem — like our problem.
As of today, there are thousands of cases in the US, with many more not yet diagnosed.
The stock market has plummeted, and a wave of cancellations and closures is sweeping across the country, rendering everyday life almost unrecognizable.
Underpinning it all is the uncertainty of what's to come.
Will this be a catastrophe that shakes our culture to its core, or will we all be laughing about our overreaction in a month or two?
As the founder and CEO of a 65-person digital sales and marketing company, that just postponed our conference, Digital Sales & Marketing World, I find myself huddling with my team, trying to plan for whatever is coming.
No matter what the future holds, today, COVID-19 is on my doorstep, and I intend to deal with it with humanity and pragmatism.
And I ask all my employees, and everyone reading this, to do the same.
Safety and health come first — always
Facing a pandemic of immense proportions, we need to put health and safety first. Always. As businesses, we must take every precaution we can, and accommodate our people's needs.
We must accept and encourage remote work if possible, and be sure our employees are all safe, comfortable, and able to manage their personal challenges.
But at the same time, we need to keep business running.
Choose candor over comfort
There's no sense in sugar-coating it.
Businesses need to stay, well, in business. That means your marketing teams, your sales teams, your leadership teams, and the people delivering your products — all have to be performing as if everything is normal.
In truth, they need to be performing better than normal. In times of economic uncertainty, we need our employees to be at their best.
In order to survive, companies need cash. This means they need their business to remain as healthy as possible.
It's not going to be easy.
In a downturn, customers are going to be more cautious about spending money, so your team needs to be at its very best.
Now is the time for excellence.
Lost customers and missed opportunities can cause our company, any company, to veer into the red.
Live in the solution
At IMPACT, we try to embrace the principle of "living in the solution." When struggles arise, we seek to be solution-oriented.
Desperate times don't call for desperate measures — they call for innovation and efficiency.
Great companies thrive in tough times. They do it by working together and being creative. What new solutions can we devise? What ideas haven't we tried yet? In what ways can we be more efficient?
There are always going to be factors beyond your control. What we can control is how we react.
When we live in the solution, we prepare ourselves to move forward.
Give what you can, take what you need
Every person will face his or her own challenges during this time. Schools are being closed. Stores are selling out of basic items. The elderly are at a high risk of infection.
Hard times hit us all in different ways. If we can give a little more when we're able, we can also take a little more when we need it.
Strong teams trust each other, lean on each other, and offer support when it's needed.
"I need your best 40 hours, every week"
I always try to be honest with my employees, and I know that they value this.
I promise them that I am going to do everything in my power to avoid cutting people or salaries. I have no plans to do so, now or in the near future. I will do everything I possibly can to fulfill that promise.
In exchange, I need their help.
Despite what may be going on at home, I ask all of my employees to bring their best work to IMPACT every day.
This means servicing our clients at the highest level so we're one of the last expenses they cut. This means working hard to hit our marketing and sales KPIs to infuse new business during the next few months.
Considering the impact COVID-19 may have on people's outside lives, their schedules might have to change. We will be flexible and accommodating, but we need people to be at their best when they're here.
Again, now is the time for excellence.
Local businesses need our support in order to survive
Federal, state, and local governments are scrambling to figure out how to help small businesses through this crisis.
According to The Economist, "some 40% of household spending is vulnerable to people shunning gatherings."
A decrease in discretionary spending can be catastrophic for local restaurants, bars, movie theatres, bakeries, book stores, and supermarkets. This affects both the owners and the employees.
While I advise everyone to make smart financial decisions during this time, I believe it is vital that we continue to support local businesses.
Remember how much they count on your patronage, and when this is over, we're going to need them at their very best, too. If you're cutting spending, think twice about cutting it within your own community.
They need it now more than ever.
"Give us your best and we'll be totally fine"
In my message to my employees yesterday morning, I ended with the following:
"Great companies thrive in down economies. And that's going to take every single one of us.
I say this with love: We got this. Stay positive. Make safe decisions. Give us your best. And we'll be totally fine."
When I posted my message to Slack (at 10:03 in the morning), the response was swift and overwhelming.


People responded with heart emojis, flexed muscles, and American flags. They appreciated that I was honest and frank.
One wrote back "This is the time for radical candor, Bob, you are on the nose! Thank you for this message."
Another replied "Thank you, Bob, for being so clear and up-front. There might be tough times ahead, but we're in it together."
I don't know what awaits us in the next few weeks. At this point, every day is bringing new developments.
I do, however, know how our team is approaching this. I know their hearts are in the right place and that we're all in this together.
Hard times have a way of showing what you're made of.
Now is when we all need to be at our best.
Free Assessment:
How does your sales & marketing measure up?
Take this free, 5-minute assessment and learn what you can start doing today to boost traffic, leads, and sales.