Book Club: Interview with Radical Candor Author, Kim Scott [MarketHer Ep. 25]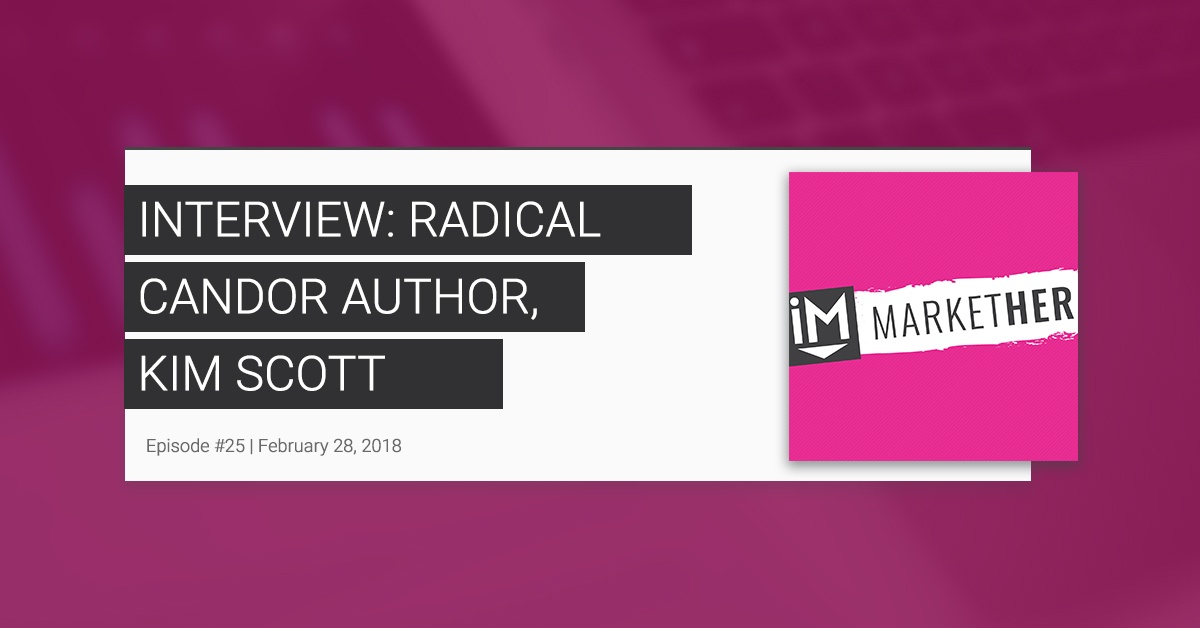 Do you ever have those days at work that you just need to be pinched because something so wonderful and unbelievable happened?
Well, Angela, Brie, and I needed a good pinch last week, because we were honored (and a little fan-girling) to welcome Kim Scott, the author of Radical Candor on this week's episode of MarketHer!
Early February, we shared that each month, we'll pick a book and together as a MarketHer community, we'll read, discuss, and do an episode based on the concepts of the book.
With all of us being newer leaders, we were thrilled to be able to read Radical Candor and start applying the lessons found in it to our jobs.
What we weren't expecting was Kim Scott to be so generous to actually join us for an episode.
[Inserts lots of, "OH MY GOSH! REALLY?!?! YAY!!!"]
During our interview with her, Kim shared stories of times when radical candor was used correctly and not-so correctly.
She gave us her personal insight into why she wrote the book and dove deeper into the concepts of living a life committed to practicing radical candor.
Watch our interview with Kim Scott below and then jump into our MarketHer Facebook Group to learn what March's Book Club book will be!
If you have some tips, email us at markether@impactplus.com. We will share it on our Facebook page!!
Resources
If you haven't ready Radical Candor: Be a Kick-ass Boss Without Losing Your Humanity yet, go order it right now, or download on Audible for free with a 30-day free trial!
Either way, get it, read it and then join in the conversation here!
Listen to the Episode on iTunes
Stay Connected, Get Engaged!
First, subscribe to MarketHer on iTunes.
Second, have a question or an idea for a future episode of the podcast? Let us know by commenting below, subscribe to our playlist on YouTube, connect with us directly on our channels below or send us an email.
Angela: LinkedIn, Twitter, Instagram
Britt: LinkedIn, Twitter, Instagram, Facebook
Brie: LinkedIn, Twitter, Instagram
[NEW] MarketHer Official: Facebook, Instagram, Twitter (also Snapchat IMPACTMarketHer)
Or, you can leave us a comment below! Until next week...
We Listened, You Heard, Now, Go MarketHER!

Free Assessment:
How does your sales & marketing measure up?
Take this free, 5-minute assessment and learn what you can start doing today to boost traffic, leads, and sales.