Selling In the Digital Age: Why Every Sales Pro Needs to Understand Digital Marketing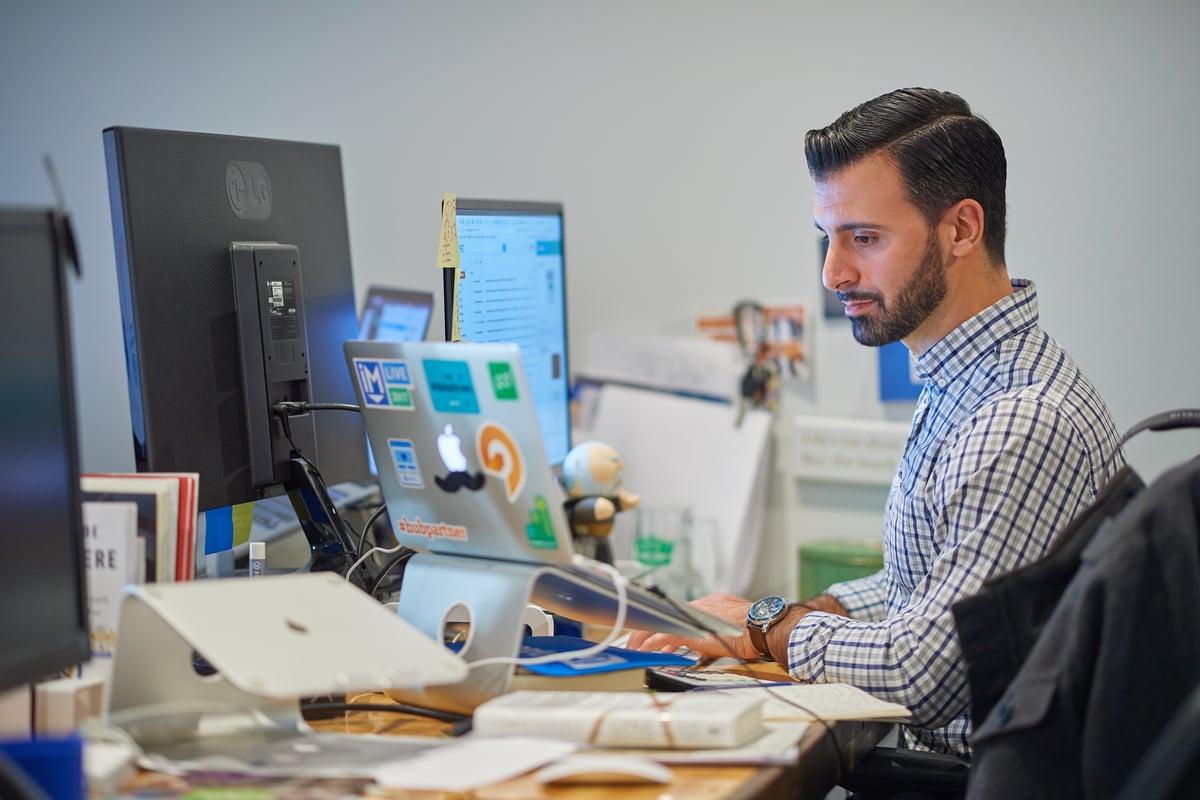 It's hard to imagine, but there was a time when products, services, and solutions were only sold in a physical sense. Salespeople were seen as the single gateway and go-to experts before, during, and after any sale took place.
Fast forward to today's digitally connected world, when people can learn almost anything they want about a product or service with just a few clicks of a mouse.
Today the world is driven by digital and as a result, almost all aspects of the sales process are strikingly different. Everything from prospecting, questioning, and meetings to presenting, negotiating and closing has changed.
Selling in the digital age means understanding the digital tools and technologies available to you so you can effectively leverage your online presence to reach, engage, and convert your target prospects and customers.
To do that, you need to begin by understanding digital marketing.
Why Sales Professionals Need to Understand Digital Marketing
HubSpot says:
"Digital marketing encompasses all marketing efforts that use an electronic device or the internet. Businesses leverage digital channels such as search engines, social media, email, and their websites to connect with current and prospective customers."
Sound familiar? It should. As a sales professional you have the same goal but you probably haven't been thinking about digital marketing in this way.
Maybe you think you don't need to know about digital marketing because you're not the one researching keywords, executing campaigns, and optimizing results, but think again.
We've talked about the importance of sales and marketing alignment in the past, and we will continue to drive this point home because the lines are no longer blurred between these two departments.
The most successful marketing and sales teams have merged into one revenue-operations team. And for good reason:
To put it simply: Better team alignment = more revenue.
So, why should every sales professional understand digital marketing?
Because the internet has changed everything. Digital media has disrupted how information is created, distributed, and consumed. Your role as a salesperson has changed. It's become more consultative and less transactional. And there's an increasing need to be more data- and tech-savvy.
But with change comes opportunity. The opportunity to learn, grow, and improve.
From a sales point-of-view, when you have a firm grasp on digital marketing, you will know how to:
Better understand your ideal buyers

Map your sales process and approach to the buyer's journey

Better understand intentions and interests

Ensure relevance and personalization

Optimize your results
Now let's dive into these one by one so we can explain how each applies to your sales process and approach:
Better Understand Your Ideal Buyers
In marketing speak, this means knowing your buyer personas inside and out.
A buyer persona is an essential tool for any marketer. They help you understand your customers, and ensure that your messaging (everything from sales emails and website content to trade show materials) is relevant.
A persona is a semi-fictional representation of your real and potential customers, based on market research and data. A persona uncovers your customers' goals, motivations, behaviors, values and pain points.
While this is something that may seem obvious, I am consistently surprised by the number of salespeople who don't have a good handle on the profile of their ideal buyer.
How will a better understanding of this help your sales approach?
When you start thinking of your leads, prospects, and customers from their point-of-view, it will help you more effectively connect and appeal to their emotions as people and not just as a buyer of your product, service, or solution.
You will also be able to better qualify and prioritize leads because you'll know exactly who you should be talking to.
Map Your Sales Process and Approach to the Buyer's Journey
You can't sell the same way to everyone.
Someone in the early stages of their journey has different needs than a prospect who is getting closer to making a decision.
HubSpot defines the buyer's journey as: the process buyers go through to become aware of, evaluate, and purchase a new product or service.
The journey is a three-step process:
Awareness Stage: The buyer realizes they have a problem.
Consideration Stage: The buyer defines their problem and researches options to solve it.
Decision Stage: The buyer chooses a solution.

This seems like a fairly straightforward process, and it is, but the digital age has introduced some complexities to this process. Namely, the ability to search for and find your own information about a potential product, service, or solution.
For example, 60% of buyers would rather not communicate with sales reps as their primary information source. And 68% of B2B customers prefer to research independently online.
Selling in the digital age has introduced new ways of connecting and gathering information. While this is good in some ways, it also means your buyers are developing their own opinions and biases. So where does that leave you?
How will a better understanding of this help your sales approach?
As a sales professional you need to diversify your strategy and think digitally.
Mapping your sales process and approach to the buyer's journey will allow you to deliver the right content at the right time, ask the right questions of yourself, and connect with prospects on the right social media platforms.
Deliver the right content at the right time:

When you understand what types of questions and information your buyers are looking for at each stage of their journey, your ability to deliver the right content at the right time significantly increases.

Ask yourself the right questions

: As you learn more about how your buyers behave on their path to purchase, you will ask yourself better questions in terms of what information should be shared at each stage of the journey and why. When you have greater insight into the last website page or piece of content the prospect looked at, you'll not only ask yourself better questions to understand the opportunity at hand, you'll ask your prospects better questions in order to seamlessly guide them through the process.

Connect on the right social media platforms

: Social selling is a hot topic these days and rightly so:

Social sellers attract 45% more opportunities than their peers, are 51% more likely to achieve quotas, and outsell their non-social counterparts 78% of the time.

Social selling is about building a connection with your audience before they buy your product or service. It's about providing resources that let prospects and customers know they can come to you not only for information about your product, but also for information on industry trends and general education.

Bottom line: Sales reps sell more by using social media.
Better Understand Intentions and Interests
Conducting keyword research and having knowledge of SEM and SEO practices are critical to selling in the digital age.
If a prospect begins their research with generic terms (and according to Google, about 71% begin with a generic query) that means they are looking for possible solutions to their problem first, not your product, service, or company name.
While optimizing your website for this type of search is the responsibility of your marketing team, the sales team can learn a lot about buyer intentions and interests from this type of research and knowledge.
Consumer behavior research suggests that trust is essential to forming an intention to purchase. When trust is high, people are much more likely to take risks and engage.
How will a better understanding of this help your sales approach?
Your buyers want to work with someone they can trust. They are looking for a credible and affordable product, service, or solution.
From a sales point-of-view, you need to position yourself as a trusted advisor. Selling in the digital age will allow you to do just this but it requires a combination of perspective, digital thinking, and networking.
Perspective:

What's your perspective? In other words, what unique information or point-of-view do you bring to your prospects and customers? Why should they trust you? Prepare your perspective by doing your research on the industry, the company, and your contact. What similar clients have you worked with and could you share a case study or success story?

Content:

Whether it's a blog post or video, are you generating content that can be shared with potential prospects and customers? If you create quality content that provides value to your audience, you will start gaining traction when it comes to credibility and authority. Your buyers don't want to deal with someone who is just an order taker, they want to deal with someone who is an expert.

Networking:

Get to know your ideal buyer personas by hanging out where they are, such as at networking events or conferences. You can use this as an opportunity to deepen your knowledge of their potential motivational buying triggers.
Ensure Relevance and Personalization
Digital marketers understand the importance of creating experiences that are relevant and personalized.
Selling in the digital age means higher expectations regardless of selling in the B2C or B2B space. It means your prospects are making decisions about you and your services long before they ever make contact with you or a fellow sales rep. This makes personalization even more challenging but all the more necessary in order to stand out among your competitors.
Consider these statistics:
How will a better understanding of this help your sales approach?
Everyone likes a personalized experience. Your B2B buyers are no different. They are still consumers influenced by how they purchase everyday items. The convenience of Amazon, the ease of Uber - all of the experience affect their expectations - and they now expect the same easy purchasing experience from you.
You can personalize the B2B experience through preparation, technology, and targeting.
Preparation

: Do your homework. I can't stress this enough, but a lot of sellers bypass this step. Go into every conversation prepared and knowledgeable about trends in the prospect's industry so you can talk intelligently about what's happening in their world.

Technology

: The best sellers use technology to gauge whether the information they're sharing with a buyer hits the mark. Tools like email tracking and PointDrive allow sales reps to see where a buyer digs in and what a buyer ignores, providing a feedback loop. They can then use that information to tailor future interactions.

Targeting

: Sales pros can use social media platforms to segment likely buyers through features like advanced filters, demographic information, and lead bots to help further facilitate the process of identifying qualified leads.
Optimize Your Results
Measurement is the first step in understanding your results: what was the reach and effectiveness of the campaign? How many people saw, clicked on, and converted from various marketing channels?
You can analyze your marketing campaign data to understand how your campaign performed on a high level as well as a more granular level. This way, you can understand both the minor and major components of the campaign and whether they were successful or not.
Highly data-driven organizations are three times more likely to report significant improvement in decision-making yet, 62% of executives still rely more on experience and advice than data to make decisions.
What gets measured gets managed. That's why organizations that are focused on data and measurement are honed in on how to optimize and improve. They are able to analyze data and identify actionable insights.
How will a better understanding of this help your sales approach?
Sales and marketing data is a treasure trove of information. The better you are at analyzing, interpreting, and making a decision, the better you will be at managing your time and reaching your goals.
As a sales rep, you have revenue targets or a sales quotas, but is this all you're tracking? You need to track your sales activities and create goals around each.
For instance, you might have numerical goals for qualified leads, phone calls, meetings, proposals etc. Some of these may be weekly goals. Others may be monthly or quarterly.
What Now? Digital and Customer-First Thinking
You can't sell the same way to someone who is at a different stage of the buying journey. You need to understand where they are and then adjust your strategy accordingly.
Customer-first thinking translates to support, offers, and products that are appropriate to the buyer's precise location on the path to purchase.
Meeting expectations requires a comprehensive view of the customer, fostered through a good understanding of data as well as sales and marketing alignment. In this way, alignment benefits both customer and company alike, with 54% of sales and marketing pros citing collaboration as a booster of financial performance.
You need to know a lot about sales and digital marketing to excel at selling in the digital world. Sign up for our bi-weekly newsletter, Finally Friday, to start your day by laughing and learning with DMT!
Free Assessment:
How does your sales & marketing measure up?
Take this free, 5-minute assessment and learn what you can start doing today to boost traffic, leads, and sales.