Subscribe
Join 40,000+ sales and marketing pros who receive our weekly newsletter.
Get the most relevant, actionable digital sales and marketing insights you need to make smarter decisions faster... all in under five minutes.
Thanks, stay tuned for our upcoming edition.
6 Skills Every Great Marketing and Sales Coach Should Have (+ How to Hone Them)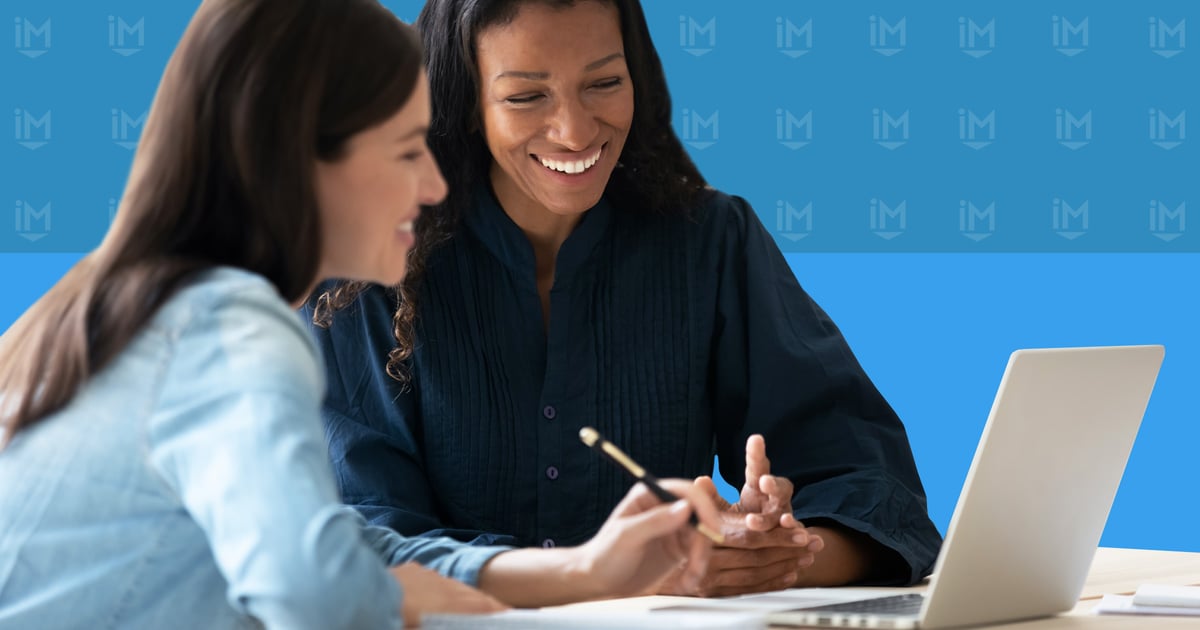 6 Skills Every Great Marketing and Sales Coach Should Have
Clear and concise communication
The ability to give honest feedback
Active listening skills
The ability to focus on big picture goals
An authoritative leadership mindset
A strong sense of self-awareness
As a marketing and sales coach, you are your product.
The value you can provide to your clients is only as high as the skills you yourself hold — and no one's perfect.
Perhaps you've hit some roadblocks getting leadership bought into your strategies. Or maybe you just can't seem to get your clients to follow through consistently.
So, if you're looking to improve your client's results and grow your business, it's wise to look inward and invest in professional development.
Knowing your stuff when it comes to marketing and sales is a given, but where else should you try to level up?
While every client-coach relationship is different, there are certain skills that have the power to transform good coaches into great ones and are essential to success in the role.
These skills are not easy to master, but as you hone them, your coaching business will thrive — and so will your clients.

1. Clear and concise communication
It's no secret that skilled marketing coaches need to be exceptional communicators, which is why this one comes first. Without expert-level communication, you simply can't be an effective coach.
While you might already be strong in this area, focused practice can help maintain it.
As a coach, you want to be as clear and concise as possible. You want clients to be able to understand your guidance and not be distracted by unnecessary details.
When coaches and consultants are too wordy or talk in circles around a topic, it can sound like they don't entirely know what they need to say.

This could make a client lose trust in your ability to lead them or think you don't really know what you're talking about.
Being concise with your language shows clarity of thought and confidence.
How to improve it:
To improve this skill, start by writing out what you want to say to a client in bullet points. Record yourself practicing delivering these points as you would directly to the client.
Then, listen to the recording, taking note of filler words and phrases (i.e. um, like, in order to, you know) that you can cut.
Also, pay attention to any redundancy or long-winded examples, which tend to slip into speech and can make messages unnecessarily long.
You can also try recording and reviewing your client sessions to find these areas for improvement as well.
With your notes in hand, run through similar scenarios again until they are as streamlined as possible.
If you practice shortening what you say consistently, it eventually becomes second nature and you'll be speaking with clarity more often.
2. Giving honest feedback
Your clients hire you to provide feedback and direction, which will often mean difficult conversations.
While some coaches and consultants aim to please their clients, the most effective ones are able to help their clients understand feedback that might be tough to hear.
Let's say one of your clients needs to fire an associate or you found their performance during an activity was sub-par. As a coach, you can't hold back. You need to share this feedback for them to improve.

However, for feedback to be best received, you need to be direct, but also show that you care.
The more clients feel you care, the more likely they will trust you and trust is the key to any successful partnership or relationship.
As a coach, trust is essential to getting clients to follow your lead and listen to your advice. If a client can't trust you, it's unlikely you'll be able to get not only their buy-in, but their follow through with the strategies you implement.
How to improve it:
In her book Radical Candor, Kim Scott shares how to deliver feedback to your clients in a way that's helpful and kind, by first building better professional relationships and fostering trust.
In Thanks For the Feedback by Douglas Stone and Sheila Heen, you'll find additional insight into how different types of feedback are received and the psychological reasons behind them. It focuses on three types: "Appreciation (thanks), coaching (here's a better way to do it), and evaluation (here's where you stand)."
When you can master this skill of providing feedback with care and directness, clients will value your feedback and leadership, not just see you as a critic.
3. Listening and questioning
As a coach or consultant, you should be sharing your expertise and advice, but the most successful coaches actually spend more time asking questions and listening than offering ideas.

Not only does listening further show clients that you care, it allows them to speak freely and uninterrupted so you can learn and understand more about what they're going through and where they need guidance.
Come to the table with a high level of curiosity.
How to improve it:
Instead of making assumptions about your clients' needs and telling them what to do, help them find the answers for themselves by asking strategic questions.
It's easy to fall into the habit of guiding a conversation, so start by asking diagnostic questions, such as, "How is your day going?" rather than "Are you having a bad day?" These let your clients answer more openly.
Also, instead of giving advice right-off-the-bat when presented with a problem, ask your client what they would do. This encourages them to reflect upon what they've learned and practice being self-sufficient.
Often, they will already know the solution, they just need a push to uncover it.
In all of this, remember to get comfortable with silence. When you ask more questions and do more listening than talking, clients may be caught off guard and not know what to say.
As hard as it may be, let this happen. Once again, it encourages them to dig deeper and lead the conversation.
4. Being goal-oriented
One skill the most effective coaches master is the ability to stay at a higher level with clients and focusing on the big picture goals.
How to improve it:
Help your clients keep focused on the tasks that will yield long-term success.
If your client is releasing videos on TikTok every day with no views, but not hitting their website traffic goals, you can step in to refocus them.
This helps them keep their "eyes on the prize" when they may be getting distracted by less important or effective things.
On the flip side, thinking big-picture also forces your clients to take ownership of the specific solutions they put into place. They have to brainstorm strategies that will actually work towards their goals and how to execute on them.
This sets the precedent that your clients are the ones who need to put in the work and you are there to guide them, not to do the work for them.
5. Authoritative leadership
In every client-coach relationship, there is always someone taking direction and someone giving direction.
If your client is in an authoritative position, you may find yourself struggling with being told what to do. This is a precarious situation to be in as a coach or consultant, as your role is to be an advisor.
To be a successful coach, you need to learn how to coach from a place of authority — meaning you are the one giving the direction, and your client respects what you have to say.
You want clients to work hard and put in the time it takes to improve themselves and their business, but it's much more difficult to do that if they don't respect your authority or council.
How to improve it:
Set expectations ahead of every interaction. Tell clients when you're available and set the agenda and meeting terms ahead of time. Of course you need to be flexible, but this initiative helps keep you in control of what's covered and how.
Go into each meeting knowing exactly what you need from your client. Use this knowledge to

lead meetings and give feedback with stronger language

, such as "This is what we're covering today" or "This is what you need to do next."
Save small talk for the end of the meeting. Start your meetings by saying something like, "I know we're all busy, so let's dive in." This sets the tone that you're here to provide your clients with value, not waste their time. If there's extra time at the end of the meeting, then you can chat about other things.
Never thank your clients "for their time." Instead, praise them for putting in all the hard work. This establishes the idea that their time is part of the agreement and that your time together is a priority.
The point is not to establish hierarchy or feelings of superiority, but rather equal respect. They small habits may save you from constantly having to prove your value or convince your client to follow through.
6. Self-awareness
One of the biggest skills the greatest coaches exhibit is a strong sense of self-awareness. As we started this article saying, no one is perfect.
You need to be honest with yourself about how adept you are in certain areas and where you need to improve. What are your strengths? What are your weaknesses?
You need to be as willing to learn as your clients in order to grow and improve.
How to improve it:
Start by asking a peer, manager, or teammate for candid feedback. Gathering outside perspectives may open your eyes to shortcomings you are unaware of and give you ideas for where you can start improving.
Make yourself an invaluable investment
Most coaching relationships don't last forever. In fact, if you're a good coach, they shouldn't.
Your job is to help your clients become self-reliant and learn how to accomplish their goals on their own.
Having vast marketing and sales knowledge to share and being able to solve problems are given as a coach or consultant, but the six skills we mentioned above will help take you and your clients to the next level and truly make an impact.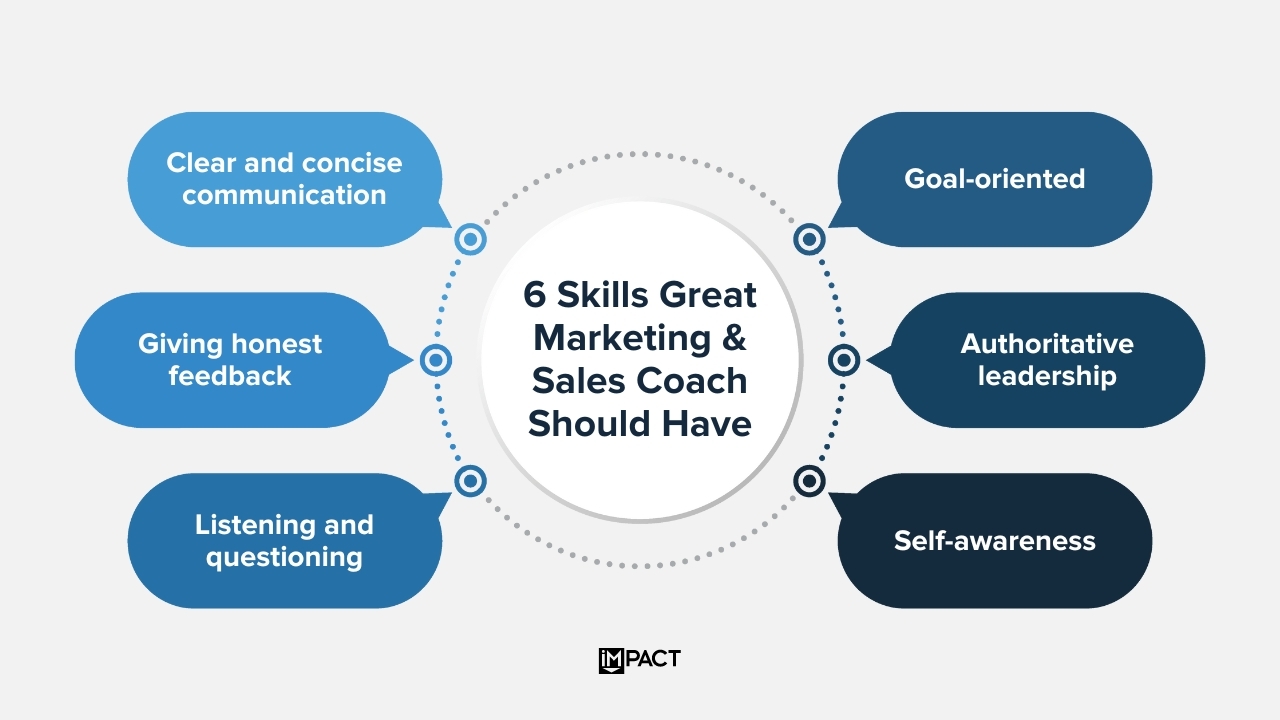 IMPACT has trained hundreds of coaches and marketing agencies around the globe on how to improve their clients' results and be more profitable with our Certified Partner Program. Want to learn more? Meet with one of our coordinators.
Free Assessment:
How does your sales & marketing measure up?
Take this free, 5-minute assessment and learn what you can start doing today to boost traffic, leads, and sales.