Does Social Media Give You a False Sense of Failure? [MarketHer Ep. 38]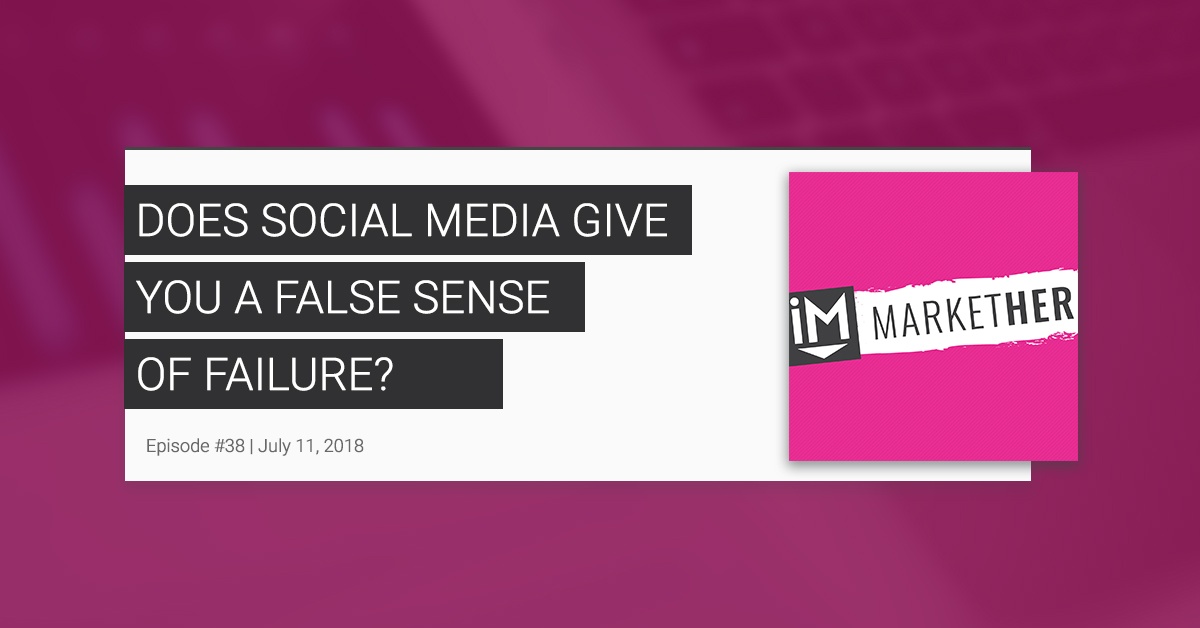 We all do it -- selfies, pictures of your kids, pets, your new house, a new car...
It's a cycle of constant updates!
But is this behavior creating unrealistic expectations and a false sense of failure for MarketHers and users in general?
"Eileen just posted a picture of their new house"... "Oh, look, Bobby and his wife just had their baby"... "I can't believe Regina got her Masters already"... "Oh Becky and Sue are hanging out, once again, why didn't they ask me?"
I'm sure this sounds familiar -- but something's missing.
In all of these instances, we only see the end result.
Why don't we ever post anything leading up to the new house, the new baby, the hard work in college to get that Masters, or the fact that Becky and Sue struggled with their friendship for years?
We hardly ever see the hard work that leads up to the great finished product, but in Season 2 of MarketHer, we talk about this very thing.
We definitely don't find the answer in our conversation, but we have some thoughts and opinions and why we think we all need to "#embracethestruggle" that leads to greatness.
Maybe it will help the younger generation realize that what we have today is something we've worked very hard for, or maybe it will help a friend not feel so lonely.
Let us know what you think after watching our episode!
Be sure to join our MarketHer Facebook Group and join the MarketHer Real Life conversation!
If you have some tips, email us at markether@impactplus.com. We will share it on our Facebook page!!
Listen to the Episode on iTunes
Stay Connected, Get Engaged!
First, subscribe to MarketHer on iTunes.
Second, have a question or an idea for a future episode of the podcast? Let us know by commenting below, subscribe to our playlist on YouTube, connect with us directly on our channels below or send us an email.
Angela: LinkedIn, Twitter, Instagram
Britt: LinkedIn, Twitter, Instagram, Facebook
Brie: LinkedIn, Twitter, Instagram
[NEW] MarketHer Official: Facebook, Instagram, Twitter (also Snapchat IMPACTMarketHer)
Or, you can leave us a comment below! Until next week...
We Listened, You Heard, Now, Go MarketHER!

Free Assessment:
How does your sales & marketing measure up?
Take this free, 5-minute assessment and learn what you can start doing today to boost traffic, leads, and sales.