The Year Ahead: What Businesses Can Do to Flourish in 2024
2023 was anything but conventional. While we had layoffs in some sectors and high interest rates, we also saw record-low unemployment. At the same time, amazing technological advancements rolled out that will reshape work for many years to come. All of this was against a backdrop of environmental change and political unrest.
In the midst of this, more than 4 and a half million new businesses got started in the U.S. in 2023, proving that there is opportunity and optimism in every climate.
So, as I put the wraps on 2023, what I am expecting to see in 2024? Let's dive into some predictions about what lies ahead for businesses out there.
The year ahead for marketing, sales, and service
Each week, I talk to business leaders of all stripes, from enterprise-level companies to mom-and-pop-type outfits. From what I've heard and what I've seen, here's what I think they can expect in 2024.
The future of marketing
Here's what I see for the year ahead:
Smart teams will use AI to multiply their impact.
AI is an exciting multiplier — and it's also been a hyped-up novelty. As the furor dies down, teams will really get to work using AI tools to work smarter, communicate better, and stay more organized than ever before.
For smaller teams who don't have the budget to hire, say, a videographer or another content writer, AI can help the existing team do more.
New technology will help us understand data better than ever before.
We've talked a lot about how AI will help us improve our content creation, but data analysis is probably an even bigger deal. All of a sudden, we can make sense of huge piles of data in ways we never could before.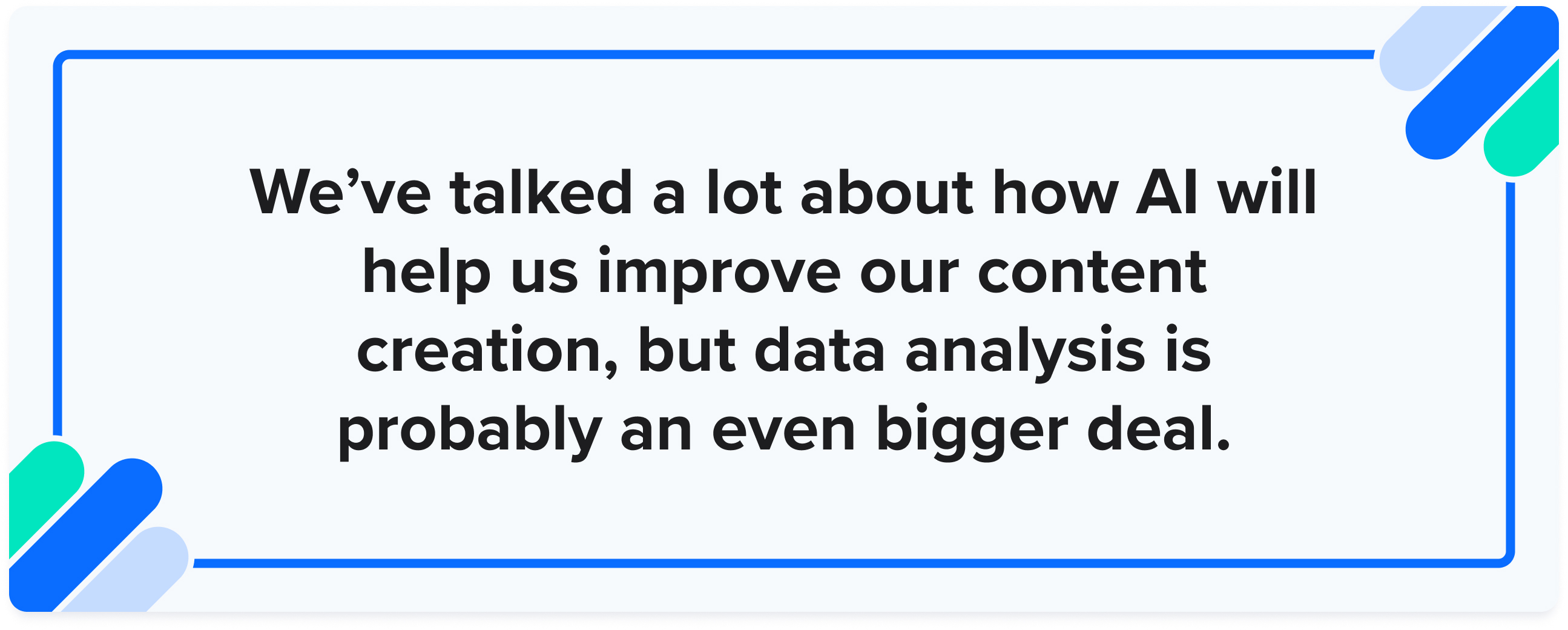 As the saying goes, the better your data, the better your decisions. Marketing teams will have more insights than ever before.
AI can undermine our brand with sterile, cookie-cutter content.
For all the promise offered by AI, it comes with concerns you need to keep in mind. You should never blindly publish anything written by AI. You run the risk of not sounding like a real human — a real brand led by actual people.
To fix this, work on better prompting and focus on vigorously editing whatever the LLM tools spit out.
AI will continue to flood everywhere with pretty good content. (We're already seeing this in SERPs and on social media.) With so much advancement, you can't lose sight of your humanity. Your people are what make your company what it is. I believe that the most human brands will win in the years ahead.
So, focus on what makes you unique. What claims do you make that no one else in your industry can?
YouTube will take an ever bigger chunk of search traffic.
As AI takes a bigger chunk of search traffic, I also see YouTube search traffic increasing — especially for a generation that was raised on the platform and is now entering adulthood.
YouTube is the second most visited website in the world, and visitors will use it more and more as a search engine. Most people are, after all, visual learners. YouTube will be a place they go for answers. If you're not already investing in building a YouTube channel, you should be.
The future of sales
As for the sales side of things:
AI can improve our prospecting and outreach.
Most of the buzz around AI in business has centered on marketing, but I think sales is set for a big shake-up as well. Think of AI as an assistant that can help you with the mundane tasks that bog you down.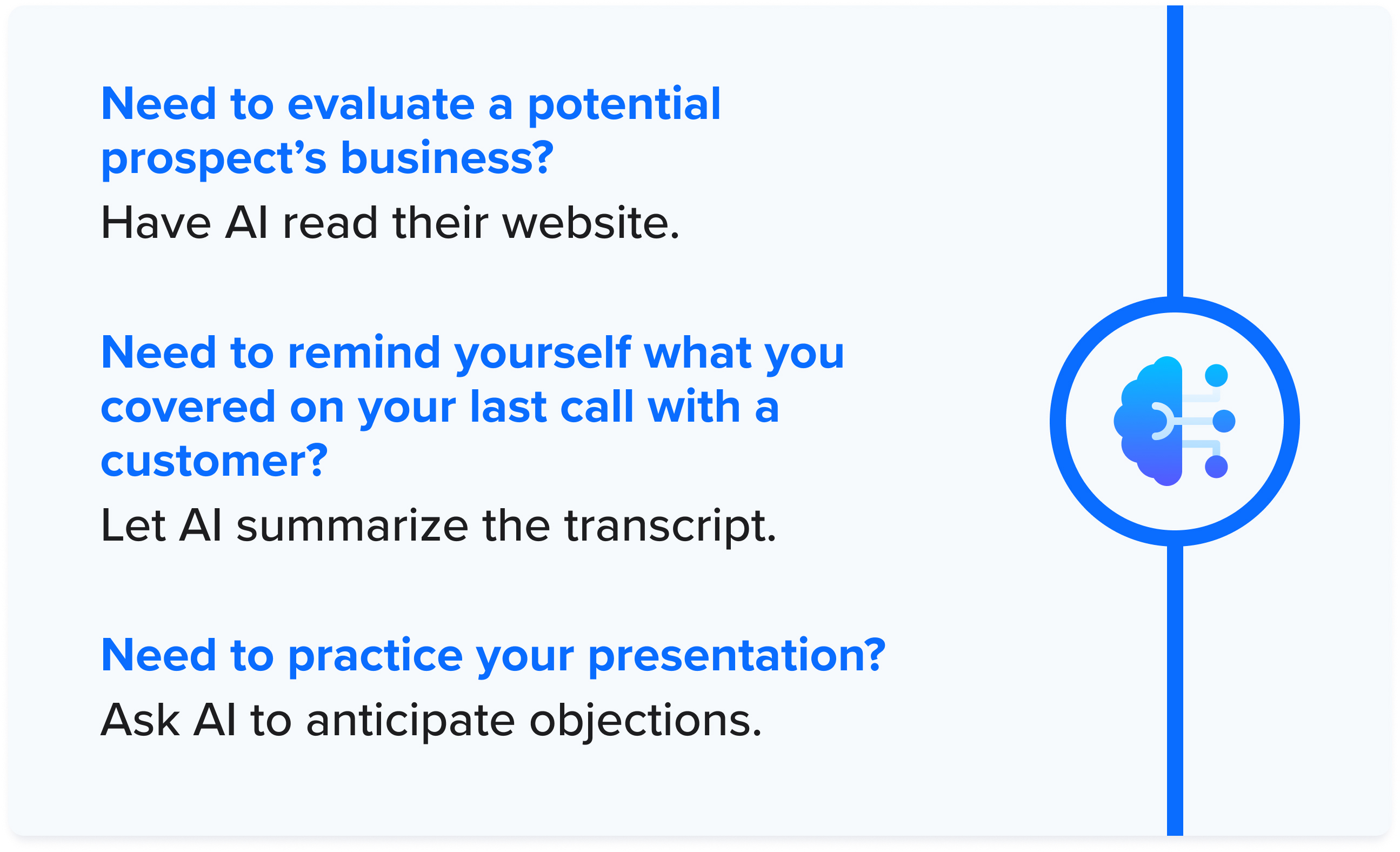 For sales reps, this could be things like prospecting, call review, and meeting prep.
Need to evaluate a potential prospect's business? Have AI read their website. Need to remind yourself what you covered on your last call with a customer? Let AI summarize the transcript. Need to practice your presentation? Ask AI to anticipate objections.
There is a world of possibilities.
Sales teams should put more focus on communication skills.
LinkedIn did research in 2022 that came back with a clear result: The characteristic buyers most want to see in salespeople is the ability to listen. Other research from Gong shows that the most successful salespeople listen more than they talk.
If you're sales meetings are full of length pitches, you're probably not serving your buyer well.
Great salespeople need to be great listeners — and the need to ask great questions. Communication skills take time to develop, but the teams that invest in building these skills are the ones who will really build rapport with their customers.
More focus on a sales-free buying experience.
Buyers don't want to call for price. Buyers don't want to go through a cumbersome sales process. Buyers don't want to meet with salespeople at all if they don't need to.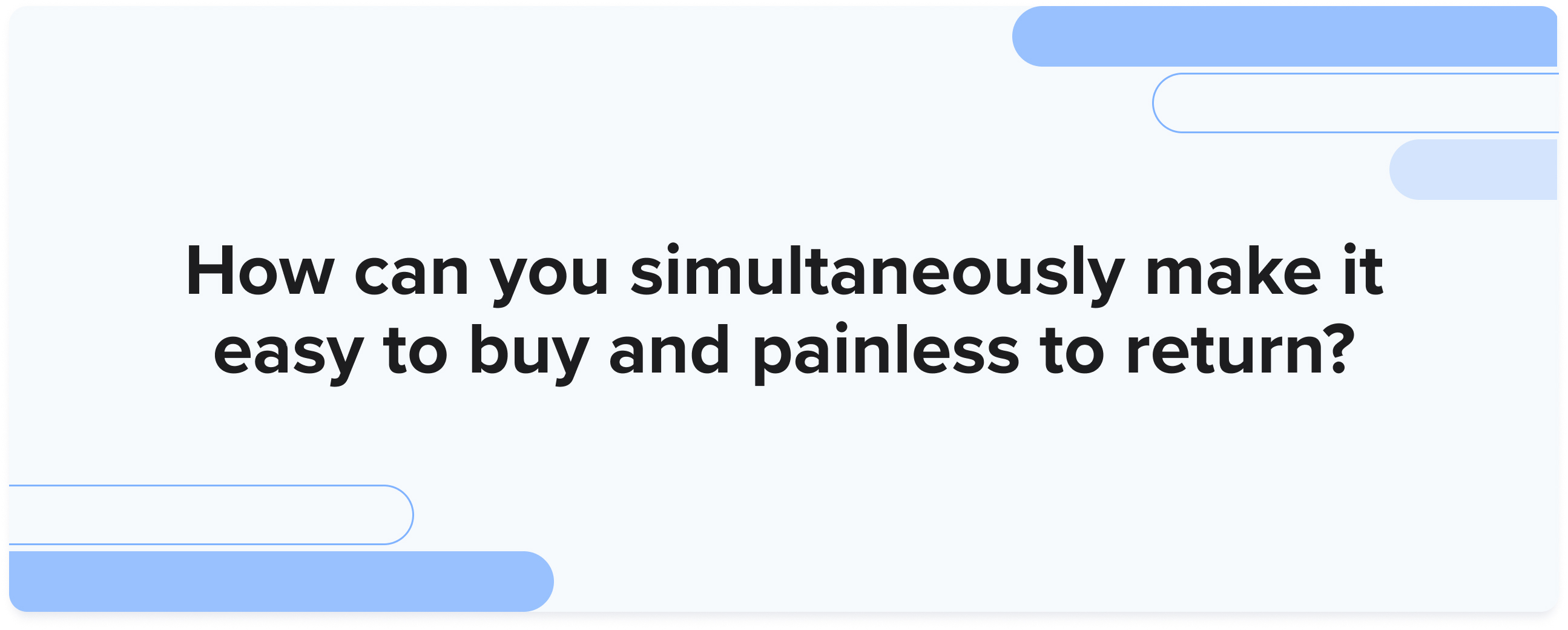 The modern customer is savvy and well-informed. Look for ways you can provide a sales-free buying experience that only involves a salesperson if and when they want it. Things like pricing calculators and self-selection tools will help your site visitors buy on their own terms.
The future of customer service
For customer service:
Customers will expect quicker resolutions.
Each year, customers expect quicker resolutions. With the advent of AI, we will be able to make great strides in the ways we respond. Smart chatbots will be able to handle some requests, and new technology will keep our customer service efforts more organized than ever before.
Companies will invest more in customer service to ensure better reviews and a stronger brand.
Every year, reviews seem to matter even more. Yelp. Angi, Google Reviews — these can be the life or death of a business. In the year ahead, companies will invest more heavily in great customer service to ensure that their online reputation is full of 5-start champions.
Good customer service is the antidote to buyer's remorse.
At IMPACT we teach our clients that they need to make it easy for customers to buy. We build custom self-selection tools, we advocate for sales enablement, and we help teams develop a smooth buying experience.
All of this is worthless without great customer service.
Here's an example. I was deciding between a few different pairs of running shoes on Amazon. Rather than narrowing it down all the way, I bought three pairs to try on at home. I know how easy it is to return things to Amazon — and this gave me the confidence to buy.
What can you do to get ahead of buyer remorse? How can you simultaneously make it easy to buy and painless to return?
One thing we're not talking about enough? AI's impact on search
The way people used to search for information is changing:
As I said above, I think YouTube will play a bigger and bigger role in searches. People often don't want to read an answer — they want to see an answer.
The New York Times reported in 2022 that younger generations are

using TikTok and other social platforms instead of Google search

.
When people are looking for reviews, they'll use search functions right inside Amazon or Yelp.
Even these three details would have a huge impact on search. But we haven't even gotten to the biggest disruptor: generative search results.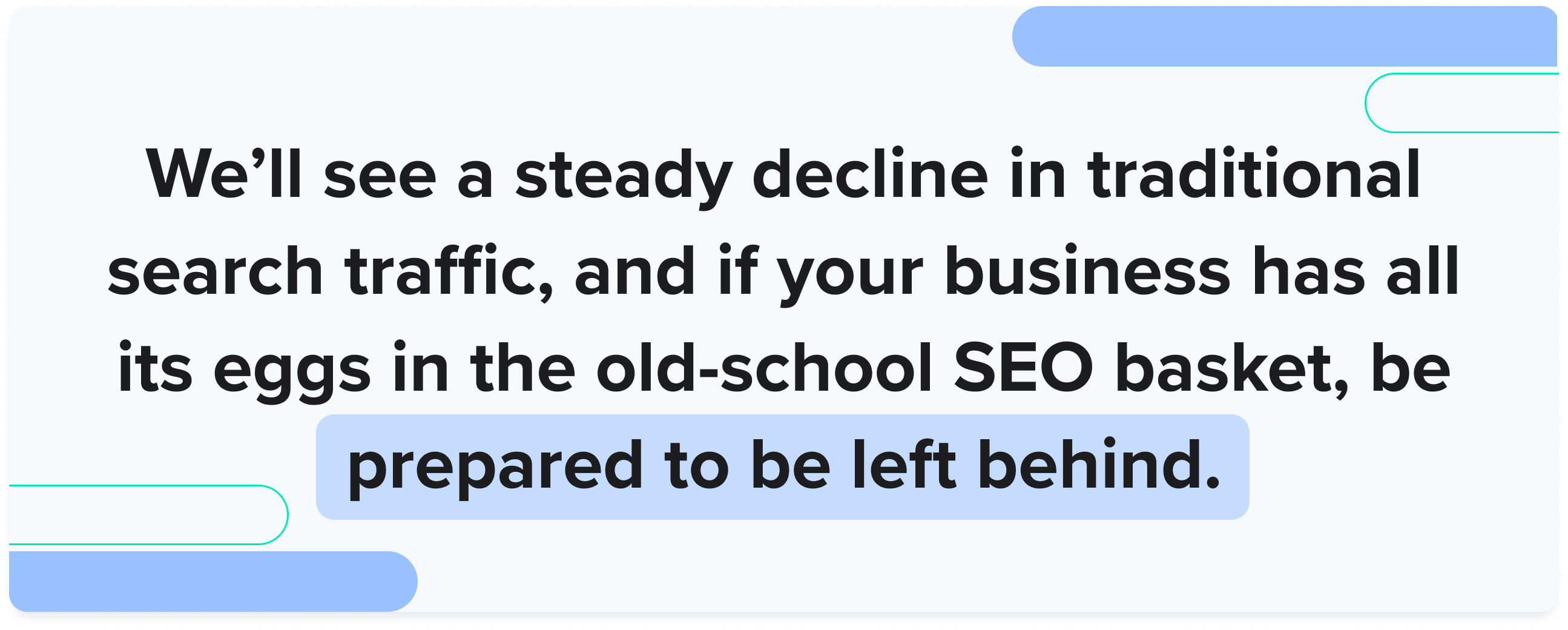 Increasingly, people are using ChatGPT or generative search tools to give them their answers — rather than a traditional Google search.
This means we'll see a steady decline in traditional search traffic, and if your business has all its eggs in the old-school SEO basket, be prepared to be left behind.
The solution: Develop your brand on multiple platforms and channels
If fewer and fewer people will find you through organic search, you'll need to make up that difference elsewhere. Commit to creating and sharing content in a number of places:
Social media sites (that make sense for your audience)
YouTube (both long-form, Shorts, and guest appearances)
Podcasts (both as host and guest)
Webinars and AMAs
Live events and trade shows
And more.
But at the same time, you need to be realistic. You can't commit to doing everything. Talk to your customers. Find out how they heard about you. Put your effort where it will have the most impact. Gather data and keep experimenting.
Remember, your customers can change, so don't rest on your laurels. Keep an open mind and an ear to the ground.
Business leaders: Mindset matters in the year ahead
In her book Impact Players, author Liz Wiseman talks about two kinds of mindsets: what she calls a threat lens and an opportunity lens.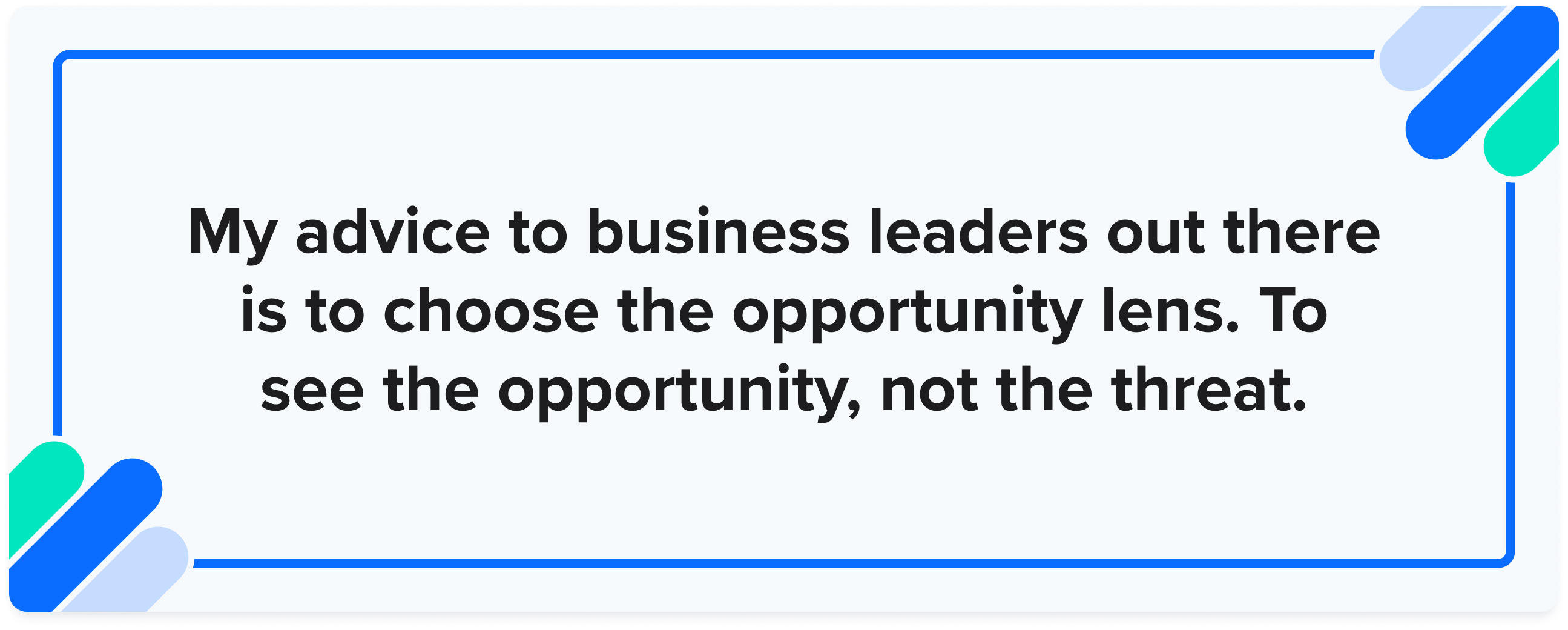 The lens through which you see the world determines what you see.
My advice to business leaders out there is to choose the opportunity lens. Choose to see the world of 2024 as one full of options and choices that could bring good fortune. Know full well that some of these options will seem completely foreign when you encounter them. But choose to see the opportunity, not the threat.
Encourage experimentation with AI, reward curiosity, celebrate innovation and (reasonable) risk-taking. See economic opportunity, even if there's a downturn. Instead of focusing on the challenges of making video content, see the possibilities.
The best thing you can do to prepare for the year ahead is to adopt this mindset.
Free Assessment:
How does your sales & marketing measure up?
Take this free, 5-minute assessment and learn what you can start doing today to boost traffic, leads, and sales.