7 killer website self-selection tool examples for businesses we adore [+ video]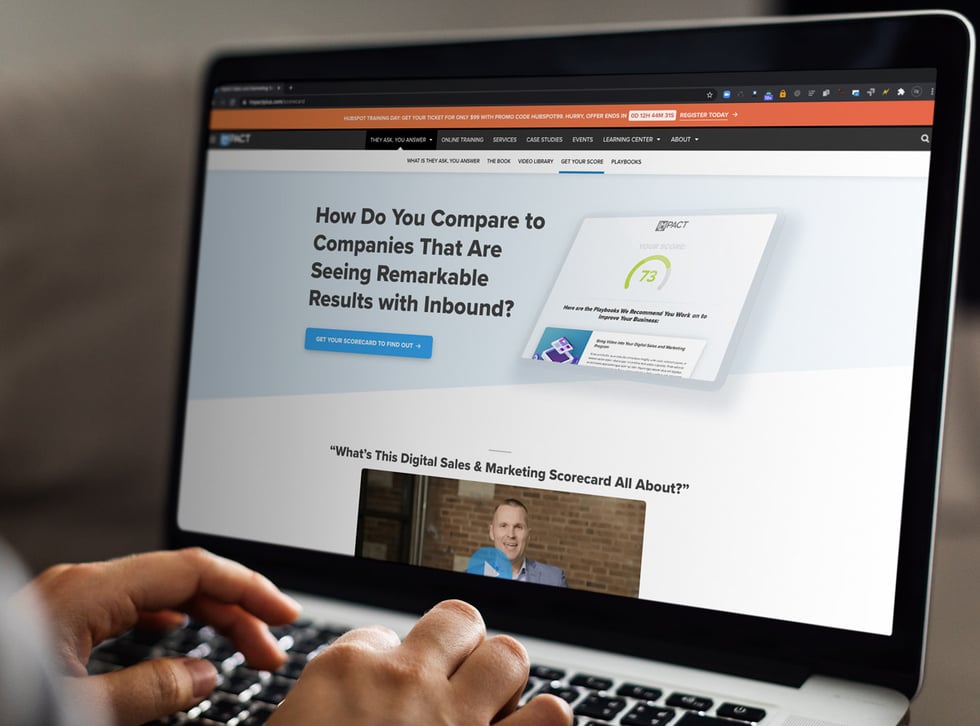 October 26th, 2020 min read
Best website self-selection tool examples
Wix's Website Creator
Rive Pools' Pricing Calculator
Polaris' Snowmobile configurator
Bahler Brothers' Patio Design Quiz
SCUF Gaming's "Find the right SCUF" Tool
Yale Appliance's pro range configurator
IMPACT's Scorecard
If you're anything like me, you'll always opt for an automated self-service process over the agony of holding the phone for an hour playing 20 questions every time you want to engage with a brand, product, or service.
It's just not efficient and there are so many other things you could be doing.
When I want to purchase something for my home or the next gadget I'm obsessed with, I go to Amazon and take everything into my own hands. I find the product I want, then self-configure the payment method I want to use, and finally self-configure how I want to take delivery of the product.
You can imagine, especially if you didn't always experience that level of convenience, how much more time you'd need to allocate if all that had to be done by phone or in person.
We, as buyers, want convenience and we want to feel like we're the ones in control.
Every single day phrases searched on Google sound more like "should I" and "near me" making it clear users are trying to self-diagnose and identify solutions tailored just for them.
That's why at IMPACT we're huge fans of self-selection tools.
A self-selection tool is exactly what it sounds like — a tool, or interface in this case, on a website that allows users to answer questions and configure their own experience and self-identify what product, level, plan, or type of service they'll consume from that brand.
Think of it as an electronic or automated version of your sales process.
You might already be thinking: "Wait! Woah there... My business is different. We have a whole bunch of factors involved in signing someone up."
My answer to that is: "Great! What are they? Let's get those on your website and empower most of your website users."
Having a self- selection tool for your website does three super important things:
It affords personalization to make consumers feel understood and puts the ownership of the decision to make the purchase or subscribe for the service theirs.
It puts most, if not all, the information they need to make the purchase decision available in a way that's friendly and easy for them to consume thereby removing the usual friction from the process of becoming your customer.
The experience of self-selecting one's way through a product or service is heightened so consumers refer others, as well as, eliminate some of that potential buyer's remorse.
Overall, at the very least, with a self-selection tool, you'll have prospects that are infinitely more informed about your requirements and process guaranteeing you a better chance at closing a qualified deal.
Some of the most common types of self-selection tools you'll see are pricing calculators, design/build tools, and customer on-boarding tools, so let's dive into a few examples.
7 examples of self-selection tools on websites we love

1. Wix's Site Builder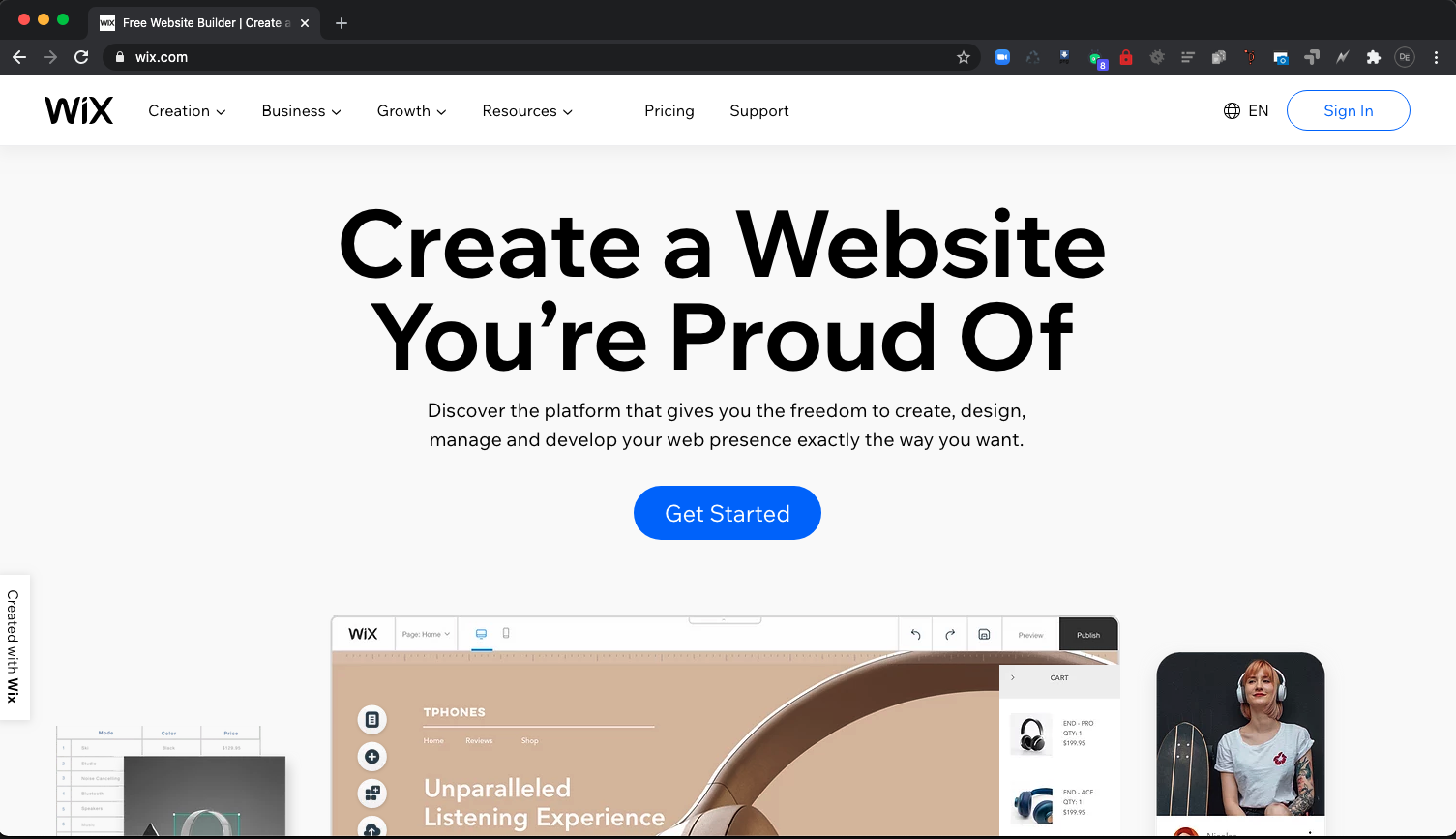 Wix is one of those companies I used to love to hate. I always went out of my way to categorize them as entry-level, by definition, making them sound sub par to whatever I was proposing as a developer.
Over the years, however, as my expertise has grown and my ego is further in check, I've come to realize that Wix is an awesome tool that makes it super easy for you to go in and create a new simple site in minutes.
Let's face it: Not everyone who wants an online presence needs something complicated right away. A lot of small businesses and sole proprietors can really benefit from using a service like Wix to get online fast.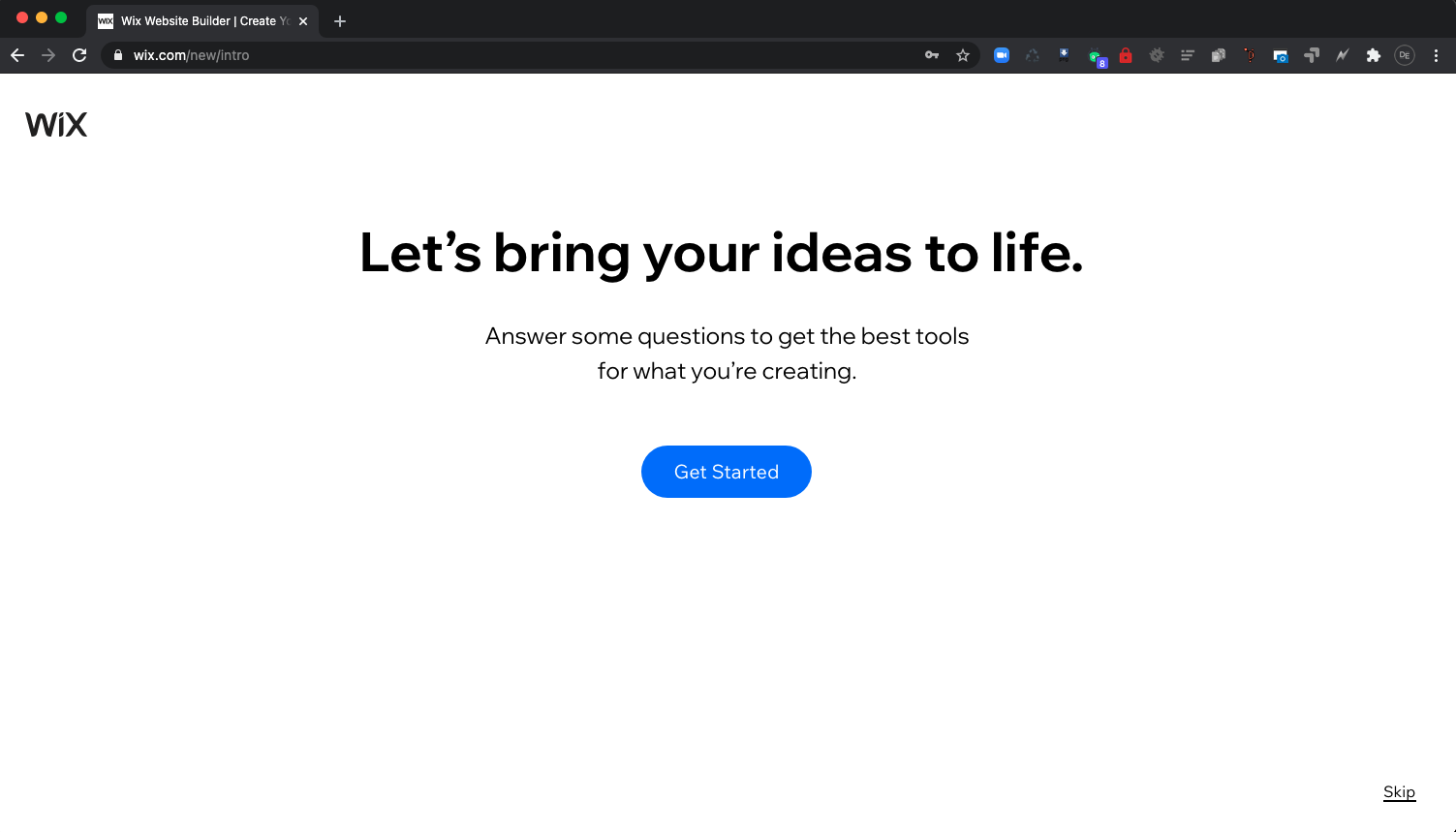 As soon as you sign up, and input your email address and password, you start your journey answering questions. The answers to questions like "What do you want to create a website for?" will inform the decisions the software makes to recommend the right template for your needs.
Additional questions like "What type of website does your company need?" further filter the options available as the end result.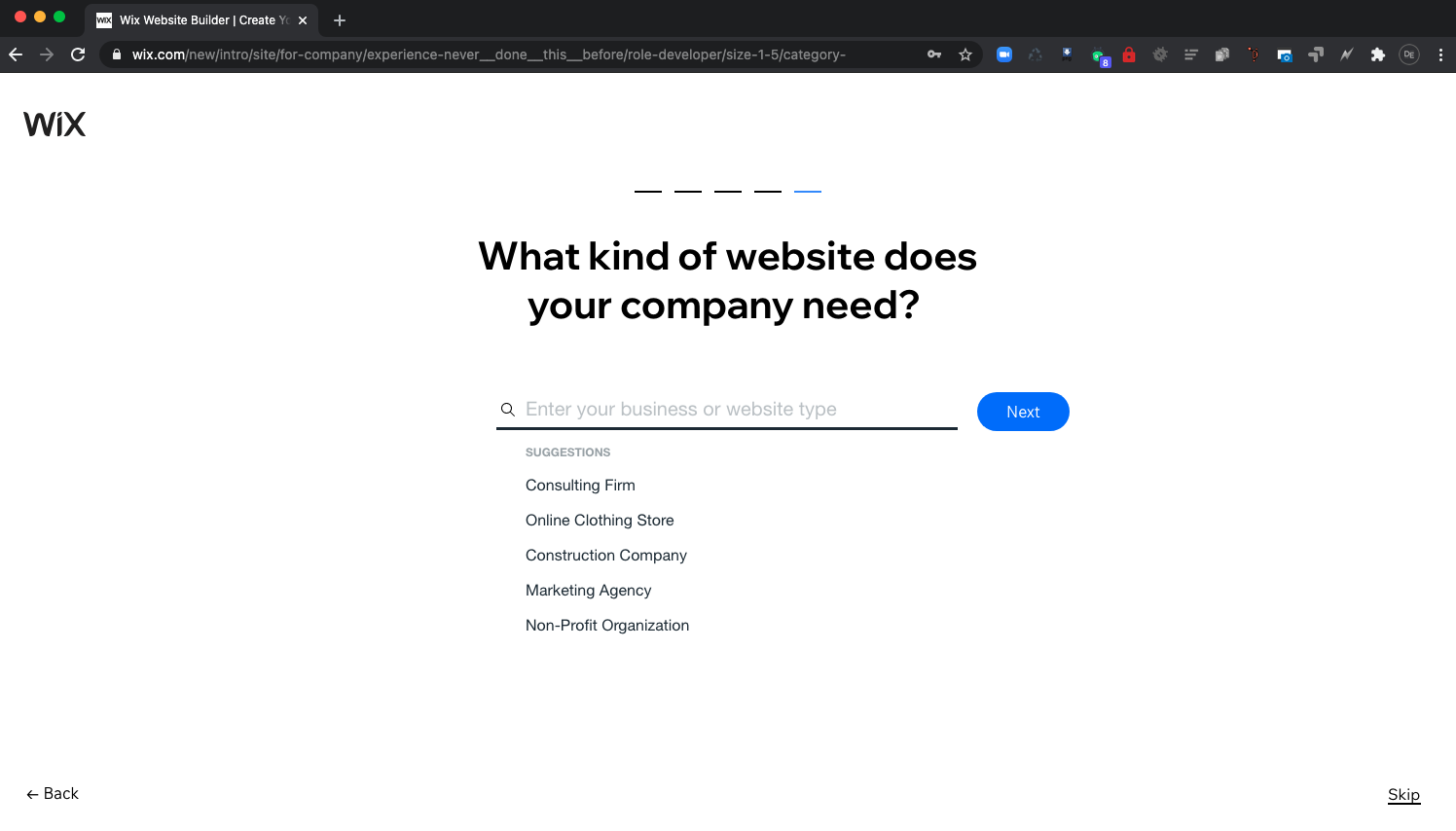 Finally, you get to make the decision to let their software build you a site or choose from a list of their recommended templates, input your credit card number, and in just a few steps related to your domain, you could be online that same day.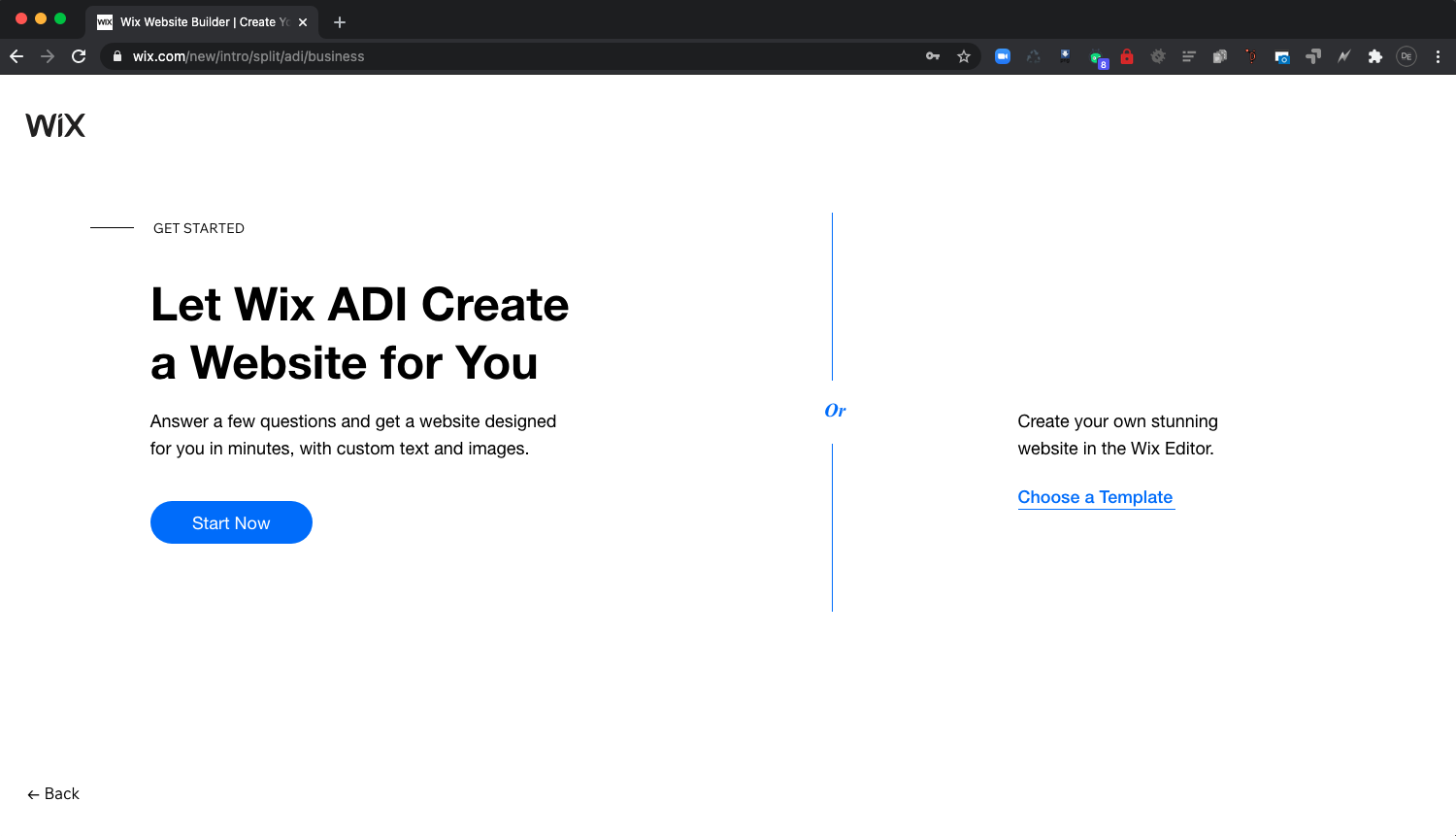 It's such a clean and frictionless process of getting online (a huge pain point for many) and getting prospects invested in the product. Here's another great overview of what that experience is like by our very own Marcus Sheridan on IMPACT's Hubcast. He can't say enough about it and I agree with him.
Check out their website creator.
🔎 Related: Why we love wix's self configuration tool


2. River Pools
River Pools (an IMPACT client and founded by our own Marcus Sheridan) is a company that sells fiberglass swimming pools.
You may have heard of Marcus Sheridan? ;) His book, They Ask, You Answer, inspires companies and entrepreneurs all around the world to really hone in on what their prospective customers want and need, then tailor an online communication strategy tailored to that.
River Pools is a testament to those ideas. As such, it has an awesome self-selection tool to help you select the perfect swimming pool for you.
With their swimming pool pricing calculator, in just a few steps and clicks, you can become a way more informed pool buyer and also plan ahead for those hidden costs you'll get hit with by the other guys.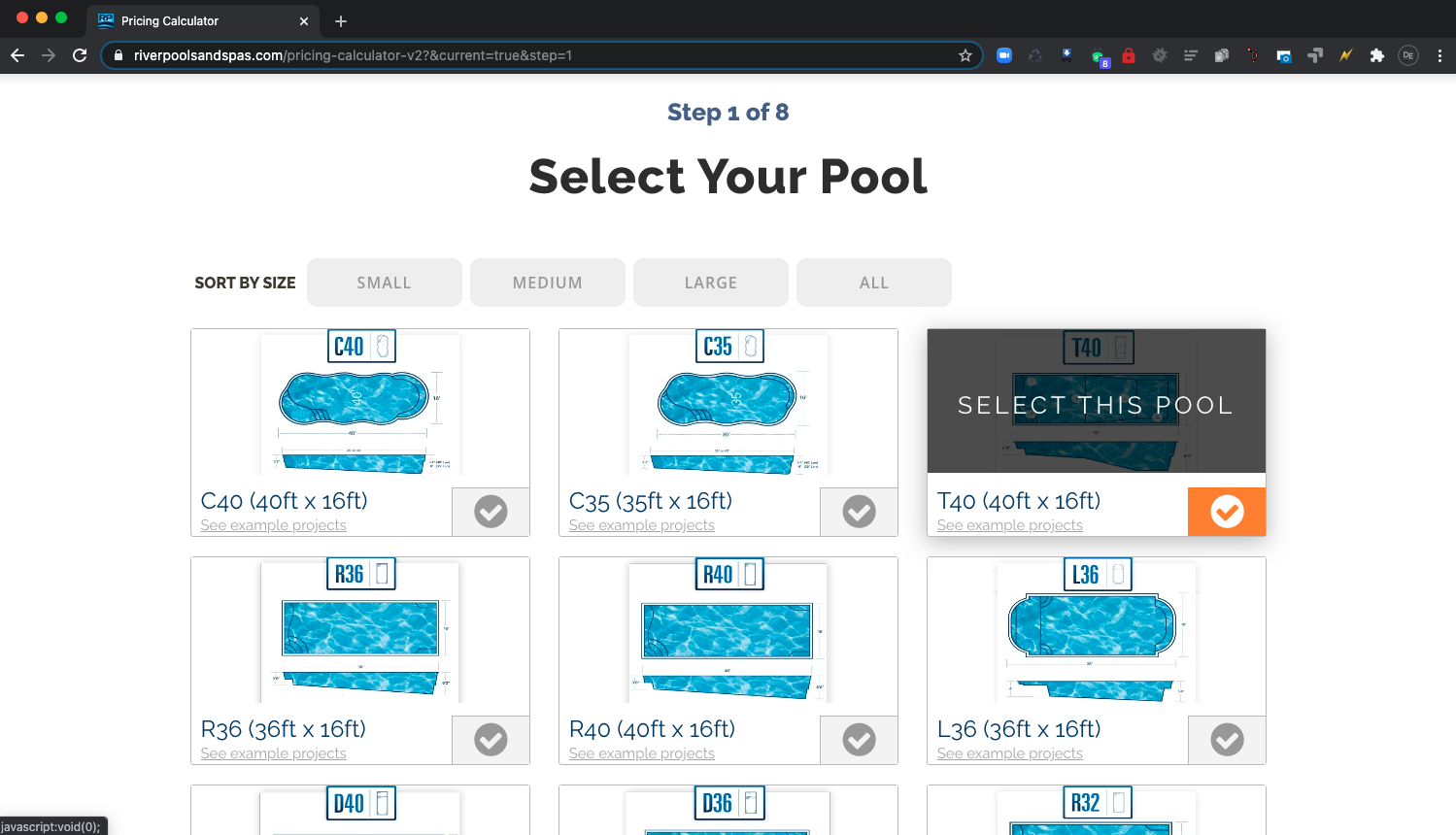 You start off by selecting the size of the pool that interests you. Then, you immediately get to see what's included with the pool size you selected;details like letting you know that they'll fill in your pool with water so you don't have to make the experience feel so personal and so well-thought-out.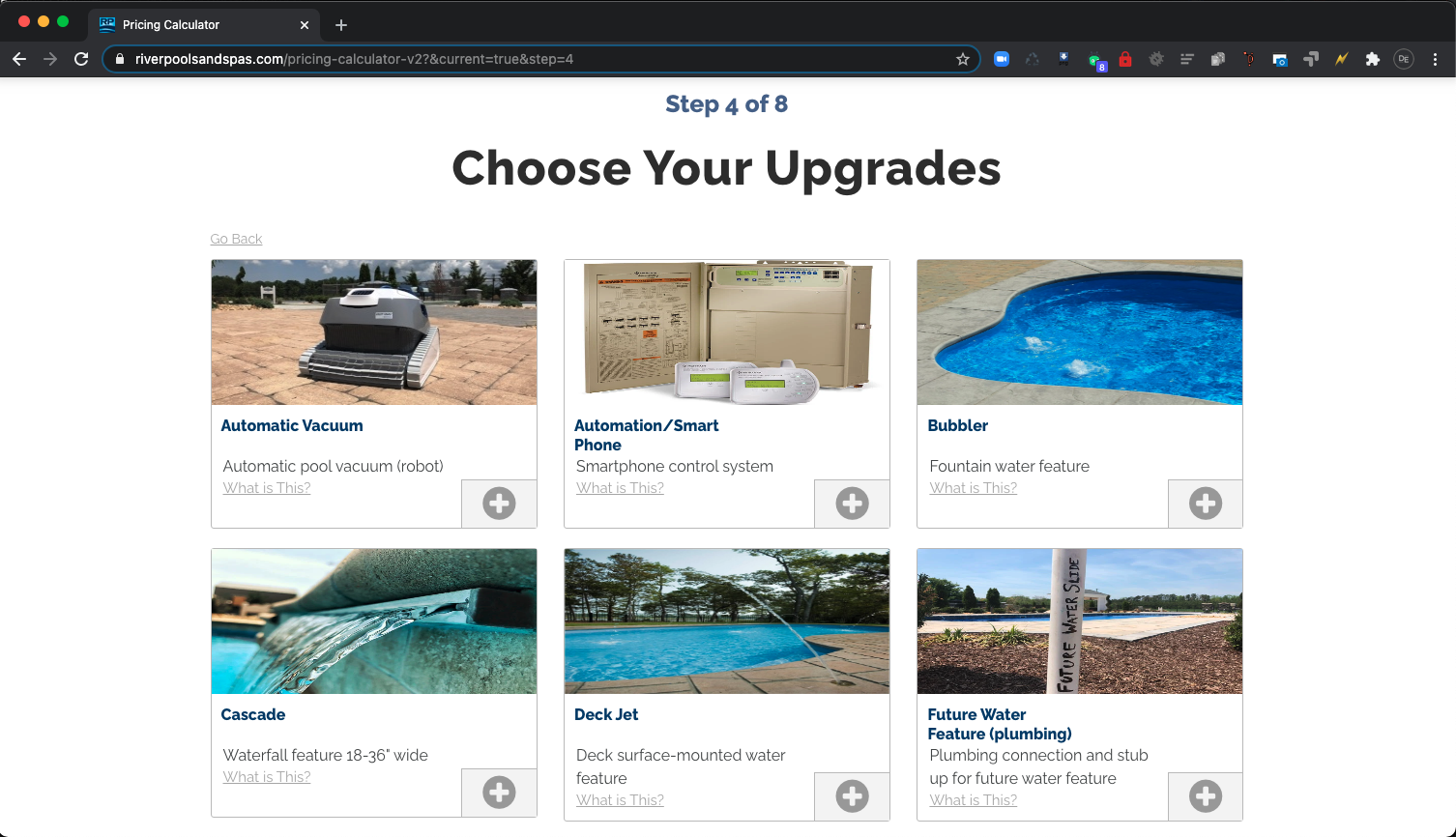 In the next few steps, you'll select the materials that'll go into your pool and any add-ons, like an automatic vacuum or cascade.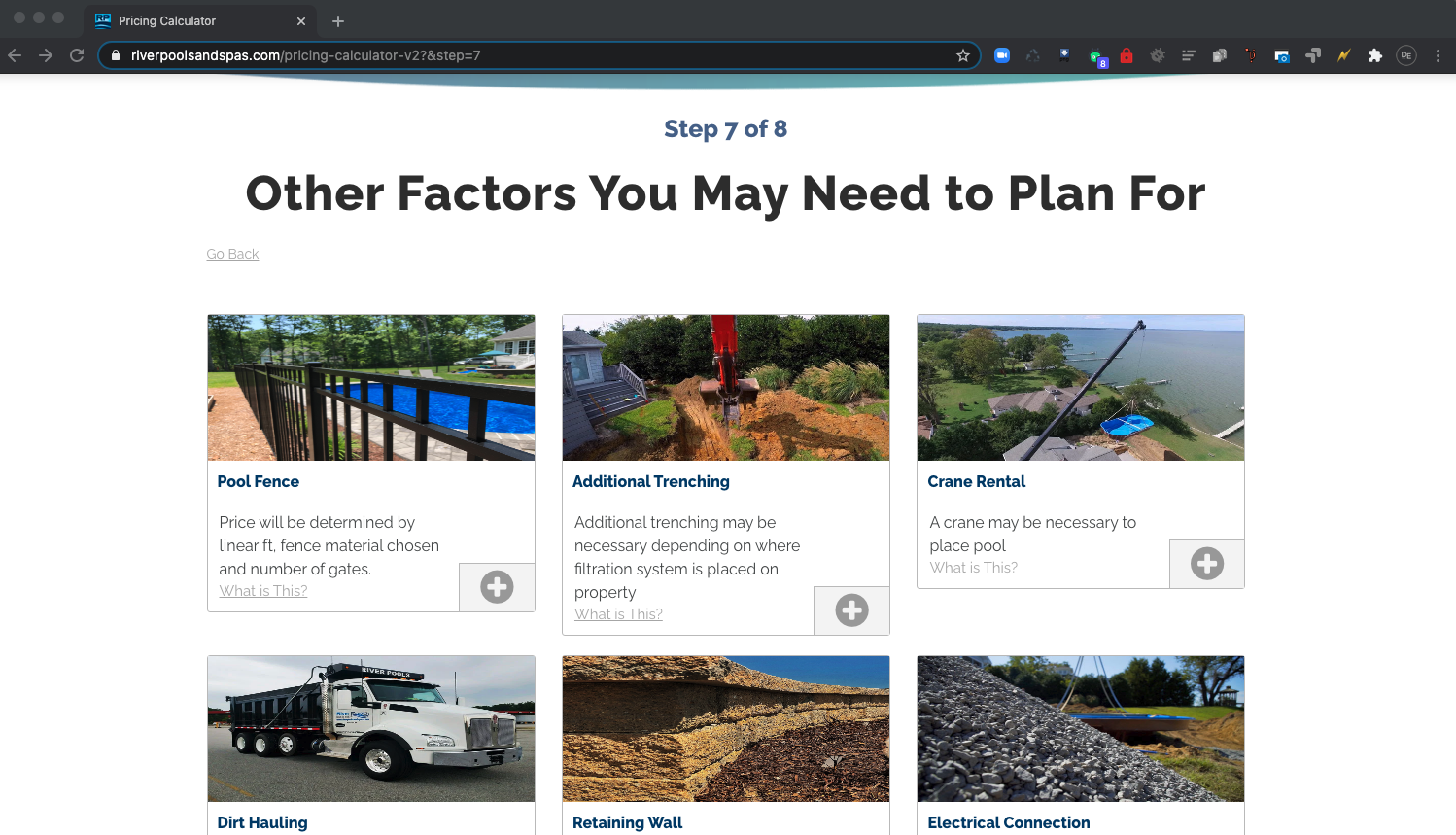 Then, the tool even suggests some factors you may need to plan, like whether or not you'll need additional trenching or whether you'll need a retaining wall built for you. I imagine not every pool manufacturer does that.
At the end of the process, you input your info and the quote gets sent right off to you in just a few minutes — no tricks or strings attached. It's a genius way to educate and again, get people truly engaged in working and buying from you.


3. Polaris' snowmobile configurator
Snowmobiles are one of those products I've always wanted to have. I'm fascinated with them even though I've never had the opportunity to ride one being from Miami, FL.
I imagine riding one is like riding a Jetski — only my nose wants to break off from the cold.
Polaris Snowmobiles' website has a super simple but very effective snowmobile configurator which helps users choose which snowmobile is right for them in just a few clicks as well.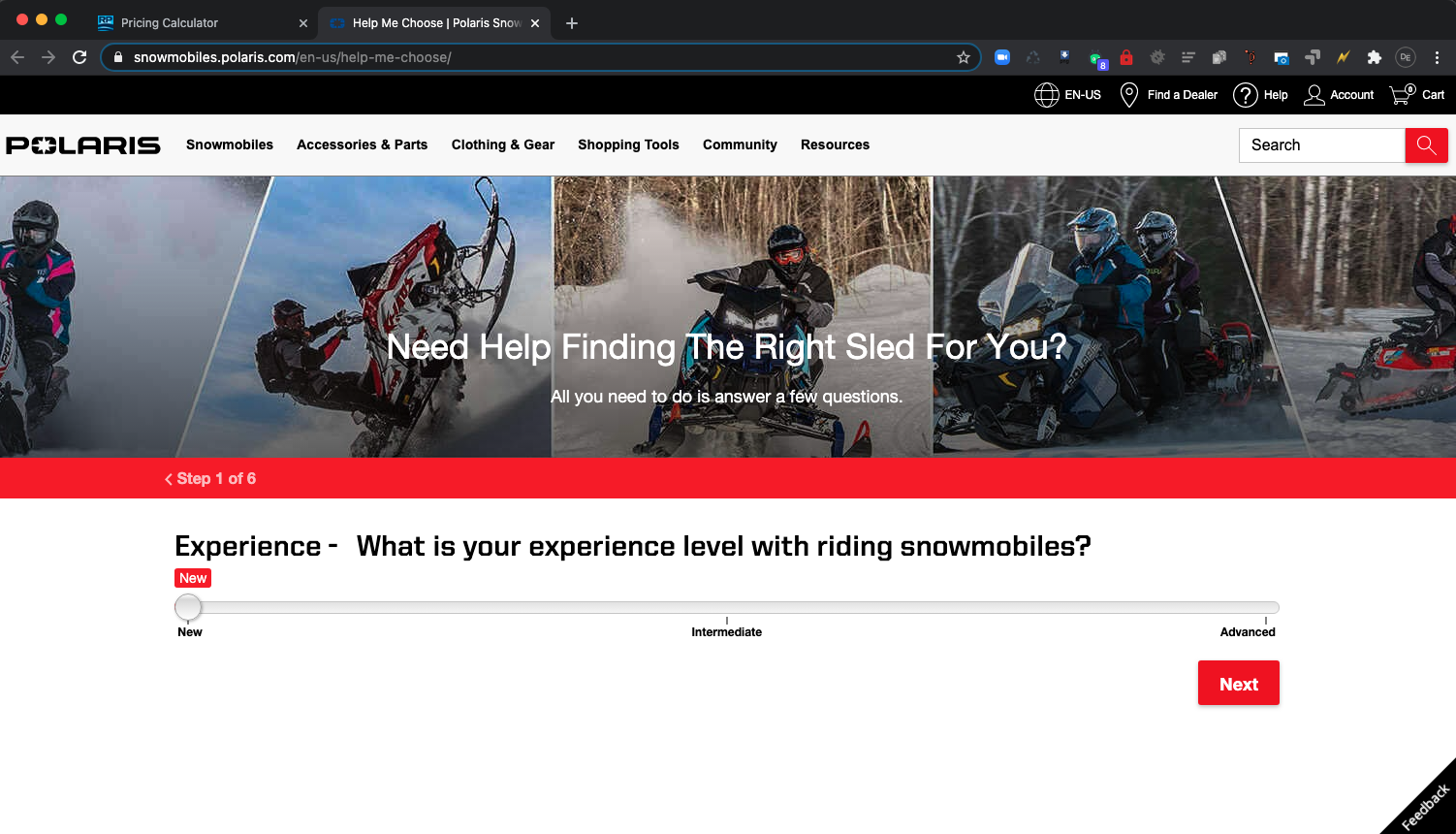 First, they'll ask if you're an experienced rider or a novice. Then, you'll select how you'll primarily use your snowmobile — recreation versus work — how often you like to ride and at what speed.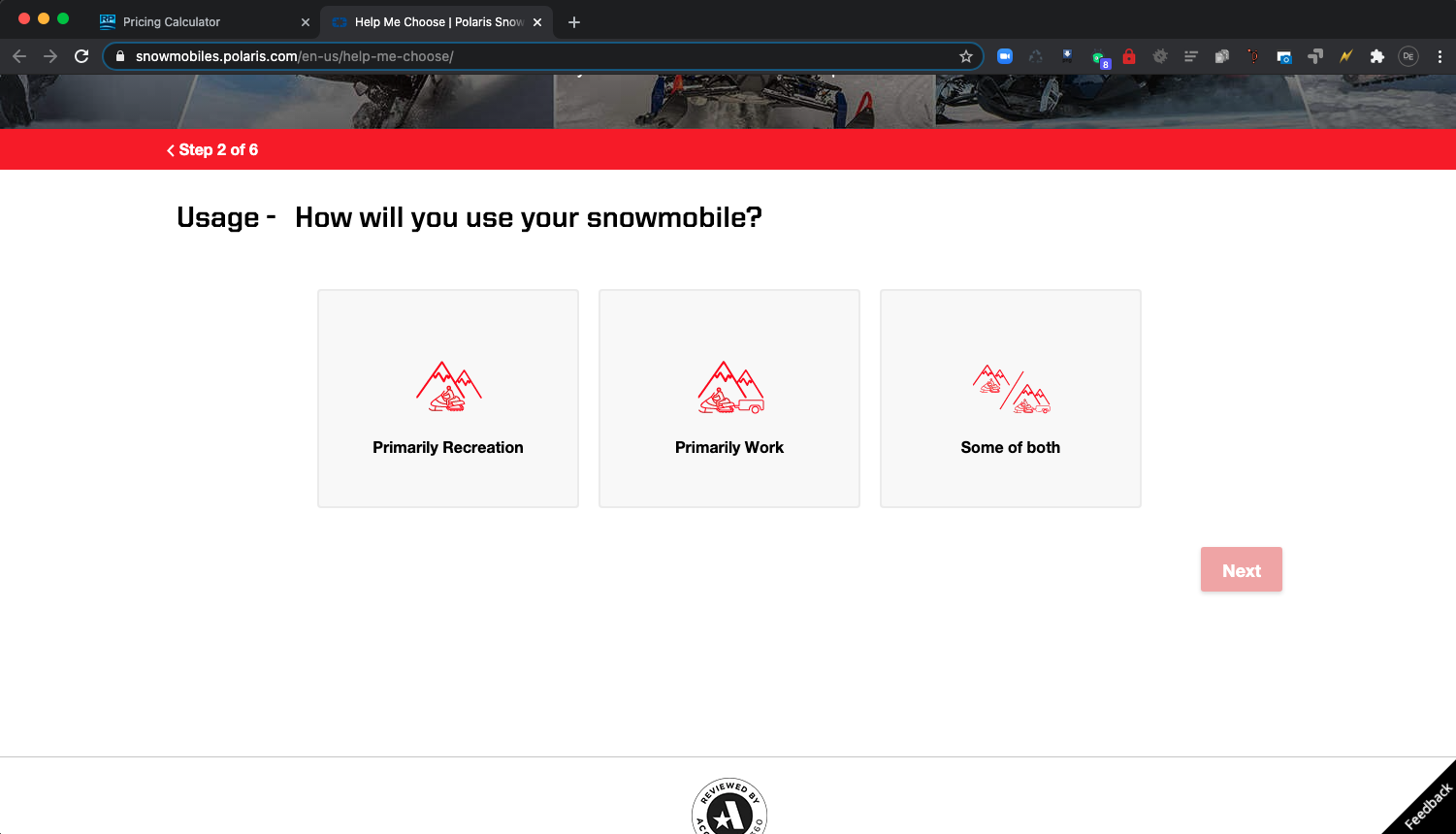 Six easy questions and you'll be presented with three choices for your needs and a full comparison between the three.
They even provide a tab so you can see the rationale they used to make the recommendations. So cool.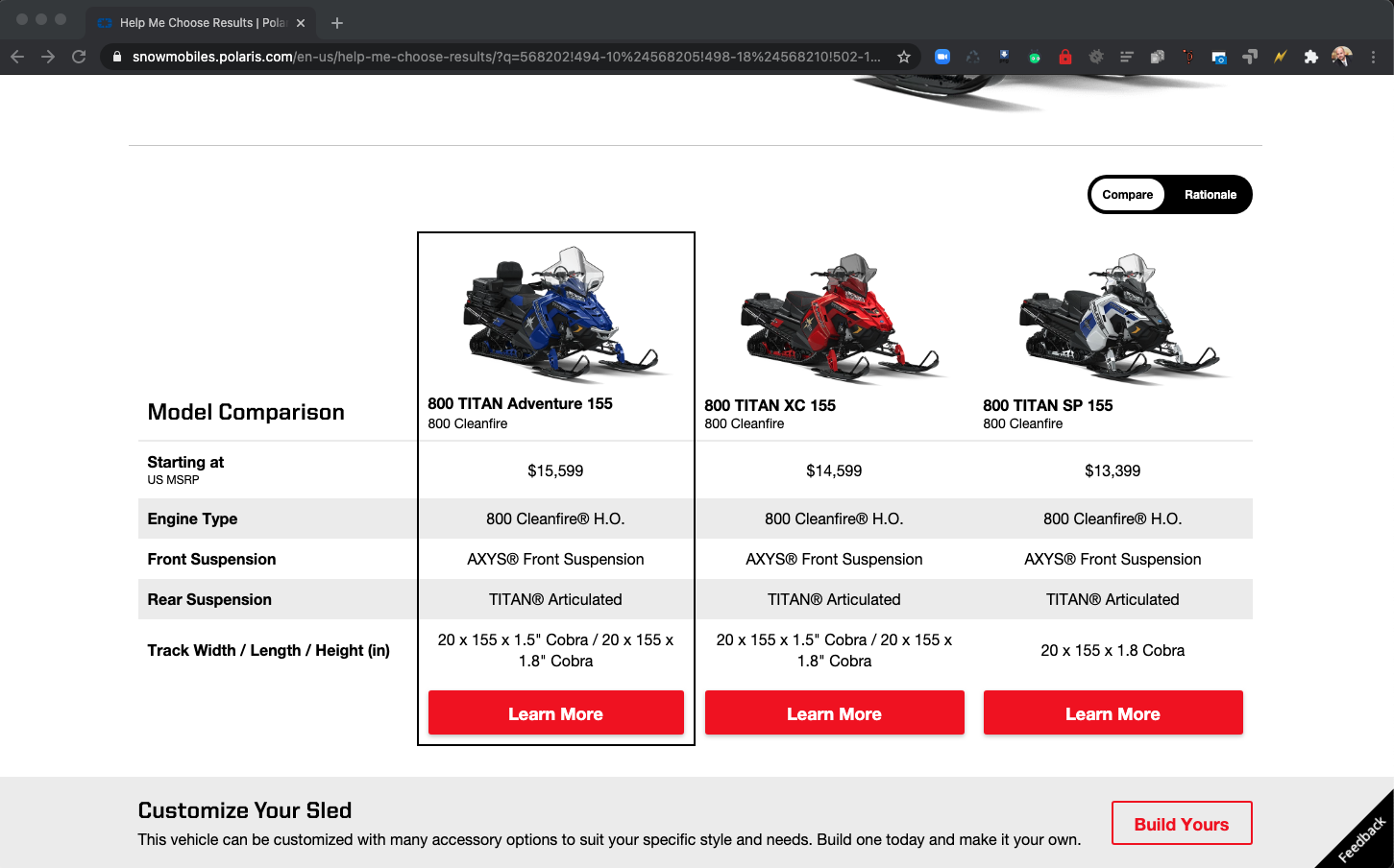 4. Bahler Brothers' Patio Design Quiz
Another one of our client favorites is Bahler Brothers' patio design tool.
If you've ever struggled just gaining insight into everything you'll need to decide on when designing or redesigning your patio, then this single page self-selection tool is fun and informative.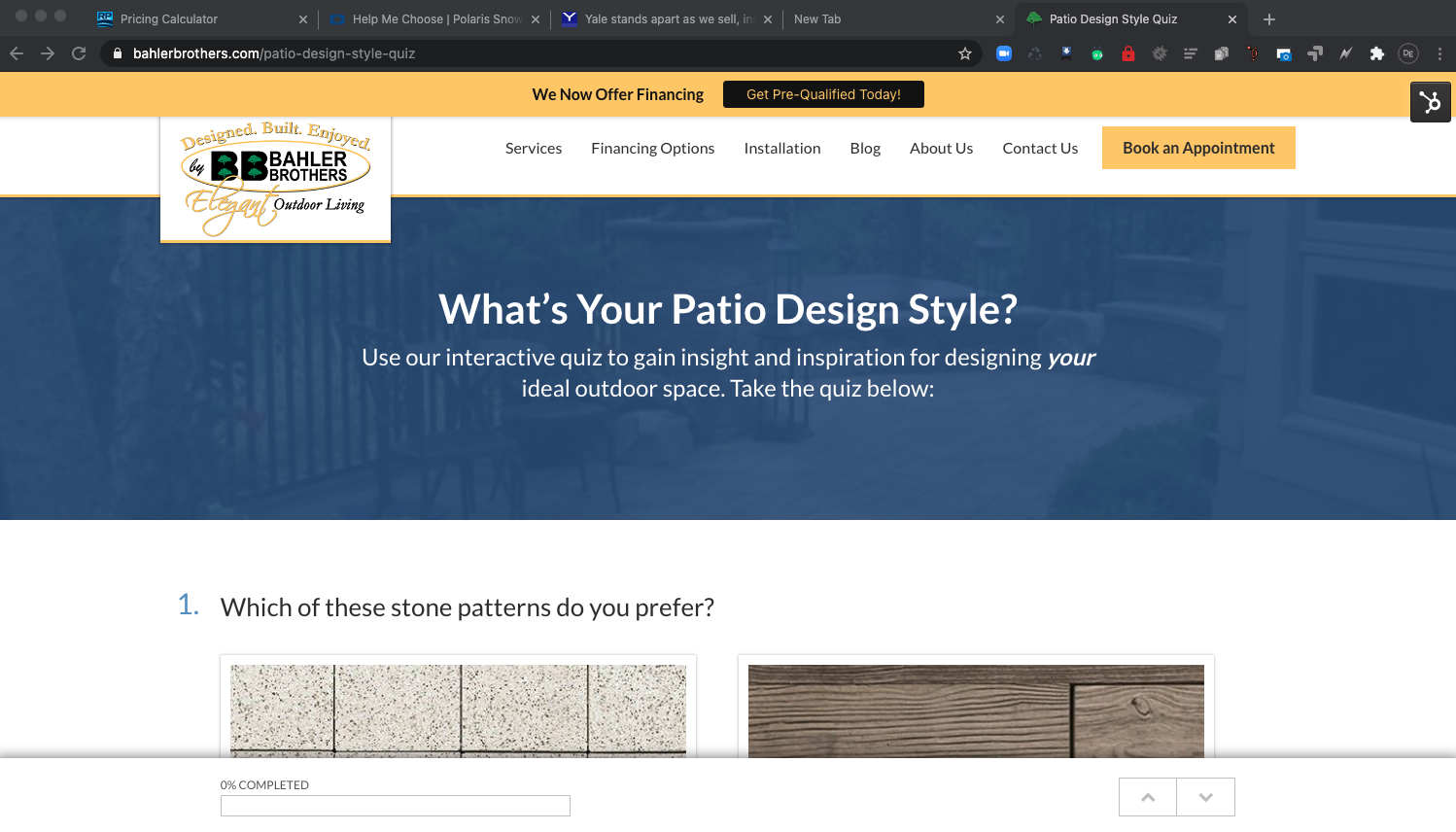 After you land, you'll select from a group of visual pattern choices and the page automatically scrolls you into the next section, keeping track of your progress all the while.
Once you reach the end, you'll put in your contact information and immediately receive which style you'll most likely enjoy for your patio. Mine was Japanese Zen and I think they're dead on.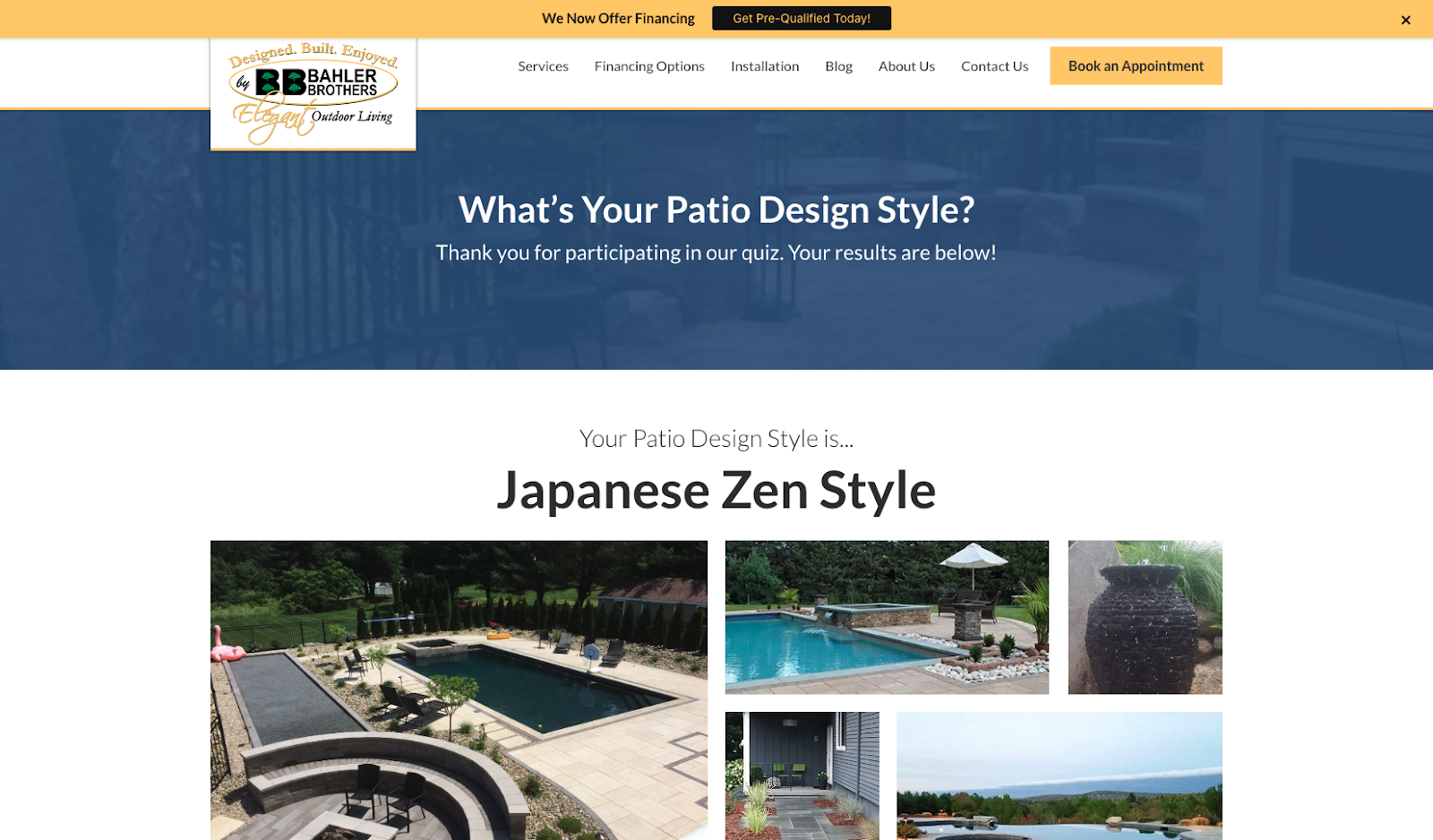 5. SCUF Gaming's "Find the right SCUF" Tool
As an avid gamer, I am always looking for ways to gain an advantage over my friends and claim those elusive bragging rights.
Some people are competitive on actual courts or fields, but for me, nothing says win like a sniper shot across the map of my favorite first-person shooter or a nasty block when one of my friends is "tryin' a get fancy" with a pick n' roll in NBA2K. (Get that out of here, Xavier!)
Anyway, SCUF Gaming's been around for a while and they make gaming controllers with hair triggers and extra levers and paddles which can provide that extra bit of leverage over your opponent.
Their stuff is pretty cool and rugged. If you want to figure out which controller is right for you, you might want to check out their SCUF controller finder.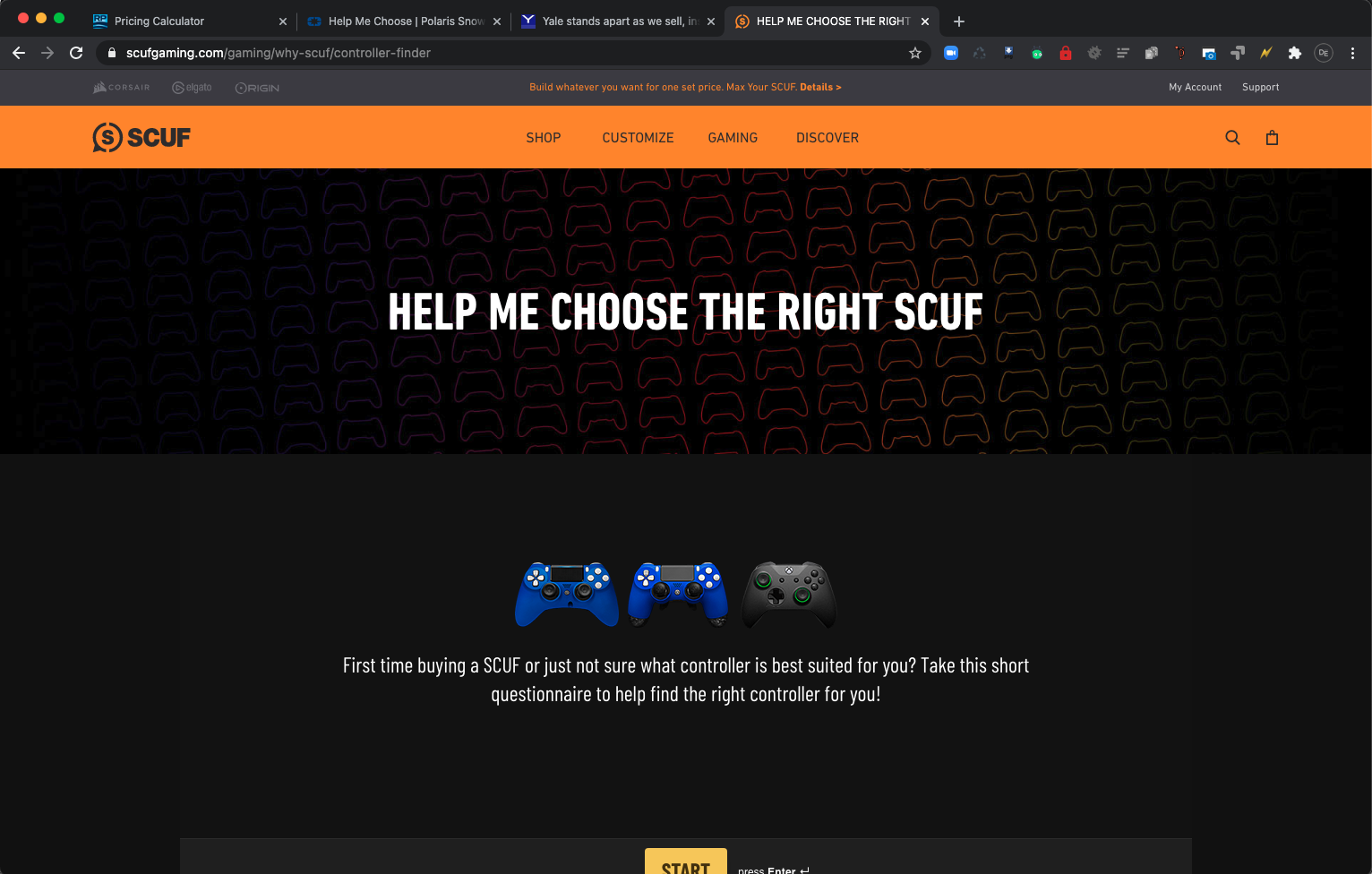 This self-selection tool behaves like a single page application. As you answer pertinent questions about your location, gaming console, and the types of game you like to play, you'll effectively narrow down your choices to the perfect controller for you.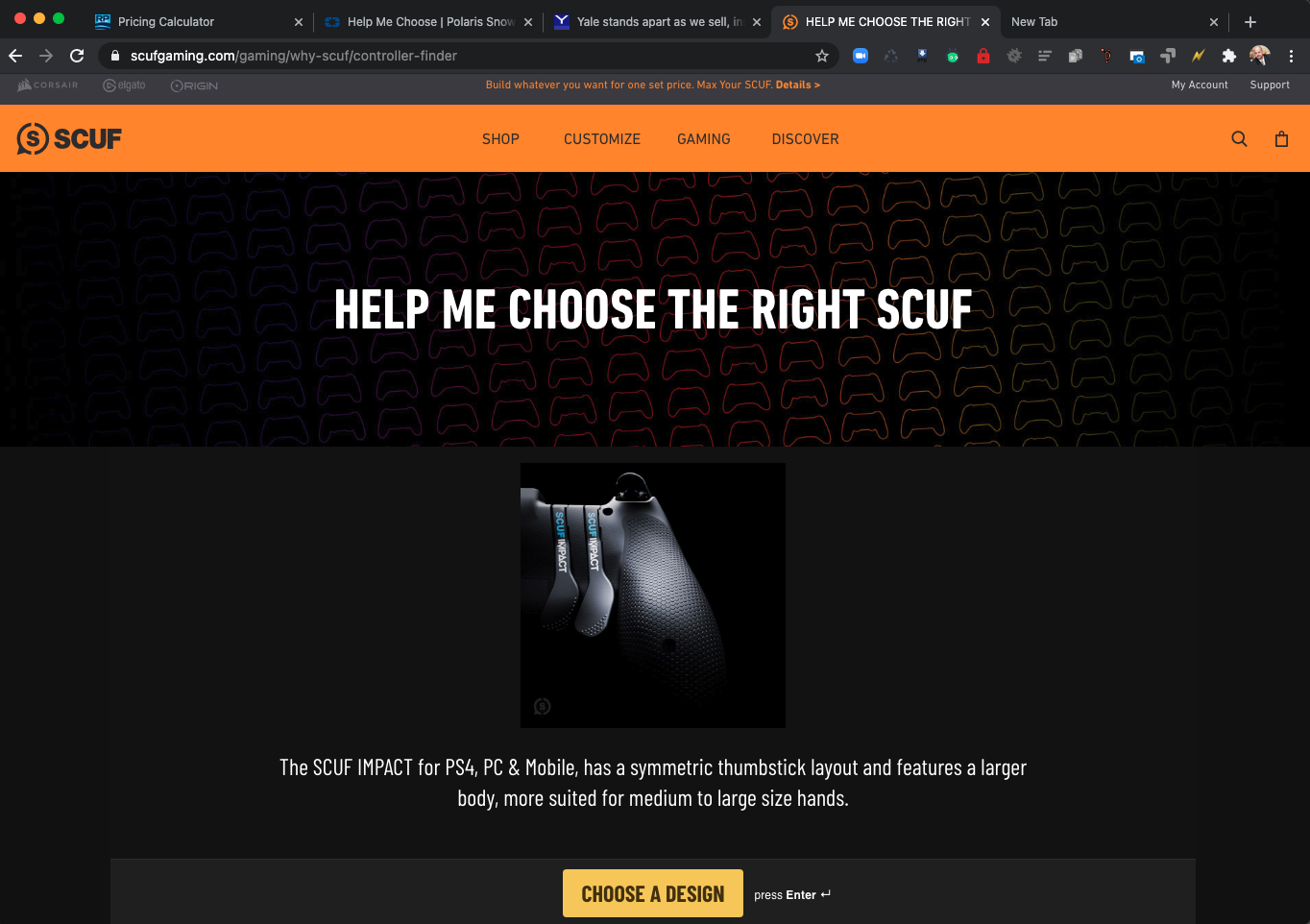 Then, after that, you can choose from one of their many designs and textures. It's a lot of fun to configure and it just so happens that my ultimate controller is the SCUF IMPACT. (How appropriate, right?)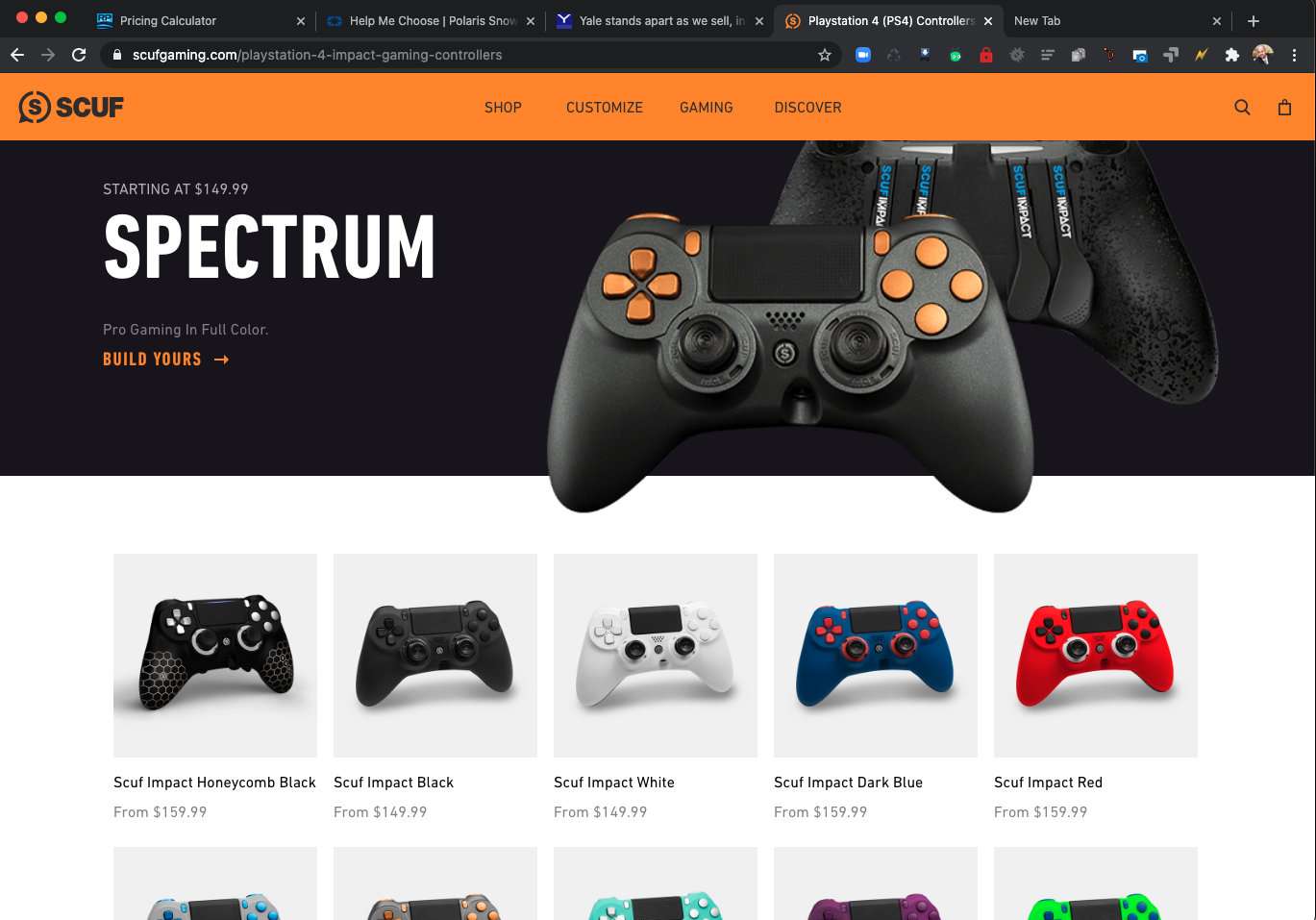 6. Yale Appliance's pro range configurator
IMPACT client Yale Appliance is one of the premier appliance sellers, installers, distributors, and, really educators in the US.
Going through their website, one can obtain information on just about any household appliance you can think of. Their extensive learning center is there to guide you to make the most informed decision on which appliance to buy. From pricing information to reviews and professional assessments, it's all at your fingertips to consume.
That being said, one popular tool they offer is their Pro Range Configurator.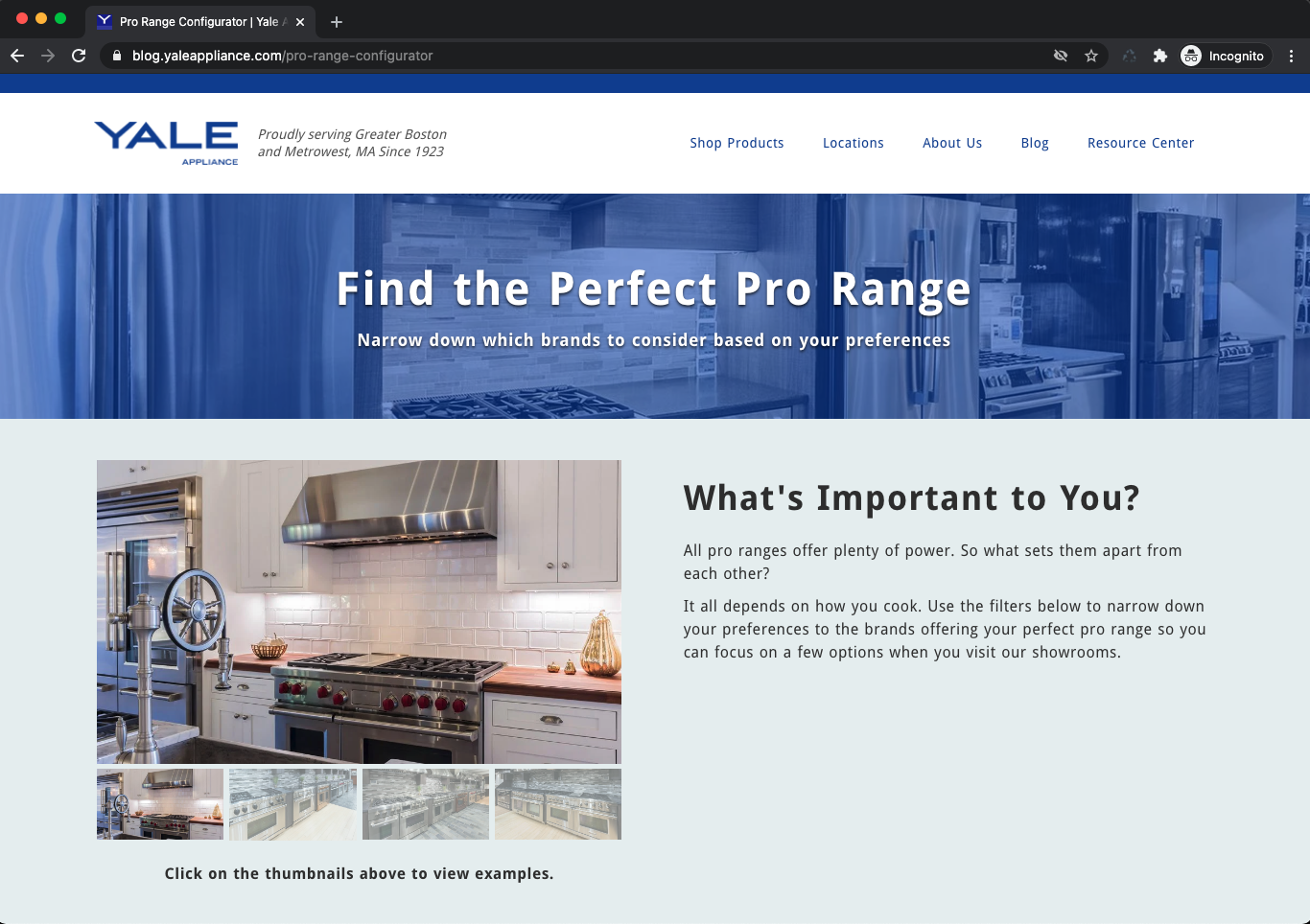 In just a few clicks selecting a range size, fuel type, burner type, burner configuration, colors, etc. along with your contact information, you'll get a free recommendation on which brands and ranges to choose from.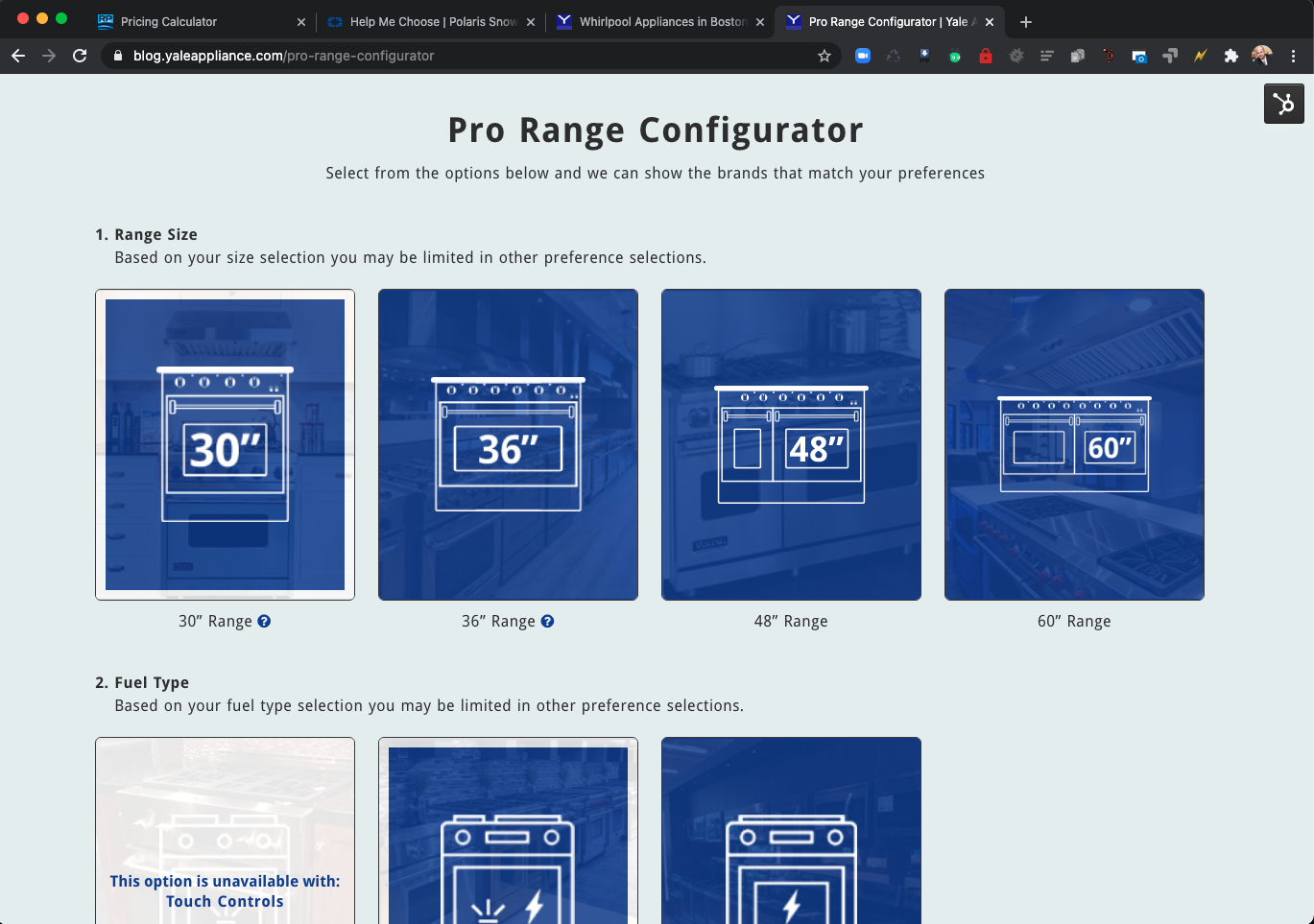 7. IMPACT's inbound scorecard
This may be a shameless plug, but you know what? Countless customers have used our inbound scorecard to help them understand the inbound mentality and also help develop qualified and educated leads for our sales team.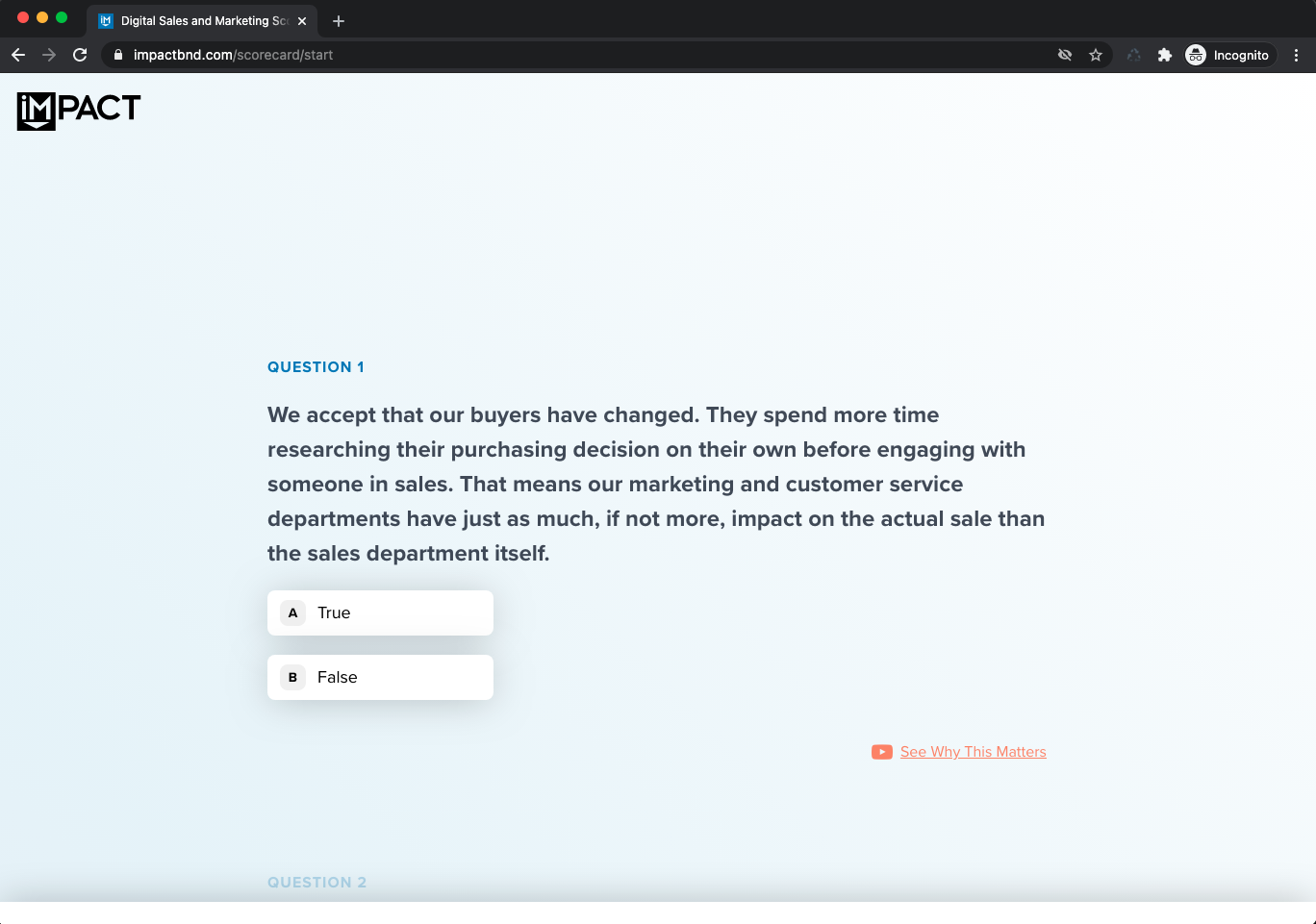 As you answer the questions related to your outlook on the way consumers interact with brands, you'll get closer and closer to your final score revealing how much work you or your organization needs to put in to effectively communicate with the buyers of today.
Little by little, just taking the quiz, you'll get a glimpse into the thinking that goes into an inbound marketing strategy and why it's important to start shifting away from the traditional marketing model.
I was not part of its concept, design, or development so it's ok for me to say it really is super helpful and I recommend you follow the process on this page to start on the road to inbound success. Remember to be honest or it won't work!
Self-selection is the future
As experiences on websites continue to evolve and more and more companies begin to provide the tools their customers need to get in, make the experience theirs, and get out, you'll want to be at the forefront of that practice for your industry with a self-selection tool.
Not only will using a self-selection tool on your website help to streamline your sales process, it will also help to turn your website into a sales tool automatically.
Even if your customers won't be able to fully self select their way to a purchase, they'll at least be ultra qualified leads that are ready to make a purchase by the time they interact with your sales team.
Imagine how many more clients your team can close if they don't need to educate your leads!
This will affect your bottom line, but more importantly, improve your customer's overall experience and drive additional sales as a result via word of mouth.
It's a win-win for everyone.
FREE On-Demand: The Website Optimization Summit Opening Keynote
Watch Liz Moorehead's takeaway-filled opening keynote from the Website Optimization Summit for FREE inside IMPACT+.
Your business website should be your most profitable virtual employee -- closing deals left and right. Yet, business leaders and digital marketers just like you are unwittingly undermining the money-making potential of your website.
Let Liz Moorehead show you the simple and powerful ways you can immediately increase the revenue potential of your business website, no matter what industry you're in, in this information packed keynote.