9 Self-Service Tools to Inspire Your Business Website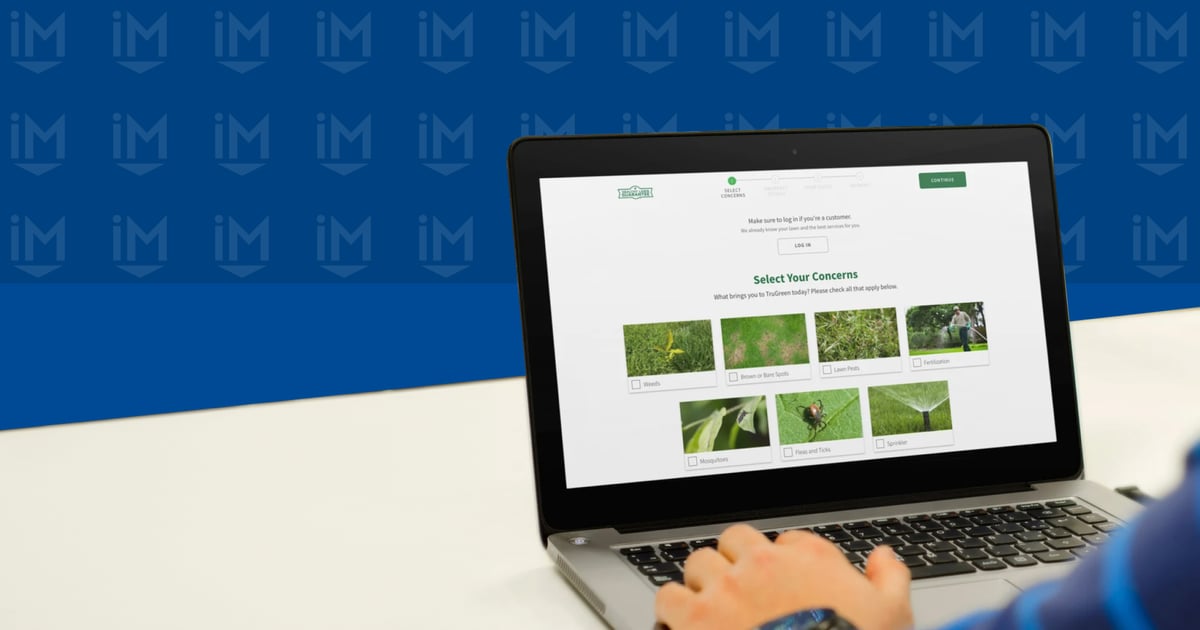 According to a study from Gartner, 33% of all buyers would prefer an entirely "sales-free" sales experience. In other words, they'd like to complete their purchase without having to speak to a salesperson. For buyers who identify as millennials, the number is even higher: 44%.
By all indications, that number will only go up in the years ahead.
Yet according to Zendesk, only one-third of businesses offer customer self-service tools on their websites.

Buyers want a friction-free process that allows them to research and select what they want all on their own. As a result, they're more open to using bots and artificial intelligence to answer their questions and direct them along the buyer's journey — as long as their problems are addressed quickly and accurately.
In short, your buyers want more control over the entire sales process.
The question for you is, are you helping them?
Self-selection tools on your website can help buyers self-educate as they move closer to a purchase.
These tools can be as simple or as complex as you need them to be, and they can work in virtually all industries, both B2B and B2C.
The key to it all is keeping your buyer's needs in mind — and providing the information they need to make the right purchase.
Below, you'll see a range of examples to inspire you.
What are self-service tools and how do they work?
Self-service tools are tools or interfaces on a website that allow users to find answers to their questions and configure their own buying experience. This helps our prospects identify on their own what product, level, plan, or type of service they'll be purchasing.
Self-service tools that B2B and B2C companies often use include:
Product or service selectors

Custom product or service builders

Pricing calculators

Chatbots or other conversational marketing tools

Automated scheduling technologies
There is a range of ways these tools work, depending on which one you'd like to provide and how.

For example, if you're adding a pricing calculator or chatbot to your website, it might be as simple as adding a plugin. If you're looking for something more comprehensive, you might need to have someone configure the tool for you. This will all depend on what your buyers need and how you decide to give it to them.
Here are some tools other businesses have put together that could inspire what you choose.
Self-service tool examples
A self-selection tool will turn your website into one of your most powerful sales tools.
Use these examples to inspire you to see new ways you can serve your customers.
Wix is an awesome tool that makes it super easy for you to go in and create a new website in minutes.
Let's face it: Not everyone who wants an online presence needs something complicated right away. A lot of small businesses and sole proprietors can benefit from using a platform like Wix to get up and running online fast.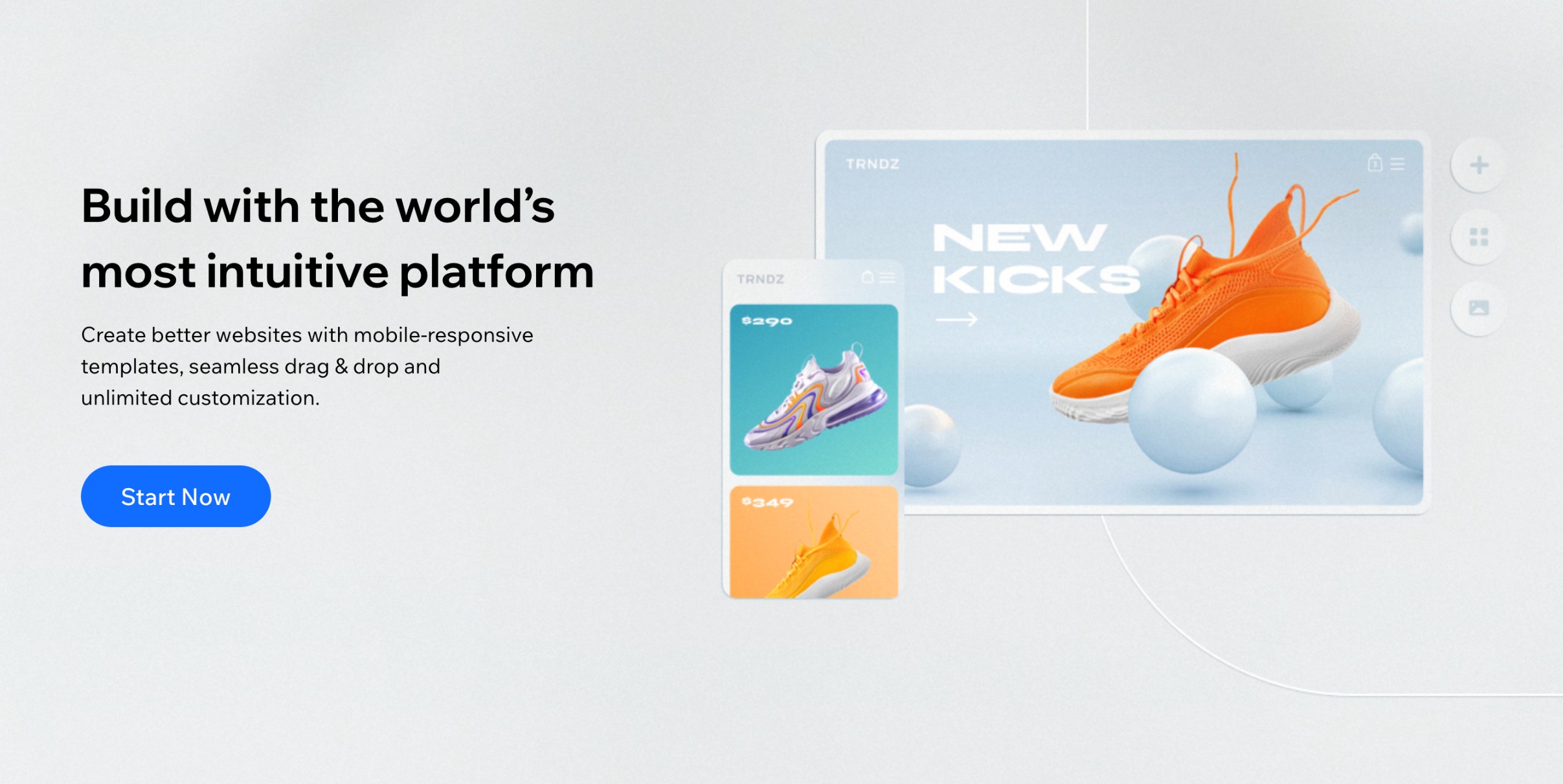 As soon as you sign up, and enter your email address and password, you start your journey by answering questions, such as, "What do you want to create a website for?" and "What kind of website does your company need?"
Your answers inform the decisions the software makes to recommend the right template for your needs.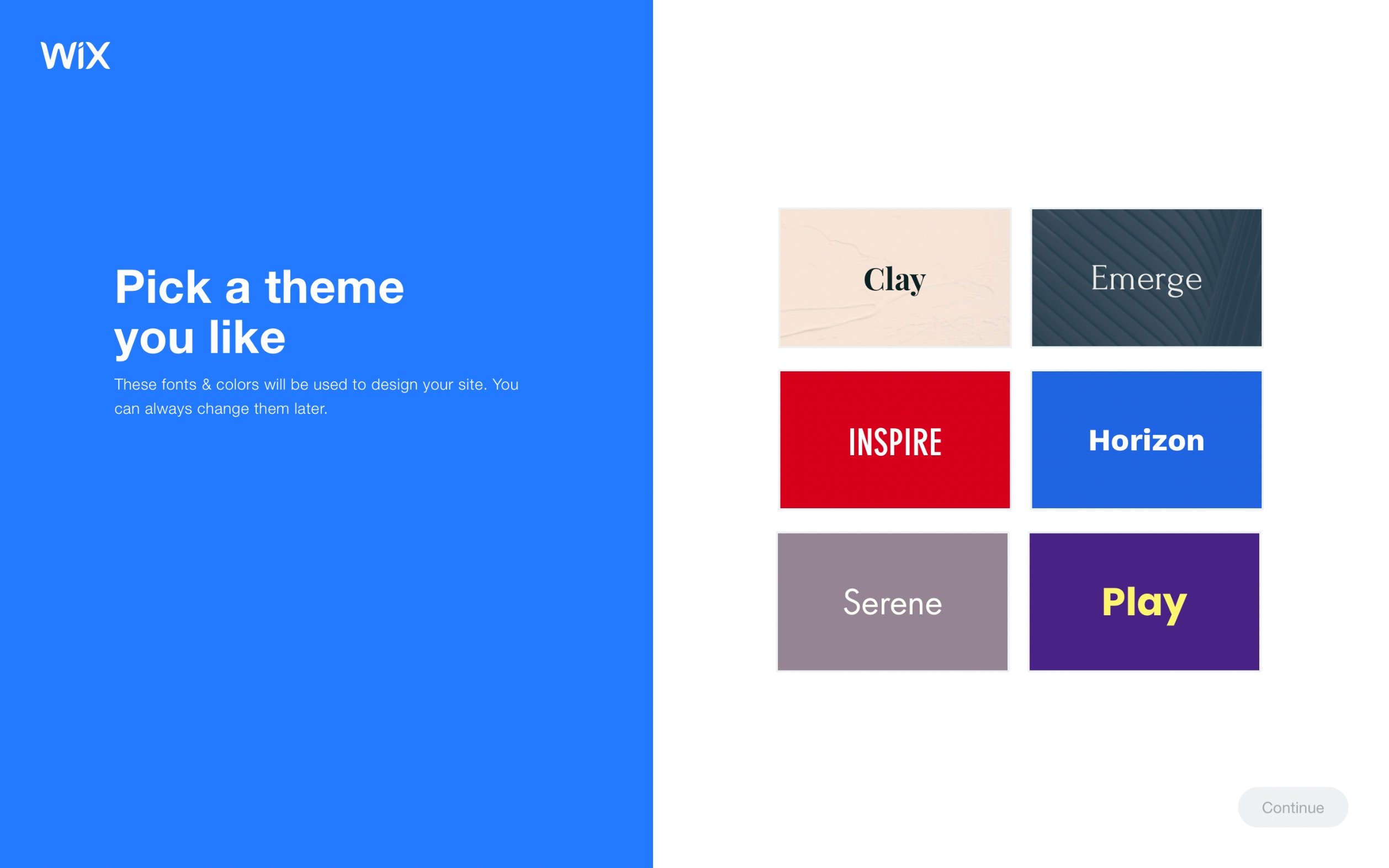 Finally, you can let Wix's software build you a site or choose from a list of their recommended templates.
You can choose your favorite homepage design, input your credit card number, and in just a few steps, you could be online that same day.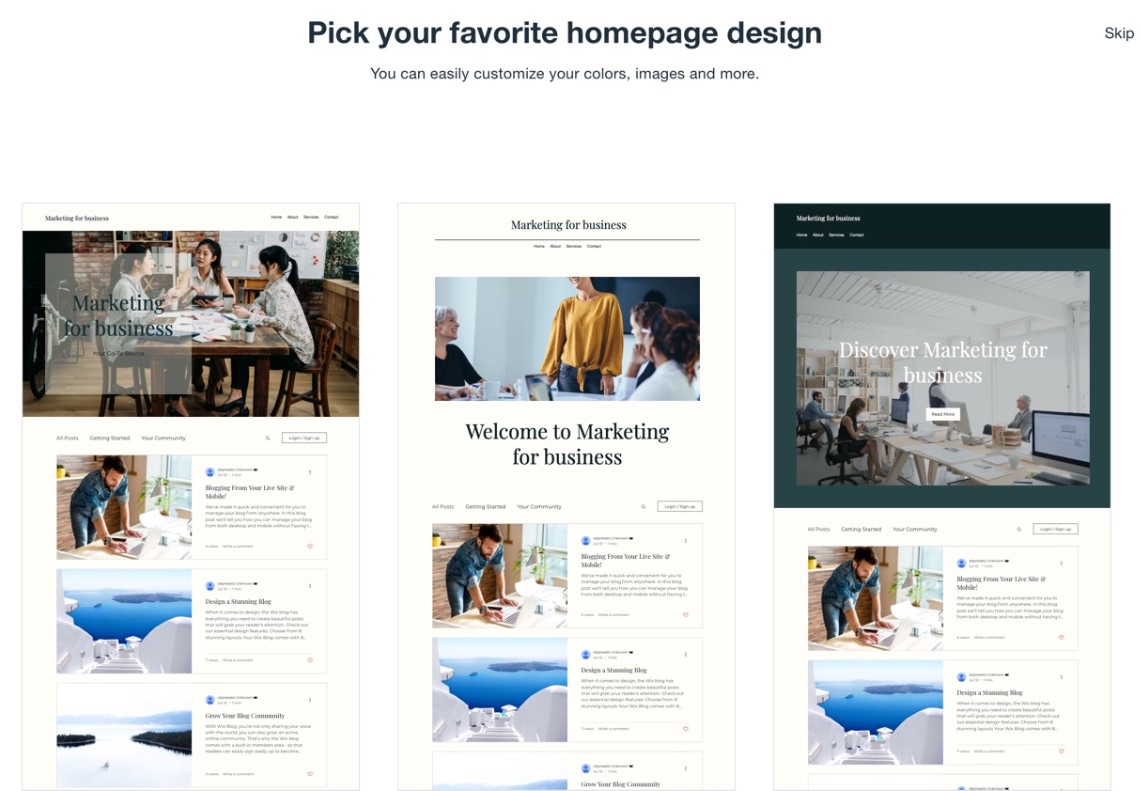 It's such a clean and frictionless process of getting your website up and running, that it can solve a huge pain point for many businesses.
Wait, a pool company has a self-selection tool?
Yes. River Pools, which sells and installs fiberglass swimming pools, has an awesome pricing tool to help you find the perfect swimming pool for you.
In just a few steps and clicks, you can become a more informed pool buyer and also plan ahead for hidden costs that might come with additional options and add-ons that come with a project this big.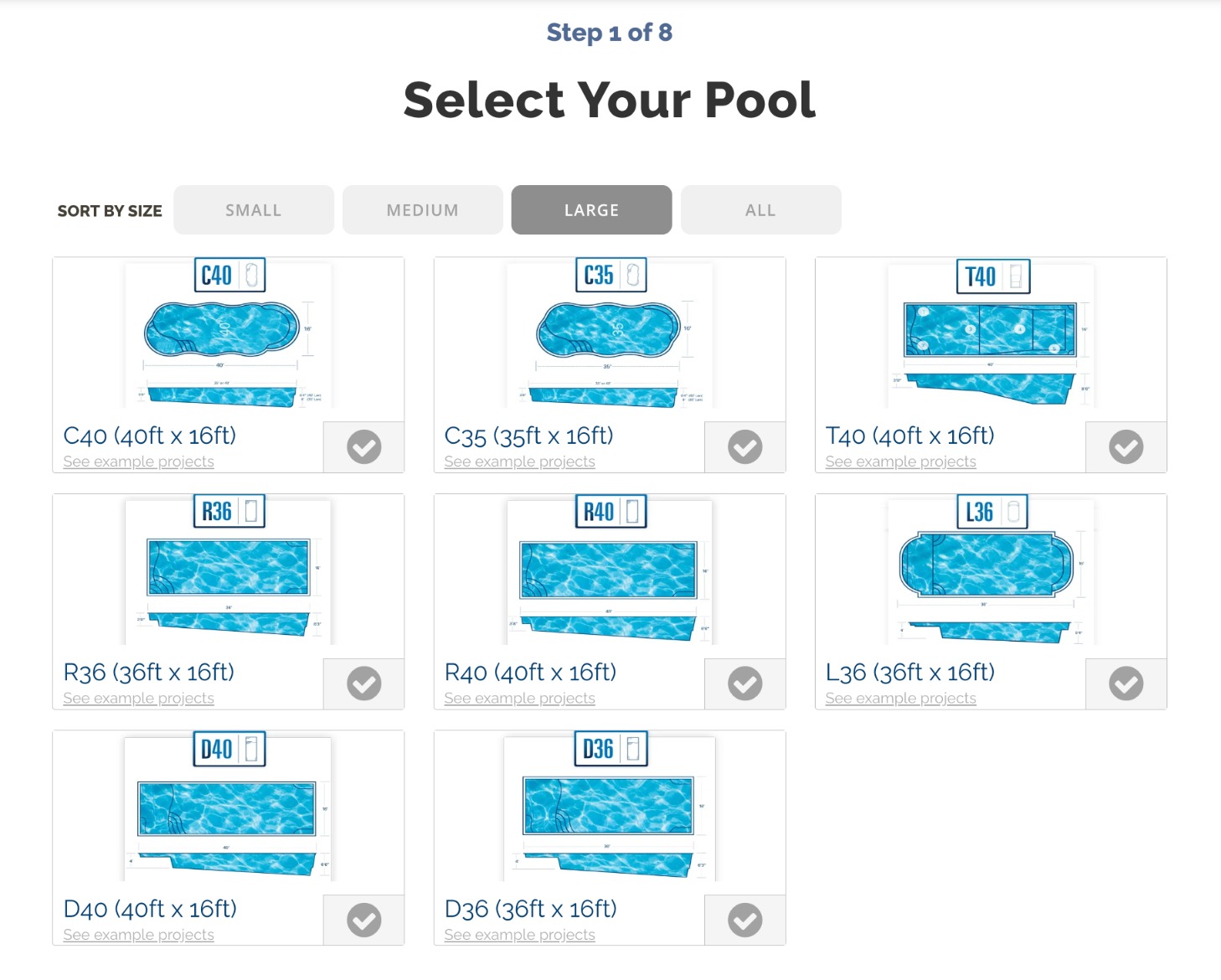 You select the materials that'll go into your pool and any add-ons, such as an automatic vacuum or cascade.
Each step provides extra details to make the experience feel more personal and well-thought-out.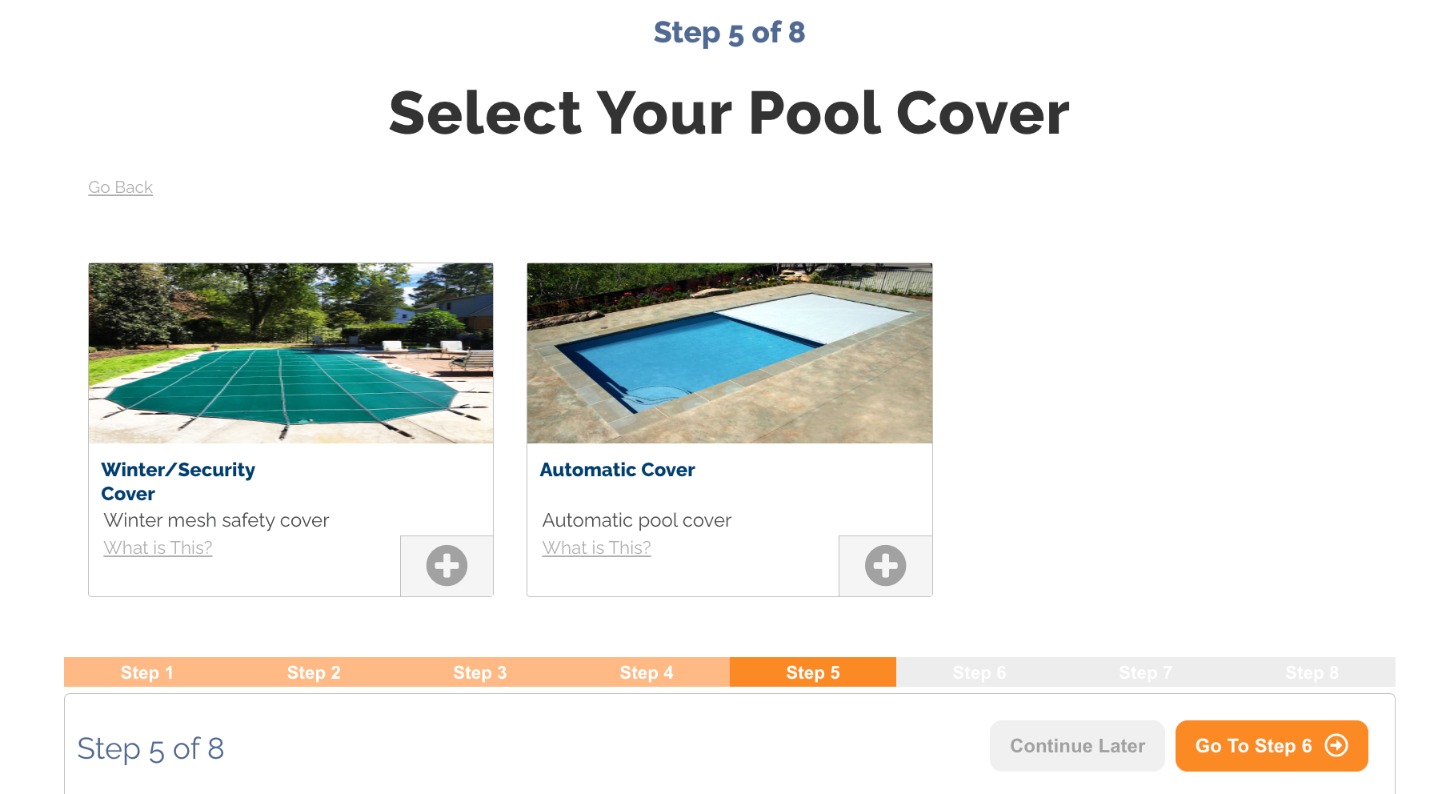 The tool then presents some factors you may need to plan for, such as whether or not you'll need additional trenching or a retaining wall.
At the end of the process, you input your info and the quote gets sent right off to you in just a few minutes — no tricks or strings attached.
Coffee machine marker Rancilio offers an incredibly helpful comparison tool for selecting the right coffee machine. You start by selecting whether you are looking for an espresso machine or bean-to-cup machine.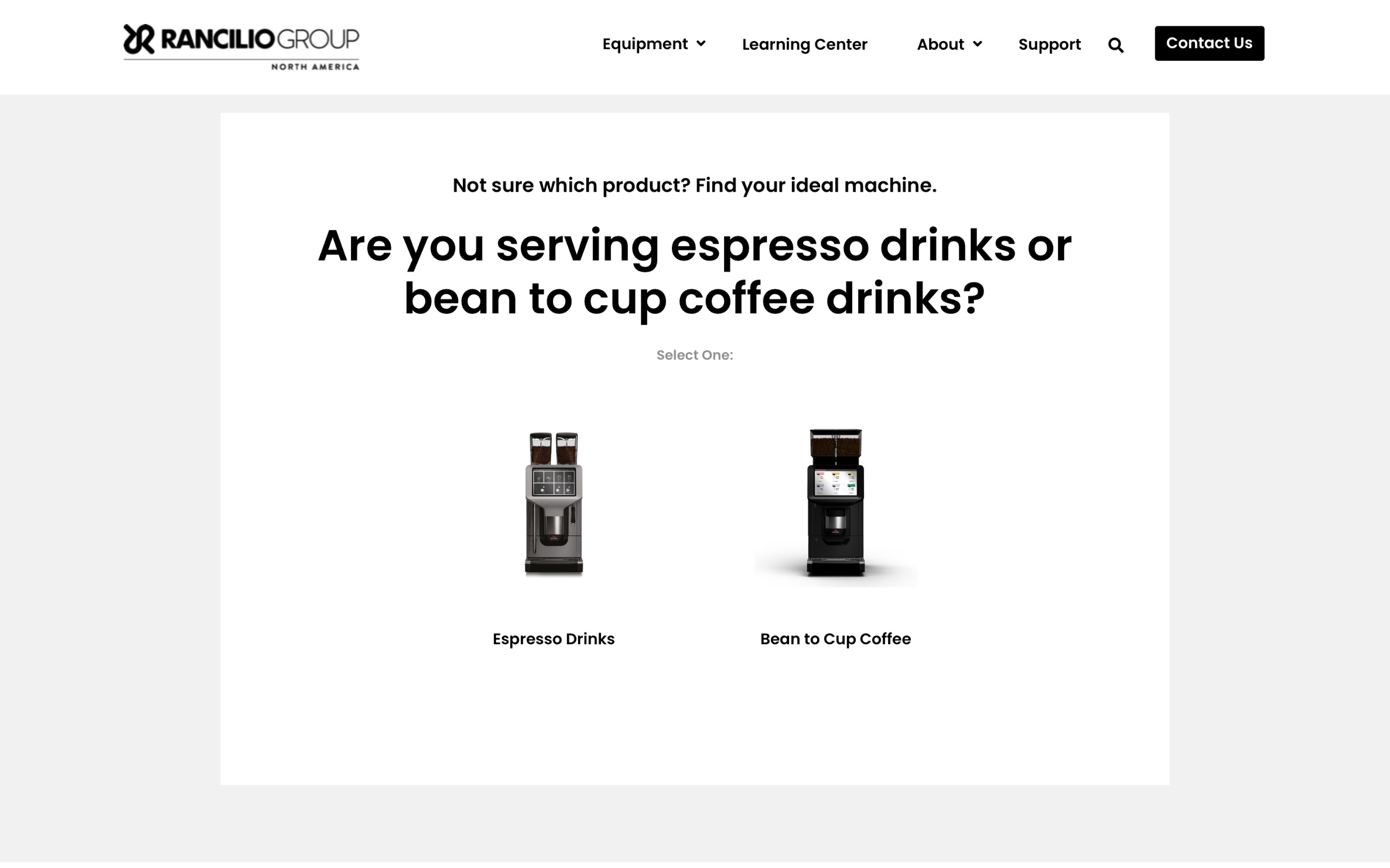 Next, you choose the volume of coffee you're planning to make each day (fewer or more than 50) and whether you want the machine to carry milk on demand.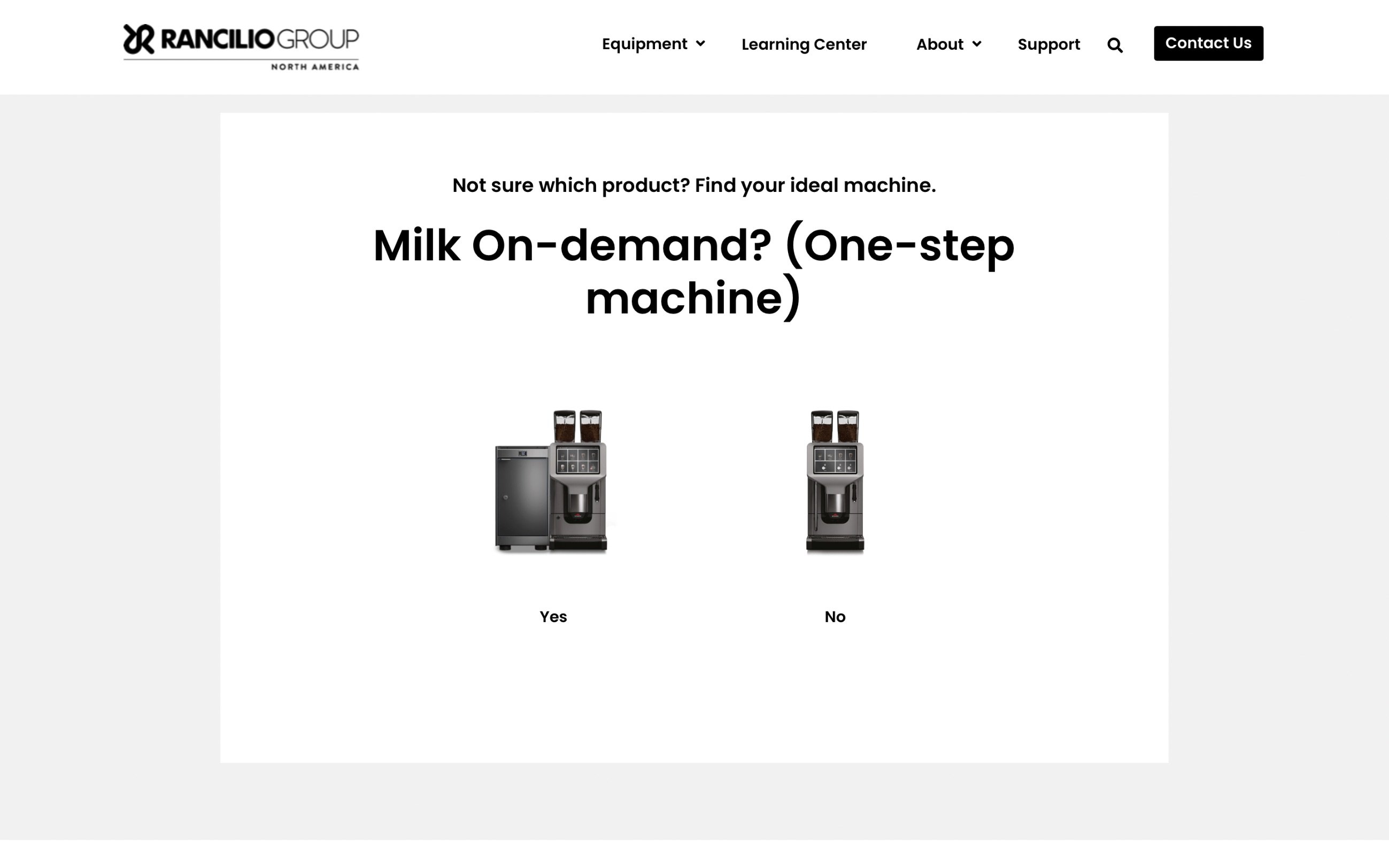 This takes you to a screen where you can view all the different products available with the specs you chose, or you can get in touch with one of their specialists to walk you through which machine might best suit your needs.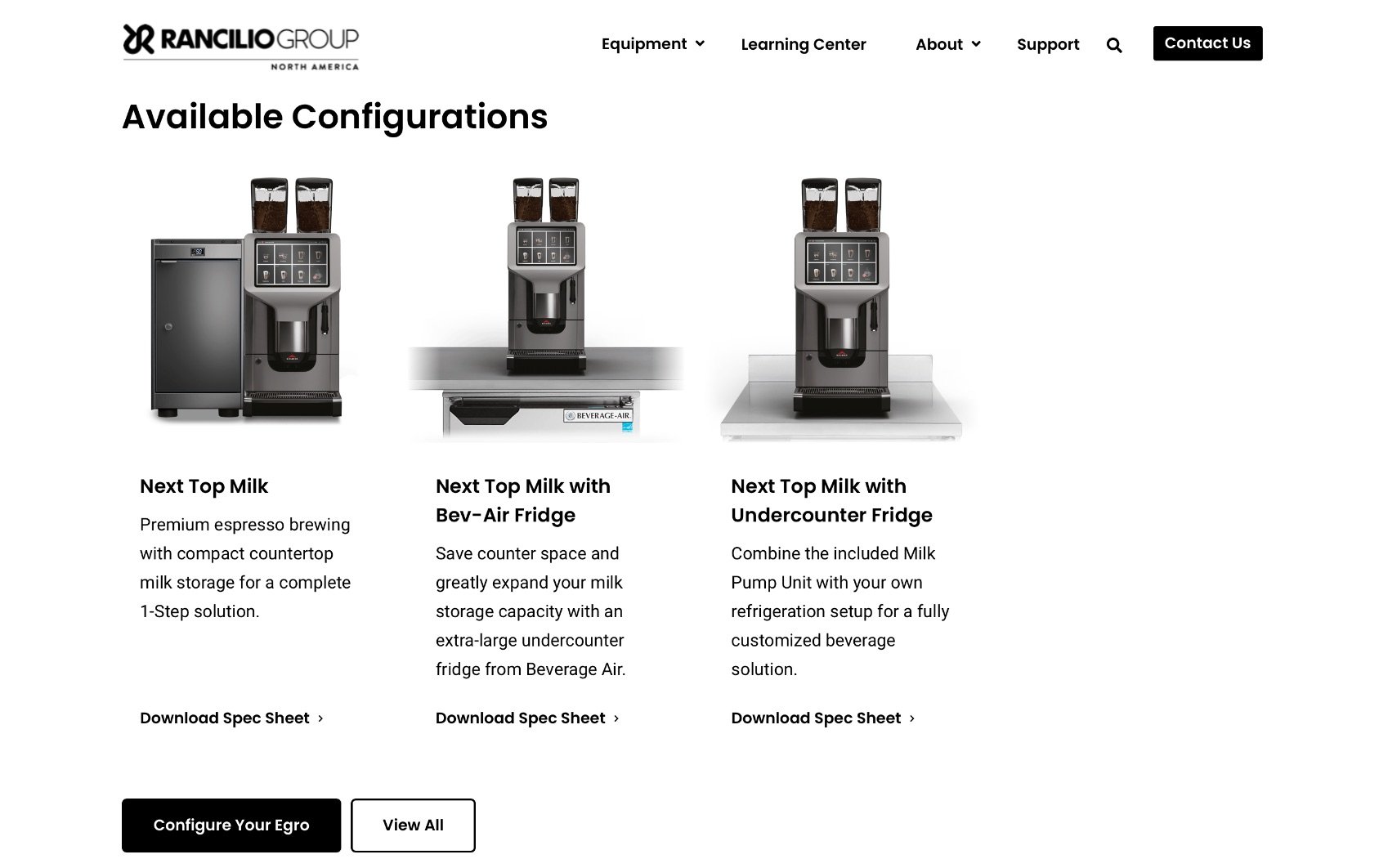 The tool helps you figure out your own needs while guiding prospects closer to a buying decision.
Another one of our SMB client favorites is Bahler Brothers' patio design tool.
If you've ever struggled designing or redesigning your outdoor space, you will appreciate how fun and informative this single-page self-selection tool is.

After you land on the page, you'll select which option you like from a group of visual pattern choices, and the page will then automatically scroll you into the next section, keeping track of your progress all the while.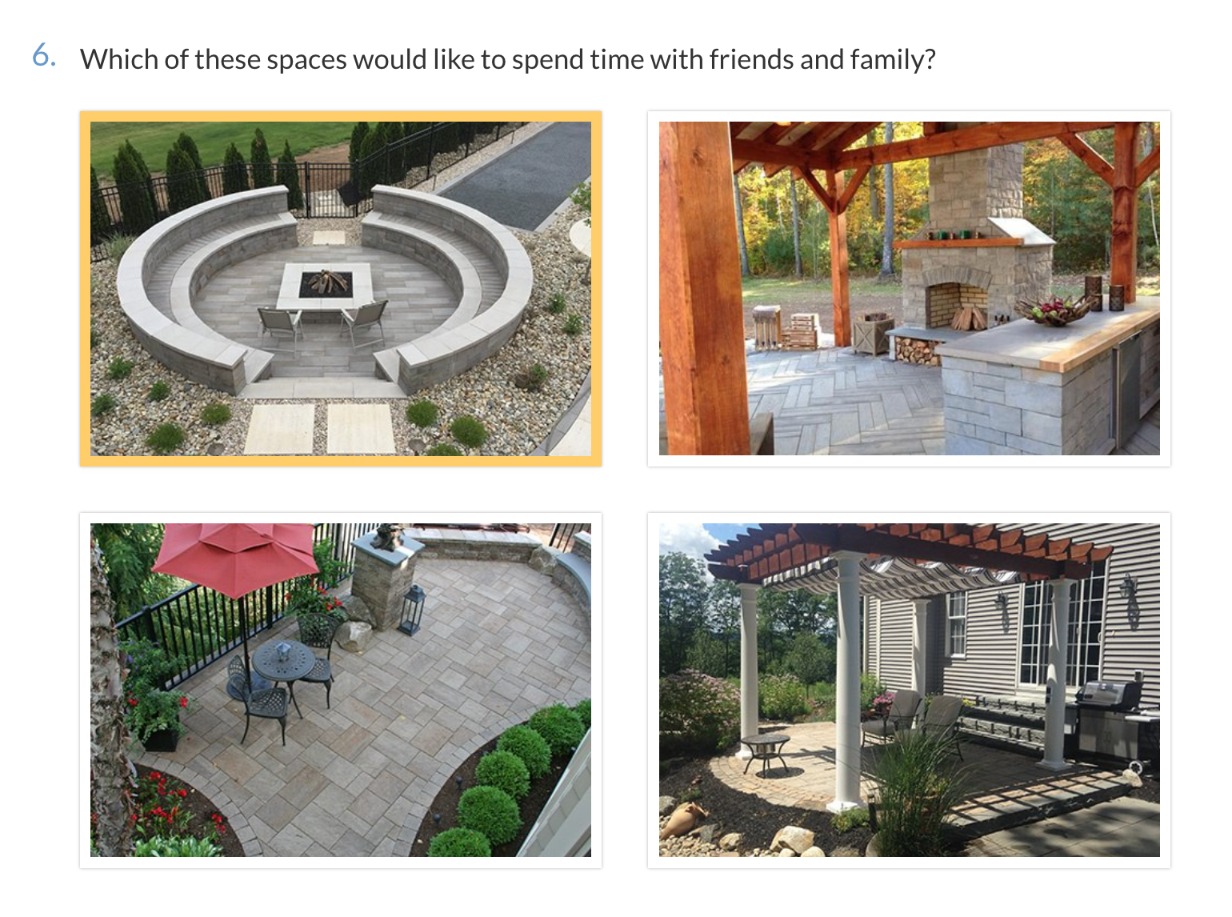 Once you reach the end, you provide your contact information and immediately receive which style you'll most likely enjoy for your patio. Mine was Rustic, and they're spot on.
For prospects who want to ask questions on your website without the hassle of searching for your phone number or "contact us" page and waiting for a reply, chatbots, live chat, and other AI conversational tools are the way to go.
IMPACT client Berry Insurance is seeing great success with their fun and unique chatbot featuring the company mascot, "Shredder."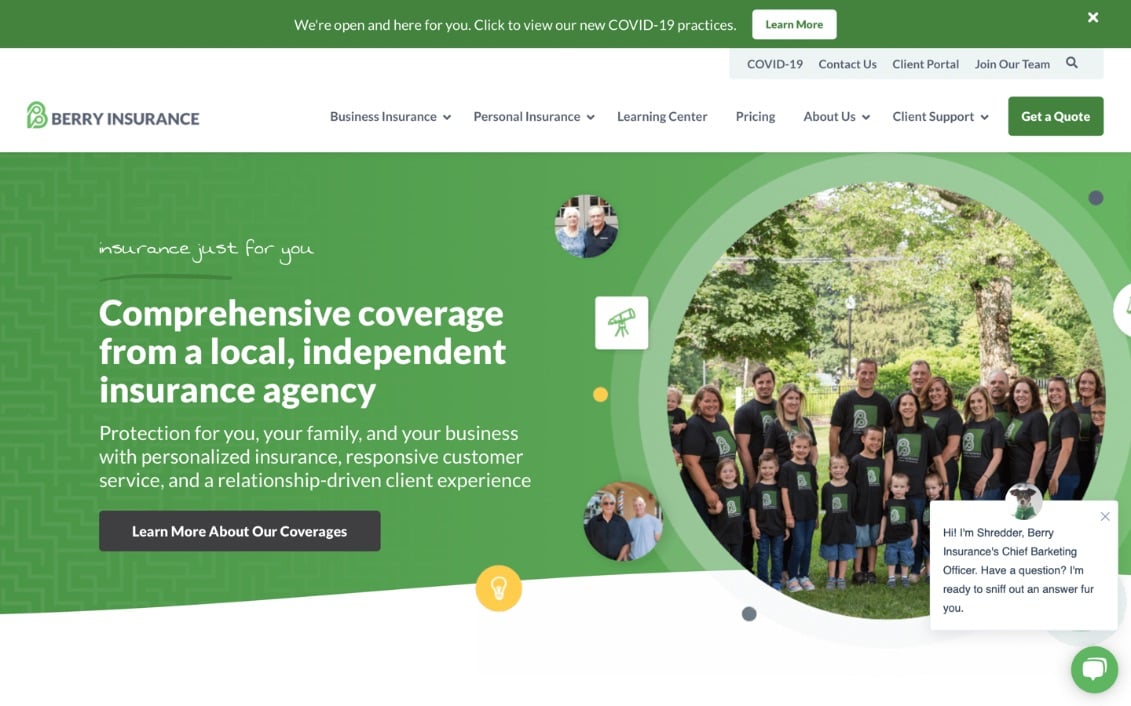 Since Berry Insurance is a regional business, the bot first asks you where you're located. If you choose one of their regions, it leads you further down the pipeline.
If you select "other," as we did below, the chatbot automatically weeds you out of the sales pipeline while helping you find information about their services.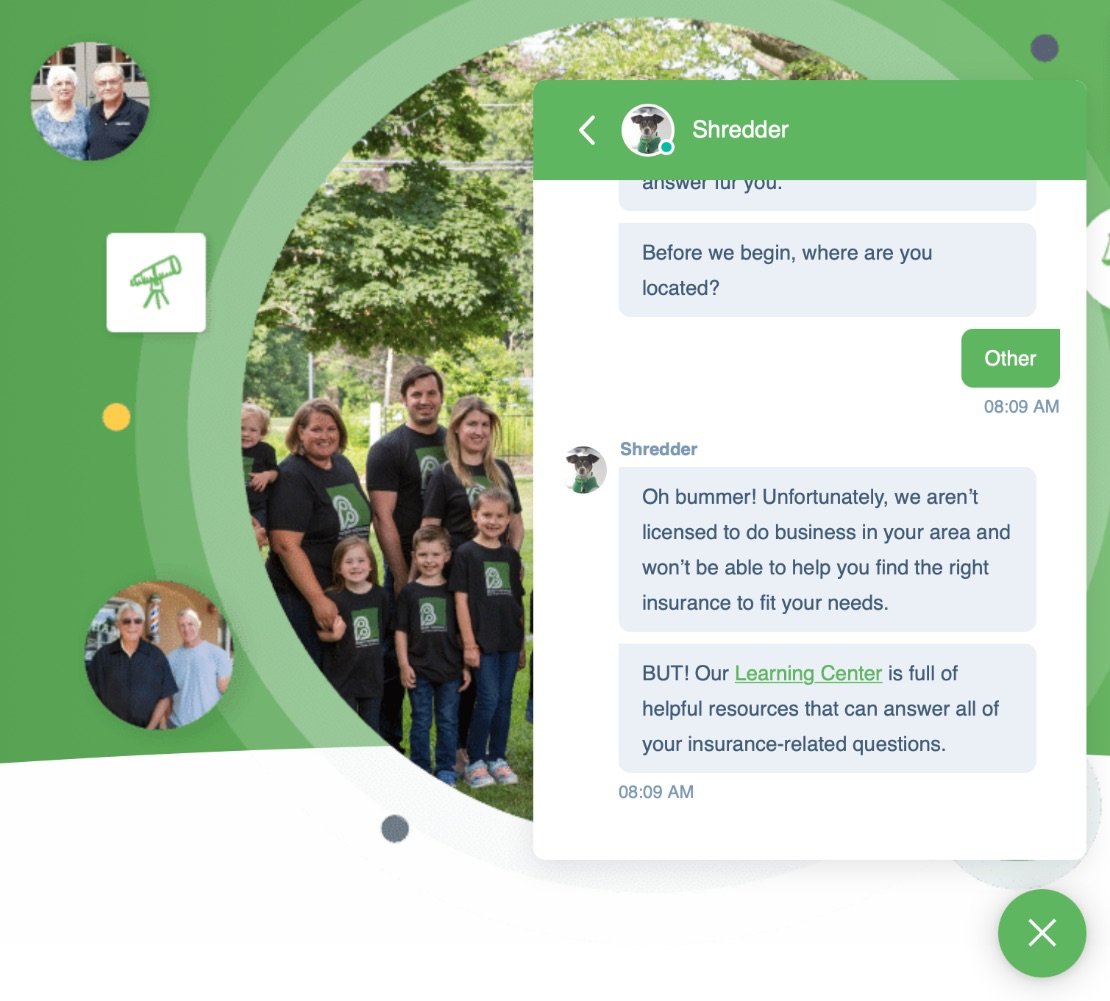 This is a great example of how to kindly turn away bad-fit leads while also being a helpful, trustworthy business in the process.
Want to learn more about what chatbots can do for your site? Check out our blog post on how to add a chatbot.
IMPACT client Yale Appliance is one of the premier appliance sellers, installers, distributors, and educators in the United States.
Website visitors can find information on just about any household appliance they can think of. The extensive learning center can guide buyers to make the most informed decision possible.
From pricing information to reviews and professional assessments — it's all at there.
That being said, one popular tool they offer is their Pro Range Configurator.

You can select a range size, fuel type, burner type, burner configuration, colors, and other features.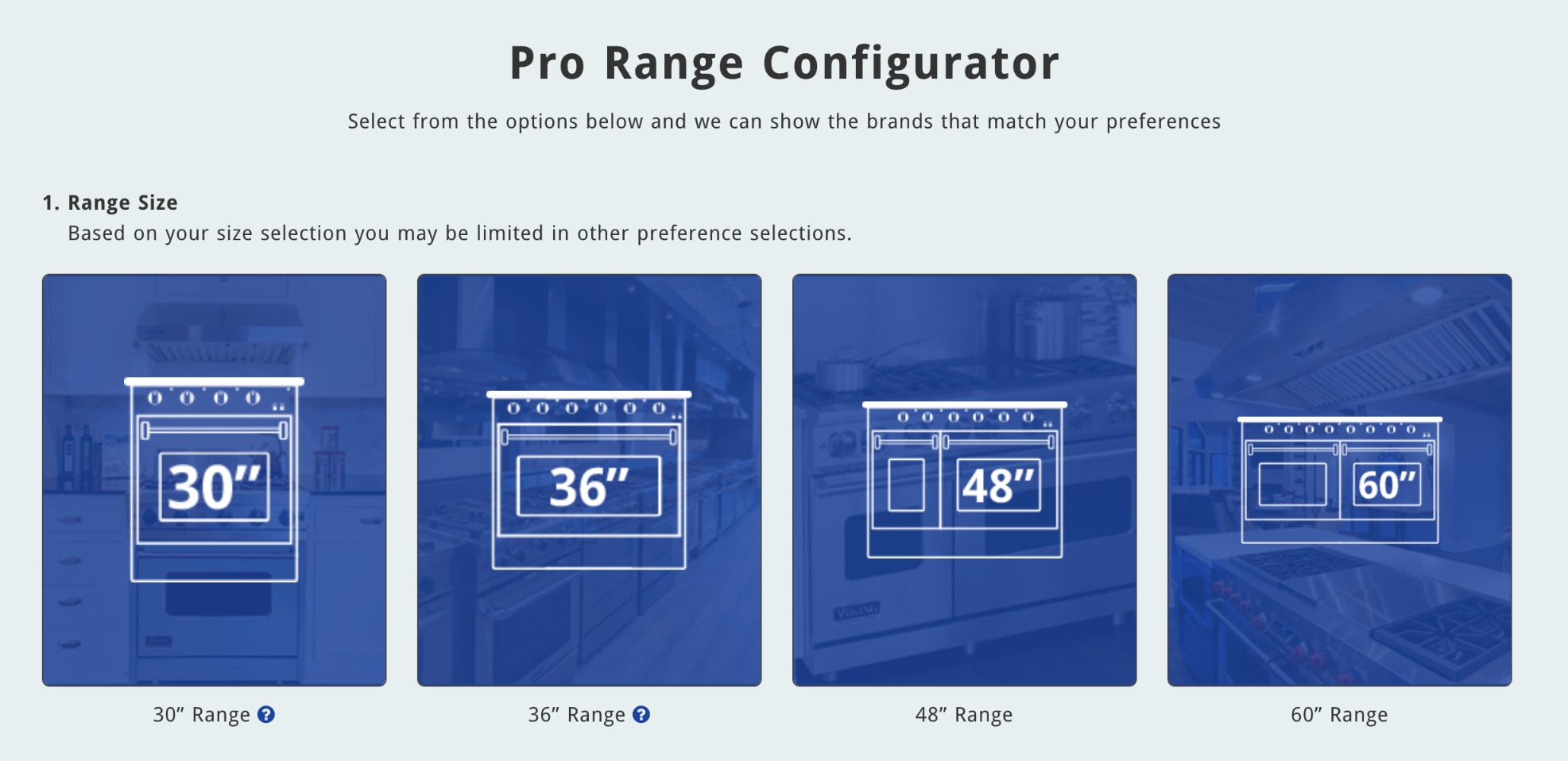 You select the materials that'll go into your pool and any add-ons, such as an automatic vacuum or cascade.
We love this tool because it's a great example of how to help your prospects usher themselves through the complete buying process — start to finish.
First, you select what lawn issue you need help with.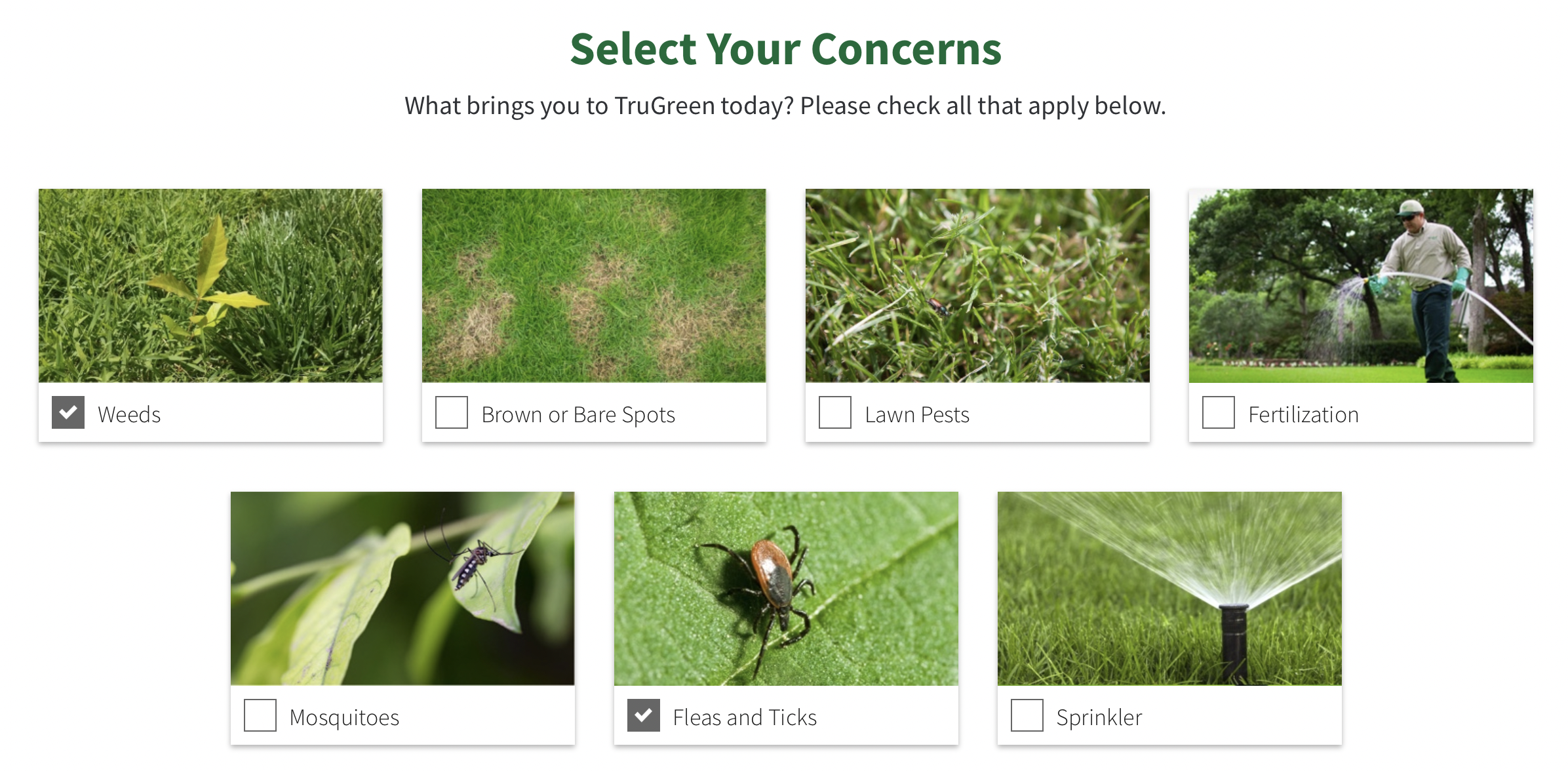 Then, after you add your personal contact information and some property details, you receive a quote and can pay on the spot.

If you're already a customer, you're good to go, but if not, someone will be in touch with you to make sure the services you purchased are set in motion.
Office tech can be a hassle. When it comes to printers and copiers, it's so easy to over-buy, leaving you with high payments — or you under-buy, and you've got machines that can't handle the workload.
AIS developed a tool to help.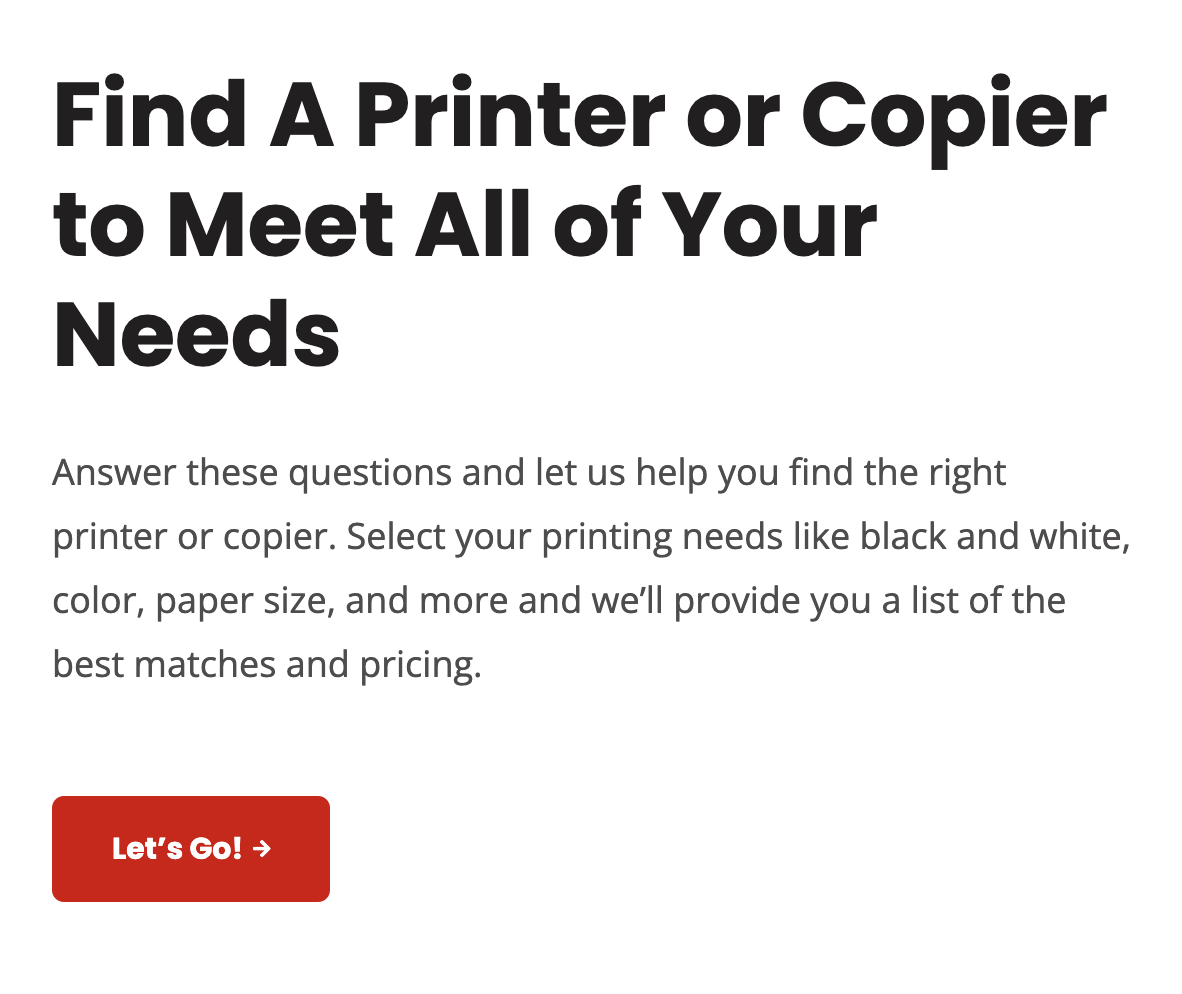 You walk through a series of questions about everything from output needs to daily volume to space requirements.
At the end, you'll see a range of options suited to your needs.
This business specializes in spray foam installation to bring down energy costs.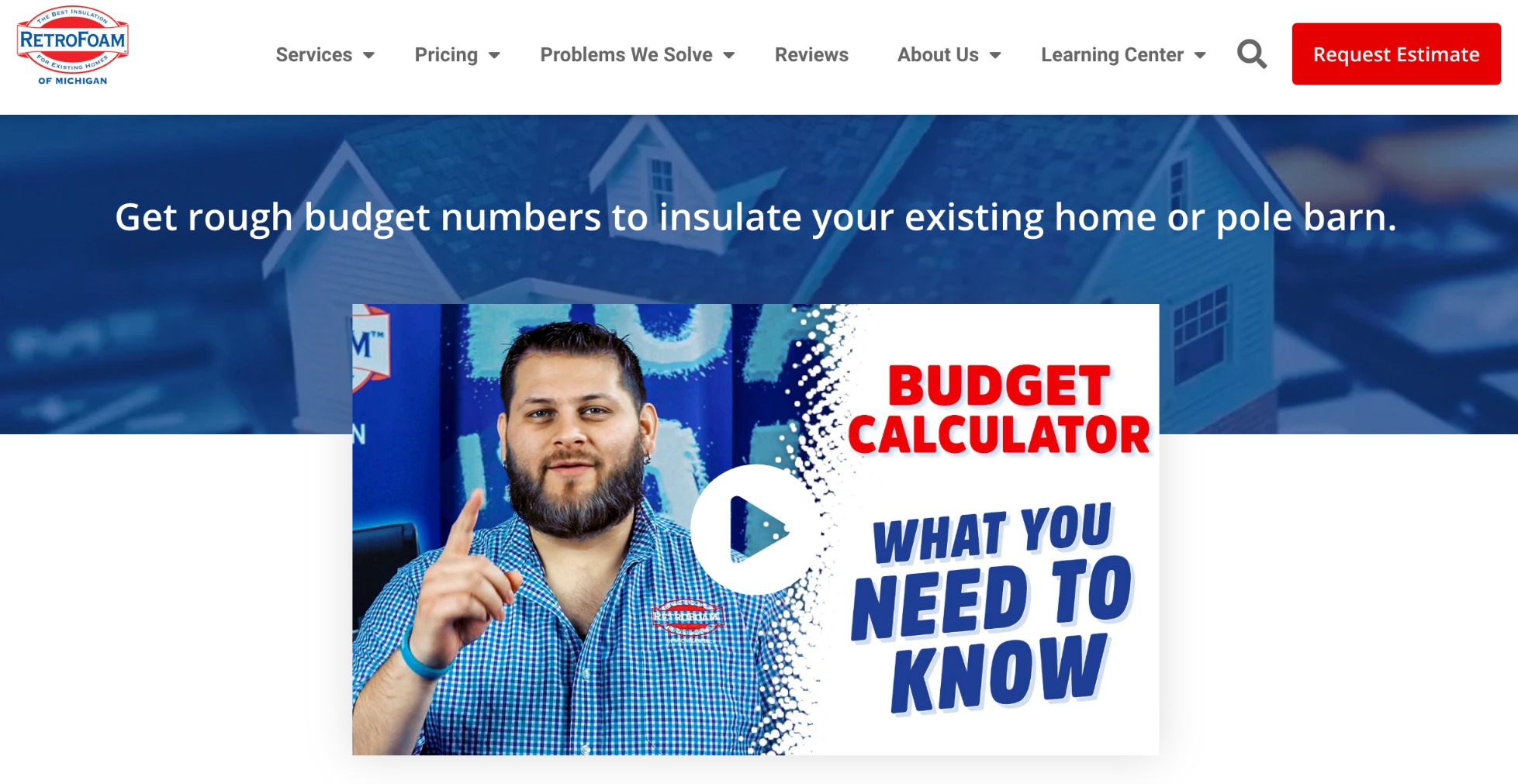 Because they're located in Michigan, their self-selection tool start by asking for your Zip code.
Even if you're outside their service area, you can still use the tool to get an idea for your project.

As you go on, you see clean illustrations and simple questions about the building you're insulating.

When you get to the end, you get a quote that's suited to your unique needs.
The biggest mistake businesses make with self-service tools
The biggest mistake we see businesses make with their self-service tools is thinking their prospects understand what the company is presenting.
We call this learning gap "the curse of knowledge" because we often forget that some things need a deeper explanation.

To avoid making this mistake, which can turn buyers away, remember to add explanations to everything in your self-service tools.
For example, in the River Pools pool builder tool, one of the add-ons is a retaining wall. Not everyone will know what this is, so there is a link that says "What's this?"
The prospect can click to read more and learn about why they might or might not need this option.
Self-service is the future
We live in a world where people can buy pretty much anything over the internet, from custom footwear to cars and houses. Increasingly, this will be the norm.
Instead of a "There's no way you can sell what we sell online" mindset, think of the possibilities: "How can we make buying easier for our customers?"
Vast improvements in AI technology are making chatbots better and better, and custom tools are often not as costly as you'd think.
Many of our IMPACT clients have used self-service tools to help their sales teams realize incredible results.
To learn more, check out our free course:
If you want to learn more about turning your website into your greatest salesperson, set up a time to talk to one of our experts, and we'll show you how to implement these strategies for your business today.
Free: Assessment
Does your website build trust with buyers and bring in revenue?
Take this free 6 question assessment and learn how your website can start living up to its potential.