There are few greater joys as a content manager than watching a blog article you worked your butt off writing crawl its way to the top of Google search results.
I still remember the first time one of my articles topped the SERP charts.
Nobody has ever confused me with a rockstar, but I had a brief moment where I connected with what it must feel like to have a #1 Billboard hit. I found myself strutting confidently around the office just waiting for someone to ask me, "Hey, didn't I just see you on the first page of Google?"
Free Guide: The Ultimate Inbound Marketing Strategy Playbook 2022
Sure, nobody asked me that question, but it didn't diminish how excited I was about my success. Years later, I still get that same feeling when Google chooses my content as the best answer for a given query — but that great feeling can quickly get tamped down when inspecting the analytics of your blogs.
As great as it is to be #1 on Google, the whole point of business blogging and inbound marketing in general is to increase your company's revenue.
Ranking high for keywords is cool, and getting traffic is sweet, but if you're not generating leads from that traffic for your sales team, I hate to tell you, but your blogs are underperforming.
Great blog articles drive traffic to your website, provide honest education, build trust with your audience, and pique people's interest to learn more about your brand. When done right, these visitors are more likely to convert because they trust you.
🔎 Related: Why trust is the true currency for any business
But let's say you run reports on some of your favorite, high-ranking, high-traffic driving blog articles only to realize they're not succeeding at this. How do you turn more strangers into leads? What can you do to optimize your business blog articles so that more people convert?
1. Consider the buyer's journey
When reviewing your blogs to improve conversions, understand that not all blogs are created equal; some article topics are more likely to convert than others.
Articles in the consideration and decision stages of the buyer's journey have better chances of converting sales-ready leads than awareness stage articles. Articles in the awareness stage are more likely to convert people interested in learning more from you but may not be ready to buy from you quite yet.
With that said, there are types of content offers that are more likely to convert depending on where people are in their buyer's journey.
If people are just building awareness of your brand and enjoy reading your content and learning from you but aren't ready to make a purchase any time soon, keep them engaged by encouraging them to subscribe to your blog. Checklists, templates, tip sheets, and workbooks are also great lead magnets to get top-of-the-funnel leads into your pipeline.
At the consideration stage, folks are better versed in what their problem is and what kind of solutions are out there. They are now looking for resources that will help them zero in on the right one. . Entice them to convert by offering product/service buying guides, comprehensive ebooks, insightful videos, a webinar, or a pre-recorded demo.
For those at the decision stage, offer to give them a personalized demo, get on a call for a consultation, or even read a guide that explains what it's like to work with your company.
There are tons of different types of offers you can use to attract visitors to engage with your brand, but always consider where those readers are at in their buyer's journey and what they would most likely convert on at that stage.
Then, to increase conversions, make sure that the offer attached to your blog article (via calls-to-action, buttons, etc.) is the next natural step for the reader.
2. Ensure your content passes the "blink test"
One of the best ways to increase conversions on blog articles is to make sure you're giving people a great reading experience.
You might not realize it, but simple things like how your article is structured and how easy the copy is to read can go a long way towards increasing your conversions. In fact, according to HubSpot, you have three to five seconds from the time a visitor lands on your page to convince them to hang around. This is known as "the blink test."
In the blink test, readers quickly scan your article to determine if they think it will answer their question. They're looking for visual cues that either get them to scroll back to the top and start reading or head back to Google to review other results.
Part of giving people a great experience is making your content visually appear more digestible. It should feel like it's easy to read.
If you think of your blog article as a textbook, what are the important chapters and subchapters?
Your articles need signposts, or in this case headers, that help people quickly see how you plan on tackling the subject at hand. Headers help readers understand the important sections and subsections of your article.
Other visual cues that help readers feel like your content is easily digestible are things that break up long periods of text. In your articles:
Make sure you have short paragraphs and lots of whitespace on the page.
Use bullet points and numbered lists to condense information.
Use bolding to draw attention to key points.
While these formatting elements may not seem like they'd increase conversions and would instead increase dwell time, the longer people stay on your page reading your content, the more likely they are to learn from you and build trust, in turn, making them more willing to convert.
This leads us to our next optimization tip:
3. Answer your audience's toughest questions
Trust is the true currency for any business. All too often, as marketers, we create content that will cast the widest net possible. We write to own keywords and improve our search rankings.
The reason we do this is because the wider the net we cast, the better our chances at landing the fish we're really chasing.
But if you're trying to focus on revenue, there's a much better way to connect with your audience than simply targeting popular keywords.
The first thing you need to do is answer the tough questions they're asking to help them make a decision that works for them.
Most of these questions are asked at the consideration and decision stages of the buyer's journey. They're often questions your competitors don't want to answer until they're talking one-on-one with prospects.
🔎 Related: 'The Big 5' best business blog topics that drive traffic, leads, and sales (+ video)
Sometimes the answers to these questions are complicated or uncomfortable, but by answering them upfront and not dodging the discomfort, once again, you're giving your audience a reason to believe you have their best interest in mind.
4. Use the 80/20 rule
A big problem a lot of businesses have is that when it comes to answering questions, they always find a way to steer the conversation back towards themselves.
These "articles" they create end up reading more like native advertisements for their brands.
They're more salesy than they are educational.
If you really want to build trust with your audience, focus on answering the question as honestly and transparently as possible. Think about the buyer, their pain points, and what they really need to hear rather than what you want to tell them.
Sure, you want to tell them all about your brand and all the amazing ways you can help them, and I'm not saying you can't do that. All I'm saying is focus on education first and save your pitch for later.
Your content should be 80% educational and only 20% promotional.
Honesty and transparency are the foundation for building trust. When people feel like they can trust you, they'll want to learn more about you and begin to explore other areas of your website beyond the blog they landed on.
5. Check the placement of your calls-to-action (CTA)
Links are meant to drive people to other pages of your site. The idea behind keeping people reading your content is to build enough trust with them that they feel compelled to connect with you.
But left to their own devices, that could take quite a while, and they might wait until near the end of the buyer's journey.
To get them to take you up on these offers, you need great call-to-actions, but what are some CTA best practices to follow?
First up, you need at least one CTA per blog article. If you don't have any CTAs on your page, how do you hope to convert people immediately after reading your content?
🔎 Related: 6 CTA Best Practices to Push All the Right Buttons for Your Audience
If you're only going to use a single CTA, it's often best placed at the end of the article. People are most likely to make a decision on what to do next after consuming the content; however, it's often better to have more than one CTA on the page, especially if your content is particularly long.
You can place a relevant CTA at the halfway point of the article, or split the article up into thirds and have three CTAs on the page.
If your blog has a sidebar, you may want to include CTAs and/or forms in the sidebar.
6. Play with the designs of your CTAs
CTAs can come in many shapes and sizes.
The most common CTAs are buttons. These often are small rectangular or pill-shaped boxes with some actionable text on them.
Image CTAs set themselves apart a bit more as they're more visually striking and often take up more space. They contain more helpful text, but often still include the traditional CTA button within it (so as to not be confused with a regular image).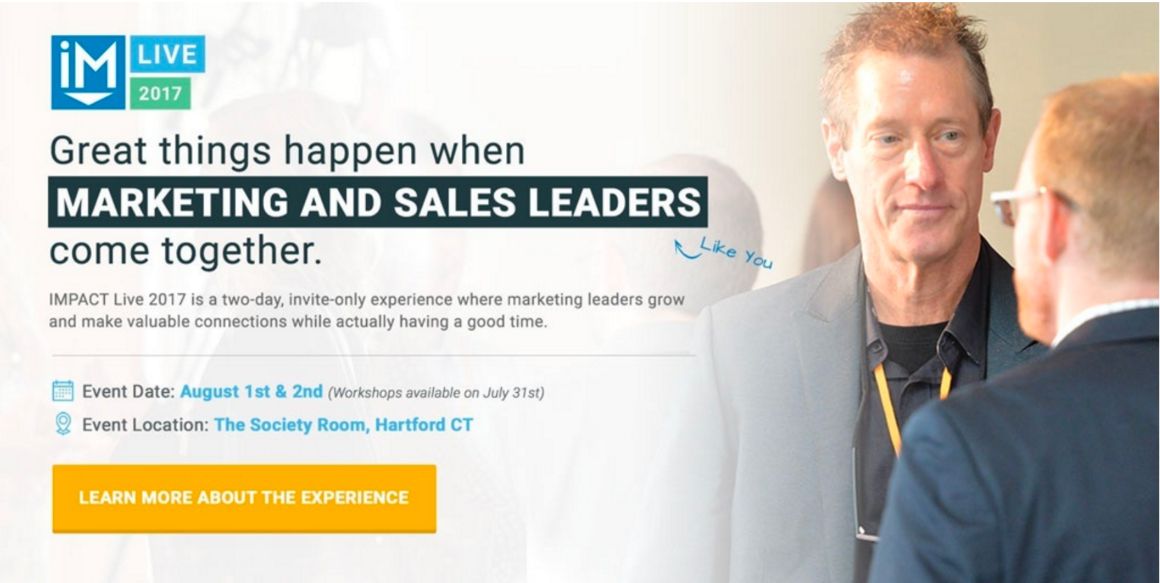 To really up your game, try using video CTAs. They are similar to the image CTAs, but instead of a static image, you can use a looping gif, which can draw more eyes with their movement and also provide even more context into what the offer is.

Check out the CTA below for an example of how to incorporate video.
We used this CTA to promote a past live event, IMPACT 2019.
We wanted prospects to have a better feel for what our events are like so we used footage of an Marcus on stage (to give you an idea of his performance style), reaction shots from the crowd (to give a feel for how engaged they are), and a birds-eye view of the stage itself (so you see the level of quality and professionalism that goes into one of our events).
Compare our video CTA for IMPACT Live 2019 to our image CTA for IMPACT 2017 and you'll quickly see how video provides more context and conveys more emotion than simple, static images ever could.
7. Use consistent messaging with your CTAs
Your CTA copy should give clear and accurate context about your offer. In other words, the messaging around your offer, what it is, how you get it, and what its value is, needs to be consistent.
One of the biggest killers of conversions is when people click on a CTA after seeing certain promises, but your landing page doesn't match their expectations.
Be very clear and consistent about what your offer is to avoid any confusion when people arrive on your landing page. I've seen many times where marketers may twist what their offer really is in order to get people to click through, only to lose them once they're on the landing page.
The most common example I've seen is where the CTA is to subscribe to the blog, but when people click on the CTA, they see landing page copy promoting an ebook.
The reason they see an ebook promotion is because the business wants to entice people to subscribe by giving them an additional piece of content to go along with the subscription. But if the CTA copy and the landing page copy don't match up, it's confusing.
Instead, make the ebook offer part of the CTA copy. Something as simple as "Subscribe and get a free ebook" works a lot better than what ends up feeling like a bait and switch.
8. Use value-oriented copy for your CTAs
It's amazing how powerful verbs are for getting your readers to take action. Improve your CTA clicks by using strong, actionable verbs that emphasize the value being received rather than the "labor." For example:
Get Started
Sign up for free
Get your free copy
Create an account
Book a demo
All of these buttons use strong verbs to tell you exactly what to do, but also focus on what the visitor will be getting, not losing.
9. Use smart CTAs
Smart CTAs are incredibly powerful for converting more leads. It doesn't make sense to show everybody the same CTA because not everyone who lands on your article will necessarily be at the same stage of the buyer's journey, performing the same role in their organization. The same offer may not be of use to them.
Knowing this, you can change the CTA that is shown to them based on what you know about them. Create custom CTAs in HubSpot based on things like their location, the device type they're on, what source they came from, any contact list they're already part of, etc.
By using smart CTAs, you're creating a more targeted experience for specific types of prospects, and by doing so, you increase the chances of converting them into leads.
In the example below, we sent an email to folks that had expressed interest in one of our live events. The email was to announce which speakers would be presenting. For the folks who had yet to register for the event, the CTA was to RSVP. But that wouldn't be a great CTA for those who had already RSVP'd. Instead, those folks saw a CTA encouraging them to check out the event details page
10. Convert them later by linking to other content
Okay, so let's say you're doing all the above. You're writing the right kind of content, you're providing a great user experience, you've added a relevant CTA, and your content is incredibly relevant and helpful.
What if your blogs still lack conversions? What actions can you take to improve your pages?
Ideally, you'd want visitors to click on your main call-to-action and convert on the landing page. But what if they're not ready to convert, or they're not interested in your offer?
Too often, we try and pigeonhole our visitors into performing a very specific action that we want them to perform without considering what's in their best interests. Use links to guide them other pages and resources that can help them move further along their journey and build trust with you.
11. Have relevant links on your page
It would seem a no-brainer, but I can't believe how many blog articles I read frequently that don't even have any links in the body of the content. While you don't want to distract from the topic at hand, relevant links can be used to go deeper into a subject and nurture leads closer to being ready to convert.
Each blog article should answer a specific question on a topic, but it's really only one piece of the topic pie. If your audience is hungry to learn more, lead them to the other slices of the pie.
12. Sprinkle links throughout your article
All too often, I see pages that have tons of links at the beginning of an article, nothing in the middle, and a handful at the end. To increase your chances of people clicking on your links, add them throughout your content.
13. Optimize your anchor text's color
The anchor text itself can often determine whether someone will click on the link or not.
Choose a color for your anchor text that helps the link pop off the page. There's a very darn good reason our anchor text is bright blue and underlined — it's hard to miss. Check your own anchor text and see if it's easy to blow right past as you scroll down your page.
14. Use great anchor text copy
Your anchor text should give clear context as to where you're pointing people towards. Choose text that is descriptive of what the page is about.
If people see your links, but can't guess what kind of page is on the other side of that link, they're not going to click it. Use phrases and sentences rather than single-word links to increase visibility and provide context.
Get to optimizing your business blog articles
With these tips, you should be armed with enough know-how to begin fixing your blog articles and improving your conversion rates.
I'd be crazy if I didn't drink my own Kool-Aid, so I'd encourage you to scour this article and look at all of the links I've scattered throughout so you can continue learning more about conversion optimization.
However, if you've got 65 minutes to spare, I'd highly recommend you check out our free video course on Inbound Lead Generation & Conversion Optimization. Carina Duffy, our resident lead HubSpot trainer and co-host of The Hubcast, teaches you everything you need to know about generating leads for your business.
From a breakdown of the fundamentals of lead generation; to best practices for CTAs, landing pages, and forms; to measuring success, this course is the ultimate guide for building connections with your audience.