How To Choose Content Marketing Topics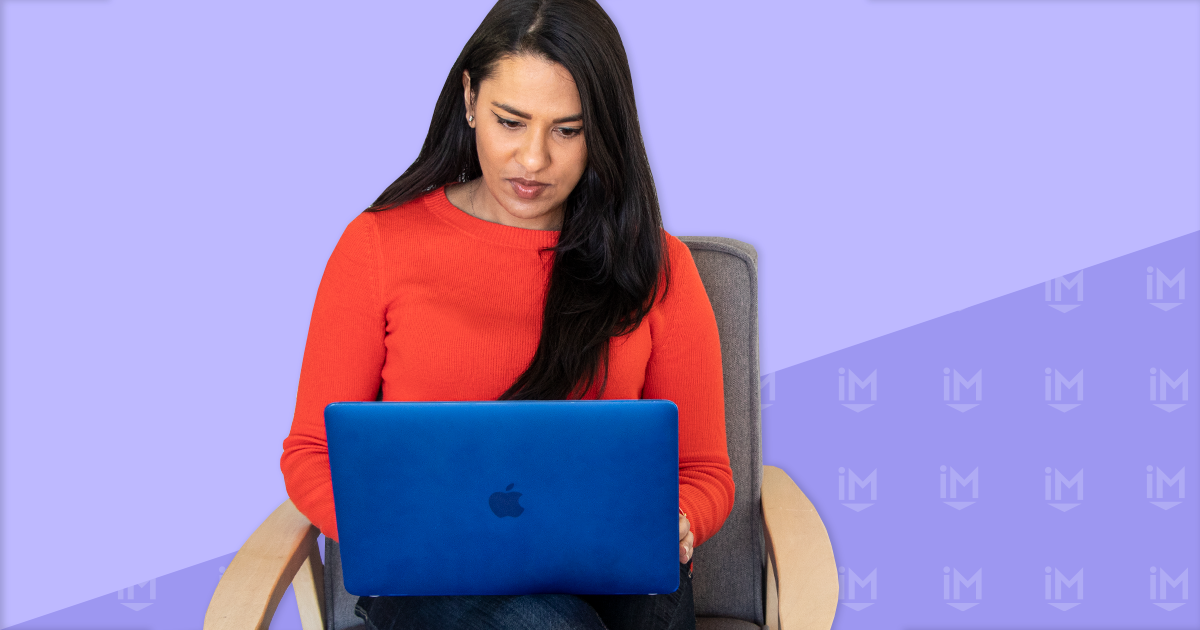 Best ways to choose content marketing topics:
Write blog article topics listed in The Big 5.
Choose content that starts at the bottom of the sales funnel.
Brainstorm topics with your revenue team.
Use the topics litmus test (TLT).
If you've ever stared down a never-ending list of content marketing topics thinking, "Where the heck do I start?" you're in good company.
When we choose topics, it can feel like there are a million choices — and when we have too many choices, it becomes difficult to know where to focus our energy.
The content marketing strategy you put into place, in addition to the topics you choose, can either help your business grow quickly or leave it stagnant, which is where none of us want to be.
IMPACT has coached hundreds of businesses on how to craft content marketing strategies that help them become the Wikipedia of their industry. We also teach them how to use that content to increase traffic, win the trust of consumers, shorten sales cycles, and close more deals.
Some of the businesses we've worked with have used this method to drive millions in additional revenue they would have otherwise left on the table.
In this article, we're answering everything you want to know about picking high-octane content marketing topics that attract more right-fit leads to your website, shorten your sales cycle, and drive the most revenue for your business, including:
What the main goal of your content marketing topics should be.
Tips for choosing the right content marketing topics every time.
Common mistakes companies make when choosing content marketing topics (and how to avoid them).
Ready to stop guessing which topics will help your business the most and avoid going down content-creation rabbit holes you're not sure will lead you to success?
Here's how to pick the topics for your business that drive the most traffic, leads, and sales.
What the main goal of your content marketing topics should always be
If you want your content marketing efforts to be as effective as possible, there is one goal that each topic you choose needs to accomplish every time: educate prospective buyers.
Whether it's a blog post detailing one of your services or a video explaining how to make a purchase on your website, there are a few reasons your content needs to educate buyers (at least in some way):
When your content utilizes subject-matter experts (SMEs) that demonstrate in-depth industry knowledge, your business establishes itself as a thought leader in your field. This builds trust with buyers, and people only buy from businesses they trust. This is why we teach companies how to

take advantage of the SMEs

they already have on their team and use their industry knowledge to educate buyers on what you do.
Creating content that educates prospects about difficult topics your competitors refuse to address (such as writing about cost or your competitors) shows that your business is comfortable discussing any elephants in the room. This also builds trust with prospects.
Educated buyers buy more than uneducated ones. They are easier to lead through your sales funnel and land deals with, and the way you educate them can even shorten your sales cycle.
But the most important word to focus on here is buyer.
Too often people write content about their industry that attracts an audience full of people with no intention of making a purchase. While interesting and entertaining topics are fun to read and write about, they rarely drive revenue.
Instead of publishing generic topics surrounding your offerings, focus on topics that help people make purchase decisions.
For example, if you own a jewelry store that specializes in selling engagement rings, your buyers might be interested in topics like:
Where can I buy an engagement ring?
How much do engagement rings cost?
What are the different engagement ring settings?
How do you pick the right engagement ring?
Something generic that wouldn't be as effective might be something like "A history of titanium" or "How to pair your engagement ring with any outfit." The first topic is completely irrelevant to anyone looking to purchase an engagement ring, and the second would be searched by people who already have one (in theory, anyway).
Once you can wrap your brain around the difference between topics that are "nice to have" versus ones that educate prospects enough to make an informed purchase, choosing better content marketing topics becomes easier to gauge.
Tips for choosing the right content marketing topics every time
Now that you know the main goal each piece of content needs to accomplish (educate your buyers), let's look at how to choose content marketing topics in a bit more depth.
Write blog article topics listed in The Big 5
The Big 5 are topics that represent the questions buyers obsess about and search in-depth before making big purchase decisions — and when you answer them on your website, they do the heaviest lifting for lead generation.
These topics should form the base of your content marketing strategy.
The Big 5 include:
Pricing and costs: How much does your solution cost? (Factors, considerations, what defines value, etc.)
Problems: The negatives about, or issues with, your solution that buyers ask about.
Versus and comparisons: How your product or solution compares to similar products or solutions.
Reviews: Honest and unbiased opinions and observations about your product, solution, etc.
Best-of articles: What the best solutions available are.
Here is why these topics are important to address and how to address them in a way that guides your buyers to take the next desired actions.
Pricing and cost
Most businesses don't talk about cost on their websites for a few reasons:
"Our solutions are custom." Even custom solutions cost something. If your services are so custom that you can't provide buyers with a definitive price, give them a ballpark. Any information is better than none.
"Our competition will know." Chances are your competitors already know what you charge. Furthermore, don't let your competitor dictate what you share with your prospects online. Focus on your buyers and their needs — exclusively.
"We might scare customers away." Explaining cost doesn't scare your customers away, but keeping this information from them will. You know the answers, and your prospects know you do too. And if you don't share cost information with them, they will feel like you're withholding information and won't trust you.
If you're not willing to address the question and explain how materials, production, location, etc., affect your costs (in essence, explaining the marketplace to your buyers), they won't understand what goes into your process and will always seek the cheapest option.
Here's a cost article published by one of our clients, FBi Buildings, which you can reference to get an idea of what these articles include.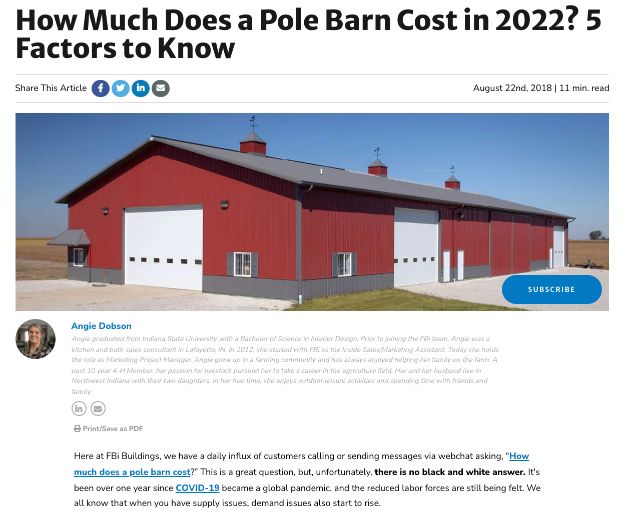 Problems
Every company gets asked questions about the problems with their products and services. We'd love to pretend everything about our businesses is perfect, but that's never the case — and your customers already know this.
We can address problems that customers have with our products and services, which makes us part of the conversation, or we can allow our competitors to address them.
When we're willing to address the problems our buyers might experience, we explain them before they are a concern — and our customers appreciate the transparency.
Again, it all comes down to trust.
IMPACT client La-Z-Boy Home Furnishings wrote this blog post about whether recliners cause problems for your back. They present the issue, but also explain how to avoid it, so you as an educated buyer can make a better purchasing decision.

Versus and comparisons
There is nothing more we love to do as buyers than compare our options.
Yet again, most businesses feel uncomfortable addressing this issue because it forces us to talk about our competitors. Your prospects want to know how your products and services compare to other options, so you need to talk about them.
But if you want to do this and still build trust with your buyers, which is the business we're all in anyway, you need to remain unbiased and show both sides of the coin, as we did in our comparison article IMPACT vs New Breed vs SmartBug.
Reviews and best-of articles
As buyers and consumers, we also love to search for reviews and best-in-class comparisons. If we are able to see all our options and what people have to say about them, we can make better-informed decisions.
List the options, and talk about your competitors without putting yourself on the list. If you create a "best of" list, your prospects will know you wrote it, and if you put your own business on it, you appear biased and you lose credibility. You can see an example by reading River Pools' article "Who are the best pool builders in Richmond, VA?"
They don't provide too much information, and they don't list themselves. Rather, they list their competition, and then end with, "Oh, by the way. We sell these pools too, and here's what we offer."
These types of articles show you care about helping your customers more than you care about taking their money, and there are few things in business as trustworthy as that.
For more information on how to create these articles, watch our free course How To Write "The Big 5." Also, set up an appointment to talk to an advisor here at IMPACT. We've taught hundreds of businesses like yours how to write these articles, and we can answer any questions you have for your business specifically.
Create content that starts at the bottom of the sales funnel
The best strategy for generating content marketing ideas — other than The Big 5, especially when you're first starting out — is to begin at the bottom of the sales funnel and work your way up (even though most businesses do the opposite).
This is because, by answering bottom-of-the-funnel (BOFU) questions first, your content can influence serious buyers first, which generates a quicker ROI.
It also helps you build a smoother path for prospects to make a purchase.
As our Lead Content Trainer Kevin Phillips explains:
"If you start at the BOFU, whenever you create a newer piece of content (one level higher up the funnel), you can direct people to the next appropriate action because you wrote that content already.

When you don't have next actions that keep people engaged with you, they take what they've learned and head somewhere else that answers their next questions."
While top-of-the-funnel (TOFU) questions are great for driving organic traffic with search engine optimization (SEO), they are more problem- and solution-aware topics that don't help your sales team shake on a final deal.
You can start with content marketing topics that serve prospects at the top of your funnel, but it makes the process more complex (what are the next steps?) and less efficient (by aiming to help less-serious buyers first).
How to find content marketing topics for the bottom of your sales funnel
Ask your sales team what BOFU questions they get asked by prospects prior to making a purchase. These are the questions people ask when they're sitting across the desk from (or on a Zoom call with) a salesperson; these are the questions that can make or break a deal.
Think of questions such as:
How much does your product or service cost?
What is the process for making a purchase?
What can we expect when working with you?
How does working with you compare to this other business?
Content at the BOFU educates prospects on what it's like working with your company specifically.
Next, work your way backward through the sales process
After you create content for the BOFU leads in your pipeline, work your way up the funnel.
Answer middle-of-the-funnel (MOFU) questions that get people to book a meeting with sales. These articles help prospects research various solutions to their problems and compare all the options out there so buyers can make better-informed decisions.
Finally, end with the TOFU questions that address problems people are experiencing that need a solution and promote organic traffic growth. TOFU content educates prospects on what their problems and solutions are (introduces new problems/solutions and builds awareness).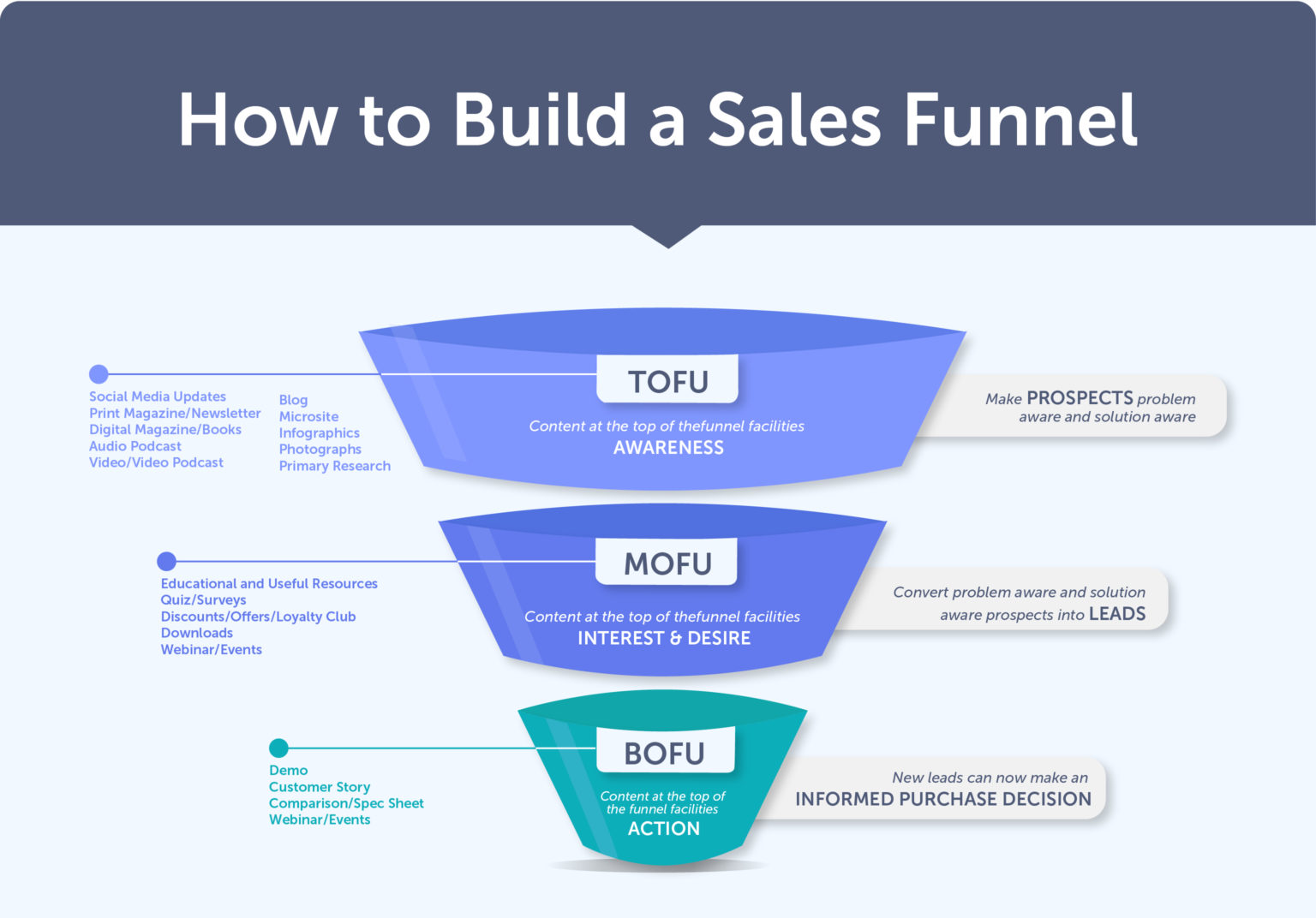 I love the above image by SalesIntel that makes this easy to understand:
A prospect's mindset at each stage of the sales funnel (whether they're aware they have a problem, interested in learning more about possible solutions, or ready to take final action).
Which content formats work best for each stage of the sales funnel (blog articles, video content, downloadables, webinars, etc.).
What outcome the content at each stage needs to accomplish:

TOFU content educates prospects about their problems and promotes awareness about possible solutions.
MOFU content educates prospects on their options and converts these problem-aware prospects into leads.
BOFU content educates prospects about working with your business and helps leads make their final, informed buying decisions.
Use this funnel as a guide each time you choose a content marketing topic, and ask yourself if the topics you're considering fulfill their educational purpose at the right stage of your buyer's journey.
Brainstorm topics with your revenue team
​​One of the principles we teach IMPACT clients is the value of creating a revenue team.
This team is made up of key players from your sales and marketing teams, and is centered around their shared goal of increasing revenue through traffic, leads, and sales.
Here's a video that explains the concept in more detail, and discusses why you might want to form one of these teams at your business:
Essentially, the members of these teams form a single unit that works together to achieve the mutual goal of revenue growth through:
Collaboration.
Information-sharing.
Brainstorming.
Problem-solving.
This way, instead of your marketing and sales teams working in silos (where marketing creates content they think sales needs), sales and marketing regularly meet to discuss which pieces of content will actually help your sales team get more sales-qualified leads.
So, how does your marketing team get these revenue-generating topics from sales?
Organize a brainstorming session
Get your revenue team together and ask sales, "What are the questions you've heard recently?"
When you do this for the first time, try to list every question your sales team gets as fast as you can off the top of your head(s). While many of the questions won't present an opportunity for great marketing content, you can whittle this down to include the most effective topics.
As Marcus Sheridan explains in They Ask, You Answer:
"Focus on their fears, issues, concerns, and worries. State them on paper exactly as the buyer would ask (or search) them, not the way you (as the business) would state them. Once you've completed this list, you have the foundation for your entire digital marketing editorial calendar — be it articles, videos, podcasts, and so on — to put on your company website.
If your team is struggling to come up with these questions, it's a strong indication you've lost touch with your buyer. Get together with sales, marketing, and customer service to understand and reconnect with what your buyers need.
Focus on content that can be used for assignment selling
Assignment selling is the process of using content to educate prospects before a sales call. This content strategy will be your sales team's No. 1 selling tool to shorten the sales cycle and drive more revenue.
Using content to accelerate prospects through the sales funnel means educating buyers with at least 30 pages of content prior to your sales call. This will ensure your prospects are well-educated — and therefore more ready to buy — before your sales team reaches out.
There's a certain way we ask prospects to do this:
Include a definitive "why" you're giving them the assignment: for example, "I've attached a guide to read prior to our meeting that will answer all your questions in advance so we can make the best use of our time together."
Offer a tease about what's in it for them: "Here are all the options you need to consider before making a purchase."
Get confirmation that they will complete the assignment: "Will you take the time before the appointment?"
If someone's not willing to take the time to read your content, education doesn't matter to them, and they will buy based on price anyway. As such, this process often eliminates prospects that aren't a good fit.
Choosing these topics depends on the needs of your organization, sales team, and buyers. You might find there are questions that keep coming up in your sales process.
Use these questions to create valuable content that can be sent to explain these topics in advance, saving your sales team time explaining the same answers over and over again.
For more information on assignment selling and how it works, watch our free course, Assignment Selling: Content Is Your Greatest Sales Tool. Set up an appointment to talk to an advisor for additional support.
When in doubt, use the TLT framework
As you're getting ideas for content marketing topics, there is a topics litmus test (TLT) that you can always use to help you decide which topics will help your business the most.
It's a series of four questions we use that help determine the relevance and timeliness of blog topics. If you have a topic you're thinking of writing, make sure it passes the following test questions:
Test 1: Is this relevant to your buyers?
Test 2: Is it clear when someone would need this information?
Test 3: Do you know exactly how a buyer would search or ask for this information?
Test 4: Is a blog article the best format for this information for buyers?
If you can answer "yes" to all four questions, it's probably a good topic to write about.
If you can't answer "yes" you may want to bookmark it for a rainy day when you're all out of better, more relevant topics (or just forget it altogether).
Common mistakes companies make when choosing content marketing topics (and how to avoid them)
Choosing the wrong topics for your target audience can be the difference between incredible success and lackluster results in your content marketing efforts.
Here are some of the things businesses do that miss the mark.
Choosing topics that don't matter to their target audience
Choosing topics that don't help people make purchasing decisions, don't help solve people's problems, or don't give answers to difficult questions are a waste of time — yet so many businesses do this.
Kevin shared an example that illustrates this point:
"I worked at Alaska Sleep Clinic prior to IMPACT. They had been blogging for several months, but their topics had little to do with sleep medicine. They wrote articles about 'sleep' but not about 'sleep medicine.' Topics like 'What do your dreams mean?' 'How to adjust your sleep schedule when traveling across time zones,' etc. This was for a company that primarily helped patients with sleep apnea.

When I came on, I wrote articles that actually helped sleep apnea patients learn more about their condition. The consequences of not taking care of it, and solutions to those problems. I wrote articles like 'Signs you have sleep apnea,' 'Is sleep apnea harmful to your health?' 'What is a sleep study?' 'How much does a sleep apnea machine cost?'"
Topics that moved the needle most were relevant to patients looking to improve their sleep. To avoid this common mistake, focus on the problems, worries, and fears your buyers have and see if they pass the TLT.
Using overly promotional topics or writing about them with bias
One thing that can ruin a great blog topic is being overly promotional or blatantly biased.
When writing content, you have to look at it from the perspective of the reader.
What do they want to know? What do they need to know? What solution makes the most sense for them? Do you come across as a helpful guide or a pushy salesperson?
You should focus on building trust with your target audience — and that starts with showing them you care more about helping people find the right solutions rather than always steering them toward the solution you sell.
Choose topics that do this, and you'll win every time.
Putting too much emphasis on keyword volume
We marketers can sometimes get too caught up on keyword volume.
Sure, some keywords might get 15,000 searches per month, and you might be thinking, "why would we not go after that?"
Ask yourself, "Can I see the intent behind that search? Is there a clear buyer intent for what those keywords are?" If not, you probably shouldn't write about it.
Sometimes it's better to go with something longer-tail that has less volume and seems less impressive but is much more targeted.
Quality, not quantity, creates success with inbound.
Choose better content marketing topics today
When you choose the right content marketing topics, not only can you increase traffic to your website and convert more leads, but you end up having stronger conversations with highly informed prospects. And because your prospects are more informed, they trust your company more, which can dramatically shorten sales cycles, improve closing rates, and explode your ROI.
All the tools and examples we shared with you here are from an award-winning inbound marketing framework we teach our clients called They Ask, You Answer. The framework has helped hundreds of businesses just like yours gain millions in revenue.
To take the first step at implementing They Ask, You Answer in your business, talk to one of our advisors who can walk you through how to see these incredible results at your own company.
If you'd like to read more before you reach out, here are some additional resources:
With strategic coaching and hands-on training for your marketing and sales teams, we can help you better scale your business with the content marketing topics that are right for your buyers.
Free Assessment:
How does your sales & marketing measure up?
Take this free, 5-minute assessment and learn what you can start doing today to boost traffic, leads, and sales.