The Big 5: 3 Simple Steps for Creating Great "Problems" Content (+ Examples)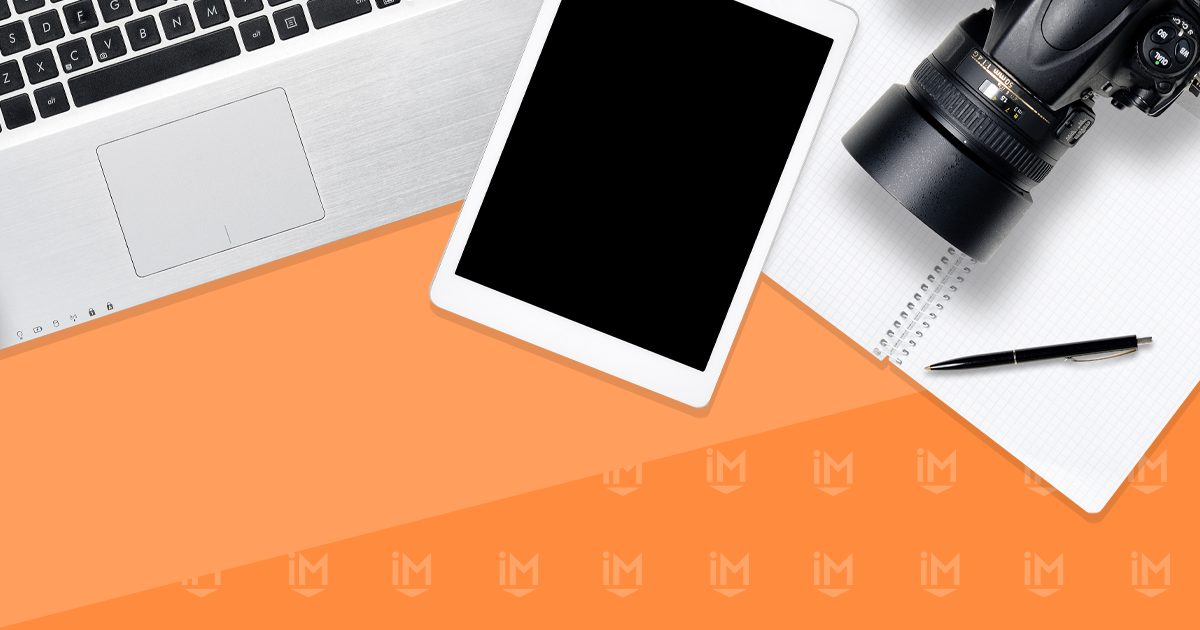 We all have a problem; some of us even have a few of them.
Ironically, one main problem that most inbound organizations have is that they're not talking about problems.
We believe it's critical that businesses openly address the drawbacks and shortcomings of what they sell.
I know what you're thinking — Why would I ever draw attention to our flaws? Won't that scare buyers away?
But in response to that, I ask, would you rather a potential customer find out about a problem with your product or service from you or on their own, or worse, from a competitor?
Creating "problems" content gets ahead of the rude awakenings that can lead to poor customer experiences, bad reviews, and negative word-of-mouth.
It creates alignment and realistic expectations with potential buyers right off the bat, helping them qualify or disqualify themselves early on.
And, in my experience, organizations that create it gain more trust, collect more leads, and overall, earn more clients.
That's why it's one of what Marcus Sheridan's They Ask, You Answer calls The Big 5.
In this article, I'll provide some examples from IMPACT clients that are doing a great job with their "problems" content and walk you through three simple steps for creating yours:
Identifying your problems
Finding the right angle
Showing a solution
But first, let's start with "why?"
Why you need to be open about problems, drawbacks, and shortcomings
As a content trainer, I spend a lot of time coaching my clients on how to cover The Big 5, the five topics that drive the most traffic, leads, and sales for successful inbound companies.
Talking about your problems — specifically talking about the shortfalls in your product or service — is definitely on that list.
That's right. Putting it all out there, the good, the bad, and the ugly, is a fantastic way to build the bottom line. It's natural to be wary, but here's the reality: If you don't address it, someone else will.
Your buyers are out there looking for information that can help them reach a conclusion. And you know they're not only looking for positive reviews. They want the dirt, the difficulties, and the cons so that they won't be surprised after the purchase is made.
Creating content marketing materials that are candid about your problems allows you to position yourself as the trustworthy authority in your space.
This allows you to open up about possible pitfalls and then explore solutions. It eliminates the fear and resistance of your buyers by letting them know in advance what they might experience.
Some buyers will see these cons, balance them against the pros, and be fine with the decision to move forward. Some will choose to shop elsewhere, and that's okay.
You've armed those prospects with the power to opt-out so no one's time gets wasted.
So, how is a great "problems" article created?
1. Identify your problem(s)
The truth is, no single product or service is the right fit for everyone.
You'll find much more success when you admit this to your potential buyers and show that, yes, there may be some drawbacks with the solution you offer.
So how do you know what problems to discuss?
A simple way to evaluate if a problem is worth disclosing is if it will affect your customer's overall experience with your offering.
For example, could it lead to them not accomplishing their intended goal? Could it lead to spending more money? Would it actually harm versus help them? Is it something that would lead to them writing a poor review?
If the answer to any of these questions is true, you're best off addressing it in your content in some way.
2. Choose the right angle
Problems content can take many forms, and the great news for content creators is the range of angles and formats you can take. For example, consider these:
"The top X problems with Y"
"The X problems with Y you're likely to miss"

"The most common problems rookies may experience and how to avoid them"

"Why is X not working and what you can do about it"

"The X Reasons Why Y Fails"

"X Reasons Why Y Isn't the Right Choice for You." NOTE: Don't be afraid to write this from the perspective of someone who isn't right for you or your services. This kind of honesty will only help you weed out bad-fit prospects without wasting man-hours on your sales team.
All of these are different approaches, but they all come back to the same goal: Being open and honest about the experience someone will have with your product or service.
In his book They Ask, You Answer, Marcus Sheridan talks about what happened when he took the approach of confronting potential problems with the product he was offering at his company River Pools and Spas.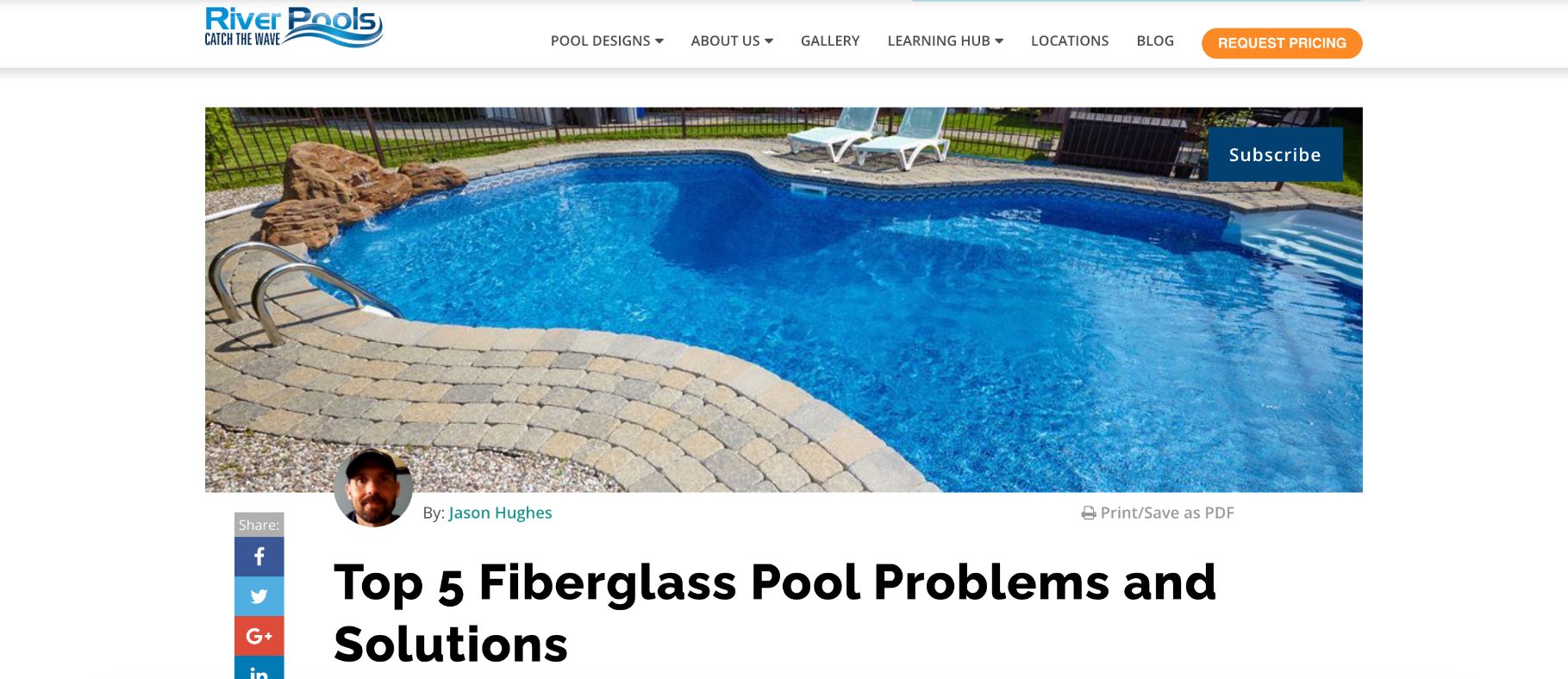 The post, "Top Fiberglass Pool Problems and Solutions," resulted in more than $500,000 in revenue.
Sheridan shared:
Now, you might think it would be insane for us to write an article with that title and, believe me, so did many people in our industry. But look at it this way: How many of our competitors were addressing that question on their websites? Of course, the answer is none.

Yet, how many consumers were wanting to know the answer to said question?

Pretty much all of them.
The title may be daring, but the content is even more brazen, detailing specific issues with fiberglass pools that may turn people off.
Again, that's okay. Showing how your product may not be the best fit will save both you and your prospect valuable time.
Note: Bonus points to River Pools for also creating a video that covers the topic!
At IMPACT, we zeroed in on our position as a HubSpot Solutions Partner (formerly known as a HubSpot Partner Agency), with the article "The Problems with Working with a HubSpot Partner Agency."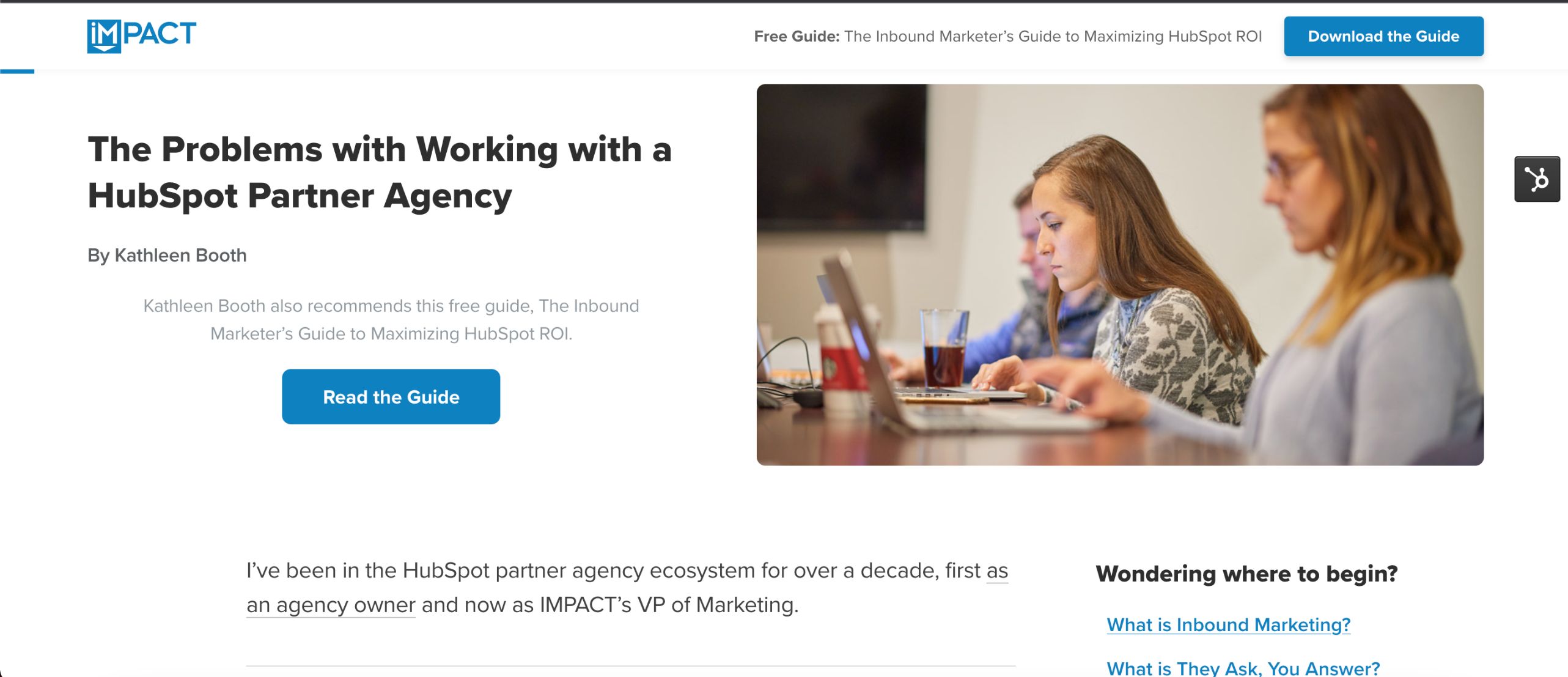 For an agency trying to attract clients, such an approach might seem counterintuitive. But it also gives the reader an honest look at what they can expect and how to mitigate potential problems.
Whether you sell a product or a service, there are likely issues that you can disclose to your audience in "problems" content.
IMPACT's article shows how the service sector can easily jump into the 'problems" content area by choosing a different angle.
Remember, we're all in the business of trust, regardless of what we're selling.
3. Show a solution
Now, sometimes profiling a problem will turn a buyer off. Other times, if you can show a solution to the problem, you can bring yourself one step closer to a new customer.
You want to stay humble enough to put yourself out there, but you also want to show that you have the authority and the knowledge to solve for any shortcomings.
In fact, topics like "X Challenges & How to Avoid Them" put solutions front and center.
Though not in the title, in their article, "The 10 Most Common Mistakes You See in a T-shirt Quilt," IMPACT alumni Too Cool T-shirt Quilts does an admirable job of facing the problems in their industry directly.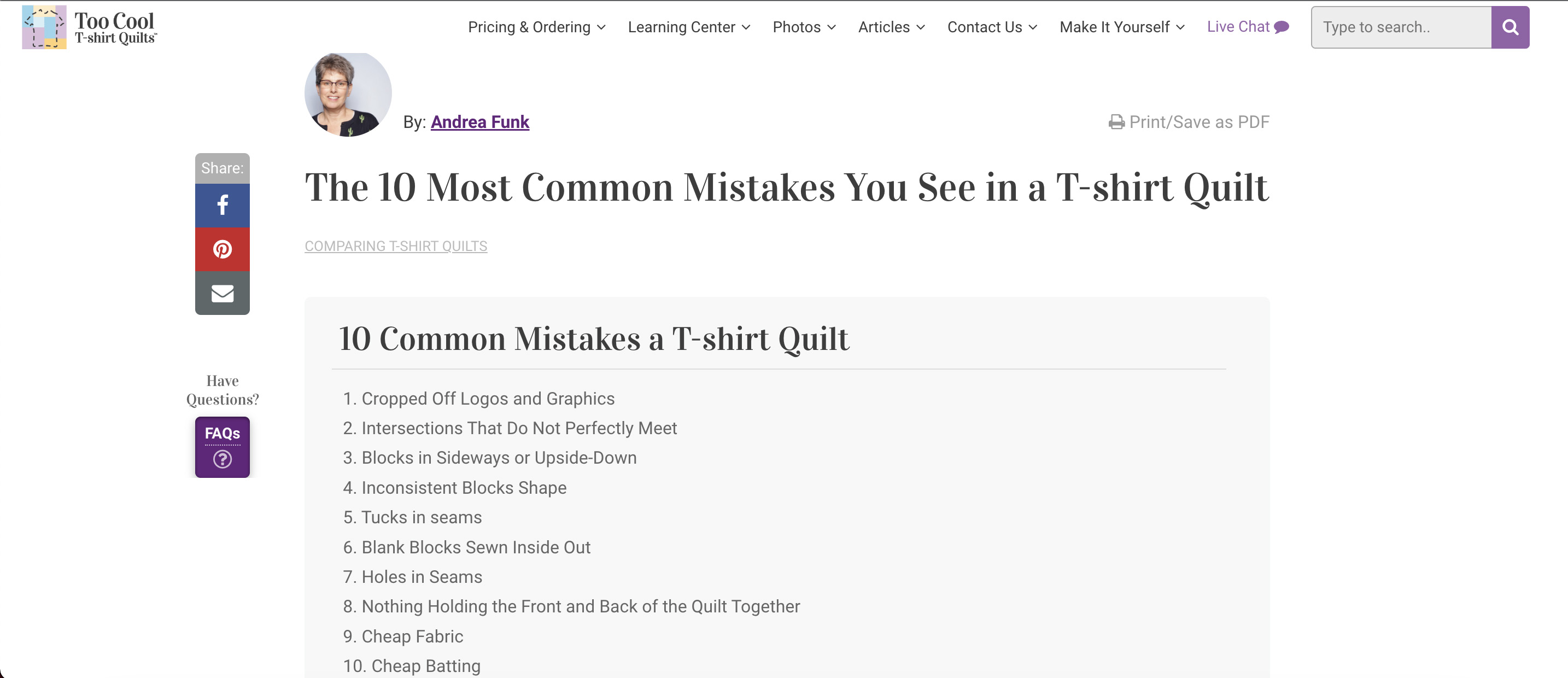 Their descriptions of the problems and explanation of why the problems exist puts them in a place of authority. Even better, they provide examples of solutions to these 10 common mistakes.
A prospect can easily see that Too Cool knows what they're talking about and has quality control to prevent these mistakes.
By educating their followers, Too Cool is not only making their prospects more savvy shoppers, but they are giving shoppers the confidence they need to move forward with a purchase.
What about buyer and competitor problems?
When it comes to "problems" articles in the context of The Big 5, we're only talking about problems related to your business's offering or industry.
But that doesn't mean talking about problems with your competitors or other problems your buyers may face is off limits. In fact, these are great topics to build awareness of your business and educate your audience.
(Plus, if your buyers are asking questions about them, you need to answer, right?)
Put yourself in the position of your buyer. Then, make a list of the issues they have that would drive them to look to you for a solution.
In many cases, they might not even know they have a problem you can solve. It's up to you to recognize their symptoms, identify the problem, and outline the options that are available to them.
Yale Appliance + Lighting does this well in their company blog.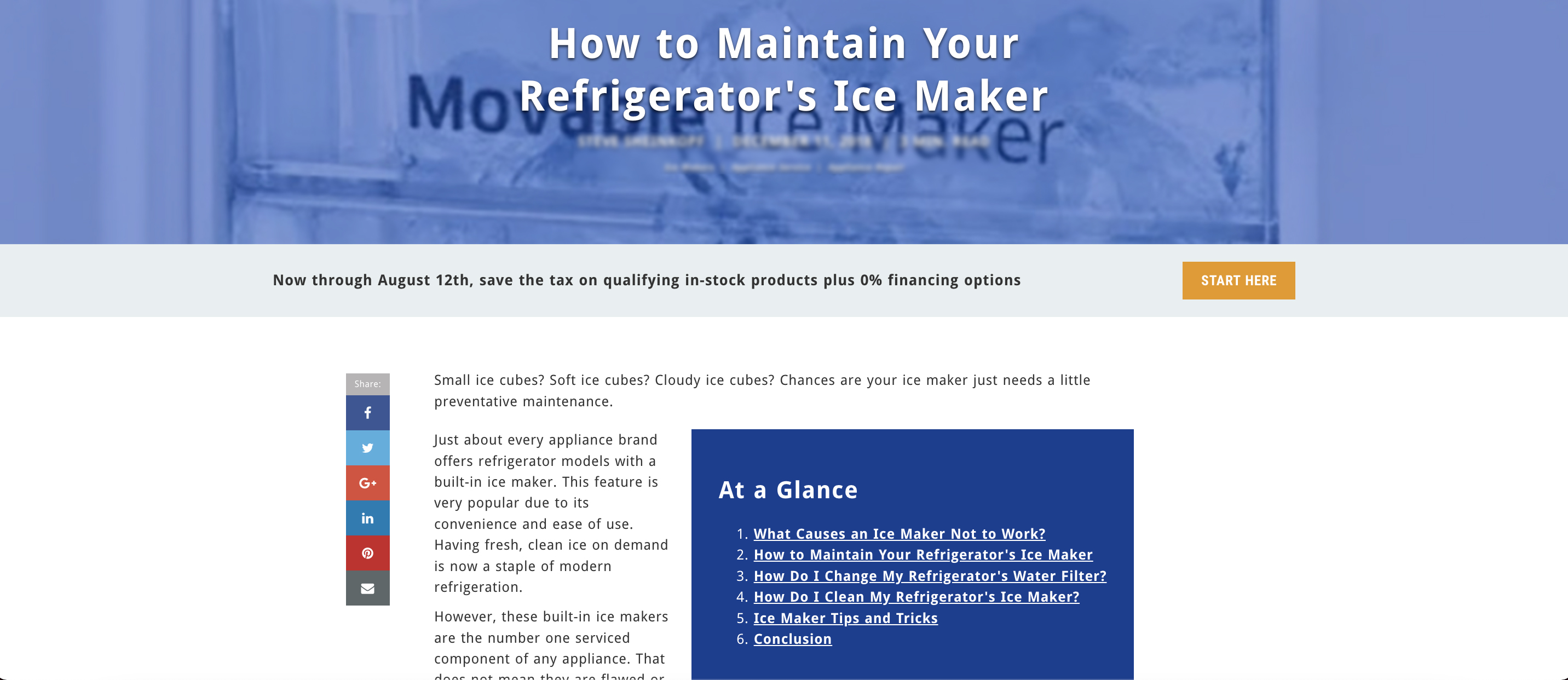 Their article, "How to Maintain Your Refrigerator's Ice Maker" quickly targets the various symptoms one might encounter with a troubled ice maker in its first sentence: "Small ice cubes? Soft ice cubes? Cloudy ice cubes? Chances are your ice maker just needs a little preventative maintenance."
What makes this even stronger is the honesty Yale shows a few paragraphs later:
These built-in ice makers are the number one serviced component of any appliance. That does not mean they are flawed or poor quality; the ice maker just requires some regular maintenance to ensure the longevity of optimal function.
Yale sells refrigerators with ice makers. Hearing they may frequently have to be serviced is likely not appealing to a potential customer, but instead of hiding the issue, Yale profiles it directly and honestly. No unwelcome surprises after the purchase.
The article goes on to describe what would cause an ice maker to break down, how to clean it, and how to keep it in working order. This gives buyers the opportunity to decide if the reward outweighs the risk and, if so, how to make the most out of their purchase.
In another example, West Roofing Systems addresses common leaking roof problems content head-on in the ebook, "Commercial Roof Leaks: Detection and Causes."
Their landing page copy describes the tactic they're taking – helping the prospect detect the problem (a leaky commercial roof), finding the causes of the problem, and then creating an action plan to solve it.
In both cases, the prospect most likely came to the web and searched for their symptom (soft ice cubes or a leaky roof, for example), found the content, and left the site knowing what problem they have and the best way to solve for it.
Whether or not Yale and West Roofing make the sale directly, they've informed their buyers of their options and have built a basis of trust.
Be fearless in your content writing process
"Problems" content isn't the place to pull punches or withhold information.
As the authority in your industry — and as an honest, authentic voice — it's up to you to help people make smart, confident buying decisions. That means laying all of the cards on the table, even if they're not necessarily in your favor.
Rely on what you've learned from speaking with and selling to your customers. What are the common objections they raise? Those are problems you should happily address in your website and sales enablement content.
Inbound marketing is about being unapologetically helpful. Go put yourself out there and start talking candidly about all your problems.
Still hunting for someone to create your "problems" content and own your content strategy? Take our free course "How to Hire a Content Manager" in IMPACT+ today!
Free Assessment:
How does your sales & marketing measure up?
Take this free, 5-minute assessment and learn what you can start doing today to boost traffic, leads, and sales.