What Should a 2022 Content Marketing Strategy Include?
How to plan for the future when the future keeps changing.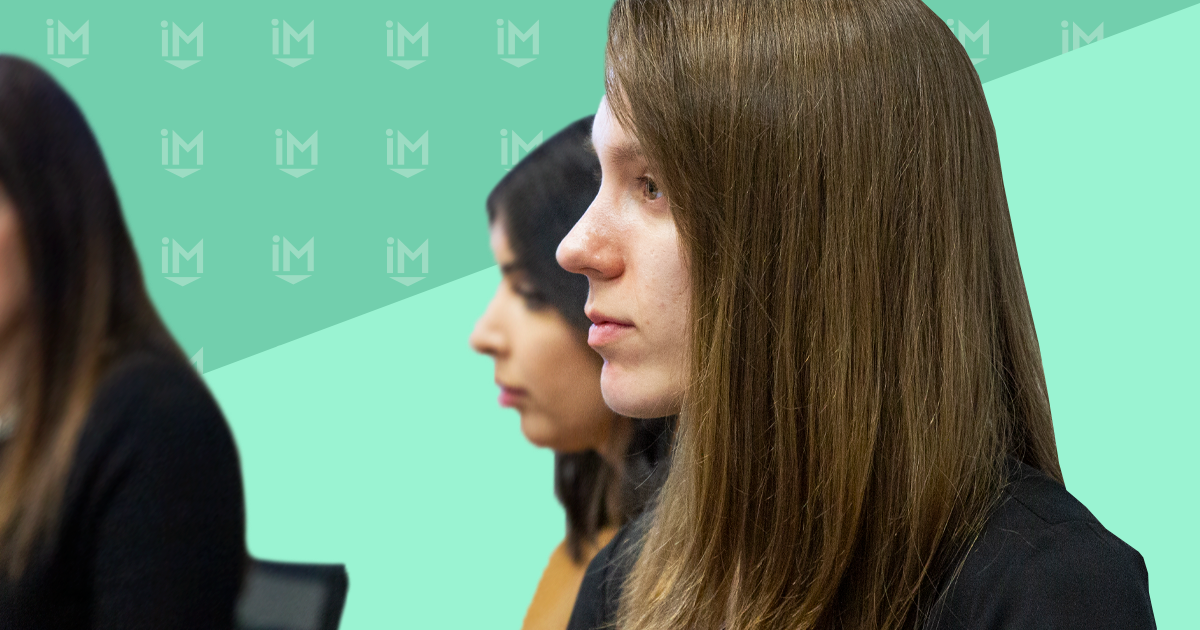 Content strategies can be a lot like New Year's Resolutions. You ponder how the year will go, and you set a plan for accomplishing your goals. Sure, you'll have to make some tweaks along the way, but how weird could it really get?
If these past few years have taught us anything, it's that our best intentions and perfectly made plans are always subject to change.
These days, it feels like outlooks can change by the hour, and you can find conflicting economic forecasts depending on where you look.
Here at IMPACT, we guide clients to success using They Ask, You Answer — a sales and marketing framework that was created during the Great Recession.
This is as good a time as any to remember that despite the ever-changing nature of the news, some things never go out of style: Honesty, candor, and thoroughness.
As you set out to plan your 2022 content marketing strategy, keep these principles as your guiding lights.
Below, I'll give you a thorough look at how you can best plan for another year full of change and upheaval. That way, if things settle down and go smoothly, you'll be in perfect shape. As the old saying goes: hope for the best and prepare for the worst.
We will look at how to build a content marketing strategy in 2022. You'll need:
Organizational buy-in
In-house ownership
Cross-department alignment
Clear goals (with wiggle room for unforeseen changes)
A well-defined audience
User pathways
And more.
In addition, you'll find articles, guides, and courses to help you plan and strategize.
Blogging works better when you write about topics your buyers care about.
How to plan a content marketing strategy when the outlook keeps changing
Planning for the future has never been easy. These past few years have only highlighted that fact.
Economic ups and downs are part of the natural cycle of business. While you can't control the economy, you can prepare in the best way possible — and you can control your own reaction. However, if you choose not to prepare, you're less likely to make it through unscathed.
As you prepare to market to customers in the new year, think of how you're feeling right now. Exhausted? Stressed? Stretched thin?
Your customers are facing health, economic, and social threats, and their capacity to trust has worn thin. (And as we know, trust is the only true currency in business.)
So, how do you approach the new year? As a content trainer working with marketing managers around the world, I can give you my best take on preparing for the year ahead.
So what does a 2022 content strategy need to include?
Let's look at how to build a better content strategy for the new year.
Think of this as the content manager version of The Home Edit (without the rainbow color-coding). It's time to look at: adding in everyday staples, deciding what to keep, keeping up with trends, and making space for new items.
Where do you start? Just like on TV, start by pulling everything out of the closet and sorting it out. This means digging up your 2021 content strategy, along with all the changes you made to it along the way, and assessing what worked, what didn't, and what missed the mark.
As you start to plan, make sure to include these key elements:
Organizational buy-in
You can spend weeks building a content marketing strategy to end all strategies, but that work means nothing if you don't have foundational support.
I've said it before and I'll say it again, your content strategy isn't just a marketing document; it belongs to the entire organization.
You'll need to have everyone in the company contributing to your content, whether they are writing, being interviewed as subject matter experts, sharing content, or enabling others to contribute. And this means that having their buy-in is crucial to your success.
This is especially true for aligning the marketing and sales teams.
If your sales team and your marketing folks can't enjoy being in the same Zoom channel together for more than five minutes, something's broken.
There's too much at stake these days to fall back on the old us-versus-them trope. (And, honestly, how will that ever help grow business anyway?)
In a climate where many sales reps are feeling insecure about their ability to hit their revenue targets in the upcoming months, you can't leave any room for miscommunication, and you can't waste time on things that don't drive sales.
It's time to align these two teams so that they're working together. There are all sorts of ways to do this, but IMPACT has found that creating a revenue team has been a game-changer when it comes to bringing people who are equally brilliant and strong-minded together.
🔎 Related:
In-house ownership
Even if you find a freelancer who becomes one of your favorite, most talented people in the world, they might (and can) leave you at any time.
I've known multiple people who have been burned by "perfect" freelancers — all of whom up and left suddenly, whether they got married, got a job with health benefits, or decided on a whim to move to Finland (true story). That's a heartbreak that's just not worth it.
What's more, let me ask you this — can a writer who doesn't fully understand your business really communicate your brand authentically? No, they can't.
No one knows your brand better than you do, so own it. And to do that, you'll need someone on your team, in-house, dedicated to content.
The content manager is a crucial role, and if you're reading this I'm going to assume that you know what a heavy lift guiding a company's content efforts can be.
And, yet, so many businesses still group content management into the daily tasks of someone also balancing lead generation, event management, web development, ad building, underwater basket weaving, and exotic pet training.
(I see you, marketing director in a department of one.)
If you don't already have one, as you're planning your budget for 2021, make hiring an in-house content manager one of your primary investments. Much of your success in other areas will come back to this.
🔎 Related:
Alignment with sales
Notice how sales alignment is cropping up again in this list? Does that mean you can choose one and not the other? Nope.
Not only do your marketing and sales team members need to work together, but so do your marketing and sales tactics.
The content that marketing is busy producing should be used the most by the salespeople. After all, what's the point of spending time on writing blog posts and creating resources if they aren't going to make money?
What does this sort of alignment look like?
Imagine if your sales team frequently sends links to your blog articles in follow-up emails with prospects.
Imagine if the sales team also uses the self-assessment tool you built when they're preparing a prospect for an upcoming call.
Imagine if sales reps make sure the prospect has read the required content ahead of the next meeting.
This lock-step alignment is only possible if both departments work together and trust each other. Both sides benefit when they're working closely together.
🔎 Related:
Goals and purpose
Your strategy will need to address your overall goals for the coming year. What's the WHY behind the work you do? What is it that you as a business want to achieve this year?
Depending on your industry, this is a key area to consider how world events may affect your plans. While your purpose shouldn't change due to external factors, your annual goals — and outcomes — could fluctuate greatly.
🔎 Related:
Audience definition
Who are you serving with the content you create? Your strategy should define who you are planning on reaching in order to measure your success.
You don't want to find out later you wasted a ton of time targeting the wrong people or the right people in the wrong way.
🔎 Related:
Content roadmap (or user pathways)
Customers need different content at different stages of their buyer's journey. Early on, they might be more focused on their problem than on a solution. This "awareness stage" buyer is asking different questions than someone who is in the final stages, deciding between two options.
The perfect content strategy provides all necessary content across the entire customer lifecycle.
How you do this will depend on your industry, your business, and your customers. Suffice it to say, this section of your strategy is the most tactical. To build it, you may need to do a few things.
Note: not everything on this list will apply to every business.
Customer-focused content
Customer-focused content is honest, trustworthy, and as unbiased as possible. This is content that truthfully answers the burning questions your audience has. It has their best interest in mind, which is what everyone wants to find when they're getting ready to make a purchase.
While every business is different, there remain some common topics all buyers want you to address.
Think about what they're asking you and your sales team on a regular basis and you'll find that most of these questions break down into five categories we refer to as 'The Big 5':
Cost
Problems
Comparisons
Best of lists
Reviews and ratings
If you do nothing else with your content except address these topics, you'll be in pretty good shape. That's how important they are.
🔎 Related:
Video content
Video. Is it new? No. Could you do more of it? Absolutely.
While the majority of marketers claim to be using video regularly, I work with several busy content directors who have had this on their to-do list for years.
Now's the time.
Video allows you to literally show who you are on a different level than writing. Plus — and this is a big component of being customer-focused — video is one of the mediums most audiences want to see more of.
We're now at the point that a solid majority (72%) of consumers would prefer to learn about a product or service via video.
Whether you use video in the sales process, giving prospects the chance to form a relationship with your sales reps, or you create a well-produced video to convey the personality of your brand, video elevates the customer experience.
As you plan and budget for next year, don't leave this important piece of the content puzzle out — from hiring a videographer to setting up your own video equipment set.
We are living in a time when your ability to foster trust is more important than ever — when it is also more difficult than ever as our ability to meet face-to-face is limited. Video is how you bridge that divide. So invest in it now before your competitors do.
🔎 Related:
Martech stack
There are more than 8,000 technology solutions for marketers. It's truly overwhelming when you look at it all at once: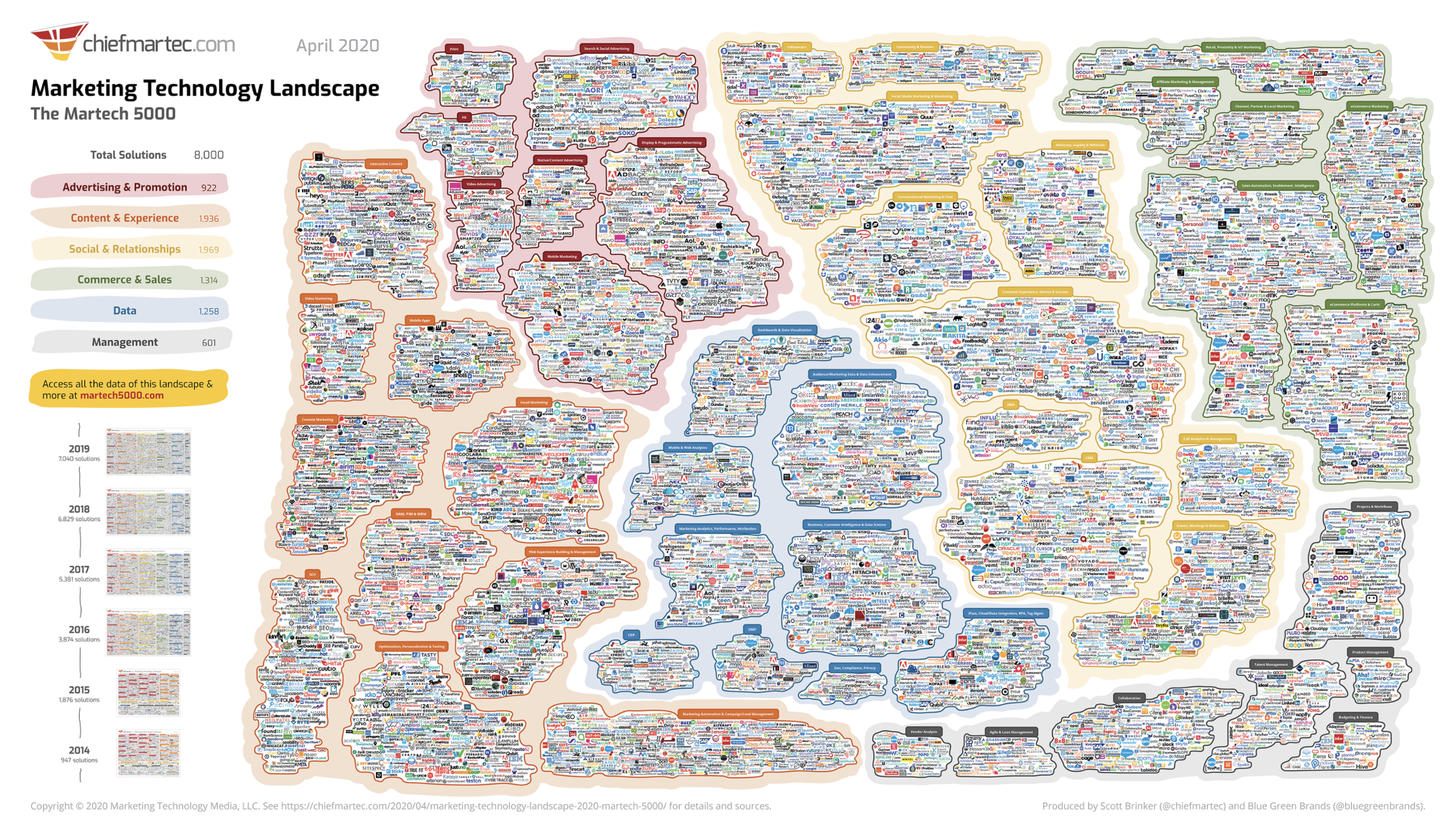 To get a better idea, here's a zoomed-in view of one small part of this graphic: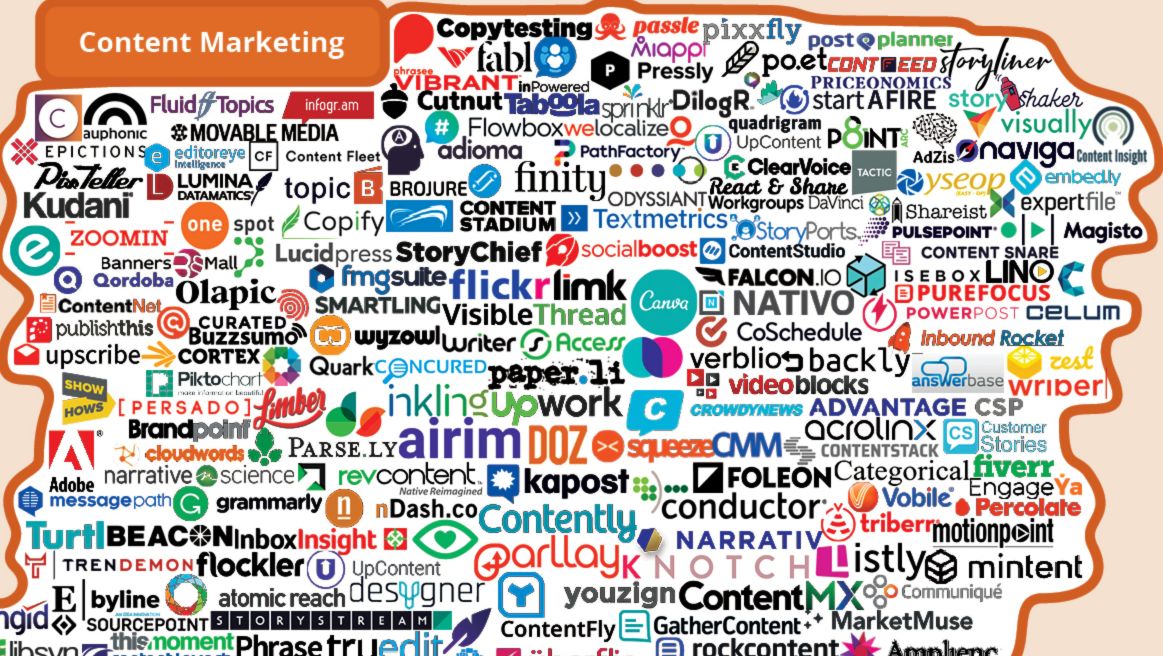 Take the time you need to determine exactly what you need to have to produce and distribute your content next year. Some of your must-haves may include:
A content management system (CMS)
A video-hosting service (we like Vidyard)
Competitive intelligence software like Semrush or Ahrefs
Project management tools (we use Trello and ClickUp)
Social media management software
Paid advertising management
You'll also want to keep in mind that the chart above grew by 13% from the year before (but they have not updated it since 2020. So anticipate that the next great thing might be out there, just waiting for you.
I'm not suggesting that you need to jump on board with every new tech trend. But when you're planning your strategy, make sure to leave time to stay up on what's new and how it might change the marketing landscape.
While you're taking stock of your technology stack, there are probably some apps or programs that aren't as useful as they used to be. Now is the time to jettison those to make room for the new toys you'll collect throughout the year.
Honesty: The must-have component of your 2022 content strategy
Whether you're a marketing director of a local business or a content manager of a national brand (or something in between), the thing you can never lose sight of is your customer.
Being customer-focused isn't just a component of your content marketing strategy, as I outlined above. Your ideal customers — and understanding what they need and want and fear — should be your obsession.
More than anything else right now, buyers want one thing and one thing only.
Honesty.
Your ideal customers don't want to be sold to. They want candid, thorough answers to their questions. They want real, substantive solutions to their everyday problems.
Buyers don't want to be cheated out of their money or convinced to buy something that isn't right for them. Human beings crave humanity, care, and understanding — even from brands.
Even if people aren't ready or equipped to buy from you right now, that doesn't mean you stop building your relationship with them.
The more they trust the information you give through your content, videos, pillar pages, and so on, the more likely they are to come to you when they are finally ready to make that buying decision that makes them (at last) one of your buyers.
🔎 Related: Why trust is the true currency for any business
Building your strategy and embracing the chaos
Building a content marketing strategy during a time of uncertainty can be taxing.
But it doesn't have to be. Your audience isn't a group of faceless beings out there to poke holes in what you have to say. They're people who are looking for information they can trust.
In order to meet that need, bring your company together by having everyone buy-in to your content strategy. Plan to dedicate someone on your team to creating content that is truthful and relatable. And build the content with the entire organization participating.
This is not easy. Remember to take it slow and to be kind and honest with yourself and with your audience. Be sure to give yourself the tools you need to make the next year — and your 2022 strategy — exactly what you want it to be.
Published on December 30, 2021