How to Ghostwrite Content for a Subject Matter Expert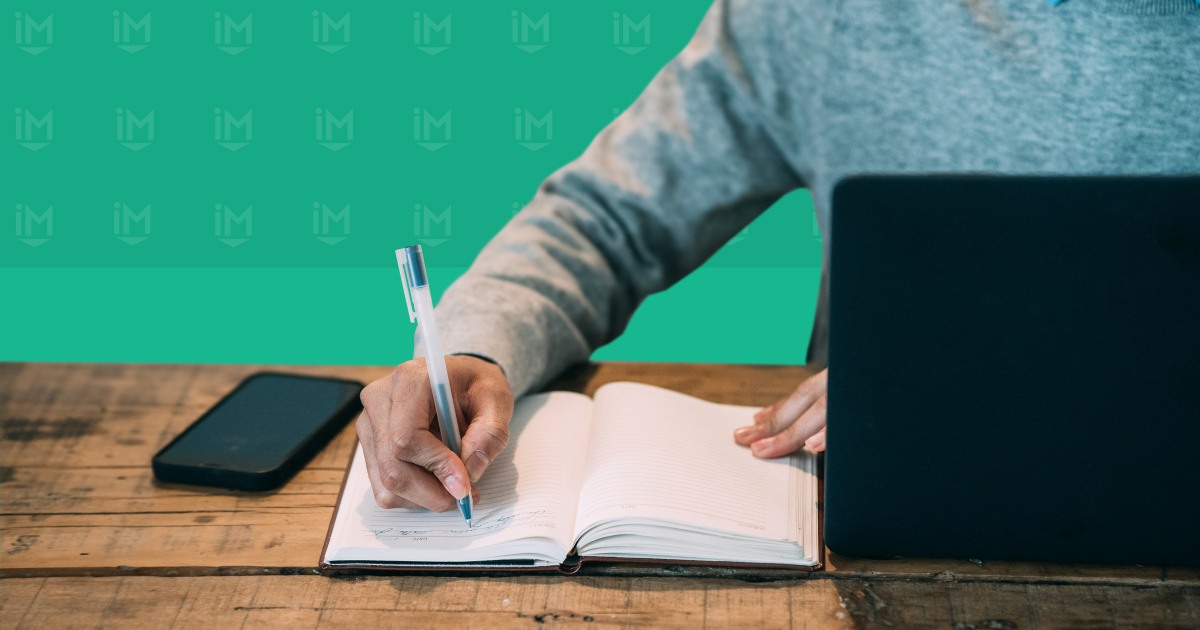 As a content marketer, it's your responsibility to share the knowledge, insights, opinions, and expertise of your company with your audience — typically through blog articles, but also podcasts, videos, and so on.
You stand as a primary ambassador for your brand, guaranteeing that the content published checks all the boxes.
Answering customer questions
Building trust
Optimizing for search
To do this, you need to be the creator who harnesses the knowledge of busy subject matter experts and catapults it into the world.
In many cases, this means writing content in their voice.
So, how do you do it?
Writing as others
One of the most challenging parts of your job will likely be ghostwriting as a team member. To do so, you need to consciously not sound like yourself, which is weird and liberating at the same time.

When I need to do this, I follow the seven steps I lay out below.
1. Agree on a topic and clear up logistics
Just like with any interview, ghostwriting begins with making the subject feel comfortable with the whole process.
The subject should know the process and trust you.
Start by setting up a pre-meeting or phone call — or at least an email or Slack conversation — to set the parameters.
Assure them that they will have final say over any content published under their name and that they can be as involved in every step of the process as they'd like.
In most cases, the subject is likely exceedingly busy and, thus, will be appreciative of your help. However, wariness is not uncommon. It is the responsibility of the writer (meaning you) to put the subject at ease before any writing begins.
Other pre-writing logistics involve setting a time for an interview and agreeing on a topic, which might be something chosen by the marketing team or suggested by the subject themselves.
2. Create a 'style guide'
When writing as someone else, I create a style guide before I begin.
I know it sounds like a pain, but your future self will thank you, I promise.
Start by doing some research.
Ideally, you would have some of their written work to go by, maybe previous blog posts or articles. Even a few emails can suffice.
If your subject is a company leader, perhaps you have heard them speak at meetings or other events.
Either way, before you even write questions, start a blank document with an outline of how the person sounds, and what their writing looks like.
Here's an example: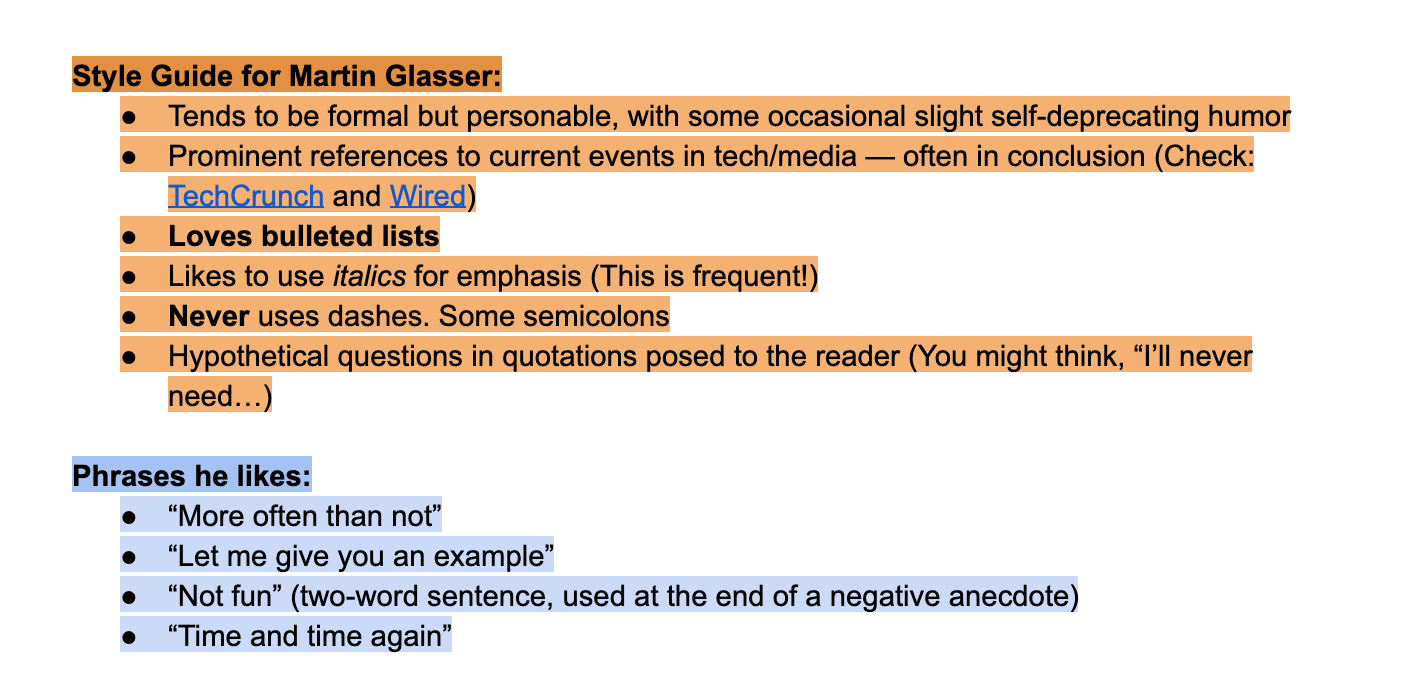 I try to get down general ideas about how the person sounds — style, tone, and phrases — as well as some common phrasings.
This helps in two ways.
First off, the process of creating it forces you to scrutinize the subject's work and articulate what makes it different from someone else's.
Second, the guide is a quick reference that you can read over before drafting or while revising.
The small details that I've accumulated in my guide can be used to drop in a phrase or tweak a sentence.
3. Write questions (which will also serve as an outline)
When you've decided on a topic, write a series of questions for your subject. I say questions, but these are really more prompts.
You want to establish a trajectory that you think the eventual article might follow, but leave room for exploration. Do the necessary research to gain an understanding of the topic at hand, but be prepared for potential diversions.
Once you reach this point, prepare much the same way you would for an interview, only with more structure.
After you write your questions, run them by the subject. However, when ghostwriting, put the questions into an outline under headings that will become H2s in the final piece.
For example: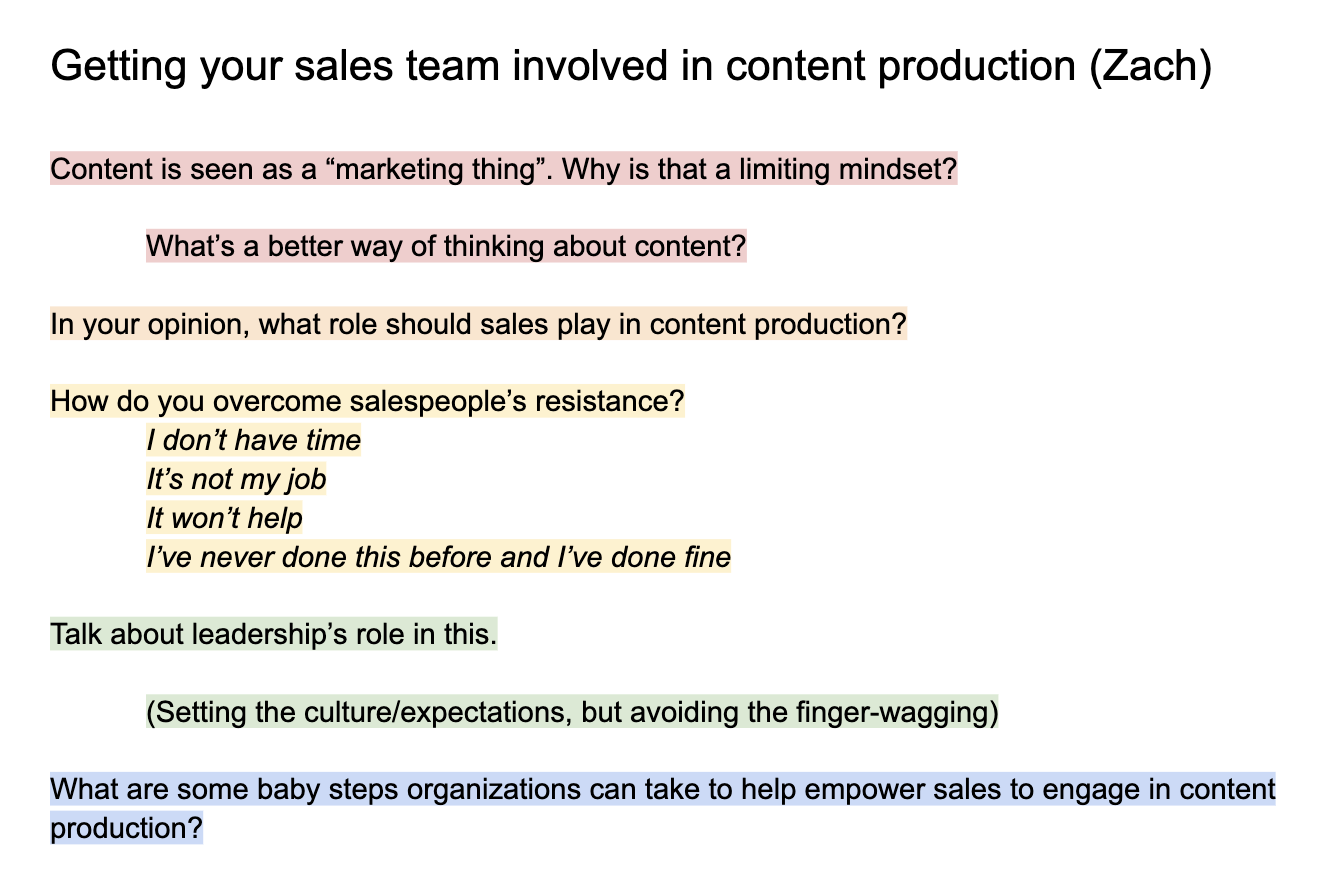 You can see I've laid out my topics and the order — as well as some notes.
In general, we'll both keep this document open while we're talking and it becomes a sort of road map that we can each check as needed.
4. Conduct the interview
I've written elsewhere about the skills necessary to complete great interviews. The same rules apply here, but the interview itself feels a bit looser.
When interviewing for a ghostwritten piece, try to feel more comfortable following tangents. A standard interview demands cogent, well-crafted questions, but an interview for a ghostwritten piece can be more like a discussion.
In turn, the subject tends to feel more at ease — and the process will feel more collaborative.
When I interview for ghostwriting, I will frequently jump in to ask for clarification, push the discussion in a direction that feels essential, or keep us from running too long.
Honestly, the shorter the better.

In order to prevent biting off more than you can chew, I recommend not doing more than a 30-minute interview. A shorter interview keeps the topic manageable.
I always record the interview and use a service (like Rev) to prepare a transcript.
5. Write a rough draft
After you've assembled your style guide, your transcript, and any other information you need, you should begin drafting.
My earnest advice for drafting a ghostwritten piece is this: Don't over-plan. Don't overthink. Let the magic happen.
Keep your subject in mind as you pursue your topic, but don't impede the writing process with relentless analysis.

Don't confuse writing as someone else with producing a forgery. Although you have been asked to produce something that imitates their voice, you were given this task because of your writing ability.
Your skill should blend with their subject matter expertise in a collaboration. Sprinkle in elements that mimic the subject's style, but remember that it is your job to help deliver their knowledge in the most effective way possible. Trust your ability.
6. Ask for feedback
It is critical that your subject have frequent opportunities for input. Once you've drafted and edited, share the document . Allow your subject to make suggestions and edits.
In my experience, subjects are so glad to have the onus of article writing removed from their busy schedule they will be tremendously appreciative of your hard work. Very rarely will you encounter a subject interested in micromanagement or trivialities.
If you have a particular section you struggled with, leave comments in the document (I recommend Google Docs for this) to help guide the feedback process.
7. Take the article over the finish line
You have been asked to write as someone else. This means your company trusts you and your voice. It is critical that you allow your subject to provide feedback on the draft, but don't feel the need to involve them in minutiae.
Once you've had them approve the overall direction of the piece, you don't need to contact them again to permit you to make minor changes, tweak formatting, add links, or amend a header.

Polish the piece to your company's standards and get it ready for publication.
Taking the fright out of ghostwriting
No matter the reason, writing for someone else is a responsibility that requires both your skill and your judgment.
If you try to internalize some of their linguistic mannerisms and convey the information you've garnered from your interview, the product will naturally be a fair representation of their content and style.
It doesn't have to be scary. Trust your instincts.
As long as you write with your subject's voice in your head, trust your own ability to structure, pace, and organize your article.
Then, when it comes time to finalize the piece and you get the go-ahead from your subject, slap his or her name on there. Your subject's voice and expertise will be broadcast, and you will have taken a time-consuming task off of someone's plate.
No one will be the wiser and you will have done a great service to your team.
Free Assessment:
How does your sales & marketing measure up?
Take this free, 5-minute assessment and learn what you can start doing today to boost traffic, leads, and sales.