How much does inbound marketing cost?
From blog content and PPC costs to search engine optimization and website redesign, inbound marketing can bring with it a host of expenses, which can vary widely based on business size, needs, and industry. Here's a breakdown of what you can expect to pay.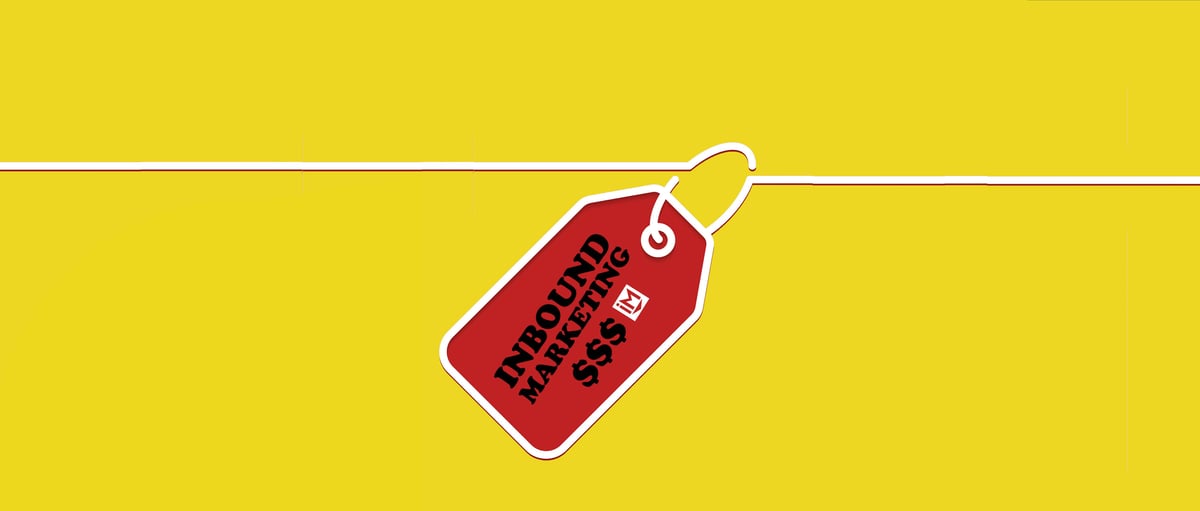 What does inbound marketing cost?
Inbound marketing is a long-term, ongoing practice and includes several moving pieces: Strategy and planning, software, website design, content creation (written and video), social media, paid media, and coaching and training. Strategy and planning can cost you anywhere from $50-125 per hour for a freelancer to $81,000 to hiring someone in-house. Software costs begin at about $200 a month. Website design costs can start at a few hundred dollars and go up to $75,000. Written content creation can range from $75 per article to a $60,000 salary. Hiring a videographer in-house usually entails an average salary of $45,000. Project-based SEO services begin at $3,500. Paid media can range from $10,000 to $100,000+. Training and coaching can range from $6,500 to $12,500 a month.
Inbound marketing is like an office space, employees, or even a loan. It's an investment in your business' future.
Adopting it into your organization has its price tag, no doubt, but like any smart investment, it ends up paying for itself in not only ROI, but competitive advantage as well.
From website redesign and landing pages to social media and blogging, inbound marketing is a powerful, full-service approach to helping companies achieve their business goals. But I know, I know — that doesn't answer the question at all.
What does inbound marketing cost?
Unfortunately, the answer to this question is as annoying and ambiguous as you expect: it depends.
Inbound marketing is a long-term, ongoing practice. Once you kickstart your program, many costs will be recurring indefinitely and even those that don't can vary greatly depending on the types of strategies you want to implement, whether you're outsourcing or insourcing, and how quickly you want to see results.
But before we get into the nitty gritty, let's take a look at some statistics that show the prevalence of inbound marketing today.
The data shows that inbound marketing is more cost-effective than outbound marketing, has a better long-term ROI, and builds better customer relationships.
It's little surprise, then, that businesses overall are steadily increasing their inbound marketing spending. Years ago, business owners doubted the internet, saying it was only a fad. Then they doubted email marketing, followed by search engine marketing, then social media — but look at all of them today.
Presidential campaigns are won and lost on social media, YouTube and TikTok sensations are making millions, and blogs are marketing staples.
Inbound marketing methods are proving their effectiveness more and more each year and, in turn, justifying the costs discussed below.
Breaking down the costs of inbound marketing
Okay, time for the specifics.
Since the costs of inbound marketing can vary so widely, we're going to provide average prices based on the assumption that you want the highest-quality work.
You can very well go to Fiverr and get someone to write a $10 blog post for you, but it likely won't be the quality content you need to win over readers or rank in search engines — and the same goes for almost every inbound marketing task.
With that in mind, the estimates here are how much you should expect to pay if you want to see real results. This article also focuses primarily on the costs of inbound marketing labor.
In terms of labor costs, we've broken them down into the main areas of:
Time
Strategy and planning
Software
Website design
Content creation (written and video)
Social media
Paid media/ads
Training/coaching
Time
First off, we need to address the cost of time. Time is priceless — and you're going to be investing a lot of your team's time in the process.
After all, it's a bad idea to outsource inbound tasks like content creation.
You also must take into account the amount of time it takes to start seeing results from inbound marketing.
Realistically, an effective inbound marketing campaign takes a few months to produce substantial traffic and leads, and this relies heavily on getting content indexed by Google. If you're just beginning to build an online presence, this process can take quite a bit of time.
That said, you can use inbound marketing materials immediately in the sales process using assignment selling, but actual traffic takes longer.
Overall, inbound marketing is not a methodology for those who don't have time to spend.
Strategy and planning costs
Successful inbound marketing, like all business endeavors, requires a strategic approach. There's a lot to consider when developing your inbound marketing game plan, such as:
Target audience research
Your value proposition and market positioning
Your brand identity and messaging
Your marketing objectives
According to PayScale, an experienced marketing strategy consultant earns an average salary of $81,000. Marketing strategy freelancers on Upwork with a high job success score have rates that range from $50 to $125 per hour.
If your business doesn't already have a solid inbound marketing strategy in place, you can expect to pay anywhere from $1,000 to $10,000 in consulting fees, depending on the experience of the person/agency you work with and how much you want them to plan for you — and ongoing consultant fees can cost even more, but are worth every penny.
Marketing software costs
While marketing software isn't mandatory, it does make executing and analyzing inbound marketing significantly easier.
At IMPACT, for example, we use HubSpot for all of our marketing automation. It allows you to control every aspect of your marketing funnel (email, social media, landing pages, forms, blogging, etc.) on one platform and in turn, see how each piece interacts and performs, but there are other similar alternatives available.
For any of them, you can expect to spend as little as $200 per month to a few thousand dollars per month, depending on your plan, your business size, and how extensive you need the service to be for you.
For many companies, HubSpot and Pardot are top choices; you can learn more about each in HubSpot vs. Pardot for marketing: A head-to-head comparison.
In addition to marketing automation software, we'd recommend using a customer relationship management system (CRM). While the HubSpot CRM is available for free, the industry standard Salesforce ranges from $25 per user per month to $300 per user per month.
The cost for your needs could fall anywhere along a large spectrum, so be sure to look closely at pricing information and feature listings to make sure you're getting what you need.
🔎 Related: How to get the best price for HubSpot
Website design costs
Everything you do in inbound marketing is aimed at one goal: bringing prospects back to your website and convert them to leads and customers. Therefore, web design should be an important aspect of your budget.
A poorly-designed or performing website can send prospects running back to their search results. Even if someone is interested in what you have to offer, poor user experience or glitches in your design can prevent or deter them from doing business with you.
If you already have a modern website with a clean design that's also mobile-friendly, you might only need a few tweaks and some updates to the content, but if not, it might be time for a website redesign.
Designing your website yourself
If you have some experience with web design, IMPACT's Vin Gaeta explains:
"Building or redesigning a website yourself with a template is usually the cheapest option. It can range anywhere from a few hundred dollars to $3,000 or more, but the real "cost" here is the time and hassle required.... New startups with limited budgets and no web developer often have to start small. ThemeForest offers tons of affordable website themes (especially for WordPress) to choose from that usually cost around $30 to $100."
Hiring a freelancer
Vin continues:
"Depending on what your goals are, you'll be able to find a freelancer that will charge anywhere from $2,000 to $5,000 for a simple website and upwards of $10,000 to $20,000+ for a bigger website with a variety of template designs, custom features, and a more professional aesthetic than you may be able to create on your own."
Hiring an agency
"A simpler website redesign can run anywhere from $15,000 to $30,000 depending on the size of the site, whereas websites with a large page count, custom functionality, and more unique needs can cost between $40,000 and $75,000+."
🔎 Related: 6 red flags to watch out for when you're hiring a website redesign agency
It's also important to keep in mind that, in reality, your website should never be considered "finished."
As your business grows and changes, your website must reflect this. You will want to take user data into account when updating your site.
Increasingly, design agencies are employing a growth-driven design model that front-loads design and dev work and then moves to a retainer model so that agency experts can tweak and adjust your site as user data dictates.
According to Vin, "You can expect anywhere from $5,000 per month to $10,000 per month on growth-driven design with an agency depending on how aggressive your goals are and how much focus you're willing to put into research and updates."
In addition to the design costs, regardless of which option you choose, you need to consider long-term website management. You may find that you need internal talent to manage your website and handle minor design and dev needs.
Content creation costs
Content is the most time-consuming part of the process, but also one of the most important. Once you've got your inbound strategy in place, you'll need to publish content on a regular basis.
Written content
While many companies are quick to outsource content creation, that's often a bad idea. Working with an agency means your publication cadence will be limited, as well as your number of revisions, and frankly the quality and authenticity of your content.
You want your content to sound like your business. When it's outsourced, that's harder to control.
Ideally, look to hire a content manager who can own the content production side of your inbound marketing, working with the sales team and internal subject matter experts to produce content that speaks to your buyers' needs.
🔎 Related: Why you need a content manager on your digital marketing team [+ video]
According to PayScale, a content manager has a salary of about $60,000.
If you opt to outsource, you might work with freelancers or writing services like Verblio. On average, you can expect to pay $75 to $150 per post for quality content.
Depending on how much content you want to publish, you can expect the cost of high-quality content production to run anywhere from a few hundred dollars a month to several thousand per month.
🔎Related: Content manager job description for all industries (ready to use)
Video content
Content doesn't just refer to the written word. Customers today want to see video content as well, and we recommend hiring an in-house videographer to make video production more efficient.
When companies outsource video, they pay a premium for a small number of highly-produced videos. But does this content actually drive revenue for your business, or does it just cost money?
An in-house videographer will allow you to produce the video content that truly builds trust with your buyers by directly addressing their questions.
🔎 Related: When hiring a videographer, look for soft skills
The more filming that takes place, the more comfortable your team will be on camera. Each video produced offers potential customers another chance to see your team, learn about your business, and begin to form a relationship with
PayScale reports that videographers earn an average salary of $45,000.
Search engine optimization (SEO)
You want your great content to get found by search engines and by potential customers.
If you want to hire a full-time SEO specialist, you can expect to pay a salary around $46,000, but you may just opt for an external expert to audit your site once a year or so.
Once your main website is optimized for search engines and you've done your local SEO (if applicable), you may be able to handle on-going keyword optimization on your own. But if you're considering paid search ads, you may want to start with an expert as well.
If you're looking for more advanced, technical SEO intel, this cost is likely to increase, but you can also get project-based support for around $3,500.
Social media
When used effectively, social media is an incredibly powerful engagement tool.
As more social networks pop up and your potential customers spend more of their time on them, the need for smart social content from your brand increases.
Contrary to popular belief, it's not simply something you can hand off to an intern or "tack on" to another marketing job.
To execute an effective social media strategy, you need a full-time team member to create/curate content and engage with followers in a timely manner.
On average, experienced social media managers earn a salary of $68,000. Top-ranked social media managers on Upwork usually charge between $30 and $50 per hour for freelance work.
Paid media and ad costs
Speaking of social media, paid media is one of the most critical pieces in any inbound marketing strategy today, especially on Google and Facebook.
Unless you have a lot of experience working with PPC ads, it's usually more cost-effective to hire an expert consultant or an agency to manage your PPC campaigns for you.
Full-time PPC managers get paid an average salary of $55,000, but this number is steadily increasing. You can also work with an agency, which, depending on your goals, can range anywhere from $10,000 to $100,000+.
If your campaigns and corresponding landing pages are optimized correctly, you should see a positive ROI on your PPC investment, making it one of your favorite monthly expenses.
🔎 Related: How much should working with a Google Ads or PPC agency cost?
Training/coaching
Inbound marketing can feel like an overwhelming undertaking. You've got to hire new team members, learn new software platforms, and appeal to others' expensive expertise.
But there is a different way forward — one that puts you on the path towards autonomy and mastery, and walks you through all of the details listed above.
At IMPACT, we offer comprehensive coaching and training programs that will help you achieve your inbound marketing goals by building internal expertise.
Your dedicated coach and trainers will design a program suited to your needs, helping you with everything from high-level strategy and HubSpot onboarding to content planning, content manager training, videographer coaching, and sales training
After 12, 18, or 24 months, you complete the program and have the skills and experience to own your inbound marketing from then on.
IMPACT's Eric Dunn explains:
Digital sales and marketing mastery will cost between $6,500 and $12,500 a month. The range depends on how fast you're looking to reach your desired outcomes. The faster you want to move, the more comprehensive training and value will be provided each month:

Fast

(usually a 24-month program including four subject matter expert training sessions per month):

$6,500 a month
Faster

(usually an 18-month program including eight subject matter expert training sessions per month):

$8,500 a month
Fastest

(usually a 12-month program including 12 subject matter expert training sessions per month):

$12,500 a month
🔎Related: What's included in IMPACT's comprehensive Digital Sales & Marketing Mastery program?
Hiring an inbound marketing agency
Since inbound marketing requires a lot of time and many businesses don't necessarily want to build their own in-house team, they often turn to marketing agencies to handle the work for them.
An inbound marketing agency offers several advantages:
Access to experts in different areas of inbound marketing
Can cost less than hiring an in-house inbound marketing team
Offer the ability to hit the ground running and get results quicker than figuring things out yourself
The cost of an agency will vary based on what you're looking to accomplish.
Aggressive goals
As a company with aggressive goals, you can expect to pay anywhere from $10,000 to $20,000 a month or even more. The more ambitious your goals are, the more money you will need to provide to effectively meet and reach those goals.
A great way to determine the success of your inbound marketing campaign is to look at your return on investment. Let's say you're going to pay $20,000 a month for the next twelve months to grow your company's revenue 25%, from $4M to $5M.
Now you might be thinking, that is a lot of money, is $240,000 actually worth it?
Use the following equation to calculate your return on investment from inbound marketing:
(Gain from investment - Cost of investment) / Cost of investment
Using that calculation, your ROI would be ($1,000,000 - 240,000)/ 240,000 = 316%
Moderate goals
As a company with more moderate goals, you can expect to pay anywhere up to $5,000 a month. You may or may not have the budget to drastically increase the sales of your company, but you can begin to develop relationships with potential customers and generate more qualified leads to your site.
A great way to determine the success of your inbound marketing campaign is to look at your return on investment. Let's say you're going to pay $5,000 a month for the next twelve months to grow your company's revenue 25%. Now you might be thinking, is $60,000 actually worth it?
Use the following equation to calculate your return on investment from inbound marketing:
(Gain from investment - Cost of investment) / Cost of investment
Using that calculation, your ROI would be ($150,000- 60,000)/ 60,000 = 150%
Inbound marketing: You get out what you put in
Inbound marketing offers your organization the opportunity to build meaningful connections with prospects based on trust and transparency. Rather than blasting your message to broad populations, inbound marketing lets you target customers who are actively looking for solutions like yours.
However, inbound is often about playing the long game. It can take time to rank in Google. It can take time to build a social media presence. All the more reason to get started.
Whenever possible you should consider building an internal team for this initiative. Having your content production take place in-house, for instance, allows you to truly "own" the content process — and you can be much more nimble as a result.
The beauty of digital marketing and content marketing is that it presents a much more level playing field for businesses of all sizes. If you're willing to invest in a team (and invest in their training), you can outrank the big boys — provided that your content really connects with buyers.
Use educational resources to help get you there. At IMPACT+, we offer free courses to help you build and scale your inbound marketing efforts, with information and insights from industry thought leaders and experts.
With the right team and the right knowledge, inbound marketing can revolutionize the way your business operates. It is an investment, to be sure, but one that is sure to bear fruit if you approach it in the right way.
Published on February 26, 2021