How to get the best price for HubSpot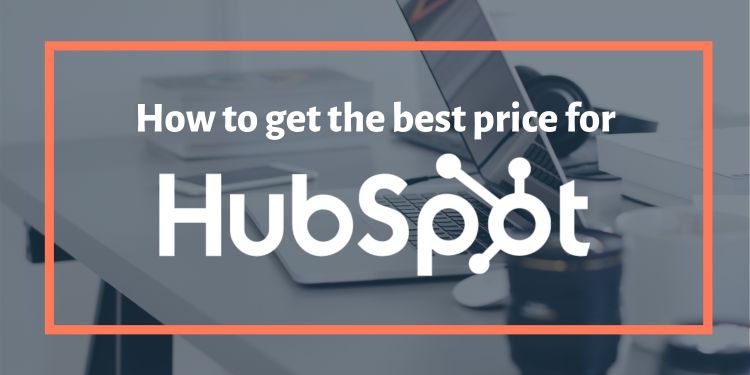 HubSpot is to IMPACT as Dunkin is to America.
We run on it -- and almost all of our clients do as well.
As an Elite HubSpot Solutions Partner, prospects often ask us how much HubSpot is and if it's worth the price tag, but that all depends.
The price of HubSpot varies based on which package you choose and how many contacts you have (among other things), and the value depends on your organization's needs and how you actually use it.
If you ask me, for those serious about inbound marketing, who want to deploy all of the essential tactics like blogging, social media, email marketing, etc. then HubSpot is more than worth its cost.
Aside from the quality of the software and its ease-of-use, you would have to spend the same amount (if not more) to get all of the same tools from other providers. With HubSpot, you can manage all of the pieces from one platform.
That doesn't, however, mean your business should just load up on the biggest package from day one. Getting the best price for HubSpot depends on knowing which of its tools are right for your business at this time.
Here are a few tips and guidelines:
Know what you need and what you don't
Start by doing some of your own research to determine what parts of HubSpot you will need, and what you won't.
You'll need to determine if you will be using the marketing tools, sales tools, service tools, the CSM, or a combination.
A few key things that will help to determine your ideal set up will be which teams will be using HubSpot, how advanced you want to go with your inbound marketing and sales, and the number of contacts you manage in HubSpot.
Realistically, you may not need every part of the tool or every hub. Avoid being oversold by having a better understanding of what you need before you start the conversation with the HubSpot team.
Consider the free trial before making a decision
The cool thing about HubSpot is that they let you try their software before buying it. Their free trial gives you access to the full version of the software, and you can choose which tier you want to try out, whether that be starter, professional, or enterprise.
The trial does have a few limitations, such as how many emails you can send, but overall you get the full experience of being a HubSpot customer.
Free HubSpot Tools
Now, if your business isn't equipped to invest in HubSpot's premium tools or you have and would like to cut other existing costs, the company has a number of free tools you can take advantage of.
Different from a free trial, these tools are 100% free, forever.
With all of these free tools, you can start generating leads and sales through HubSpot without paying a single penny. Then, once you have the budget for HubSpot's premium tools, you can start seeing even bigger results from your inbound marketing.
The HubSpot Free CRM allows you to manage up to 1,000,000 contacts, companies, deals, and tasks. You can have as many users as you need, so everyone on your team can use HubSpot CRM.
And that's not all, when you get the free CRM, you also get access to HubSpot's free version of their marketing, sales, and service tools (detailed below).
And the best part of all -- HubSpot CRM is free now and forever. Meaning, that they guarantee your free access to the CRM never expires.
Note: IMPACT switched from Salesforce to the CRM in 2015 and has never looked back. Read all about that here.
Free HubSpot Sales Tools
HubSpot's Free Sales Tools allows you to automate personalized outreach emails, create email templates, manage follow-ups, view email opens, and overall track your sales pipeline.
You would be surprised at how many companies are ditching their expensive big name sales tools with tons of features they never needed and using HubSpot Sales exclusively — it's that good!
Free HubSpot Marketing Tools
HubSpot's Free Marketing Tools are HubSpot's no-cost tools for capturing and managing leads.
You'll have access to features like email marketing and lists, and can use the tool to promote lead magnets and attract blog subscribers using pop-ups and contact forms that require zero coding.
Free HubSpot Service Tools
Also included in the free CRM package is a host of features from HubSpot's Service Hub. These features include things like live chat, meeting scheduling, documents, and more.
This hub is centered around creating a support experience that will turn customers into promoters.
Invest in a bundle
If you are ready to take it to the next level and invest in the tools, a great way to get the "best price" for HubSpot is to identify the most cost-effective bundle for your business.
HubSpot created 'GrowthSuite' bundles that are automatically 25% off what the full price would be.
For a small business just getting started, the Starter Growth Suite (starting at $50/month) has the essentials. It includes:
HubSpot CRM
Marketing Hub Starter
Sales Hub Starter
For a full breakdown of the features that are included in each Hub, check out HubSpot's pricing page.
The Starter Growth Suite is generally good for smaller businesses that want to get their inbound marketing efforts going and in the right direction.
With it, you'll be able to start engaging with and converting your audience with forms and emails, perform segmented outreach, and much more.
This is also a great place to start, as the starter hubs will easily be able to scale up with you as you grow.
The Professional Growth Suite (starting at $1,275/month) includes every Professional HubSpot product bundled together and discounted 25% off standalone prices.
This will include up to 1,000 contacts and provides everything from the Basic package, plus some more intermediate-to-advanced tools you need to run powerful inbound marketing campaigns.
The bundle includes:
HubSpot CRM
Marketing Hub Professional
Sales Hub Professional
Service Hub Professional
The Professional Growth Suits is great for medium-to-large businesses looking to get more advanced with their inbound marketing and sales.
These hubs allow you to go beyond the basics and introduce marketing and sales automation, in-depth reporting, and tools to help you perfect your content and SEO strategies.
Finally, the Enterprise Growth Suite (starting at $4,200/month) includes up to 10,000 contacts and adds several advanced features for reporting and lead segmentation.
This bundle includes all Enterprise Hubs:
HubSpot CRM
Marketing Hub Enterprise
Sales Hub Enterprise
Service Hub Enterprise
The enterprise level of HubSpot is packed with powerful tools that are focused on accommodating large, growing teams. You'll gain access to revenue attribution reporting, team-Based partitioning, social permissions, and more.
Create your own
If you feel like your organization's needs are more custom, HubSpot also allows you to create your own bundle, with its interactive tool that allows you to see different pricing depending on the options you choose.
For instance, if you want to start out with the basic sales tools on Sales Starter, but want to go all-in with marketing tools on Marketing Professional, you can do that! You can even play around with the number of contacts you plan on having and how that affects the price.
One last thing to keep in mind: Regardless of the bundle, if you surpass the contact limit, you will incur a small additional fee as follows:
Starter: + $50/mo per 1k extra
Pro: + $50/mo per 1k extra
Enterprise: + $10/mo per 1k extra
A good thing to consider if you are looking to save money with HubSpot is to clean up your database before importing your contacts.
This can help you weed out unengaged or even spam contacts, and leave you with more room in your contact limit.
Overall bundles are a great way to get a readily discounted price if you are looking to purchase more than one hub.
Be selective with HubSpot add-ons
HubSpot offers several add-ons that integrate with the marketing software and enhance your marketing capability, including:
HubSpot CMS Hub
HubSpot Reporting Dashboard add-on
HubSpot Ads
HubSpot's CMS Hub is HubSpot's website hosting platform and content management system (CMS) that allows you to create and manage a beautiful, mobile-friendly, conversion-optimized website with little to no prior technical experience.
Like WordPress or Squarespace, HubSpot has several themes to choose from and customizing the design is simple, using their drag and drop editor.
However, if you are an experienced designer or developer (or have one on the team), you can get as technical as if you want by editing the HTML to match your ideal vision of your website.
HubSpot recently released an update that moved the CMS from an add-on to it's own Hub that can be purchased in addition to or apart from their other hubs. The CMS Professional Hub will cost $300/month, while the CMS Enterprise Hub will cost $900/month.
Next, the Reporting Dashboard add-on is nice if you want to create a lot of custom reports (up to 200) and custom dashboards (up to 2,000), but it might not be worth the money for smaller businesses — especially since the reporting features included in the Pro and Enterprise packages are already so comprehensive.
This add on is priced at $200 per month.
Last, but not least, the Ads add-on could be beneficial if you are planning to use the ads tool.
The ads tool is included in every paid marketing hub plan, but this add-on will allow you to take your ads to the next level by increasing your ad spending limit by $50k, creating 50 additional audiences, and getting hourly syncing.
Though useful for teams investing heavily in these areas, it's not something everyone needs, and it comes in at $100 per month.
Now, while all of these add-ons are valuable in their own right, that doesn't mean your organization has to use them all.
If you don't plan to host any website pages through HubSpot, skip the CMS. Not investing in online advertising just yet? Skip the Ads add-on.
Are there any HubSpot discounts or coupons?
I live for a good deal, but sorry, friends. HubSpot doesn't offer any coupons or discounts — at least, they don't advertise them and I've never heard of them.
But this is with good reason.
Just ask yourself, when was the last time you saw Lamborghini put their cars on sale or Apple drop their prices unless they were in trouble?
HubSpot encourages businesses to avoid sale prices whenever possible.
The company advocates offering such a high quality that people are happy to pay the price you charge — and this is something they practice themselves.
There is one way to save a little money on HubSpot that many aren't aware of, however.
Sign up with a partner agency
Whenever you sign up for HubSpot through one of HubSpot's partner agencies (like IMPACT), the onboarding fee is automatically waived — usually because the agency will handle that for you. That's a savings of $600 to $5,000, depending on which HubSpot tools or bundle you choose!
Take advantage of timing
While there aren't technically any discount codes available, if you are strategic about when and how you purchase HubSpot, you may be able to save some money.
One way is to look at how your contracts and payments are structured.
If you pay quarterly or annually, versus the usual monthly payments, there is an opportunity to save.
For certain Hubs, HubSpot offers a flat rate 20% discount if you pay annually versus monthly. This applies to the Marketing Hub Starter, Sales Hub Starter and Professional, and Service Hub Starter and Professional.
Another thing to consider is if you pay annually, HubSpot won't reassess your contact limit until 60 days before your renewal date. So you can go way beyond your limit without having to pay.
When you pay monthly you will get reassessed every month, so if you go over your limit at al,l you will have to pay at the end of the month.
For sites with a good amount of traffic or conversions, this could make a big difference.
One last thing that applies to start ups is the HubSpot for Startups. If you are eligible for this program, you could get up to 90% off of HubSpot's software.
Is HubSpot worth the price?
Time and time again we hear the same question — "But is it worth it?".
The truth is HubSpot is only worth the price if you're actually going to execute the complete inbound methodology.
If you only want to do a few things HubSpot is capable of, you likely can find alternative solutions for less money that provide the individual features you need.
Some opt for building their own HubSpot system piece by piece. HubSpot refers to this as building Frankenspot.
However, the reality is that inbound is a lot of work and the more comprehensive your strategy is, the more convenient and valuable it is to all of the tools and data in one place.
Most marketing-savvy companies will want all of the features HubSpot provides once they get started with inbound marketing.
What you'll find, though, is that purchasing all of the services separately ends up costing about the same or more, and it only creates more work.
Plus, it creates more long-term problems by trying to keep everything integrated properly and keeping everything on brand.
With HubSpot, your calls-to-action, landing pages, marketing emails, and blog posts automatically display the same color schemes, fonts, and styling because they're all synced together from your dashboard.
Being such an all-in-one, HubSpot also avoids a lot of issues that come with using multiple tools, like site speed.
When you add a bunch of plugins and separate tools to a website, you slow it down dramatically and while also creating more security risks.
If you're debating HubSpot versus Frankenspot, have your team answer the following questions:
Are we going to use all of HubSpot's features?
Do we want an all-in-one system?
Does the cost of HubSpot work with our budget?
If you answered "no" to any of those questions, HubSpot might not be worth the price for your organization.
If you answered "yes," HubSpot is definitely worthy of consideration.
What you don't see in the list of HubSpot features
Finally, there are certain qualities of HubSpot that you don't see in their list of features that add tremendous value.
Investing in HubSpot is more than purchasing marketing software — you're investing in an ecosystem. The more you immerse yourself in the HubSpot ecosystem, the more your inbound marketing improves.
HubSpot has the largest network of like-minded marketers compared to any other marketing platform.
The web is filled with forums, blogs, Facebook groups, LinkedIn groups, and countless other communities of people in every industry who use HubSpot.
That means you have a ton of opportunities to learn from other people using HubSpot for the same purposes you are.
HubSpot also provides hundreds of free resources in their Marketing Library and thousands of articles on their marketing blog.
Of course, you don't have to be a HubSpot customer to take advantage of these resources, and we highly recommend you do take advantage of them either way, but a large portion of their resources are created specifically for HubSpot users, providing specific instructions to maximize the effectiveness of its features.
Last but not least, there's INBOUND — one of the largest marketing conferences in the world, hosted annually by HubSpot.
Again, you don't have to be a HubSpot customer to attend INBOUND, but it's more exciting when you are.
A lot of the keynotes are tailored specifically for helping you understand HubSpot's technical features and showing you tricks to get the most out of them.
HubSpot also makes their new product announcements, along with product update announcements at the event.
Every year we look forward to networking with the best marketers in the world and connecting with fellow HubSpot users at their annual conference.
Making the leap
Buying HubSpot is in no way a small decision for most businesses.
If you're still debating whether or not it is right for you, check out this detailed guide to HubSpot Marketing that covers everything from how you should be using HubSpot, its top competitors, set up tips, and expectations for the tool.
If you still have questions or aren't ready to commit, sign up for a free trial!
There is nothing to lose and it will help you get a better feel for the tools and which ones will bring value to your business.
You can also check out the HubSpot Academy for free resources on all inbound methods and strategies that may spark an idea for how you can use HubSpot to grow your business.
Free Assessment:
How does your sales & marketing measure up?
Take this free, 5-minute assessment and learn what you can start doing today to boost traffic, leads, and sales.